Love strawberries? This delicious collection of fresh strawberry recipes is for you. Cheesecake, parfaits, cocktails, salad and more. Get ready for strawberry season!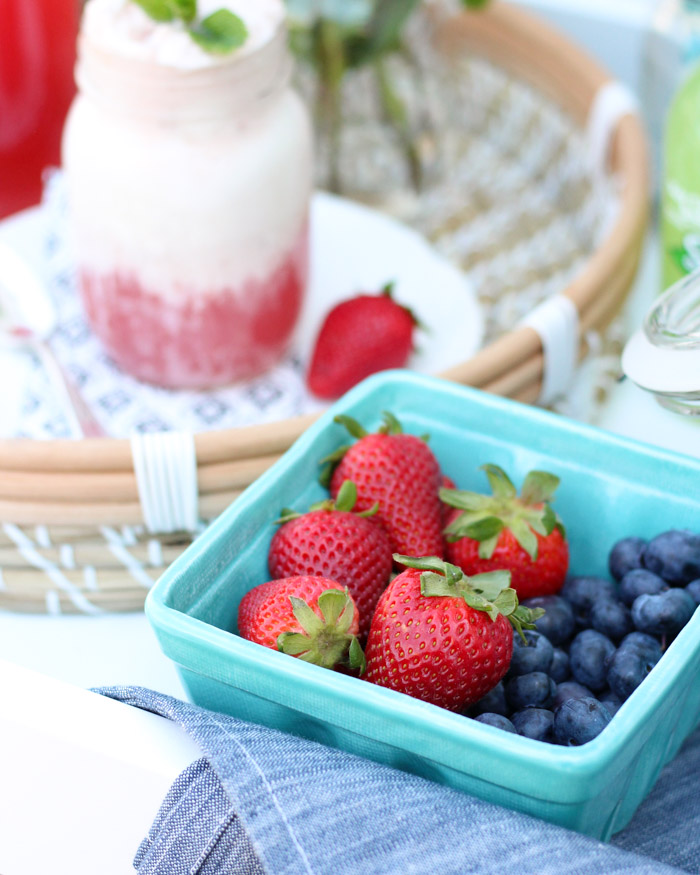 Hello everyone! Are you enjoying the sunshine? We've been spending much more time outdoors, which has been good for the soul! I have many of my flowers, herbs and vegetables planted, but I'm still on the lookout for a few more. Normally, I'd search until I found exactly what I was looking for. However, I'm a little quicker to go with plan B (C, or D) these days. What about you?
One plant on my "crossing fingers" list is strawberries. Do you love fresh strawberries too? Years ago I picked up a strawberry pot at a local nursery and planted herbs in it. It's definitely a great space-saver if you have a smaller yard like ours. I've also used it as a succulent planter and, of course, for growing strawberries!
There's something about homegrown strawberries fresh off the vine that can't be beat. Plump, juicy and oh-so-sweet! Even if you don't grow your own plants, strawberries can usually be found at the Farmer's Market starting in June. Organic strawberries from the grocery store are a tasty option too.
If you enjoy fresh strawberries as much as we do, I've gathered up all of my recipes in one easy-to-access collection. Who knew I'd shared so many over the years? I guess it's telling. Whether you're looking for drinks, desserts, breakfast recipes or more, I've got you covered. I plan on adding even more ideas as strawberry season unfolds. Let's celebrate!
What to Make With Strawberries
Honey Strawberry Basil Smash
This cocktail is on the light side, but big on flavour. Fresh strawberries and basil pair so deliciously together, don't they? Simple to make and so refreshing!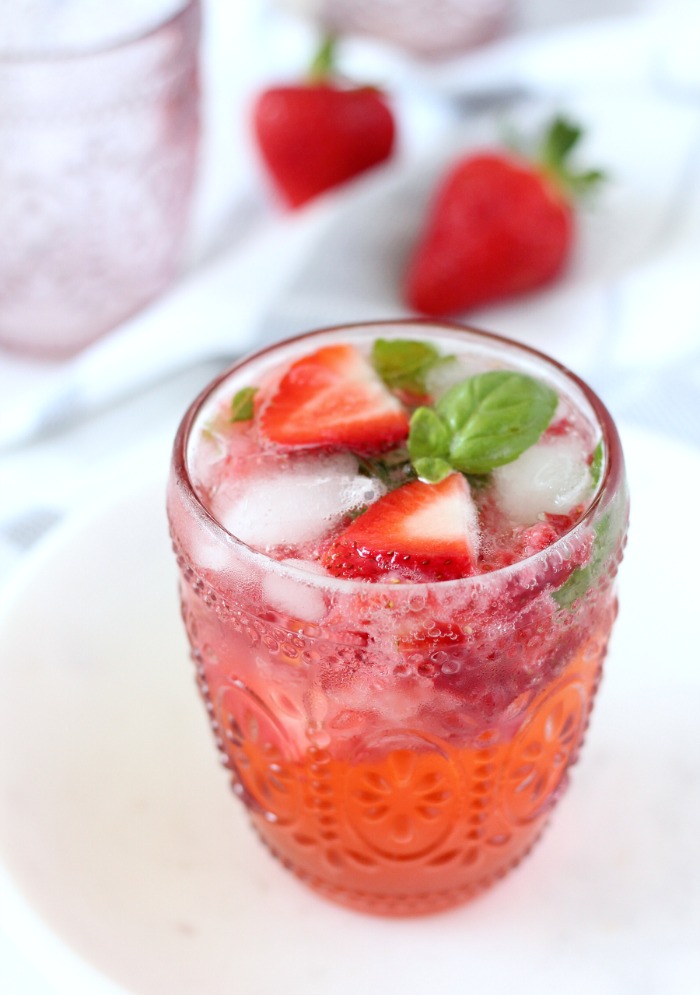 Get this simple recipe: Honey Strawberry Basil Smash
Pimm's Cocktail Jug
Typically, I stay away from overly sweet or sour drinks. This one is a nice balance between the two. I love the combination of fresh fruit, mint and cucumbers. A bit of a snack too. Whip up a jug for your next outdoor get-together!
Learn how to make this drink: Pimm's Jug
Blended Berry & Mint Green Iced Tea
This cold green tea recipe is a little more on the frothy side since it's blended with strawberries, raspberries and fresh mint. We like to enjoy it as a refreshing afternoon pick-me-up. Healthy and delicious!
See the wholesome ingredients: Blended Berry & Mint Green Iced Tea
Strawberry Cream Cheese Toast
Start your day with this fresh strawberry cream cheese toast. Crunchy, salty and sweet, it's an easy and wholesome breakfast made with only 5 simple ingredients. One of my favourites!
See this easy breakfast idea: Strawberry Cream Cheese Toast
Strawberry Spinach Salad with Quinoa
Dig into this beautiful strawberry spinach salad with quinoa, cucumber and fresh mozzarella. Topped with zippy basil balsamic dressing and toasted almonds, it'll surely become your go-to salad recipe this summer. Packed with freshness, protein and deliciousness!
Make this healthy salad: Strawberry Spinach Salad with Quinoa
Strawberry Yogurt Parfaits
Yummy layers of Greek yogurt, jam, muesli and fresh strawberries make up these yogurt parfaits. A super easy and delicious breakfast or snack you can take on-the-go! Want one?
Put together some jars: Strawberry Yogurt Parfaits
What desserts can be made from strawberries? I love using strawberries within a dessert, but they also make the best toppings or garnishes.
Strawberry Lemon Cheesecake Jars
This tangy and smooth lemon cheesecake layer is the perfect complement to the ginger crust and fresh strawberries. A great make-ahead dessert you can pop in fridge until you need it. Whip up a batch for your next family get-together or dinner party. Yum!
Make this dessert in a jar: No Bake Strawberry Lemon Cheesecake
Fresh Strawberry Buttercream
Not only is this soft pink buttercream pretty in colour, the fresh strawberries make it totally scrumptious! I like to top my favourite gluten-free almond cupcakes with this flavourful frosting. Whip up a batch for any occasion.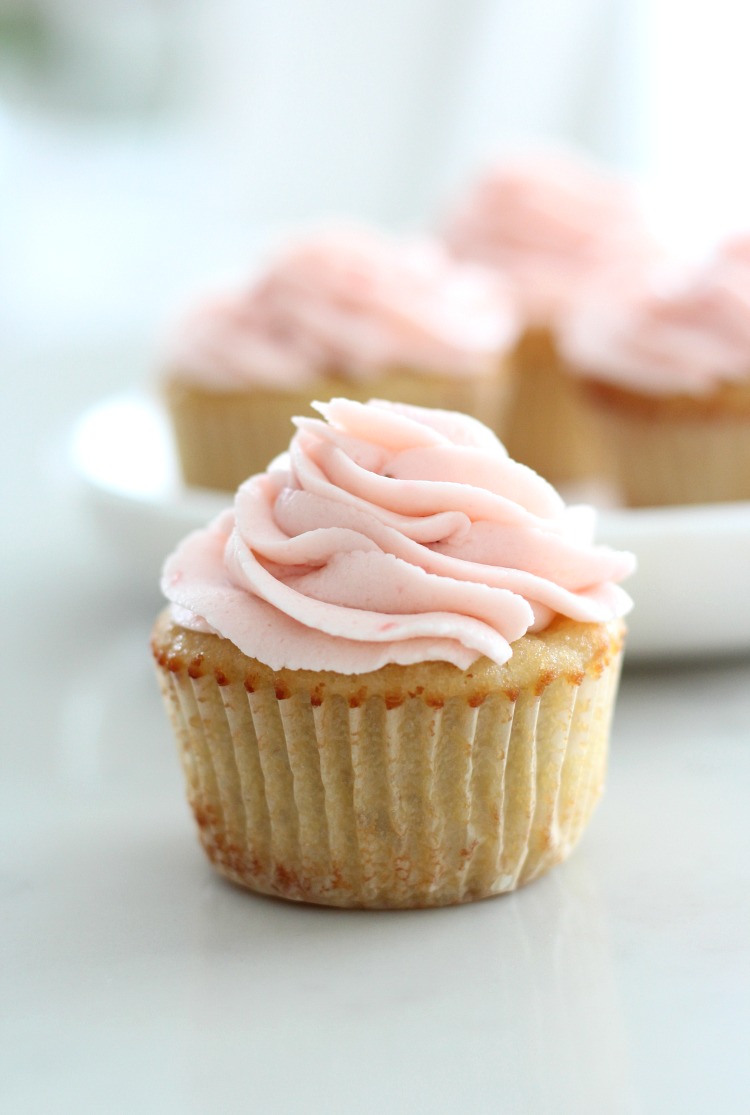 Get this yummy recipe: Almond Cupcakes with Fresh Strawberry Buttercream
Flower Pot Cakes
These little flower pot cakes are a fun and tasty dessert idea for spring or summer. Made with your favourite chocolate cake, then topped with frosting, crumbs, fresh berries, mint and flowers. So adorable!
See how to make this fun dessert: Flower Pot Cakes
Mini Pavlova with Fresh Fruit
Try this easy summer pavlova recipe with light and airy meringue surrounded by a crisp crust topped with a mountain of whipped cream and fresh seasonal fruit. A family favourite!
Get this dessert recipe: Mini Pavlova with Fresh Fruit
Ice Cream Float
Want to take your ice cream float one step further this summer? Add fresh strawberries to boost the taste and make it look even more scrumptious. Plus, a little fruit ups the health factor, right ;)
See this summer dessert idea: Ice Cream Float Bar
Strawberry Orange Angel Food Cake
Turn a basic angel food cake into a flavourful dessert with fresh strawberries and orange curd. You'll have this half-made-homemade treat together in no time!
See how simple this cake is: Strawberry Orange Angel Food Cake
Did any of these recipes using fresh strawberries catch your eye? Which one will you try first? Be sure to check back as I'll be adding even more!
How to Keep Strawberries Fresh
Remove strawberries from original container and discard any that are spoiled. For slightly spoiled strawberries, cut off any bad parts, wash and use first.
Place good, whole, unwashed strawberries back in the original container ensuring they're dry. As an option, use a paper towel lined container with a lid. Store in refrigerator and use within a few days.
More Fresh Strawberry Recipes Ideas
Love blueberries too? Take a look at this yummy collection of fresh blueberry recipes.
Want more delicious recipes and ideas like these sent directly to your inbox? Be sure to SUBSCRIBE.
Have a sweet day!

This strawberry recipe collection was originally published May 2020 and updated with new ideas and photos May 2022.