Shaker Style Trim and Doors (The Makeover Details)
Installing shaker style trim and doors throughout our entire main floor made everything look so bright and fresh. You won't believe the difference simple trim and white paint made!
Hello, friends! After loads of questions (and as promised), I'm sharing more details of our main floor renovation. Today it's all about our white-painted shaker style trim (or craftsman style trim) and doors.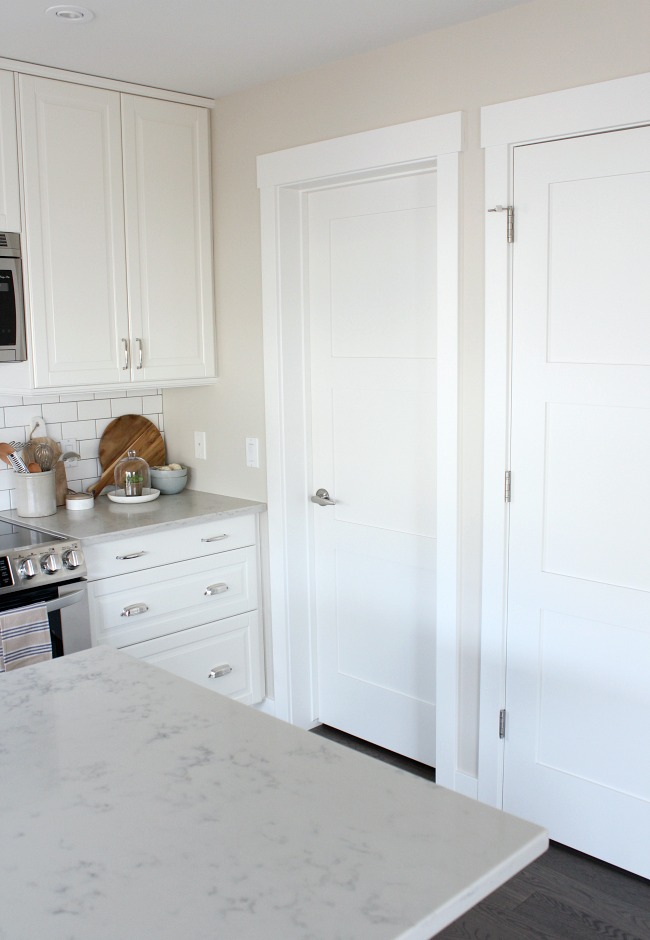 To begin, let me give you a bit of the backstory. While looking to move to the town we currently live in more than a decade ago, the selection of homes for sale in our price range was very limited. It was the very start of the housing boom when everything was just starting to take off. After searching around, nothing was checking our boxes completely, so we had to go with the best option we could afford before inventory was even more limited or prices became far too high. The home we ended up going with was a builder's spec home in a very good neighbourhood.
Although we were very relieved to have found something, I was less than enthusiastic about some of the finishes in the house. From the moment we moved in, there was a very long list of changes we wanted to make, and the trim was definitely near the top of the list.
Our Oak Trim Before
Picture skimpy oak baseboards and door casings in a reddish-orange stain. Yuck! Unfortunately, they made every room in our house feel quite dark and closed-in as you can see in the pre-renovation kitchen photo below.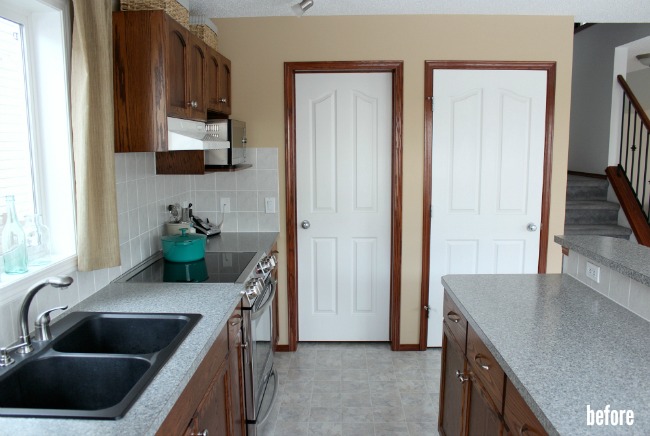 See what I mean?
I'm someone who knows white paint can be a miracle worker, but even it has its limitations at times. Who knows, painting that existing trim may have even made it look worse. I wasn't going to give it the time or effort to find out.
So, if our trim was really that terrible, why did it take us so long to change it out?
Over the years, life in our home carried on with small projects here and there, but busy schedules meant we never quite found the time to tackle bigger ones. Like many families, we spent our time at the hockey arena, helping with homework, making meals, doing laundry, walking the dog, travelling for work… you get the picture. Somehow, I learned to look past the ugly details of our home, keeping in mind that someday we'd address every single one of them.
Can you relate?
Where We Installed New White Trim
After years of patience while saving up the money, and finally setting aside the time, we decided to renovate our entire main floor at once.
This included our entryway, powder room, living room, laundry room, kitchen and staircase. We figured we may as well live through the mess once rather than room by room. (In retrospect, we really didn't know the chaos we were getting ourselves into, but it's all over now and we survived to tell about it!)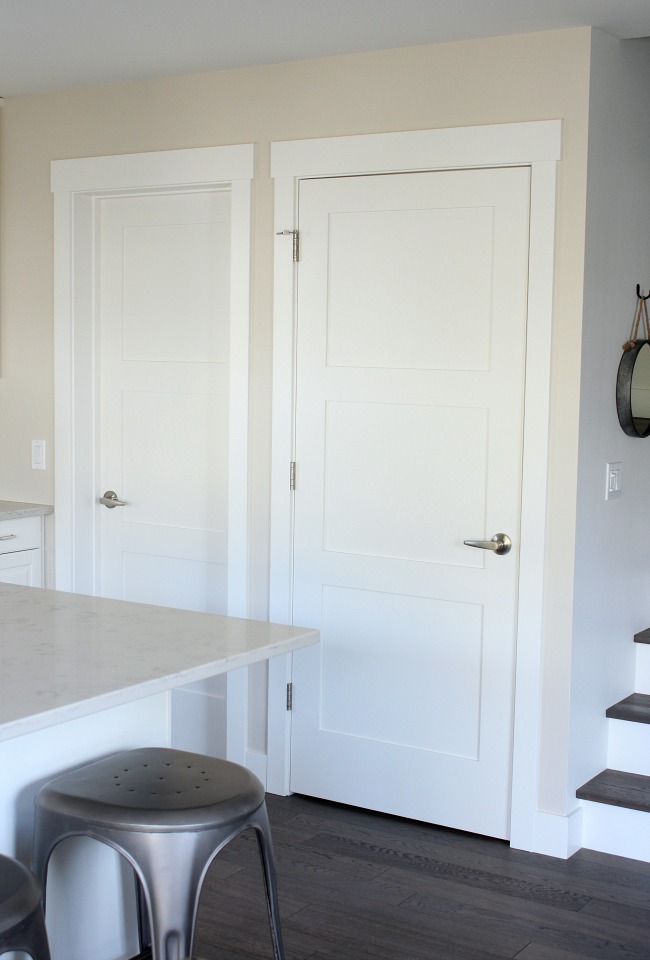 Shaker Style Trim Details
We installed flat stock MDF in a shaker or craftsman style to match our new 3-panel doors. Shaker is known for its clean lines and simple details which seem to stand the test of time. It's the same classic look we selected for our basement development a few years earlier.
Keeping trim styles consistent throughout a home helps to create good flow. Be sure to consider door trim, window trim, baseboard trim and possibly crown moulding when you're planning your own renovation, whether it's all at once or room-by-room.
As part of our design plan, we increased the size of our baseboards and window casings too.
Tip: Be sure to check out the sources listed at the bottom of the post for trim dimensions.
These kinds of small tweaks freshen up a space and elevate it to new heights. Quite often, it's these simple details that end up yielding the best return on investment.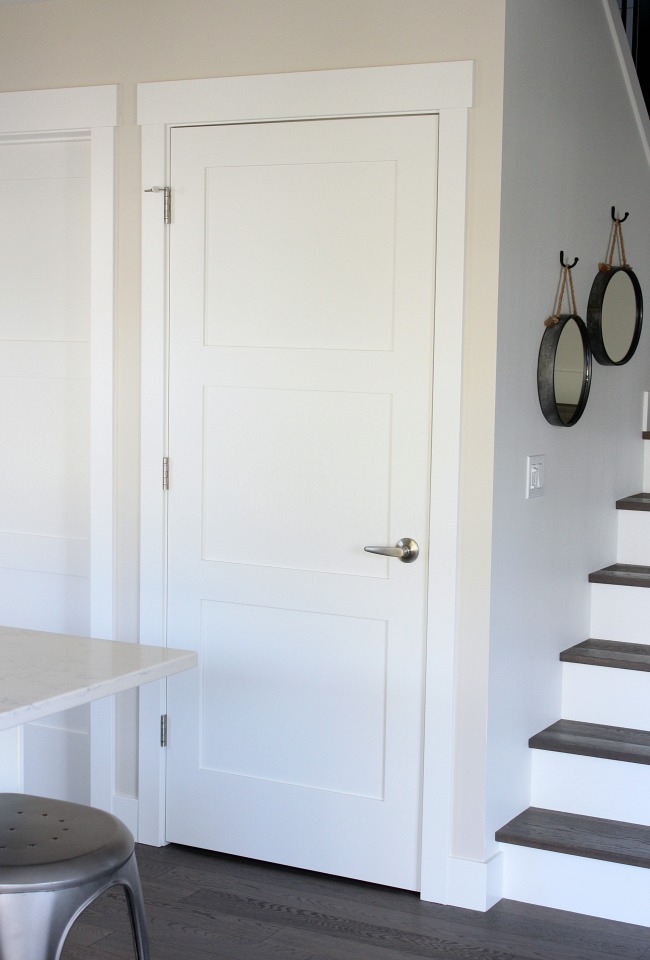 I love how the shaker style baseboard trim pops against the white oak hardwood floor, as well as the Brazilian slate tile floor we installed in the entryway, powder room and laundry room. It's the contrast I was looking for.
And those shaker style interior doors are simple, yet beautiful.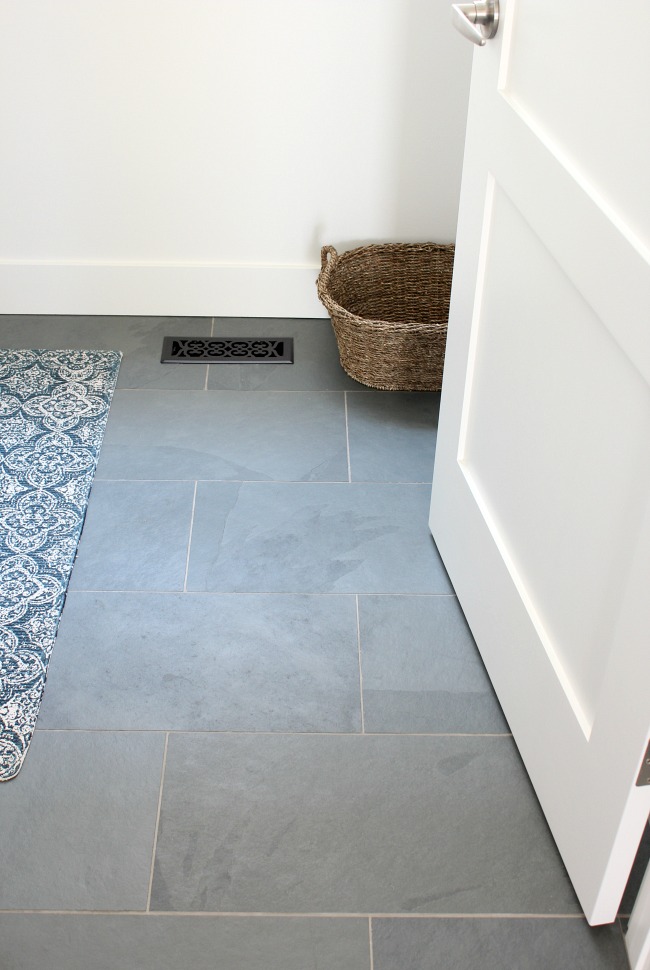 Fireplace Update Using Trim
One of the biggest transformations we made to our home during our renovation was updating our fireplace. Being the focal point of our living room and one of the spaces you first notice when you walk into our home, meant it was important to get the design right.
As you can see, our fireplace had far too much going on before with the arched top, textured finish, and red oak mantel. It was definitely a focal point, but not in a good way.
After covering over the textured surface and filling in the arch with new drywall, we created beautiful fireplace details using simple MDF, crown moulding, casing and stop. Once everything was painted out in White Dove by Benjamin Moore, our fireplace gained the depth and visual interest it once lacked.
With careful planning, you can definitely achieve a high end look without investing big in materials and finishes. I believe our shaker style fireplace project is a good example of that.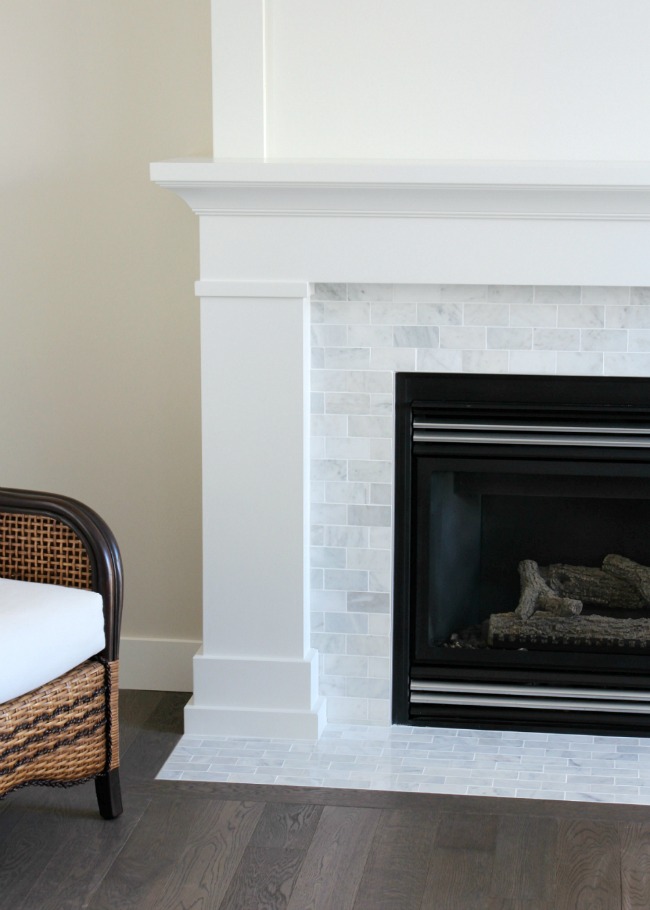 Crown Moulding
To create a seamless finish, we took the same style crown moulding we used to create the mantel and carried it around the ceiling perimeter of the living room. It made the room look "finished" and grown up. Funny how a small change like that can be so drastic.
Getting rid of the popcorn ceiling helped too, especially since it's only 8 feet high. No matter the time of year, our living room looks bright and fresh.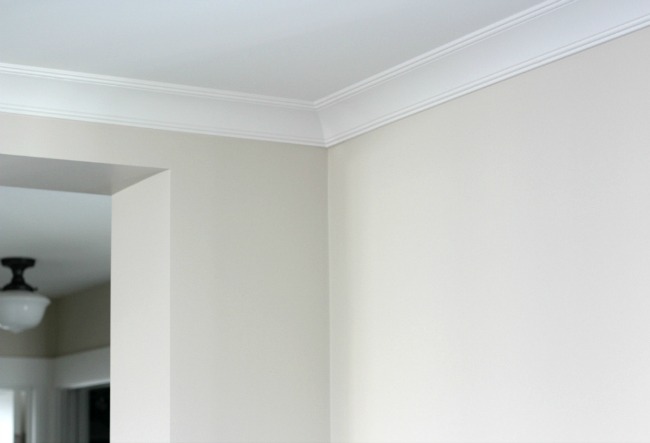 Our new shaker trim work has definitely breathed new life into our home. I'm no longer restricted in my decorating choices, worrying if the space will be too dark or whether or not the colours will clash or patterns will be too busy. Instead, we have a beautiful backdrop with oodles of possibilities. I guess waiting all those years was worth it in the end.
Do you have any big renovation projects you're saving for? Planning on changing out your trim and doors? Thinking about shaker or craftsman trim similar to ours?Tell me about it in the comments!
And, of course, you can find more sources on the Shop Our Home page or visit Our Home Projects gallery to see even more.
Want more home improvement projects like these sent directly to your inbox? Be sure to SUBSCRIBE.
So glad you stopped by!