From Carpet to Hardwood Staircase Makeover
Want to transform your stairs from carpet to hardwood? Check out our staircase makeover with painted white risers and dark treads.
Today's post has been a long time coming. Remember the staircase makeover project we started quite some time ago? Well, we finally crossed it off our renovation list. Worth the long, long journey to get here? I think so, but I'll let you decide for yourself…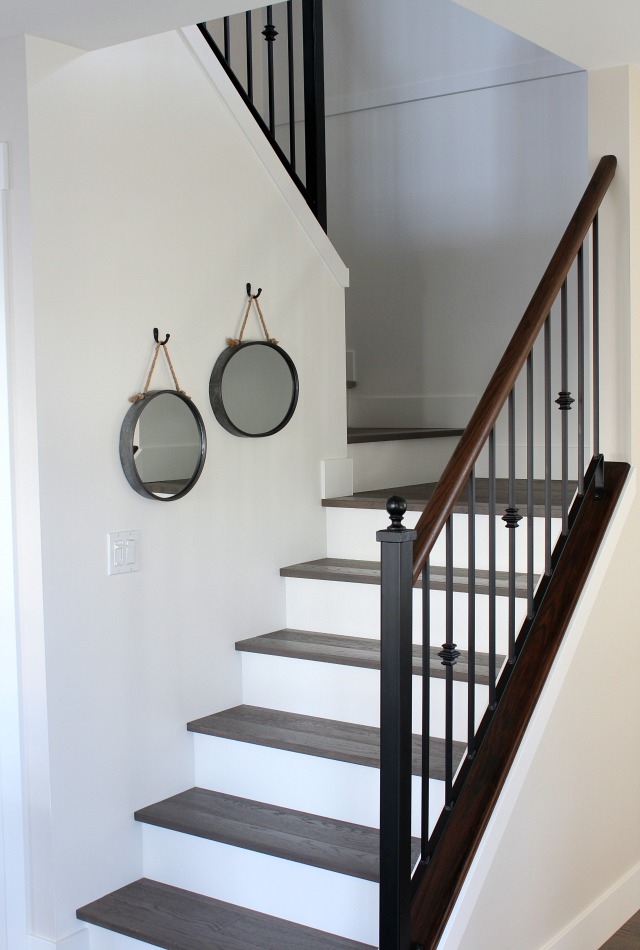 To tell you the truth, we had most of the transformation from carpeted stairs to hardwood completed last fall. But, cold weather hit before we got around to sanding and staining the handrails, so they sat in the garage until the weather warmed up. Then, I got busy working on outdoor projects, so they were bumped to the bottom of the list once again. September hit, and I started to panic a bit.
Can you relate?
These sorts of situations tend to wear me down. It's like, "Remember me? You know, the staircase project you started months ago that you're neglecting. Poke, poke poke… I'm still here!"
I don't know how some people can block that noise out. For me, projects that go unfinished for long periods of time are a total energy suck. It's great to finally get the monkey off my back and share what we've been enjoying for a few weeks now. (Yes, getting the reveal post up on the blog is another step in the process!)
Before I show you more reveal pics, take a look at what we started with first. Our stairs had seen better days, for sure! Carpet on the stairs always takes a beating, doesn't it?
For the riser paint, we used Benjamin Moore White Dove (OC-17). This is the same colour we used for our fireplace, as well as the rest of the new trim and doors on the entire main floor. It's a soft white colour that works well for stair risers as it keeps the staircase from looking too dark, but isn't too stark against darker wood. Read more about that paint colour selection.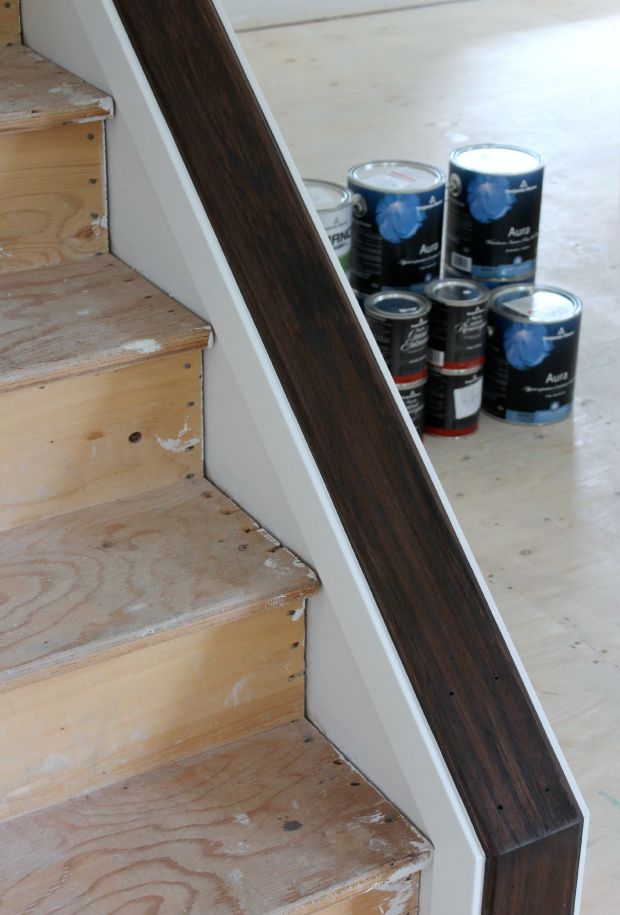 Staircase Installation Details
We hired a professional to install the hardwood treads and MDF risers since it can be very tricky to get the cuts perfect on stairs. This is particularly true when it comes to the wrap-around portion.
The hardwood flooring we selected is an engineered white oak in 5″ wide planks. I like that it has a matte finish, which seems to work better at hiding footprints and dust than most darker hardwood floors. I mean, who wants to deal with that?
White oak is also a bit harder than red oak and doesn't have a pink undertone (something we definitely wanted to stay away from).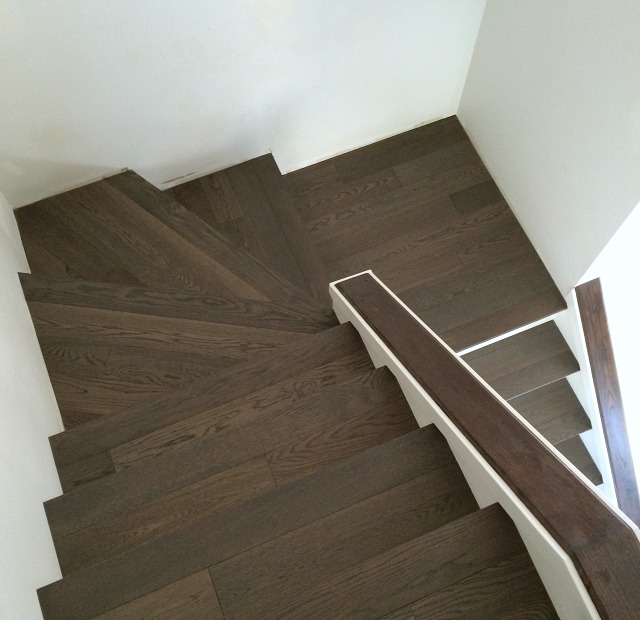 After the wood stairs with white risers went in, we installed flatstock baseboards (that were pre-sprayed white) to the wrap-around and landing portions of the staircase only. The tight fit along the remaining stairs and walls meant we could forgo using baseboards on those sections.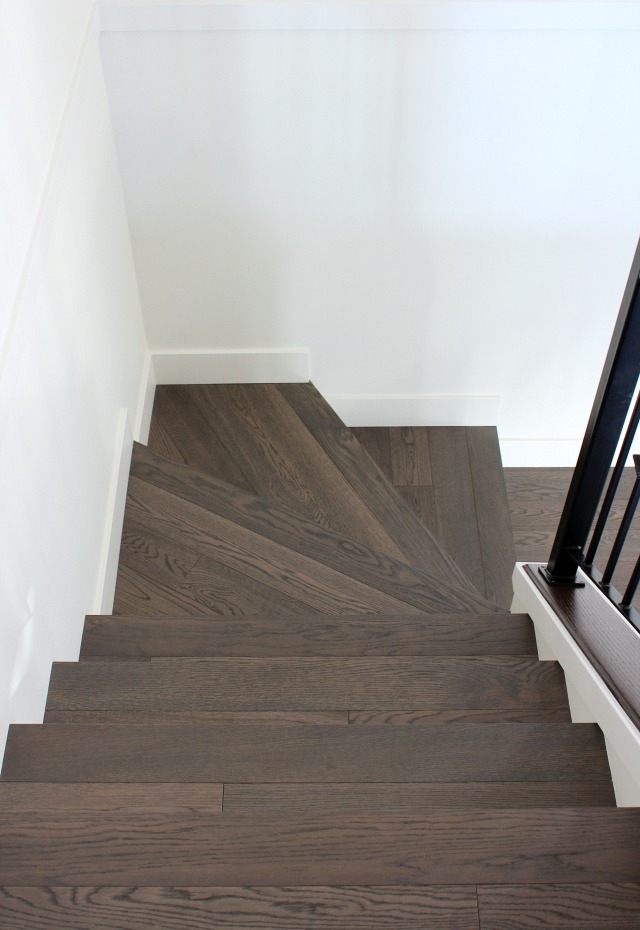 Before we installed the iron railings, I top coated the re-stained wood portions with satin polyurethane for an added layer of protection. (I followed the same steps when I eventually got around to the handrails.)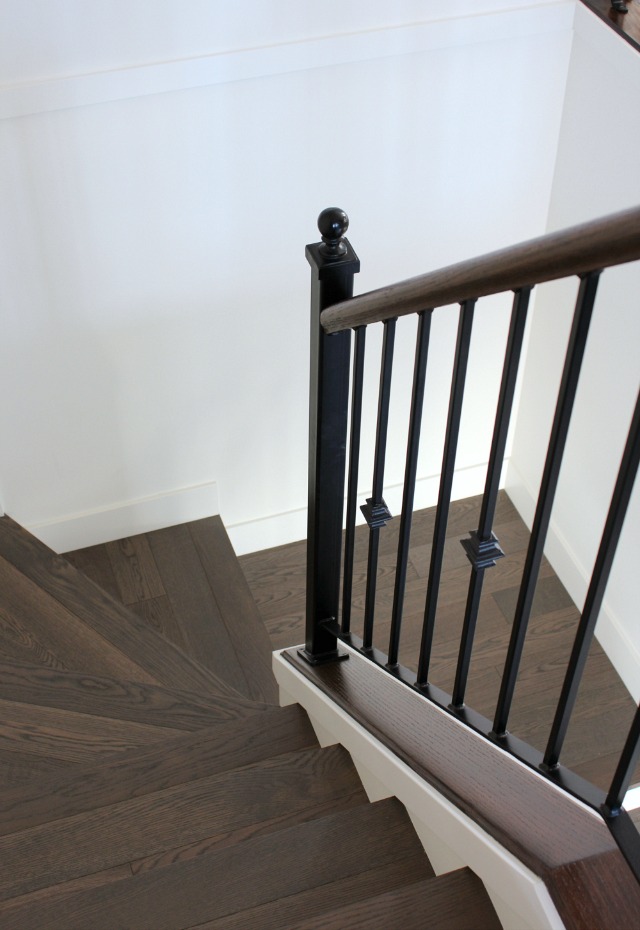 White Staircase Paint
The last step in the makeover was painting the walls and MDF risers Benjamin Moore White Dove. We also had to fill the baseboard nail holes and brush on a finish coat in white.
I considered going with a darker colour for the walls, but painting them white kept the space looking fresh. As well, going in that direction meant I didn't have to worry about the transition of colour to our family room at the top of the stairs.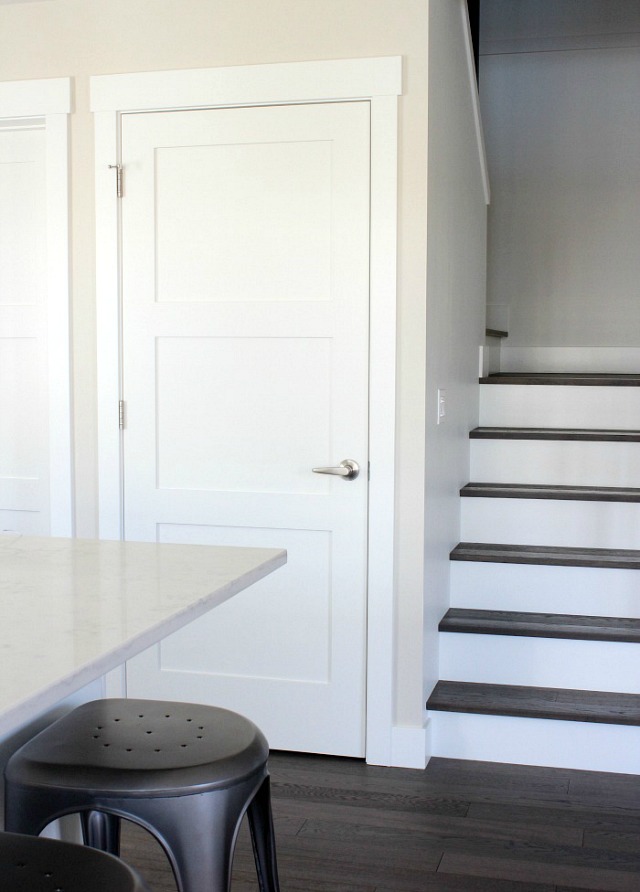 Staircase Decor
For the decor, I kept things simple. I found two rope mirrors that I thought would tie in well with the metal stools in our kitchen, as well as the antique metal schoolhouse light fixtures in the adjacent hallway.
I like how they add a bit of brightness to the space.
Thankfully, I was able to find the perfect black iron hooks to hang them from too. I think they do a good job of finishing off the look.
I thought I'd want to add artwork to the staircase on the upper wall section, but I like how it looks without. Sometimes less is more, right?
What's It Like Living With Hardwood Stairs?
One of the best parts about hardwood stairs is how quickly they can be cleaned. It used to take us forever to vacuum the carpet on each tread. Now, we can pull out our microfibre dust mop or Dyson stick vacuum and have it done in a minute. It's so much easier on the back too!
I was warned that white painted risers could be an issue with scuffs. After a year of living with them, we haven't had any problems. We tend to only wear socks or soft sole slippers around the house. Shoes could potentially be a problem, especially if you have some clumsy family members who tend to trip going up the stairs. A friend carefully uses a magic eraser to keep the white risers clean in her home.
One thing to keep in mind is that hardwood stairs can be a bit slippery and definitely hazardous when it comes to falls. The matte finish on ours makes them much better, but I would consider installing a runner for a gloss finish, especially when it comes to kids. We definitely don't burn up and down the stairs like we used to! We use the handrails more often.
Secondly, I realized after installing the hardwood that we used to be quite rough on our stairs. I didn't worry about dragging the vacuum hose or whether or not I fully lifted my suitcase when I carried it down the stairs. Now, we're much more mindful in order to keep the wood as scuff-free as possible. If you're a rough and tumble family, carpet may be the way to go.
All in all, I would definitely do it again. The look is much more custom and it has helped to expand the space by there not being a transition from hardwood floors in our kitchen and hallway to carpet on the stairs. Our stairs with white risers and dark treads look seamless.
Finally, if you haven't been following along since this project started, be sure to catch up on our carpet to hardwood staircase before and after journey:
Planning a staircase makeover or have any other home improvement projects of your own going on right now? What's been the biggest obstacle to getting them done?
Want more home improvement projects like these sent directly to your inbox? Be sure to SUBSCRIBE.