Benjamin Moore White Dove – A Paint Colour Favourite
Benjamin Moore White Dove is a beautiful soft white paint colour with a hint of grey making it a popular choice for trim, cabinets, walls and more. Is this clean and classic white perfect for your space too?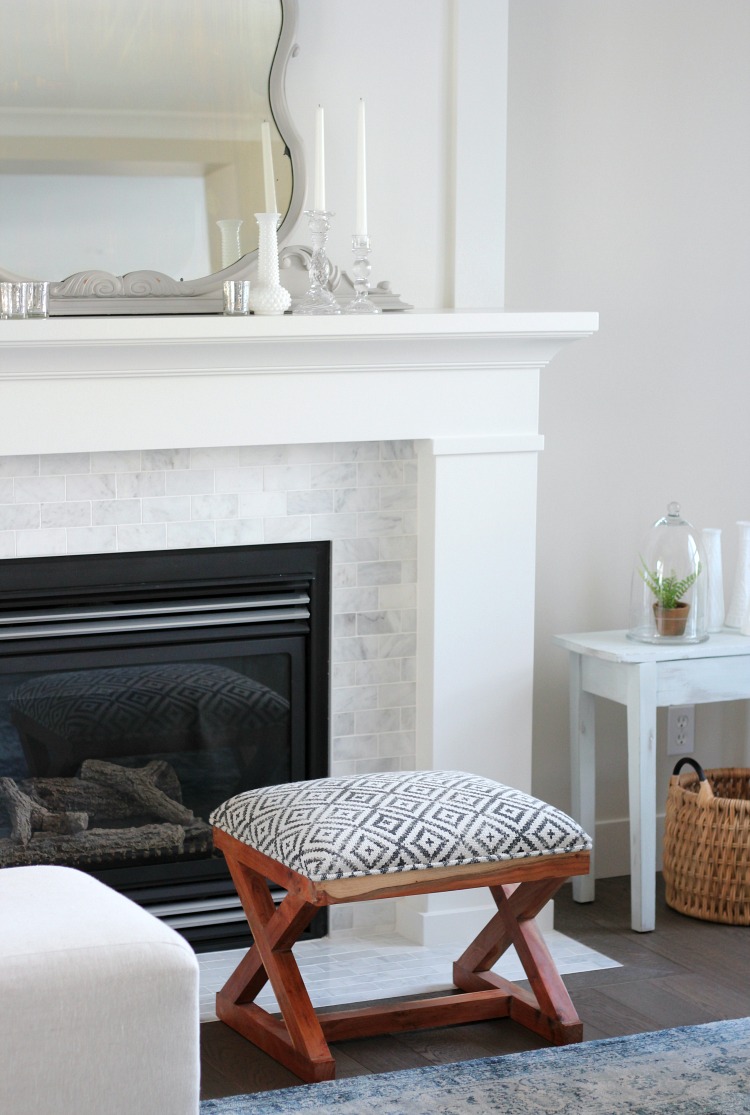 One of the questions I've been getting a lot lately is about the white paint colour we used for our trim and doors (and fireplace) on our main floor. After testing several options alongside our new kitchen cabinets, hardwood floors and wall colour, we ending up going with Benjamin Moore White Dove.
Why Benjamin Moore White Dove Paint?
Although I tend to be uncertain about a new paint colour until I see it in a space, White Dove OC-17 (also known as PM-19) became an instant favourite. As soon as it started going up, I could tell it had just the right amount of soft warmth (not too creamy) to make it inviting, but also enough crispness to keep our rooms looking fresh. It felt like the perfect balance.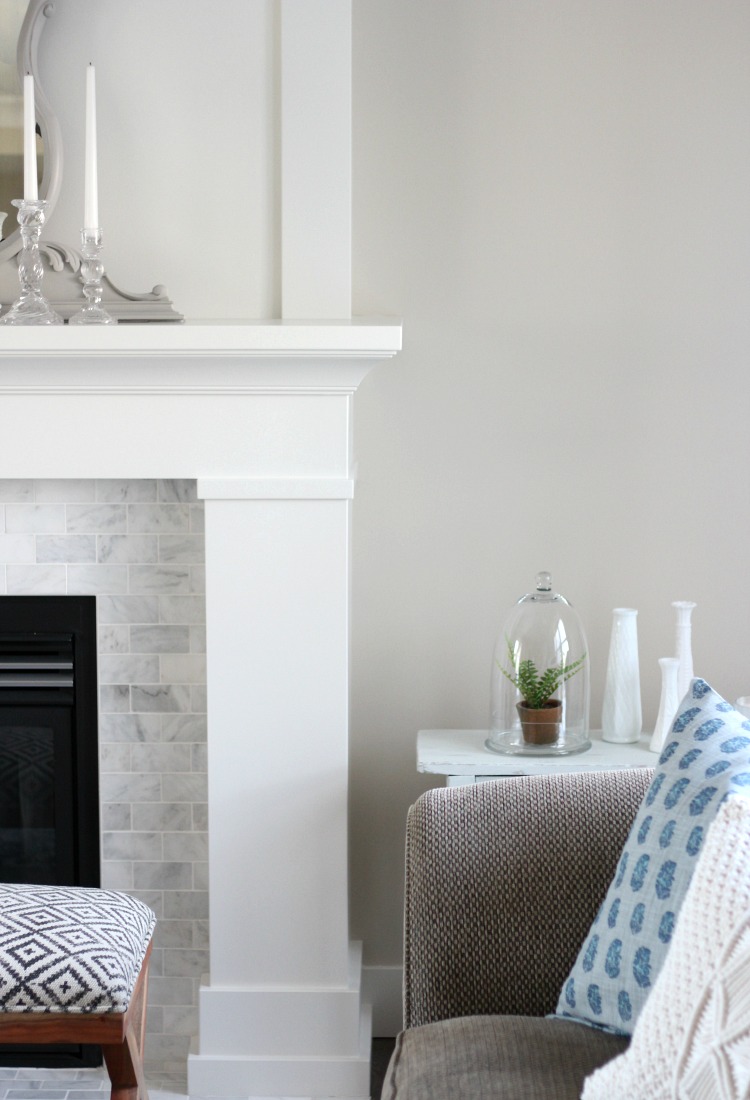 Blends well with the marble subway tile surround on our fireplace, doesn't it? With the particular Carrara marble we selected, White Dove works since there's a lot of colour variation, including some cool and warm white tones.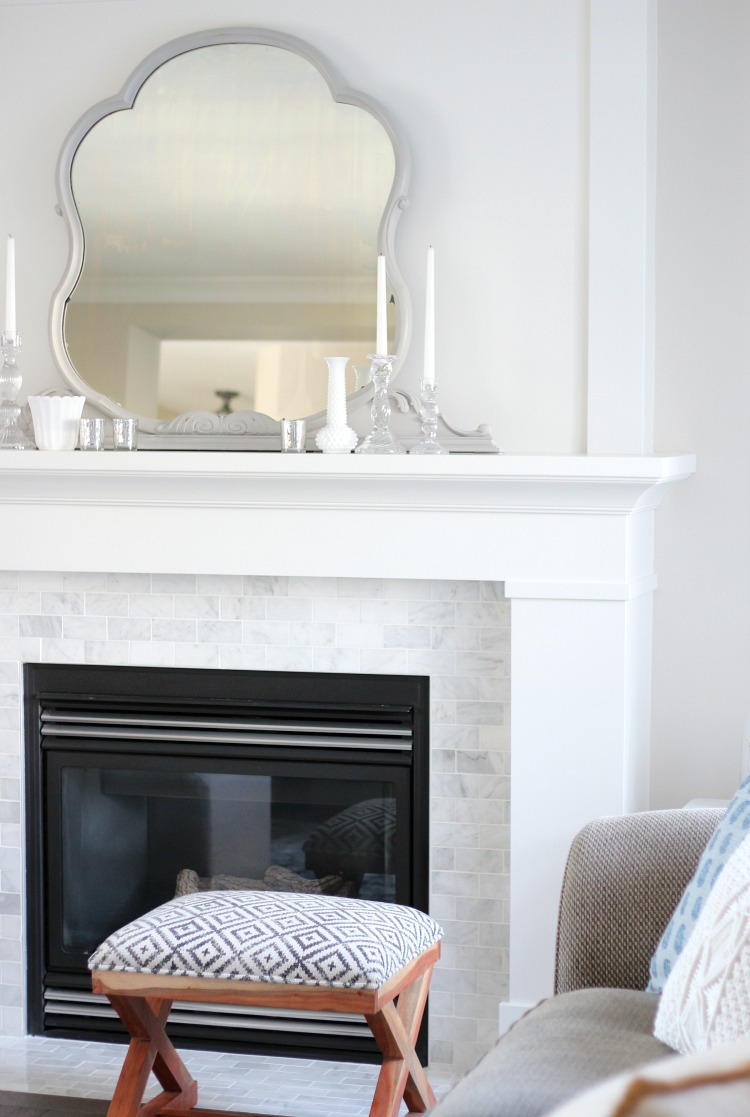 But what about the kitchen?
Because we installed IKEA Bodbyn cabinet doors and drawer fronts in the kitchen, which are quite off-white (a little too yellow for me in certain lighting), I was looking for a trim paint colour that helped off-set the warm undertone. Colour matching the cabinets would've meant the trim throughout our home being too creamy, so that wasn't an option.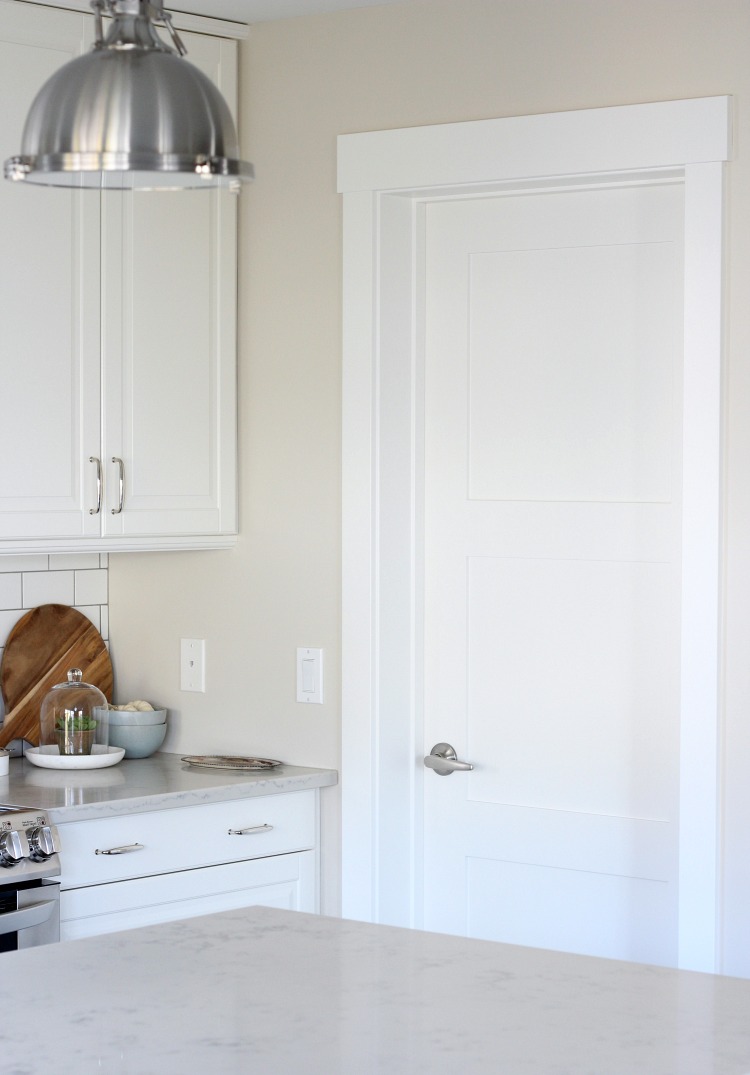 I tested quite a few whites (which I'll get to), but found White Dove paint to be the best choice considering all of the factors we were dealing with.
Is White Dove Cool or Warm?
Although White Dove leans a little on the warmer side, next to our kitchen cabinets, the trim still looks fresh. It does a good job of brightening our kitchen without making our cabinets look too creamy. A win!
White Dove trim also pairs beautifully with our Benjamin Moore Baby Fawn wall colour (a soft greige, also known as Edgecomb Gray). The slightly warmer undertones of the two colours work well together.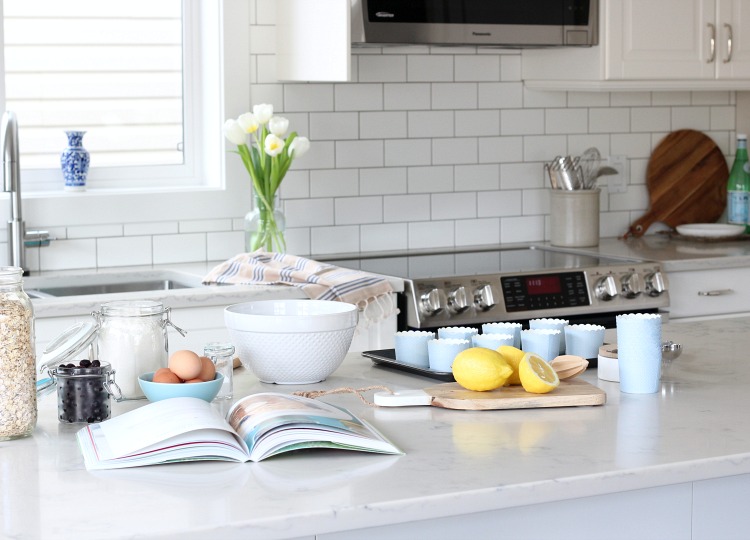 In addition, the White Dove paint colour goes well with our matte off-white subway tile backsplash, quartz countertops and white windows.
It was tricky to find just the right white paint to tie everything together. White Dove is such a versatile paint colour!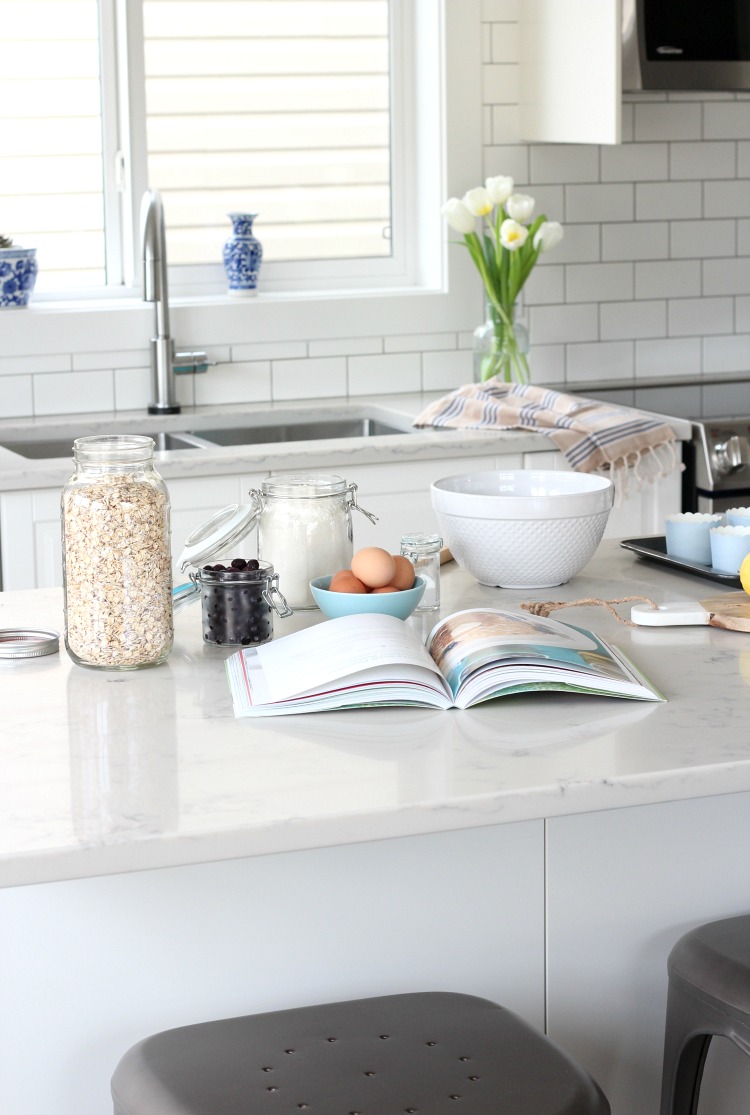 White Dove Walls and Ceiling
Aside from the trim, doors and fireplace, we also ended up painting the walls in our pantry, laundry room, powder room and staircase (including the risers) in BM White Dove. We also used it on the ceiling once the popcorn was removed.
You can see more of those rooms in the project gallery. White Dove paint on the ceiling gave our rooms a lovely glow. Using a flat finish switched it up just enough.
I think it pairs beautifully with our grey slate tile and dark(ish) white oak floors too. I'm loving our Benjamin Moore White Dove walls. What do you think?
I love how the spaces look light and airy without being too stark no matter the time of day or the season we're in. I spend a lot of time at home, so that's very important!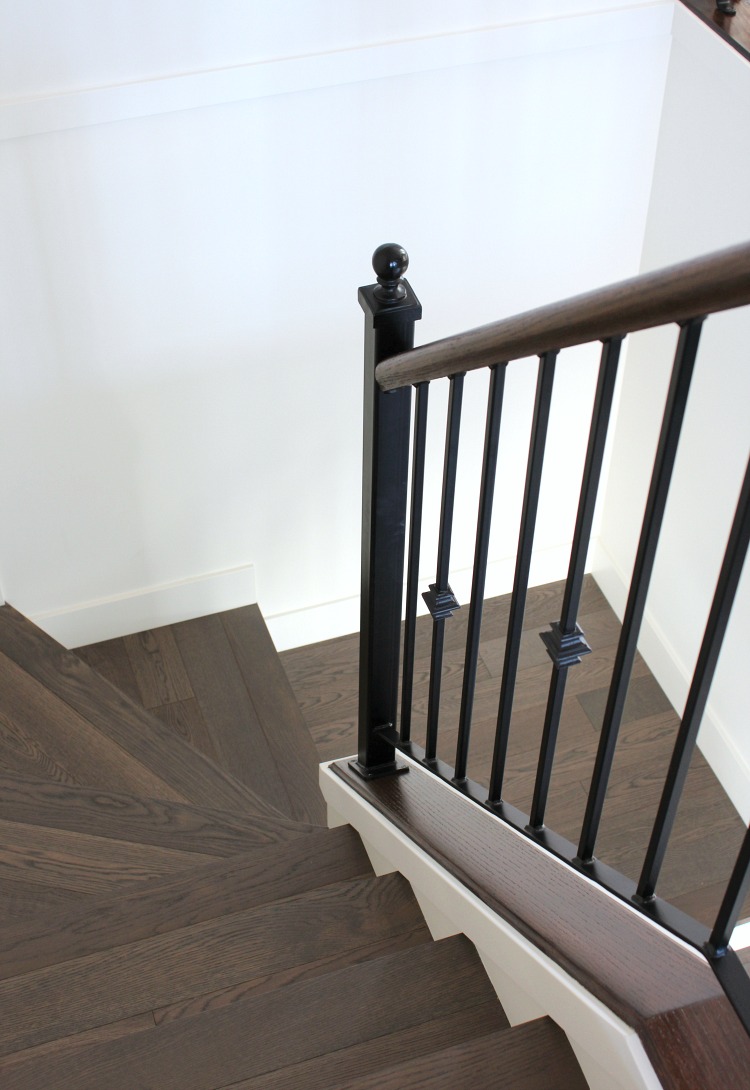 Other Benjamin Moore Whites
So how does White Dove stack up against the recently popular Simply White (OC-117)? It's definitely darker and has more grey in it. Painted side-by-side, there's a noticeable difference (I tested it out).
Update: See our new kitchen walls and trim painted in Benjamin Moore Simply White.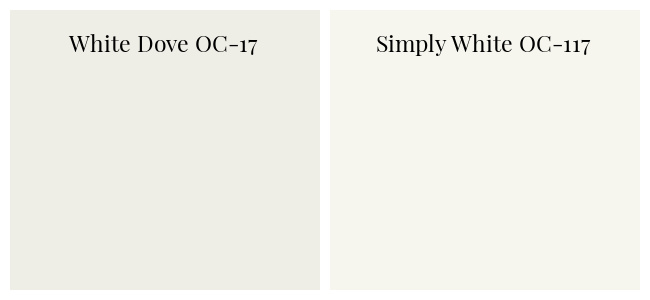 Other Benjamin Moore whites I considered and suggest taking a look at are Chantilly Lace (OC-65) and Oxford White (CC-30), which are both on the cooler, brighter side. I would consider them to be truer whites with a slight blue and green undertone respectively.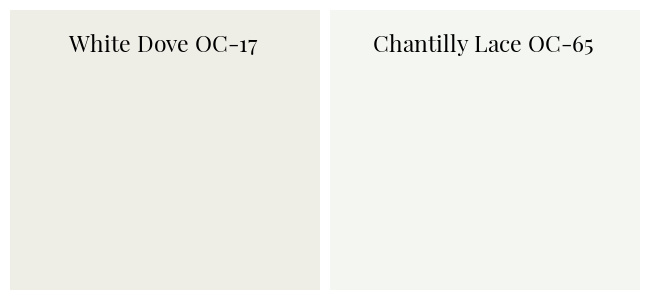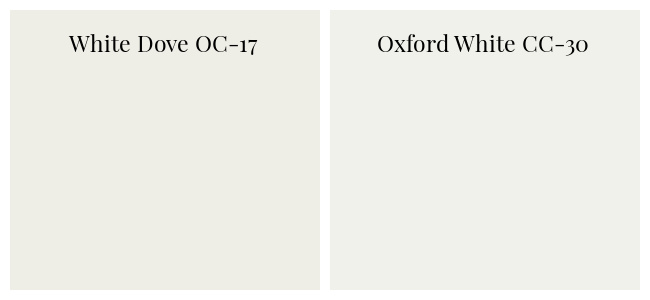 Like a white that's more subtle and warm? Check out Cloud White (OC-130).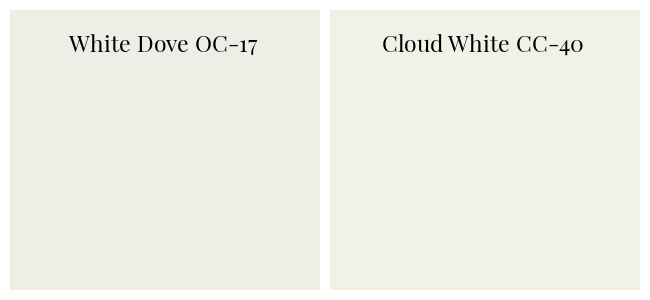 All of these white paint colours are beautiful in their own right depending on the look you're going for. Compare samples side by side, i.e. Simply White vs. White Dove before you make a decision (see more below).
Here's how all of these Benjamin Moore whites look side by side…
Comparing Whites Using Light Reflectance Value
LRV is a scale commonly used by design professionals that measures the percentage of light a paint colour reflects.
0 = absolute black (absorbing all light) and 100 = pure white (reflecting all light)
White Dove: LRV 85.38 (darkest)
Simply White: LRV 91.7
Chantilly Lace: LRV 92.2 (lightest)
Oxford White: LRV 88.85
Cloud White: LRV 87.35
As you can see, White Dove reflects the least amount of light (making it the darkest) and Chantilly Lace reflects the most (making it the lightest in this grouping). Keep in mind, these are slight variances.
What to Consider When Selecting White Paint
What kind of natural light do you have in the room?
White Dove can handle warm light with its slightly grey undertone but may not be the best choice for a north-facing, darker room. Keep in mind it will shift in colour from space to space. We live in "Sunny Alberta" which means White Dove reads more crisp with all of the natural light. Have grey/dull skies most of the time? Go for a brighter white colour.
What colour are your kitchen appliances?
White Dove doesn't tend to pair well with white kitchen appliances since they're usually a brighter white (depending on the brand). However, it works beautifully alongside stainless steel and most coloured appliances. In many cases, White Dove is good for cabinets.
What colours do you plan on adding to the room?
I tend to decorate using cooler tones (blues, greens, greys) which pair nicely with White Dove. Having said that, I've used red at Christmas and it looks equally as good. I'd say it goes well with most colours. Love it with natural linen fabric!
What colour(s) are your floors? Installing wallpaper?
Light bounces off other surfaces often changing the colour of walls slightly. A friend once painted her room white in the winter and had a green room come spring once the trees leaved out. Be mindful of that if you have large windows!
What colour is your ceiling?
If your ceiling is stark white, you'll want to paint it the same colour as your trim in a flat finish or the room could look disjointed. Or, go with a completely different colour for your ceiling, such as a soft blue.
Want an all-white room?
For most spaces, select a flat finish for the ceiling, eggshell for the walls and a bit higher sheen (pearl or semi-gloss) for the trim.
What paint finish are you using?
More sheen equals more reflection making a colour appear lighter and brighter. Most paint chips are an eggshell finish, so keep that in mind while making your selection.
What Colours go Best with White Dove?
Benjamin Moore wall colours that look lovely alongside White Dove trim:
Hale Navy
Revere Pewter
Baby Fawn or Edgecomb Gray
Balboa Mist
Classic Gray
Kendall Charcoal
Sea Salt
Of course, this is only a small list of some of my favourites. It's a versatile colour that pairs nicely with so many others!
How to Test Benjamin Moore Whites in Your Home
To see what these colours actually look like in your home, I suggest picking up a few sample pots and painting them on a white background (card stock or foam board), or directly on the wall. Be sure to move them around the room and take a look at different times of the day as the lighting changes.
An easier and mess-free option is peel and stick paint samples. They're produced with genuine manufacturer paint, so the results are accurate. The large size makes it easy to visualize. I leave the backing on and use painter's tape to affix to the wall. That way, it's easy to move around.
White Dove Paint Finishes Used in Our Home
Trim, Doors and Fireplace– Water-based lacquer custom mixed at Sherwin Williams (sprayed)
Walls– Benjamin Moore Aura® Waterborne Interior Paint in Eggshell
Ceiling– Benjamin Moore Waterborne Ceiling Paint in Ultra Flat
Other Renovation Details–
Now, let's take a look at some other gorgeous spaces featuring White Dove paint.
Benjamin Moore White Dove Kitchens
Although we only used White Dove for our trim and ceiling in our kitchen, some of my friends have also used it on kitchen cabinets, walls and more.
This farmhouse kitchen with White Dove cabinets by Maison de Cinq is so pretty. You can see how she paired it with a marble backsplash similar to our fireplace surround.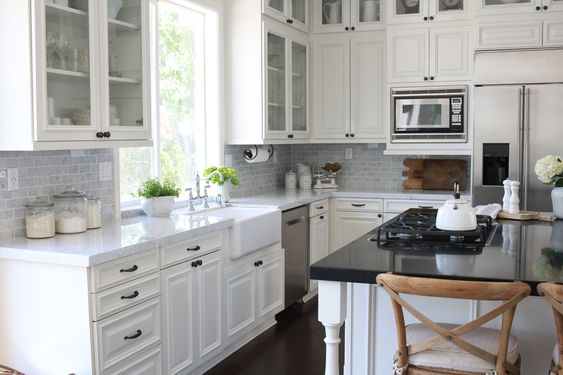 This kitchen remodel using White Dove paint by Chatfield Court turned out so well. It looks so fresh and airy without being too stark.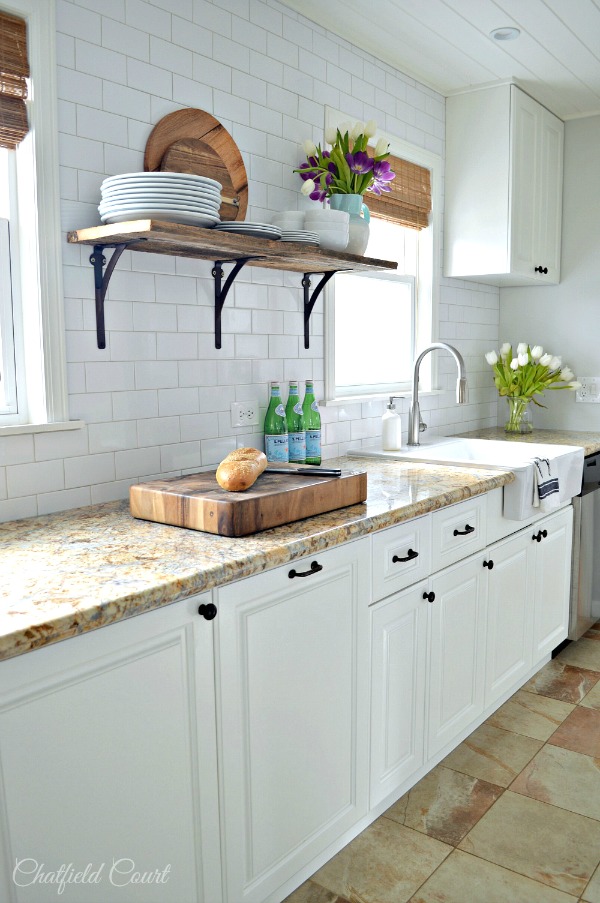 Do you have dark stained wood cabinets? This White Dove trim and open shelving by Honey n Hydrangea works perfectly to keep the kitchen from looking too dark.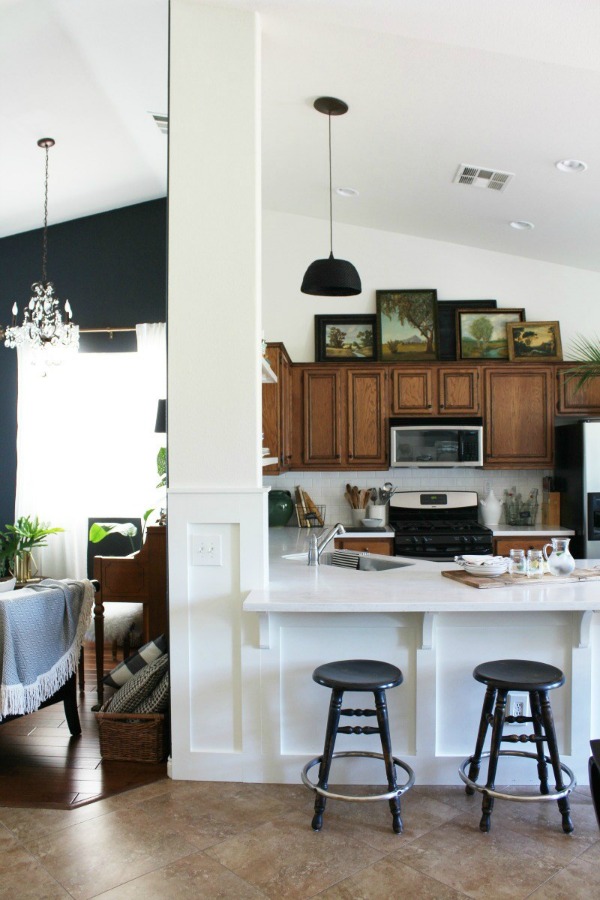 This board and batten painted in White Dove adds so much character to this cozy little breakfast nook created by Sincerely, Marie Designs!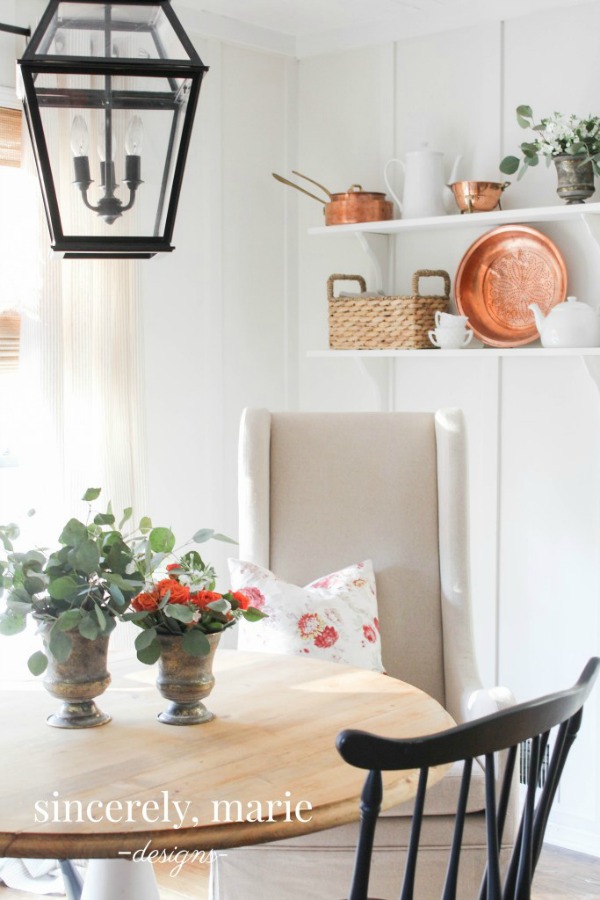 Going for a historic look in your kitchen? These White Dove kitchen cabinets by For the Love of a House work perfectly.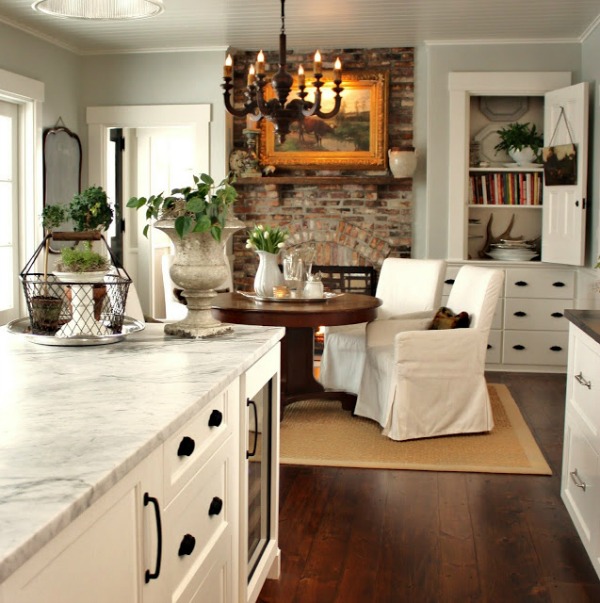 More BM White Dove Walls
White Dove works well in bathrooms, bedrooms and other rooms too. I love how it balances brightness and warmth throughout varying seasons.
These White Dove shiplap walls add texture and interest to this bathroom by Jamie Costiglio. It's a lovely white paired with vintage touches.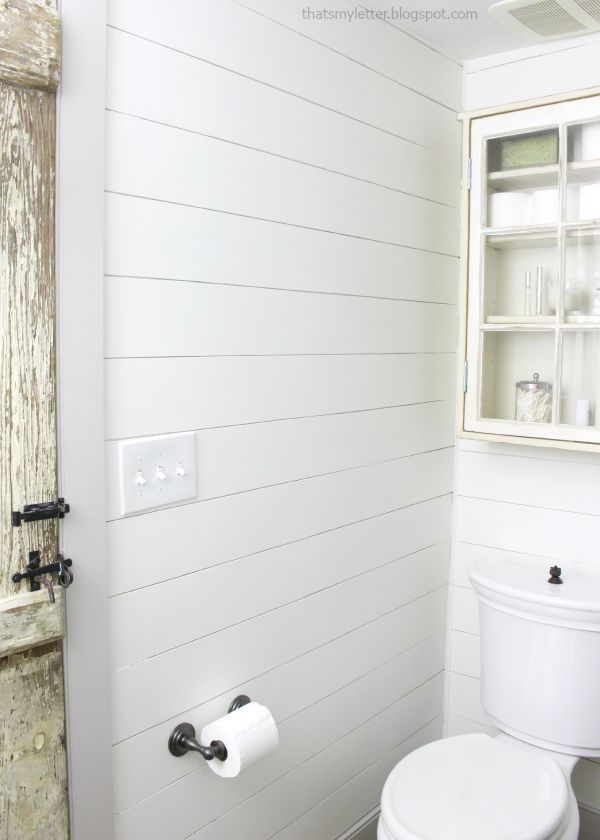 These White Dove bedroom walls by Maison de Cinq work beautifully with the soft blue decor and furniture, plus natural linen.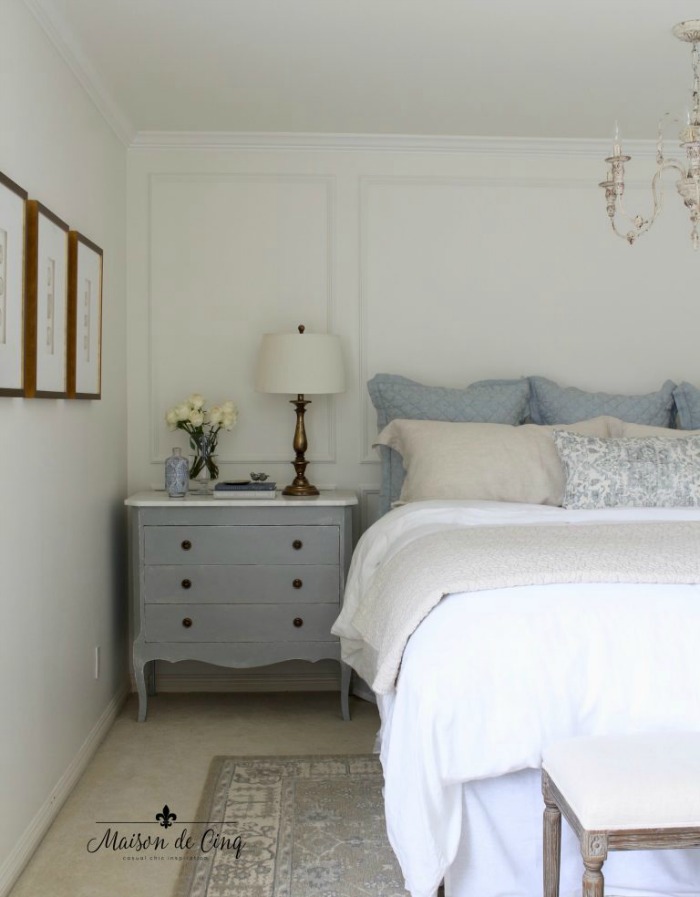 Painting your bedroom? This makeover using White Dove paint may be the inspiration you're looking for. My friend Jen from City Farmhouse created a beautiful retreat!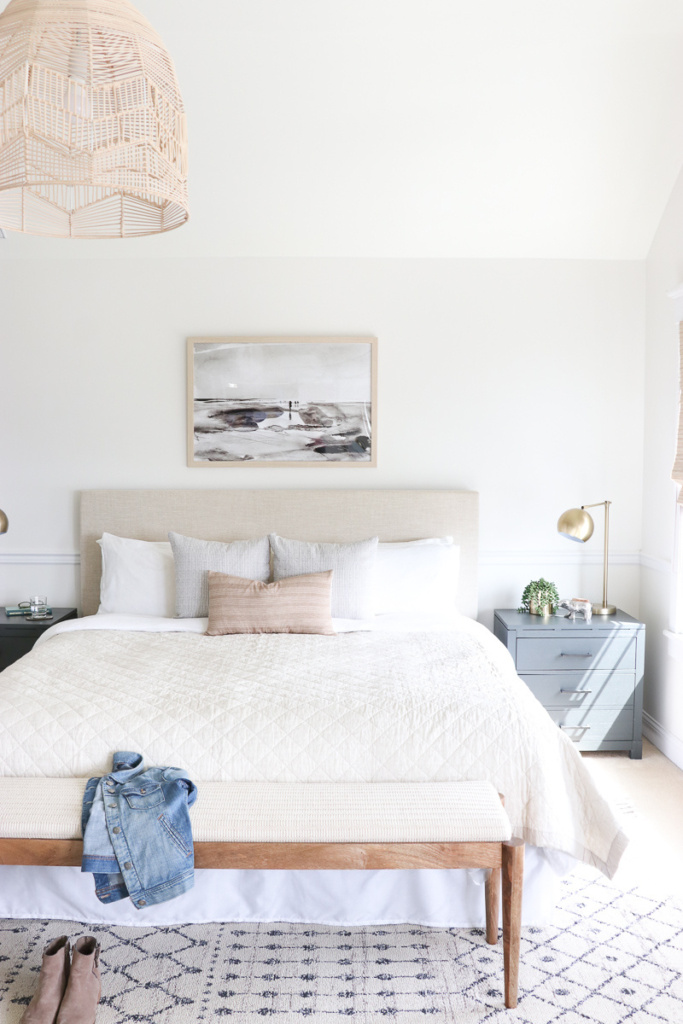 All so pretty, don't you think?
As you can see in these real life examples, Benjamin Moore White Dove paint reads very differently in each room, which means you should always test the colour first. I suggest reading these paint colour selection tips to help you through the process.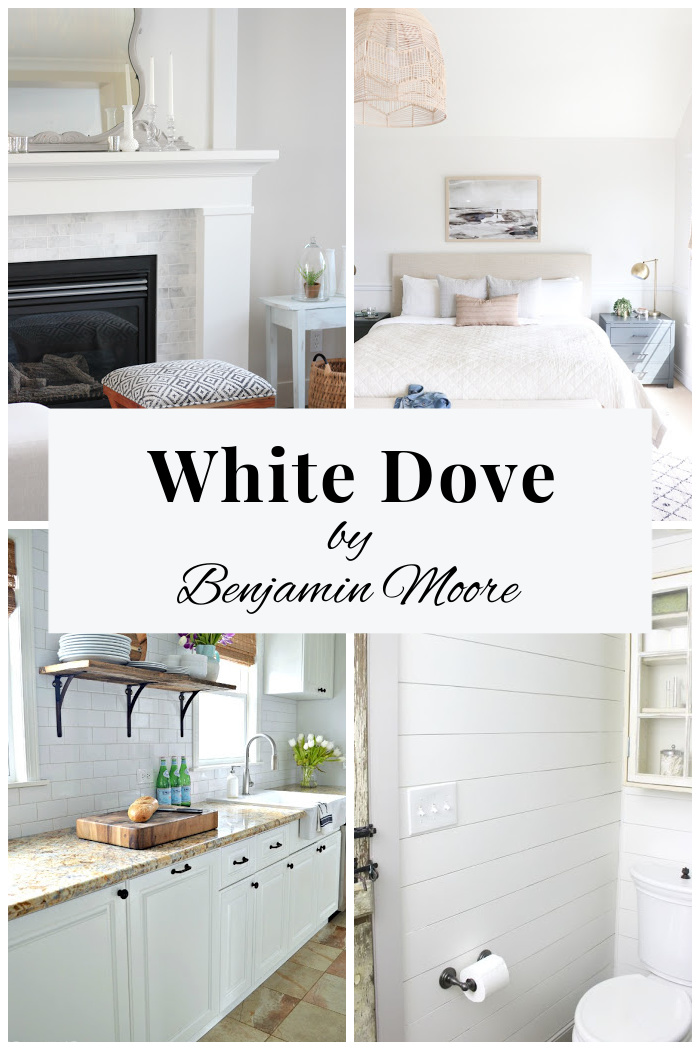 For more behind-the-scenes project updates, follow along on Instagram. I also encourage you to check out more fantastic paint colour picks too. Finally, if you have any questions about selecting the right white paint for your home, let me know.
Want more paint colour suggestions like these sent directly to your inbox? Be sure to SUBSCRIBE.
Enjoy your day!