Top Questions About Our IKEA Kitchen
Building a new IKEA kitchen? I'm answering the top questions I get asked over and over again about our white kitchen design. Cabinets, countertops, backsplash and more. Get the details!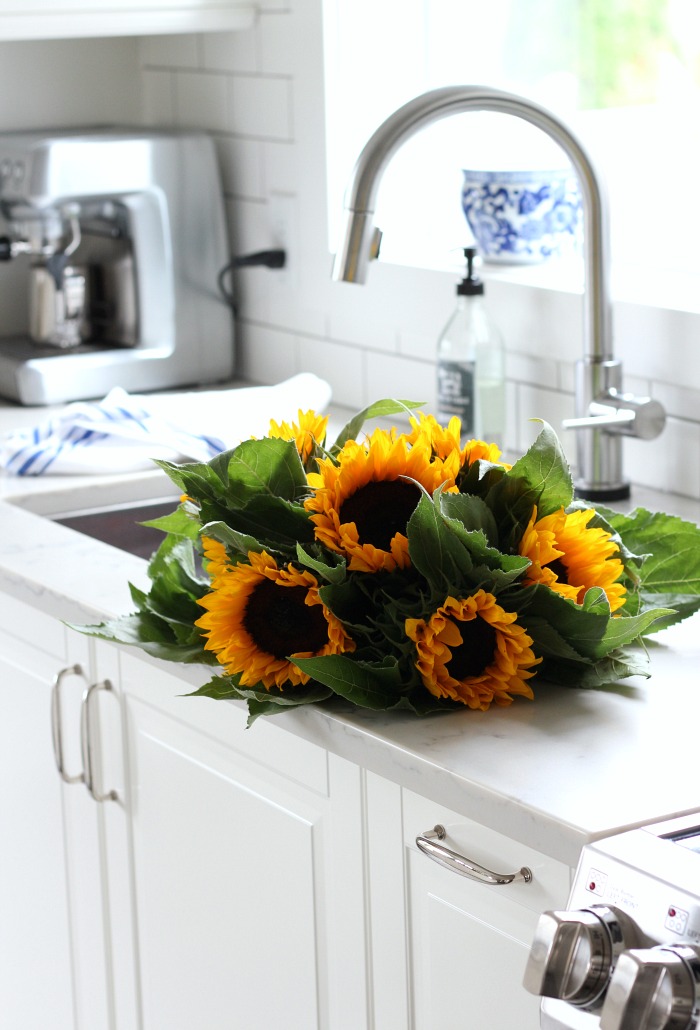 Hello everyone! How's January treating you so far? I started feeling under the weather on New Year's Eve and finally feel back to myself. Hopefully the rest of the year goes better!
Since I don't have any new projects to share with you quite yet, I thought I'd tackle some of the top questions I get about our kitchen. Remember what it looked like before the renovation? Having answers in one handy place will definitely help moving forward. I know a lot of you are planning IKEA kitchen remodels soon, so keep this post as reference. Also, please let me know if there's anything I haven't answered and I'll be sure to update as needed.
IKEA Kitchen Questions
Are you still happy with your TCE Stone quartz countertop? Has it stained or scratched easily?
For our kitchen countertops, we selected quartz from TCE Stone (4005) partially for the look (similar to marble), in addition to the cost savings. I wasn't sure how it would hold up compared to a more recognizable brand like Caesarstone or Silestone, but so far, so good. After over 3 years of use, it shows very little wear.
Is it completely indestructible? No. We're careful not to drag anything sharp or rough across it, and we always use cutting boards and trivets for hot pots and pans. We're also careful to wipe up foods that tend to stain, like turmeric and red wine, as well as those that have etching properties, such as vinegar and lemon juice. Oils will leave a temporary mark too, so best to place bottles like olive oil on a cutting board or plate while using to prevent rings.
Tip: A tiny bit of baking soda mixed with water (and a very light scrub with a microfiber rag) seems to lift anything that doesn't come off with simple dish soap and water. Do not use anything abrasive.
Where did you find your subway tile for the backsplash? Is it white or off-white? Matte or Glossy?
The white subway tile we used for our kitchen backsplash is off-white in a matte finish (3×6″) from Tierra Sol (I believe the off-white is discontinued but is still available in pure white).
The IKEA Bodbyn cabinet doors are quite off-white with a bit of a sheen, so I wanted something with a bit of contrast. For reference, the tile colour is similar to Benjamin Moore White Dove (the paint colour we used for the ceiling, trim and doors in our kitchen).
What colour is your backsplash grout and what is the measurement (spacing) between the tiles?
For the backsplash grout, we selected Mapei Pewter (O2), which is a medium-warm grey with a tiny bit of brown undertone.
The spacing is 1/8″ around each side. I prefer the look of thinner grout lines and they also seem to hold up better over time (especially behind the range and sink where stains are more likely to occur). This particular grout has a built-in sealer, which also keeps it resilient.
Is your fridge counter depth? Why doesn't it stick out more since the IKEA upper fridge cabinets are only 24″ deep?
Our 33″ wide KitchenAid fridge is not counter depth. To make it look recessed into the cabinetry, we built the standard upper fridge cabinet out.
First, we secured a block of wood to the wall, then attached the suspension rail and hung the fridge cabinet. It added about 3″ overall depth to the upper cabinet. A full height and depth cover panel was used on the right side, as well as a partial depth, full height cover panel on the left. Both sides helped to secure the fridge cabinet in place. Now we see much less of the refrigerator side than we would've had we gone with the standard IKEA configuration.
Like that bright pink rug? Find it, plus check out other patterned pink rugs.
Which cabinets (or other components) did you use to build your IKEA kitchen island? It looks deeper than the standard 24″ base cabinets.
Yes, our island is a bit larger than standard, measuring 26″ deep (42″ total including the countertop overhang). This is another feature we customized using IKEA stock cabinets along with a few inexpensive building supplies.
As you can see, we placed 3 SEKTION base cabinets side-by-side measuring 24, 30, 24 inches wide, then attached wood strips along the back to add more depth. We wrapped the back and sides using FÖRBÄTTRA cover panels (a nail gun and strong glue come in handy), then finished it off with the decorative toekick at the bottom (mitred at the corners using a good quality blade).

For the front, we used the basic FÖRBÄTTRA toekick to allow room for working and added polished nickel pulls for a custom look.
One thing to note: The corners of the island are a bit delicate, so we're careful not to drag the vacuum hose or anything rough against them. After more than 3 years, they still look like new but that may not be the case if you have a rough and tumble family.
Planning an IKEA kitchen soon? Be sure to pin this project as a reference!
Have any other questions about our IKEA kitchen installation or design? Be sure to leave a comment below or feel free to contact me.
Want more home improvement projects like these sent directly to your inbox? Be sure to SUBSCRIBE.
Enjoy your day,