Classic White Fireplace – Measurements & Materials
Renovating your fireplace or building from scratch? Get the full details of our classic white fireplace design, including measurements and building supplies.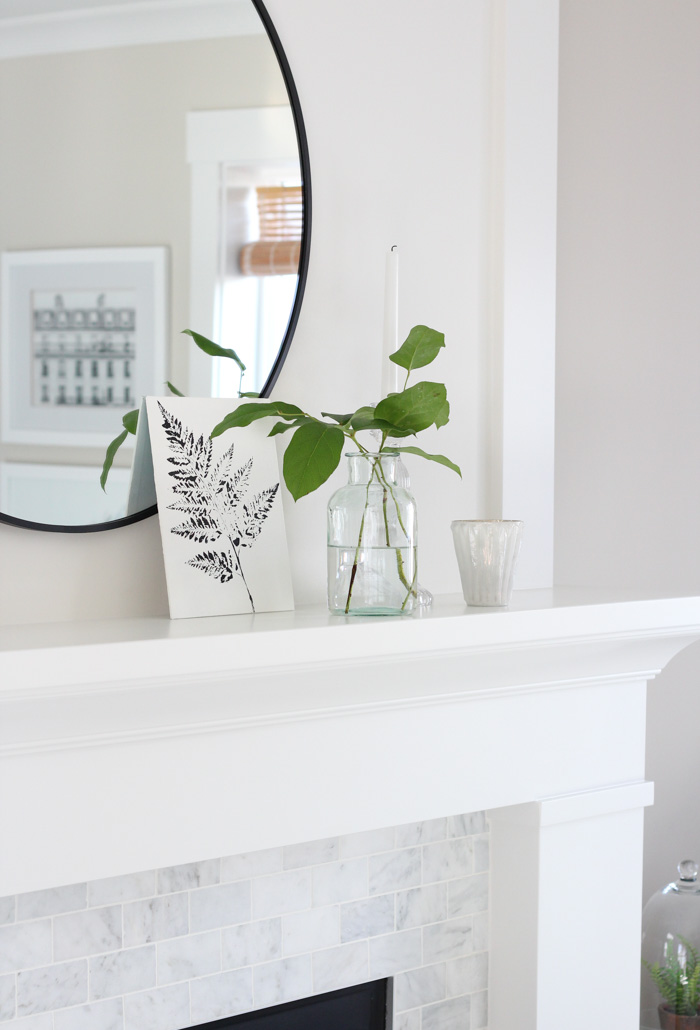 Hello friends! Before I start sharing all kinds of ideas for spring, I thought I'd circle back on one of our most popular home improvement projects, our classic white fireplace. I still get plenty of questions about this makeover, from fireplace dimensions, to marble subway tile details, to grout colour, MDF mantel and more. So, I finally put together this follow up post as a guide.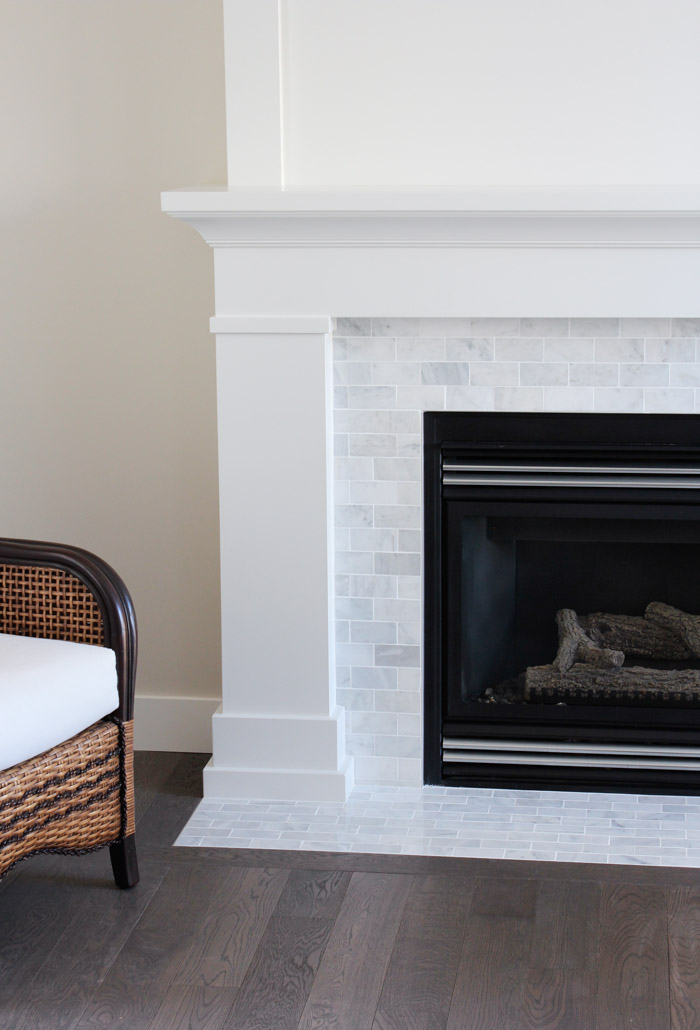 If you're planning on building a fireplace from scratch or renovating an existing one like we did, I suggest reading the overview of our fireplace makeover first. Then, come back here for specific measurements and building supplies.
Combined, the two posts should get you well on your way. I do not include step-by-step building instructions, so feel free to ask any other questions you may have in the comment section at the bottom of the post.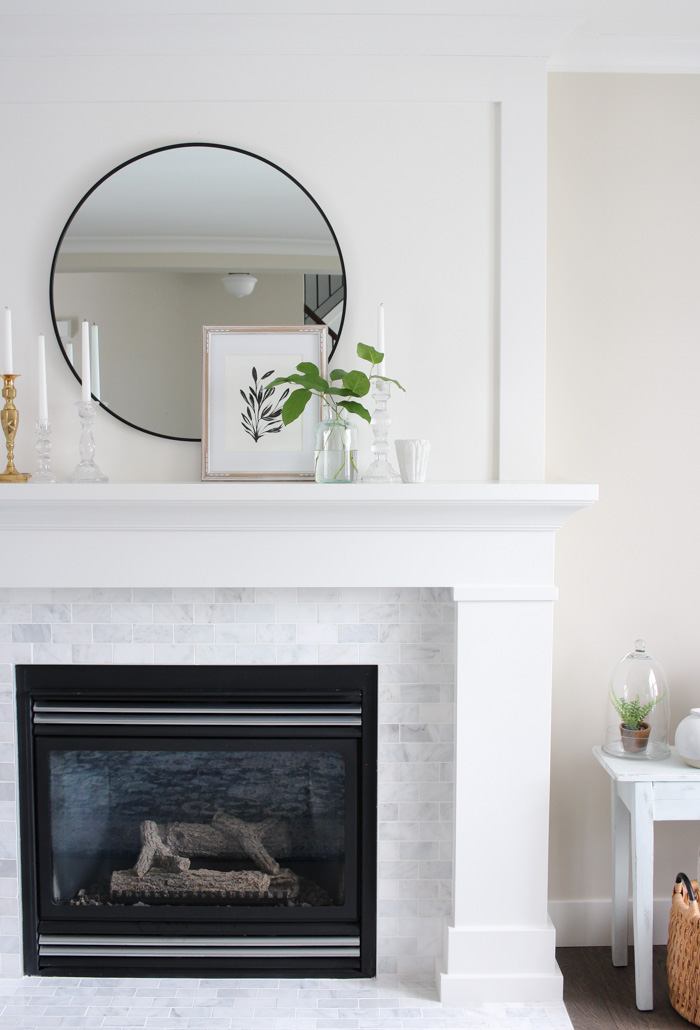 Fireplace Measurements
We created these fireplace drawings as a quick reference (they are not to scale). All dimensions are in inches (see note below for correction). Keep in mind, our project included building over an existing fireplace with a ceiling height of 8 feet. Most likely, your project will require adjustments.
Note: Be sure to check your local area for fireplace building regulations. Top measurement should read 59.25″ across, not 69.25″.
Fireplace Front View
Fireplace Side View
As you can see, our fireplace isn't too deep since it's built recessed into an exterior wall. Be sure to tweak your measurements as necessary to accommodate the fireplace insert you plan on using, as well as for an interior wall. These are usually included as part of your insert's specification sheet.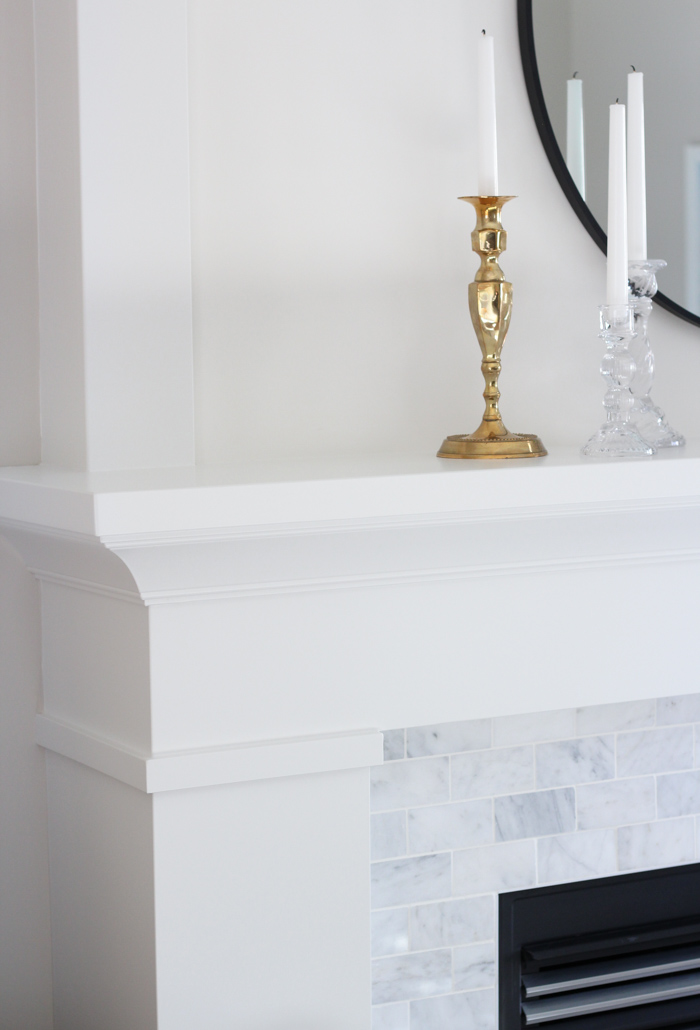 Be sure to pin this fireplace graphic for later if you're planning on tackling this project. It'll come in handy!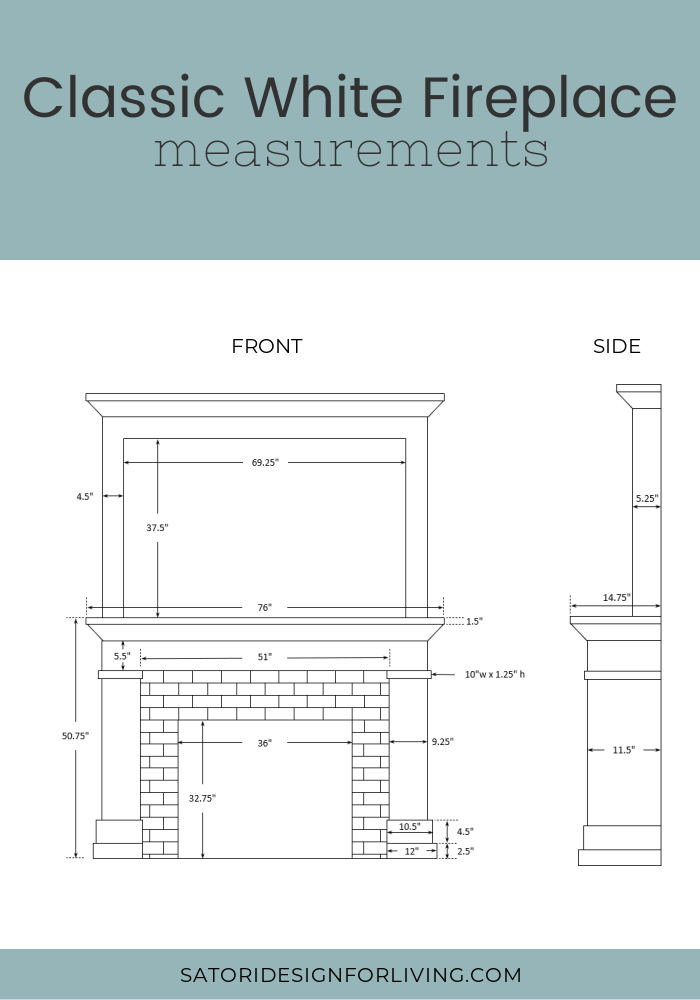 Note: Top measurement should read 59.25″ across, not 69.25″.
Some links used in this post are affiliates. Please refer to my disclosure policy for more information.
Now, let's take a closer look at the materials we used to build our white-painted fireplace mantel with marble surround and hearth.
Fireplace Building Materials
Supplies List
Crown– Metrie Fashion Forward MDF 4.25″ (H) x .75″ (D)
Casing– Metrie Flat Stock MDF 4.5″ (H) x .75″ (D)
Stop Moulding– Primed MDF 1.25″ (H) x .375″ (D)
MDF Board– Panel .75″ (D)
Other materials– Steel Framing Studs, Drywall, Corners, Tape, Compound, Screws, Nail Filler and Paintable Caulk (found at our local Home Depot)
Paint– Benjamin Moore White Dove (Water-based lacquer custom mixed at Sherwin Williams then applied with sprayer) Note: Upper drywall section painted in Benjamin Moore Aura® Waterborne Interior Paint in Eggshell (Wall paint is Benjamin Moore Baby Fawn)
Tile– 2×4″ Polished Marble Subway Tile (discontinued at Home Depot), Stainless Steel Tile Edging Trim and Thinset Mortar
Grout– Polyblend Bright White
Gas Fireplace Insert– Existing 36″ (W) x 32.75″ (H)
Fireplace Decor
Tip: I highly recommend installing a sturdy backing to the upper section of your fireplace so you can safely hang heavier items like mirrors and artwork without using heavy duty anchors.
See our living room decor sources for artwork, mirror, etc. (or click the pictures below to shop). I also share a simple tutorial for making your own fern art (as shown in the top photo).
And there you have it! As mentioned, please let me know if you have any other questions about this fireplace makeover project in the comments below. I will update as required.
Want more home improvement projects like these sent directly to your inbox? Be sure to SUBSCRIBE.
Happy building!