Strawberry Hot Chocolate for Valentine's Day
Whip up a batch of strawberry hot chocolate for Valentine's Day. A pretty pink drink made with fresh strawberries, white chocolate, milk and other simple ingredients. So creamy and delicious!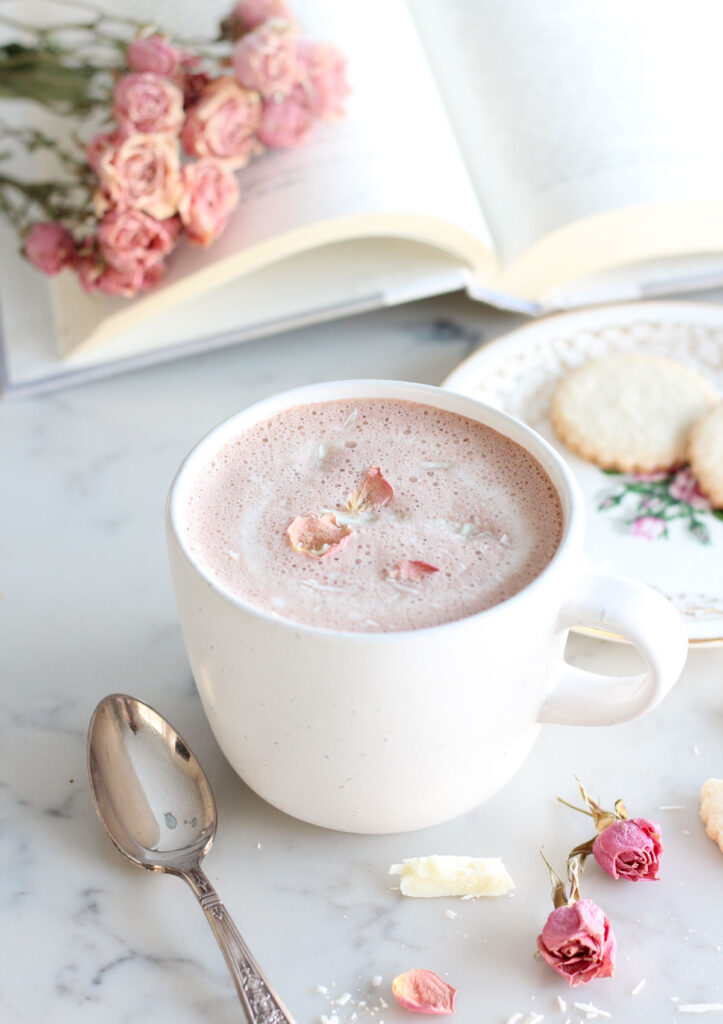 With Valentine's Day around the corner, I thought I'd share a pink hot chocolate recipe you can make for your loved ones. Isn't it pretty?
I don't know about you, but as a kid, I adored strawberry flavoured milk. Yum, oh yum! My mom didn't allow it too often, but my grandparents kept the powdered mix on hand as a little treat to occasionally enjoy after school. It brings back special memories that I'm sure will live on in my heart forever. Most often, it's the little things that matter.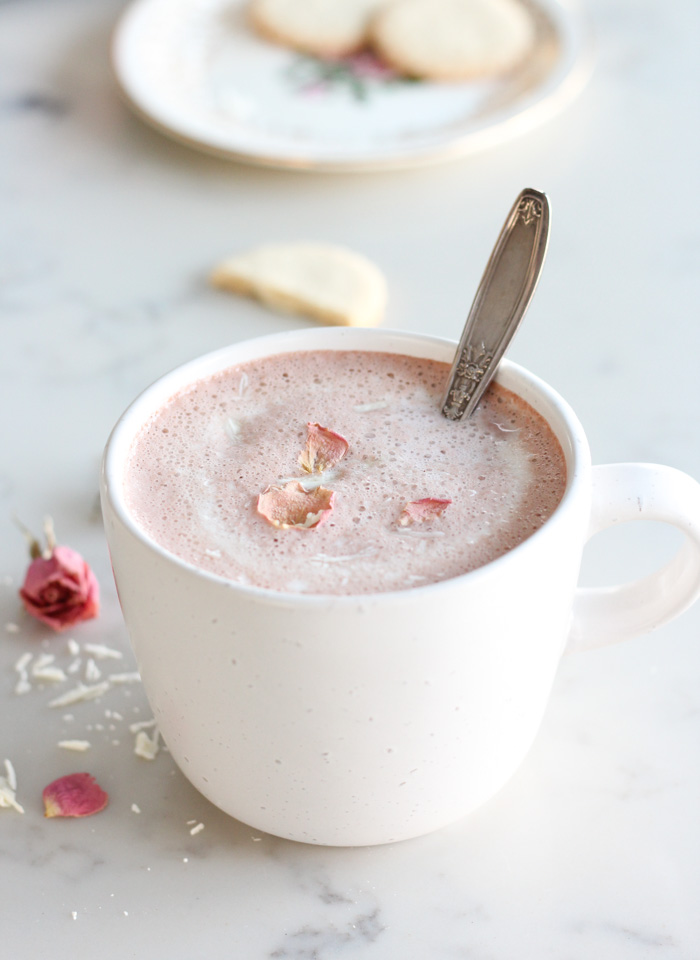 But, that's where my love affair with pink hot chocolate mix ends. Artificial flavour and loads of sugar are two things I try to avoid as much as possible these days.
Strawberry Hot Chocolate Recipe
For this recipe, I opted for fresh strawberries instead. Combined with milk, white chocolate, vanilla, cocoa and a pinch of salt, it's a delicious sweet treat that everyone can enjoy. My family has gotten used to me coming up with the "healthier version" of things (whether they want me to or not)…
Some links used in this post are affiliates. Please refer to my disclosure policy for more information.
Healthier Hot Chocolate
The best part about this recipe is that you get to control the sweetness of your hot strawberry milk. I go for the less sugary side when it comes to drinks, but you can simply add more white chocolate chips if you prefer. Be sure to use good quality white chocolate. You could even use sugar-free.
Of course, you can choose the milk you use in this recipe too. I opted for a mixture of regular milk and almond milk. You could also use coconut, macadamia, oat or another option. Keep in mind that each selection will result in a slightly different flavour profile or colour.
How to Make it Creamy and Frothy
May I also suggest treating yourself to a Milk Cafe (if you don't already have one). It makes creating smooth, frothy and creamy hot chocolate a breeze. I use mine regularly for tea lattes and other hot drinks. So quick, and easy cleanup too!
As an option, a handheld frother or foamer will work too. Instructions for this saucepan method are in the recipe card, so continue reading for full details.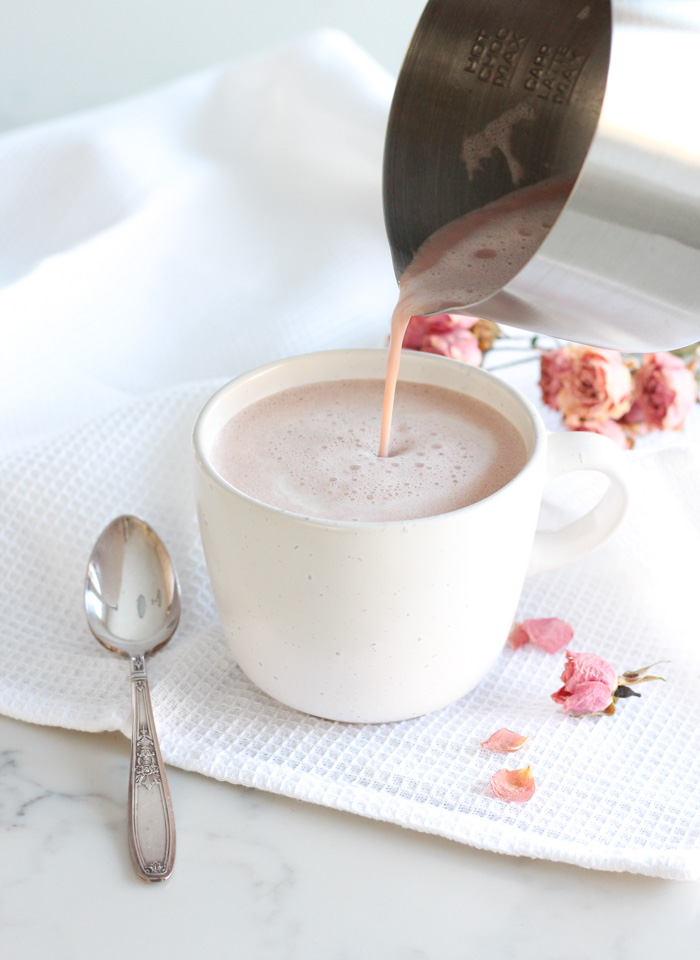 Hot Chocolate Garnishes
Love is in the details, so be sure to go the extra step and garnish your Valentine's Day hot chocolate. I used dried culinary rose petals and a little shaved white chocolate. When I look closely, I see a heart shape that was completely unintentional. Do you?
As an option, you could use edible heart sprinkles, marshmallows, freeze dried strawberries, or whipped cream depending on who you're making it for. I think these heart-shaped marshmallows would look so pretty and delicious on top. You?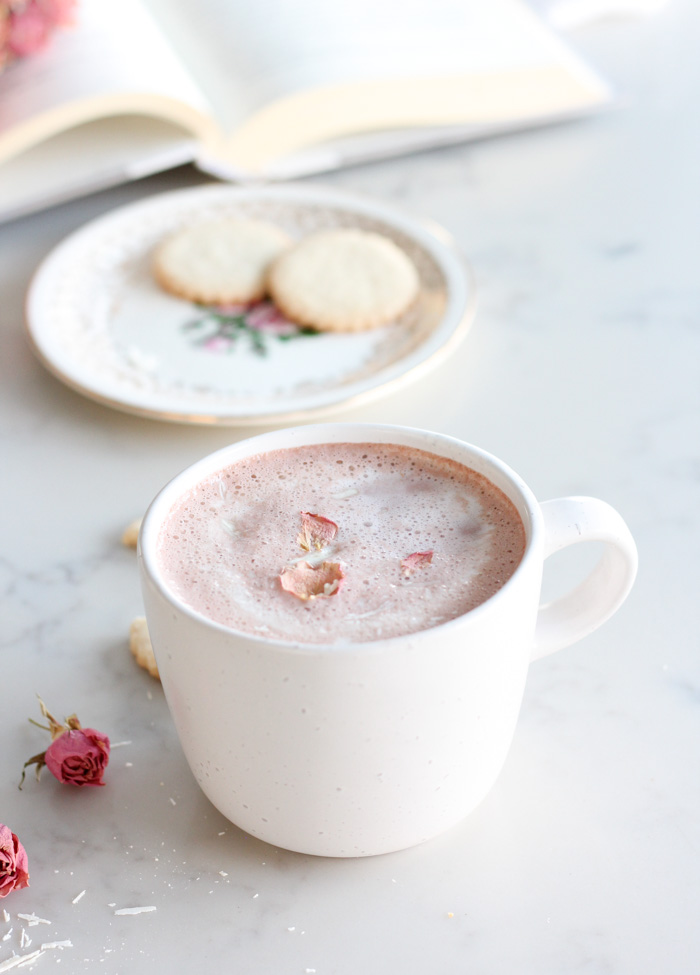 This strawberry white hot chocolate is perfect for Valentine's Day breakfast, an after-school snack or even as dessert. Consider inviting some of your best girlfriends over for a GALentine's Day celebration. Spread the love with a warm cup of goodness. Enjoy!
Shop this Post

More Breville Milk Cafe Recipes
Strawberry Hot Chocolate
A pretty pink drink for Valentine's Day made with fresh strawberries, white chocolate, milk and other simple ingredients.
Ingredients
1

cup

2% or whole milk

1

cup

unsweetened almond or coconut milk

⅔

cup

sliced strawberries

½

teaspoon

cocoa powder

pinch

sea salt

⅓

cup

white chocolate chips or chunks

1½

teaspoon

pure vanilla extract

culinary dried rose petals (optional)

shaved white chocolate (optional)
Instructions
To a blender or Vitamix, add milk, almond (or coconut) milk, strawberries, cocoa powder and salt. Blend on high until smooth (about 1 minute).

Transfer mixture to Milk Cafe fitted with latte disk. Set to desired temperature (around 150-155°F) and press start. (See notes for saucepan method.)

Heat until warm (about 1 minute), then slowly add white chocolate chips and vanilla through measuring cap opening while mixing. Place cap back on and allow to finish heating.

Pour creamy hot chocolate into each mug, reserving foam with a spoon until the end. Garnish with dried culinary rose petals and shaved white chocolate (optional).
Notes
Use any combination of milk you prefer to make up the 2 cups. Lower fat usually results in less frothing. I used 2% lactose-free milk and almond milk which came out creamy and frothy.
If you don't have a Milk Cafe, heat mixture in a saucepan over medium heat, then whisk in white chocolate chips and vanilla until smooth. Finish with handheld frother.
Adjust sweetness by adding more or less white chocolate chips or a bit of sugar.
Be sure to pin this hot strawberry milk recipe for later!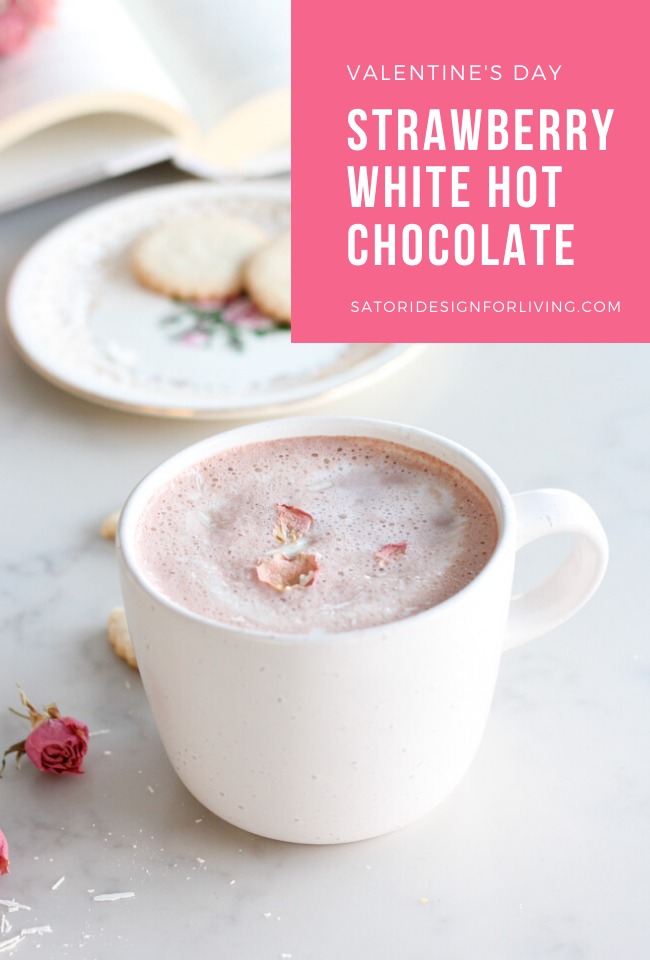 Want more delicious recipes and ideas like these sent directly to your inbox? Be sure to SUBSCRIBE.
xo,

This strawberry hot chocolate recipe was originally posted January 2020 and updated with fresh content and details February 2022.