Valentine's Day Colourful Gifts for Her
Sharing some of my favourite Valentine's Day gifts for her in colourful pink and red. Candies, accessories, beauty products, bakeware and more!
Valentine's Day is coming up, and I'm loving all the pretty shades of pink and red I'm seeing in stores and online. Thank goodness the colours of love are bright and cheery in the midst of winter. Are you craving a little pick me up too?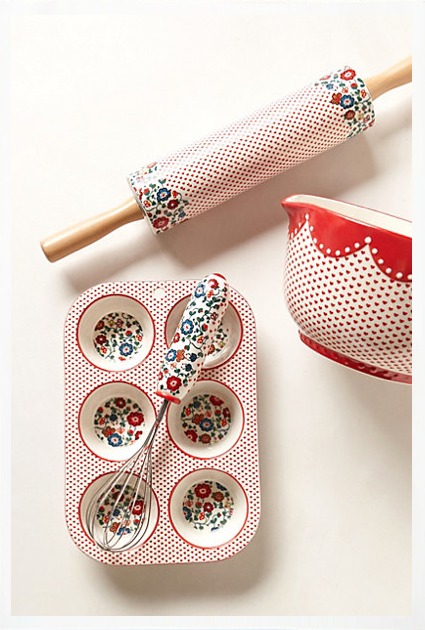 Some links used in this post are affiliates. Please refer to my disclosure policy for more information.
Years ago, this Filomena Baking Set from Anthropologie was one of my favourite Valentine's Day gifts. It doesn't get much cuter, right?!
Although we like to keep it simple around here and usually forgo gifts, it's always fun to take a look at what's out there, whether it's specifically for Valentine's Day or simply colours that remind me of the special day.
Gifts for Her: Valentine's Day Edition
Today I'm sharing some of my favourites I personally use, as well as finds I'm sure every girl will love (at various price points). It's time to get inspired!
SOURCES (see more below): Bala Bangles Resistance Weights | Rose Tea Cup and Saucer | Chanel Lip Balm | Ceramic Ramekins | Heart Plates | Gummy Champagne Bottles | Heart Crossbody Bag | Bi-fold Wallet | Rose Quartz Roller | Cherry Blossom Tea | Macarons | Rosebud Socks | Hanky Panky Set
Valentine Gift List Details
Bala Bangles Resistance Weights – I got a set of these for Christmas and love how easy they are to put on my ankles or wrists for a bit of extra resistance while doing my daily workout or chores.
Rose Tea Cup and Saucer – I swear my afternoon tea tastes better when I drink from a pretty tea cup. Love this pretty floral and gold-trimmed set by Royal Albert.
Chanel Lip Balm – After barely wearing lip colour the past couple of years, I'm finding it fun to play around with new shades. This red is perfect for Valentine's Day!
Ceramic Ramekins – Of course, Valentine's Day calls for a sweet dessert (or two). Bake up chocolate lava cakes in these lovely ombré baking dishes.
Heart Plates – These pink and red watercolour plates are so pretty and perfect for appetizers, desserts or even jewelry organizers.
Gummy Champagne Bottles – It's rare I eat candies, but these champagne gummies are perfect for the gal with a sweet tooth. Is that you?
Heart Crossbody Bag – I adore this Kate Spade bag with tiny hearts so much. It's fun and just large enough for the essentials.
Bi-fold Wallet – I get so many compliments when I pull out my pink wallet. The pop of colour is so fresh and fun.
Rose Quartz Roller – If you're looking for ways to reduce under-eye puffiness and even out skin tone, this roller is a must. I love the cool feeling on my face and jaw line.
Cherry Blossom Tea – After our afternoon tea at Fairmont Chateau Lake Louise in the fall, I've been trying all kinds of tea. This green tea with springtime cherries is next on my list.
Macarons – Need I say more? I'm down for a variety pack of macarons anytime!
Rosebud Socks – These lace-trimmed socks embroidered with tiny rosebuds from Free People are super sweet.
Hanky Panky Set – Love the vibrant colours in this 5-pack of stretchy lace thongs. My go-to when lines are an issue.
Shopping Tip: Be sure to shop early to ensure your items arrive on time. I also use Rakuten whenever possible to earn cash back on purchases. So easy!
Shop More Valentine Gift Ideas for Her
Tell me, are you craving bright and cheery colours right now? Are there any shops with Valentine's Day products or displays that have caught your attention lately?
Be sure to forward this gift idea list to your sweetheart (wink, wink)! Or, simply treat yourself to something pretty or sweet. I'd love for you to follow along on liketoknow.it, where I share seasonal gift guides, home decor finds and more.
How do you plan on celebrating Valentine's Day this year? I have some decorating, DIY and recipe ideas for you!
Want more holiday and seasonal ideas like these sent directly to your inbox? Be sure to SUBSCRIBE.
xo,

Post was originally published February 2014 and updated with new Valentine's Day gift ideas and photos.