GALentine's Day Tea Party – Vintage Style
Invite your girlfriends over for a GALentine's Day tea party. A good excuse to pull out your pretty vintage tea cups and enjoy some delicious Valentine treats with your besties.
Being a lover of vintage decor, it's probably no surprise to you that I look for any (and every) opportunity to put my collections to use. When I started thinking about Valentine's Day a few weeks ago, I was inspired by my vintage tea cup collection to do something a little different this year and host a GALentine's Day tea party. Sounds pretty fun, right?
What is Galentine's Day?
GALentine's Day is just what it sounds like; a day to celebrate the lovely friendships you have with your "gal pals" or besties. Unofficially, it takes place the day before Valentine's Day or February 13th.
This year, I'm going all-in. Why? Although I try to meet up with friends for coffee or lunch every other week or so, quite often time slips away on me, and a month or more can pass by. Most of us lead busy lives, but I guess you could say I'm working on shifting my priorities to better align with my values. I mean, who fully understands our struggles better than our closest girlfriends?
So, at the beginning of this year, I decided to create more meaningful moments like these by planning and hosting small get-togethers. Of course, nothing big that causes additional stress in my life. Just a handful of us gals gathering together to uplift, support and, most importantly, laugh. It's the best therapy!
Are you with me?
How to Plan a Galentine's Day Tea Party
Hosting a GALentine's Day tea party doesn't have to be time-consuming, complicated or expensive. I pulled together the decor, drinks and food in about an afternoon's time. Make it work for you.
Some links used in this post are affiliates. Please refer to my disclosure policy for more information.
Decide on Your Theme
My grandmother's tea cups were my jumping off point, so the rest of the decor (style and colours) stemmed from there. Find something that inspires you, whether it's a vintage style party or not, and run with it.
For a budget-wise party, base your theme around what you already have on hand. For instance, I only bought fresh flowers and a pattered pink pillow cover (that I planned on buying anyway). I "shopped" my house for the rest of the decorations.
Be sure to look in cupboards and closets first before you purchase anything new. Then, start gathering items in one area to see how it's all coming together and where you may need to fill in. Be creative!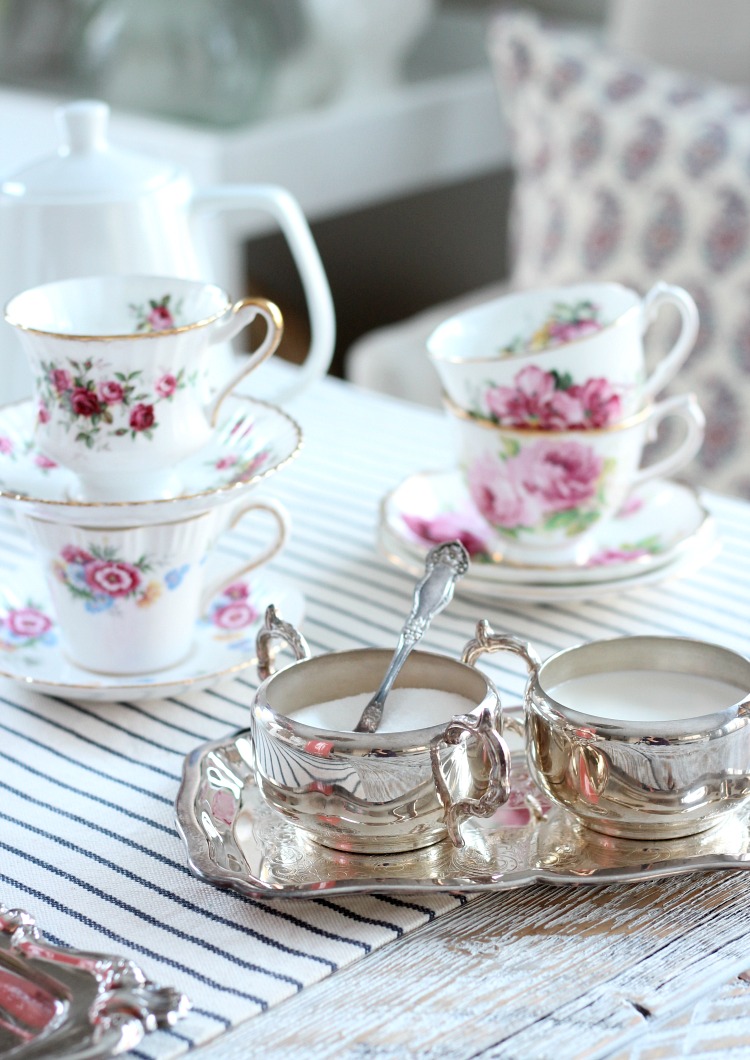 Make Lists
When it comes to planning parties, lists are your best friend.
Create a:
Guest List- "Who to Invite" and "Confirmed Y or N" columns
Decor List- "What You Have" and "What You Need" columns
Food and Drinks List- "What You Have" and "What You Need" and "What You're Making" columns
Shopping List- This is where you transfer the "What You Need" items from your other lists.
Send Party Invitations
At least a week or two ahead, decide on a time and date that works best for you, as well as most of your friends. (Remember, Galentine's Day is "officially" celebrated on February 13th as started by Amy Poehler's character on Parks and Recreation). Keep in mind, it's often difficult to accommodate everyone, so don't stress if one or two can't make it. Simply plan a coffee or lunch date to catch up at a later time.
Paper invitations are always beautiful if you plan many weeks ahead, but for small parties like these, I often use online invitations such as Paperless Post. Set an RSVP deadline you're comfortable with (I prefer to have confirmations at least 5 days before the party).
Shop for Supplies
I pick up as many supplies as I can while doing my regular shopping and errands the week(s) leading up to the party. That way, I'm not rushed and can usually find budget-friendly items at thrift shops (my favourite), dollar stores or Michaels (with a coupon) depending on my theme.
For the flowers and baked goods, I set aside time the day before to run out so I know it's all as fresh as possible. (If I have time, I bake the day before, but honestly, we have an amazing bakery in town that makes delicious cupcakes. For larger groups, I place my order ahead of time.)
Galentine's Day Decorations
Depending on the decor, you should be able to set everything up the night before (or early morning). For my tea party, I arranged the pink spray roses in vintage milk glass vases and placed the dishes in a way that looked pretty and made sense. There are many options when it comes to tea party decorating ideas.
I even set out the serving dishes and trays I planned on using for the food.
Prepare the Food and Drinks
My advice is to keep your Galentine's Day food and drinks as simple as possible. Since my party was planned for mid-afternoon, tea (and coffee) were the focus with a few Valentine's Day sweet treats.
All I had to do was put together the yogurt parfaits in the morning and chill the pink lemonade.
Right before my guests arrived, I filled the sugar and cream dishes and transferred the baked goods. I also made sure I had my tea kettle ready to go along with an assortment of teas. Then, I made a pot of fresh coffee for my non-tea-drinking-friends.
As an option, I also have this delicious strawberry hot chocolate recipe you can check out.
Enjoy Your Guests!
One of the best parts about hosting a GALentine's tea party is its easy, relaxed vibe. The food and drinks are basically taken care of and you're able to sit down and focus on catching up. I'm not sure about you and your friends, but we run out of time before we run out of stuff to chat about. It usually starts with the food…
Galentine's Day Party Favours
As an option, it's fun to put together some Valentine's Day Party Favours or parting gifts to hand out to your gals as they leave.
For these, I printed some cute little hearts on canvas drawstring bags using iron-on transfer paper. Then, I filled each bag with sugar scrub, nail polish, heart-shaped truffles and lip gloss. Cute, right? What would you want in yours?
Have any other Galentine's Day party ideas? I suggest checking out these sweet Valentine's Day table setting ideas for pretty decorating ideas too!
Shop the Look
Did you host a GALentine's party? I'd love for you to share it on social tagging @satoridesignforliving. Be sure to pin it for later too!
More Valentine or Galentine's Day Ideas
Some of my Canadian friends are sharing their creative projects, too. A big thank you to Jo-Anna from A Pretty Life for bringing us all together! XOXO
Valentine's Day Cherry Pie by A Pretty Life
Triple Berry Breakfast Parfait for Valentine's Day by Joanna Anastasia
Valentine's Day Mini Bouquet with Printable Wrap by Craftberry Bush
DIY Iron-On Mini Tote Bags for Galentine's Day by Woman in Real Life
DIY Clay Valentine Heart Wall Hanging by Kitchen Counter Chronicles
Valentine's Day Smoothie Bowl by Motherhood in Stilettos
Chunky Crochet Heart Banner by The DIY Mommy
DIY Love Tees by Lemon Thistle
Custom Floral Dishes DIY with Temporary Tattoos by Amidst the Chaos
GALentine's Day Tea Party by Satori Design for Living
Valentine Heart Necklace by The DIY Dreamer
Simple Valentine's Day Decor by A Burst of Beautiful
Valentine's Day Decor by Life is a Party
Valentine Countdown for Kids by Heather of Raising Memories
Valentine's Day Kindness Countdown Calendar by Rambling Renovators
Peach Raspberry Crisp by My Daily Randomness
Want more holiday and seasonal ideas like these sent directly to your inbox? Be sure to SUBSCRIBE.
xo,