My Favourite Classic Waffle Recipe + Breville Review
Get my favourite classic waffle recipe. Crispy on the outside, light and fluffy on the inside, along with a scrumptious buttery taste. So tasty!
I received products from Breville Canada to facilitate this post and giveaway. As always, the photos and words are my own. I only partner with brands and products I personally use.
When we were preparing for our kitchen renovation a few years ago, I got rid of our waffle maker. Although we LOVE waffles, the machine we had caused far too much stress on Sunday mornings to keep around. Not only was the leg broken, the first batch stuck horribly no matter what I did. And, if I happened to get a little heavy handed with the batter, it was a huge mess cleaning it up. It had definitely overstayed its welcome!
I told myself as soon as our kitchen was put back together, we'd get a new waffle maker. Except, we didn't. Instead, we ate pancakes.
Now, as good as pancakes are, waffles are my absolute favourite. I love a classic waffle with its crispy outside and light and fluffy middle. And, of course, you can't beat the buttery taste. Are you with me?
That's where a good recipe and reliable waffle maker come in. Both are essential for making delicious waffles at home…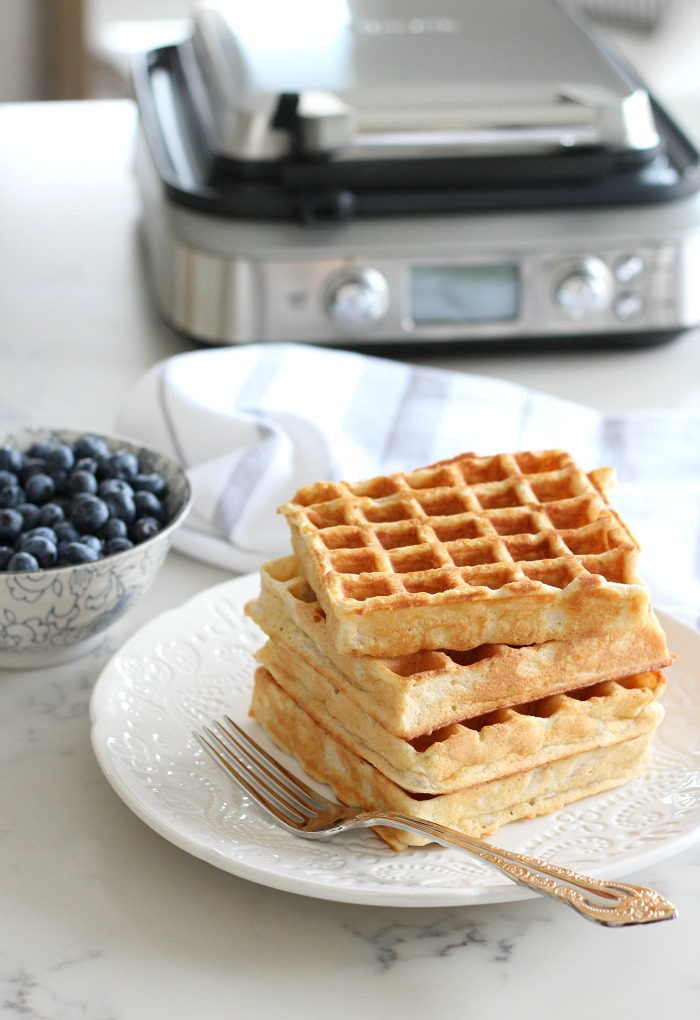 Classic Waffle Recipe
Over the years, I've tried many waffle recipes, but I keep coming back to this one. It's made with simple ingredients that you probably already stock in your pantry and fridge.
If you're looking for a one-size-fits-all waffle recipe, I'd say this one is a good compromise. First, it's made with a mixture of whole grains instead of only white flour. And, there's very little sugar (since most are going to add syrup or fruit or whipped cream to the top anyway).
I'll warn you, these waffles do have a lot of butter in them (making them so darn good)! I have tried cutting back the amount and adding a bit more milk, which works just fine. Substituting up to half the butter with a bit of cold-pressed canola oil or avocado oil is another option if that's what you prefer. But, I say, why mess with perfection?
Want fluffy waffles? Go one step further by separating the eggs, beating the whites, then gently folding them into the waffle batter at the end. It's definitely worth the hassle.
Also, be sure to use the best quality ingredients you can, such as local free-range eggs. Fortunately, we have an organic flour mill nearby, which truly makes a difference in taste (not to mention nutritional value and the environment).
Continue reading to get the full recipe…
Of course, the sleek stainless steel design looks fantastic in our kitchen. It's a nice addition to our other Breville appliances, including a coffee maker, espresso machine, milk frother, juicer, toaster and tea kettle. (Yes, I'm one lucky gal!)
As far as the functionality goes, they seem to have thought of everything.
To make it easy, this Breville waffle maker automatically calculates the correct cooking time for whatever style of waffle you select. Simply turn the dial and allow it to preheat.
Once the lid is closed, the timer and progress indicator automatically begin to count down as the waffles cook.
No need to worry if you overfilled the batter. The "No Mess Moat" catches any excess from spilling out onto the counter. (I think they had me in mind.)
No need to peek either. Wait for the beep and lift the lid to reveal perfectly browned waffles! You can easily adjust the cooking time if you prefer lighter or darker. I love the built-in crisp control.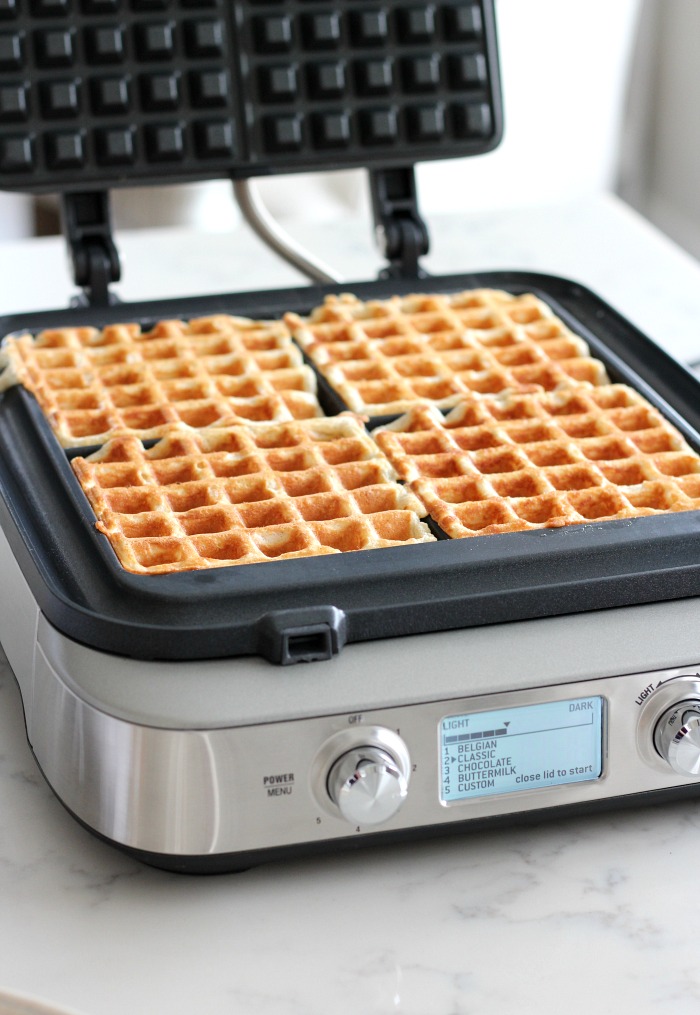 Did I mention how easily the waffles come out? Batter will never stick to your cooking plates thanks to premium PFOA-free non-stick coating.
This is probably my favourite feature after what I went through with our old waffle maker! A quick wipe with a damp rag and you're ready for the next time.
Who knew making waffles could be so easy and so much fun! Maybe a good gift for upcoming Mother's Day? Just saying!
Be sure to attach a copy of my Breville waffle recipe too. Simply choose the print function on the recipe card below.
Ready to Try my Classic Waffle Recipe?
Here it is! This makes 10 waffles, so halve the recipe for a smaller group. I suggest making the full batch and freezing the leftovers.
Make-ahead freezer waffles are perfect for busy mornings! Cool completely, then store in an airtight container with a bit of parchment or waxed paper between the layers.
Just pop in the toaster and/or microwave to reheat. I find the combination works best to crisp them up.
Prefer Gluten-free Waffles?
My Favourite Classic Waffles
These classic waffles are crispy on the outside, light and fluffy on the inside, along with a scrumptious buttery taste.
Ingredients
1

cup

all purpose flour

1

cup

whole grain, whole wheat flour

1

tablespoon

sugar

3

teaspoons

baking powder

½

teaspoon

salt

3

eggs, separated

2

cups

milk

1

teaspoon

pure vanilla extract

½

cup

unsalted butter, melted
Instructions
Mix both flours, sugar, baking powder and salt in a large bowl.

In a separate bowl, combine milk, egg yolks and vanilla. Mix well.

Beat egg whites until stiff (not dry) peaks form. Set aside.

Add milk mixture to dry ingredients. Stir until just combined. Stir in melted butter and mix until incorporated.

Gently fold in egg whites.

Follow waffle maker instructions for cooking.
Notes
Want to reduce the amount of butter? Add

⅓ cup instead with a bit more milk if the batter is too thick.
Breville Waffle Maker Giveaway
Take your waffle making to the next level. Enter for your chance to WIN the Smart Waffle™ Pro 4 Slice from Breville Canada!
To enter, wait for the rafflecopter box to load below and log in using the Facebook tab or your email (spam safe). Follow the instructions. Open to Canadian residents only (excluding Quebec) who are 18 years of age or older at time of entry. Void where prohibited. See giveaway policies here.
Want more delicious recipes and ideas like these sent directly to your inbox? Be sure to SUBSCRIBE.
Have a scrumptious day!