Is your kitchen in need of a makeover? Come take a look at the classic white kitchen renovation finishes we selected to give our basic IKEA cabinets a custom look!
Hello, friends! After receiving a whack of questions about our classic white kitchen renovation (aka IKEA kitchen makeover), I thought I'd share the details with you. Today, I'm kicking things off with a run-down of the finishes we ended up going with compared to what we had originally planned.
First off, let's back way up and see what the original kitchen looked like (with a few appliance upgrades). Needed some help, right?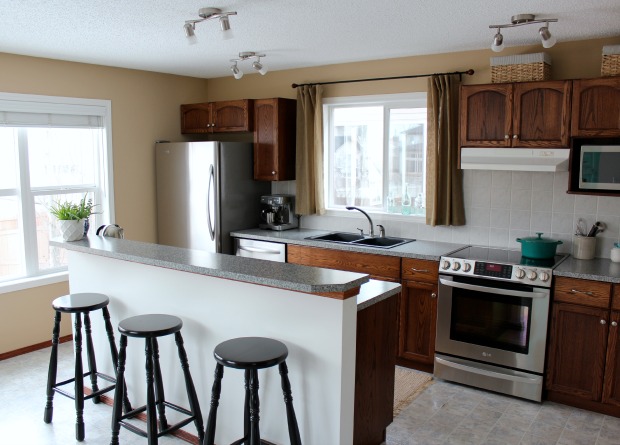 As usual, I began this makeover project with a cohesive design plan that included the layout of the new cabinets and appliances, as well as selections for all of the pretty stuff, including light fixtures, flooring, cabinet hardware, paint and more. Doing my homework and planning ahead means I'm less likely to go over budget or feel under pressure to make haphazard decisions once we're in the thick of it.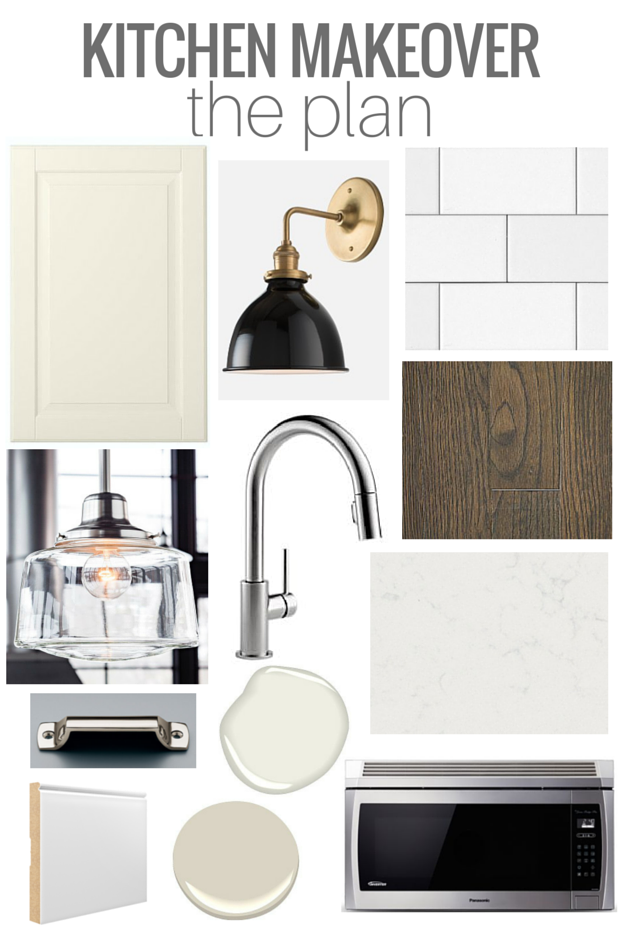 Of course, nothing ever goes completely as planned during a kitchen renovation, so flexibility and patience are often necessary. In this case, both of these qualities were tested to the limit. We'll leave that story for another day. All I can say is thank goodness I had something solid to cling to as parts of this kitchen makeover journey took me to places I never could have imagined. Ugh…
Now that the dust has settled and we've been able to enjoy our new kitchen for well over a year, we're thrilled with the final result. I have the classic white kitchen I always imagined for this home and we were able to complete it all on a modest budget.
White Kitchen Renovation
With that being said, here's a breakdown of our final kitchen renovation finishes, as well as an explanation of the changes we made from the original plan: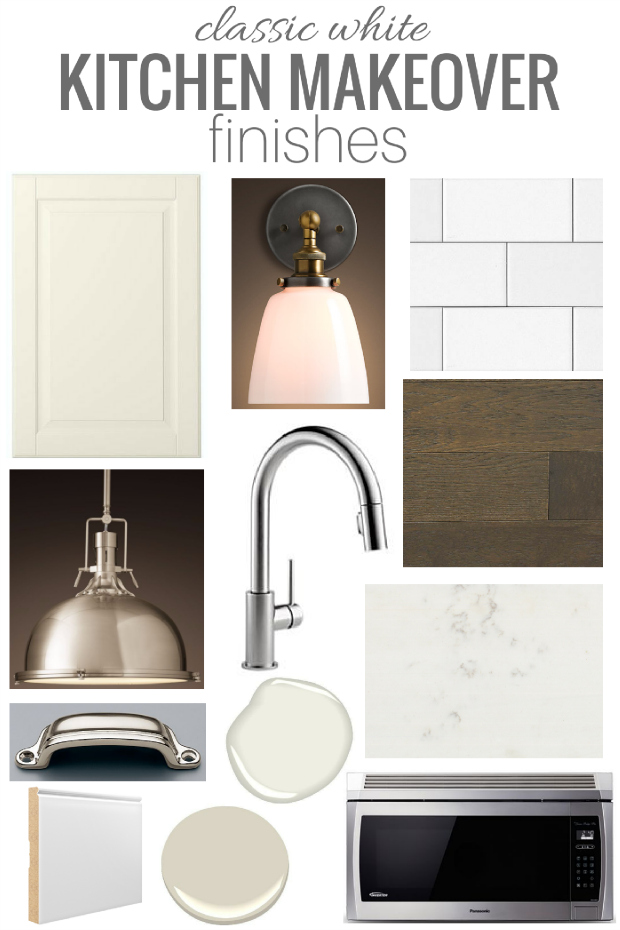 Some links used in this post are affiliates. Please refer to my disclosure policy for more information.
As you can see, almost all of what I selected in the original design plan made its way into our final kitchen. A small white kitchen that's hardworking, yet pretty.
So, which kitchen finishes changed and why?
Kitchen Sink Sconce
After pricing out the original black sconce for above the sink window, the exchange rate and shipping from the US were crazy, so I dropped it. Instead, I waited for a sale and ordered this milk glass cloche sconce. I love the mix of the aged steel and brass that seem to pop in front of our white subway tile backsplash. It also gives us that extra bit of task lighting in the dark months of winter.
Island Pendant Lights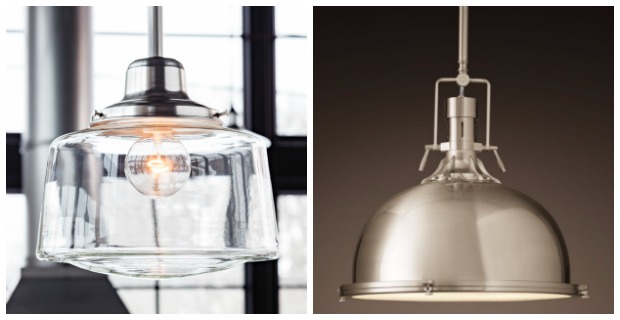 For the kitchen island, I selected these classic brushed nickel pendants instead of the original schoolhouse glass fixtures. After taking a look at similar clear glass pendants in person, I wasn't keen on the type of light the exposed bulbs provided. The softer, yet bright glow from the ones we went with is perfect. In addition, I love the industrial vibe they add.
On a side note, love those IKEA Bodbyn off white kitchen cabinets with dark floors! My original idea was to go lighter, but this selection seemed to work better.
Cabinet Hardware
The changes in kitchen drawer hardware were very subtle from a squared-off cup pull to a curved one. Basically, this one came down to both feel and looks. For the larger IKEA Bodbyn drawers, I placed the pulls side by side to create more of a furniture feel. For the smaller drawers, I opted for a single cup pull, as well as a classic pull for the top narrow drawers.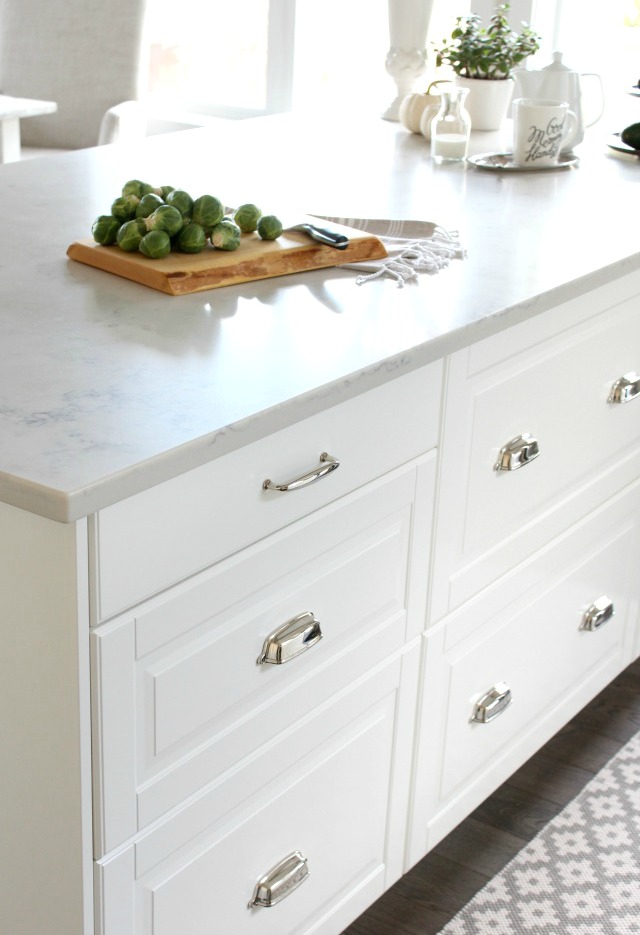 Although I was afraid the polished nickel finish would be high maintenance in a busy kitchen, I decided to go for it anyway. I love the bit of sparkle it adds, and it's less of a bother to shine up than I originally anticipated. I also like how they brighten the look of the IKEA off-white cabinets.
For the tall IKEA Bodbyn cabinet doors (upper and lower), we installed the same classic pulls as the top drawers, but in a vertical position. For the shorter upper cabinet doors, we went with a classic knob. I like mixing kitchen hardware as I think it looks more interesting. What do you think?
Marble Quartz Countertops
For the kitchen countertops, we ended up going with TCE Stone 4005 instead of the original Frosty Carrina. Not only did it save us a bunch, but we also liked the colour and veining better with the IKEA off-white Bodbyn cabinets. I like how it ties everything together. Quartz is a better choice if you're worried about stains you'll most likely get with marble countertops. I don't want to live with anything that's high maintenance.
For detailed info, read about our kitchen countertop selection process and why I think it's important to take a look at the actual slab you'll be installing.
For the remaining kitchen finishes, everything stayed the same as in the original plan except for the trim.
After some thought, I decided to switch from a bevelled version to simple flatstock MDF. I decided to keep the style consistent with our basement for a cohesive look, which creates better flow in a home.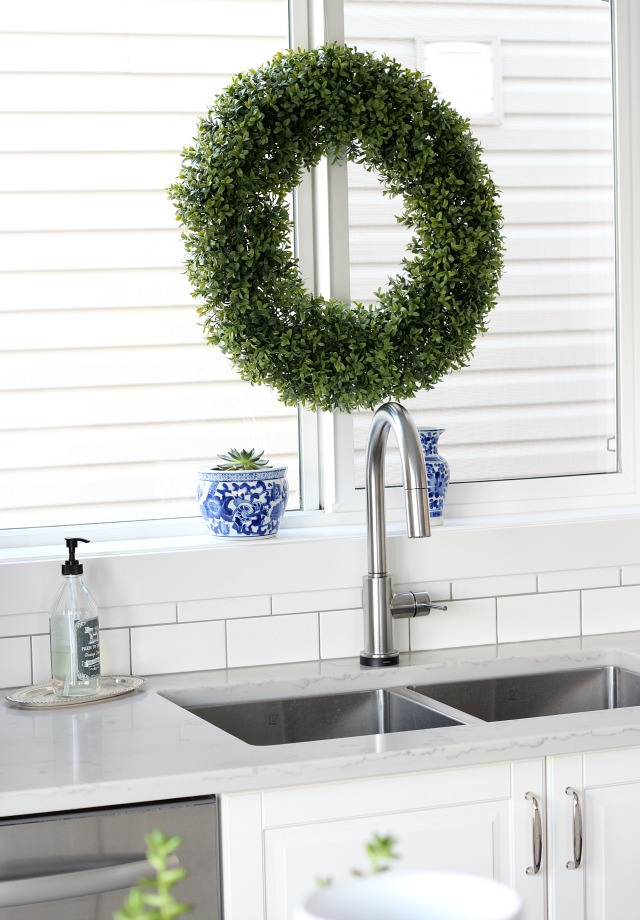 Miss a kitchen post? Go HERE to see more!
As well, do you want to know where I picked up some of the kitchen decor spotted in these photos?
Click here to SHOP OUR HOME, including the dining area, living room and more!

I hope you enjoyed this classic white kitchen renovation post. If there's something specific you're interested in knowing, be sure to share it in the comments below! You can also read this follow up post: Top Questions About Our IKEA Kitchen for more details.
Want more home improvement projects like these sent directly to your inbox? Be sure to SUBSCRIBE.