Our Kitchen Renovation (The Befores)
We've finally kicked off our kitchen renovation. Come check out the before pictures and some of our plans for updating this dated space!
I hope you're having a great week! It's been raining here the past few days, which has given me a break from staining our deck to finalize the design plans for our new kitchen. As promised a while ago, I have some before pictures for you today. This renovation has been a long time coming, and I'm excited it's finally underway!
Before I show you the UGLY, here are some kitchen photos I've been pulling inspiration from. Wish I could just snap my fingers…
Kitchen Renovation Inspiration
And here are some of the other kitchen renovation inspiration pictures I've rounded up on Pinterest.
Gorgeous, right?
Now let's take a look at our existing kitchen, otherwise know as the antithesis of the above…
Kitchen Renovation Before Pics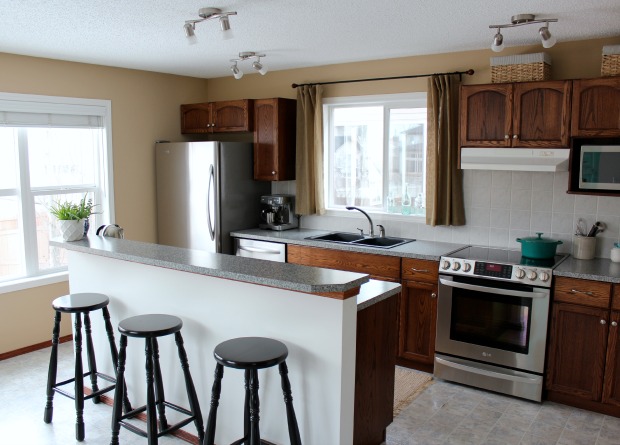 A long way to go from those pretty white kitchens!
Now, I've been told by friends and family that our kitchen looks great, and they can't believe we're about to rip it out. But, when you don't feel something, you just don't.
I mean, this is our home, a place I spend countless hours in. I should love it (or at least strongly like it), right?
When we were shopping around for a house, the brightness of this kitchen caught my eye. See that big window on the left hand side? That's the back of the house and there are two of those windows looking into the back yard.
Unfortunately, the finishes made me want to cross this house from our shortlist during our house hunt. I was having a hard time wrapping my head around the cherry oak cabinets & trim, faux granite countertops, basic backsplash and track lighting. And, there was no way I was going to live with that faux tile linoleum!
Fast forward many years later, and I never grew to like any of it… But, we spent time and money on other areas of the house like landscaping and developing the basement.
At the time we bought the house, it was also outfitted with builder basic white appliances- yuck. It didn't take long for the dishwasher to go, and the stove had to be replaced a few years ago. Oh darn!
After some research, we decided to go with an LG range and KitchenAid dishwasher. Usually it's best to go with the same brand, but the KitchenAid dishwasher got better reviews than LG, and the opposite was true for the range. Plus, their handles are the same basic shape and they're not side-by-side anyway.
A few months ago, I sold the refrigerator on Kijiji and replaced it with the matching KitchenAid model to our dishwasher before it was discontinued. The opening works best for a 33″ wide fridge and those are somewhat limited. Better to be safe than sorry!
One aspect of our kitchen I've loved from the get-go is our island. It's a huge work surface with lots of storage that I simply could not live without.
Our new island will be one level with counter height stools instead of those dreaded bar height ones that are never comfortable to sit in. Having one level will also open it up to our eating area (which I forgot to take pictures of and now it's been raining for 3 days!).
And, lastly, there's our huge pantry (door on the left) that makes up for the lack of upper cabinet storage in this kitchen. Why are those uppers so short? It's like someone mis-measured or got these ones in a bargain bin. Weird.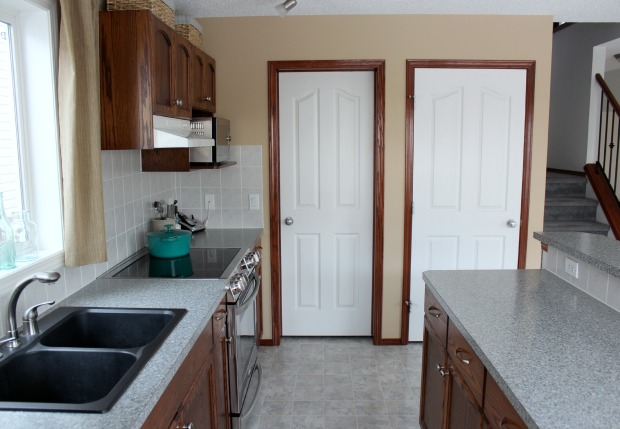 There you have it. I know, not the worst kitchen you've ever seen. But, it's time to freshen things up and make it more functional.
So, where are we at with our kitchen renovation? We've (mostly my husband if I'm being honest!) been working like mad ripping up the linoleum floor and subfloor to get ready for the hardwood. We have also managed to remove all the wood trim and some of the doors on the entire main floor. No, it's not just the kitchen that's getting an overhaul. We've opened the whole can of worms!
Our electrician also popped by and switched out the track fixtures with recessed lighting. I can't believe the difference it has made already.
I'm finalizing all of the finishes this week so we can take out the cabinets and start putting everything back together. I'll be sharing the plans and progress updates with you as we go along. To say our kitchen renovation is going to be a big job is an understatement.
Update: Click here to see our fully renovated kitchen!
Wish us luck!