Construction is Finally Done! Our Basement Reveal
Our basement reveal is finally here after months of renovating! See how we transformed a blank space into a cozy and welcoming family room that's perfect for entertaining and relaxing!
After weeks of planning and what turned out to be months of construction, our basement reveal is finally here! If you've been following this renovation journey, you know that back in early May we set out to create a cozy and welcoming family room made for TV watching and entertaining. With a few obstacles, combined with summer holiday trade schedules, our timeline seemed to expand. As of this week, we were officially able to make use of this fantastic space.
Remember what we started with? It was basically an open space that stored everything from hockey equipment to Christmas decorations to old furniture. It was also where our teenage son and his friends would hang out. Definitely not the most welcoming area in the house, but it served well as a place for mini stick tournaments and all of the other craziness young boys tend to bring to the household. Then, they start to grow up and needs change.
I don't think we have anything to feel guilty about regarding the basement anymore. Somehow I think our new family room will be preferred over our upstairs bonus room!
Basement Reveal
I'm loving how everything is stored behind closed doors (unlike before). Here's a shot of the newly added closet that fit perfectly between those two support posts.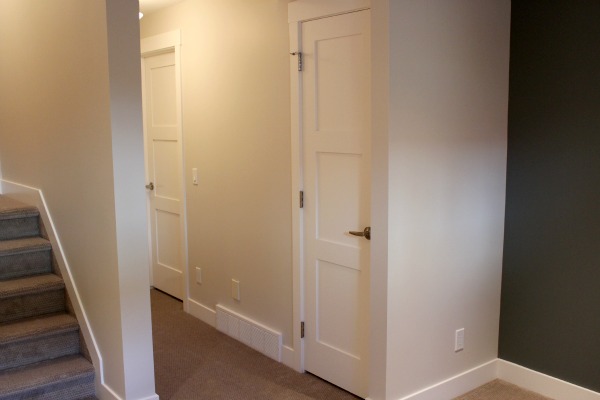 As you may remember, we wanted to fully utilize the area to the left of the stairwell and decided to create a storage room.
We added double shaker style doors to allow for easy access to our treadmill and large storage tubs. Pulling out seasonal items like our Christmas decorations will be a breeze.
We also wanted to optimize the wasted space under the stairwell.
We managed to fit a small basement snack bar (aka dry bar or mini kitchen) equipped with a beverage fridge and cabinets for glasses, snacks and other entertaining essentials. (As you can see, we still need to add a kick plate to the bottom cabinet.)
Although we decided not to add a bedroom and bathroom at this time, we finished the hallway in case someone decides to in the future. Leaving the hallway open from the media room also helps expand the space.
It also gave us somewhere to add an extra vacuum outlet and hide duct work.
Considering my husband and son's love of watching sports, as well as enjoying the full movie experience as a family, the media wall was important to get right.
After deciding on a Bose sound system, we opted to have the speakers recessed in small niches, as I didn't want them protruding. We also integrated all of the wiring (since exposed wires are a big eye sore).
We chose a dark grey paint color (sometimes blue, sometimes green depending on the lighting) to help the TV blend in a little better. (As you can see, we still need a cabinet below to house all of the electronics!
With only one window in the media room, we tried to expand it as much as possible. Love that shaker style trim!
The entire surround and trim were painted out in the same off-white used throughout the basement.
The stairwell really needed some brightening and softening.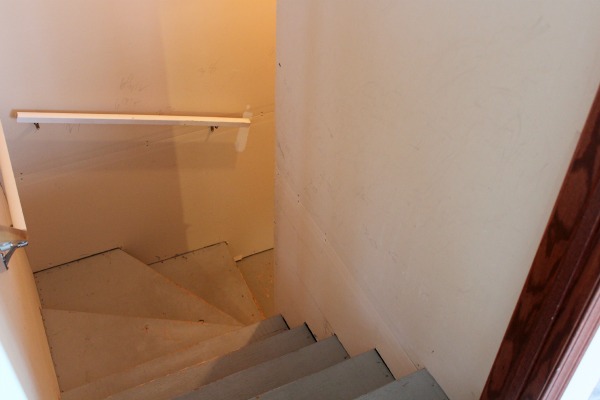 Painting the walls and trim in soft colors, as well as installing plush carpet with good underlay throughout, definitely set a better tone.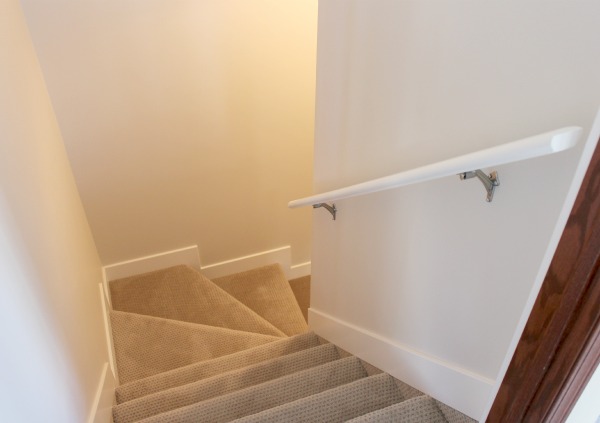 Finally, any light fixture would have be an improvement to what we had prior to the basement renovation.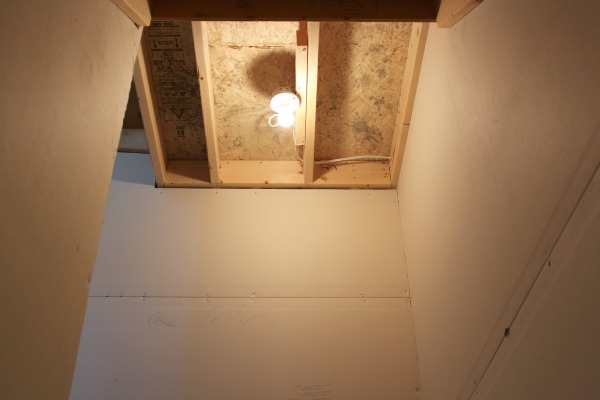 To bring in a touch of nostalgia, we added an antique nickel prism glass pendant that mimics the reeded glass in our snack bar cabinet doors.
Remaining on our list is installing the marble mosaic backsplash. It isn't anything we have done before, but I'm told it's quite simple. If you have any advice, I welcome it!
So there's our basement renovation before and after! Next we will be furnishing and decorating the space. I have gathered a few goodies already, so look for progress updates as we go along.
Miss a basement post? You can see the entire renovation series below.
Our Basement Renovation Recap
And, here's a little peek at what we've done to make the space cozy and welcoming (backsplash installed too). It was fun decorating our basement family room, and we truly enjoy hanging out in this space!
A big thank you to all of you for your support and cheerleading throughout this basement renovation process. It was great to have your input. We make a great team, don't we?
Want more home improvement projects like these sent directly to your inbox? Be sure to SUBSCRIBE.
xo,