As mentioned earlier this week, I've turned my focus to finalizing selections for our basement renovation. Basically the plan is to create a large media room and storage room, as well as a finished hallway with doors leading to a potential bedroom and bathroom. We've opted not to install the bathroom or finish the bedroom because we don't require the extra space for just the three of us. However, we do plan on building in the next few years, so we wanted to make sure a bathroom and bedroom could easily be finished if the need was there for a potential buyer.
The main piece of furniture in the media room will be a sectional sofa. For the size of the room, it just makes sense to maximize seating, as well as provide the all-import comfort factor. After visiting my sister over Easter, I realized just how much I liked cuddling up with everyone watching TV and the extra sleeping space it provided.
There are a few things I've had to consider while sourcing a sectional. Because we have a wrap-around staircase, there are restrictions to what will actually fit down the stairs. In addition, we want a style that is comfortable, but still classic in design. Lastly, the fabric needs to be as durable and stain proof as possible. It is a TV room and, as my son says, "There will be spills. I'm only human!" He's right and it could very well be me.
Here are some of the sectional options we're considering:
Stylus Metro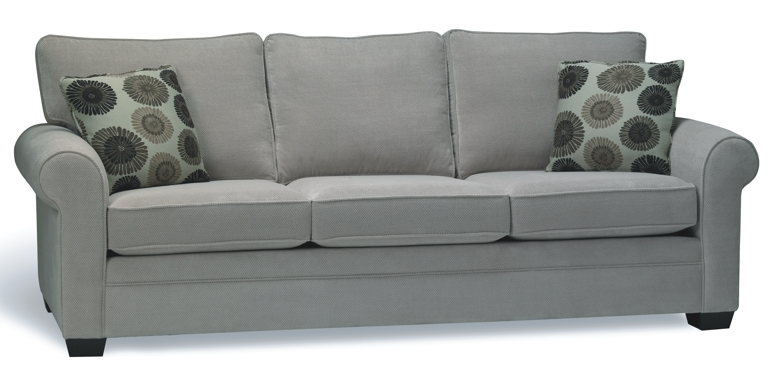 Stylus Tofino
Pottery Barn Comfort Roll Arm
The fabric options we are looking at mimic linen, but have the hard-wearing benefits of man-made fibers. Stylus has a wide variety of options to choose from, which makes it more appealing than Pottery Barn's limited choices.
Stylus (L to R): Egyptian Sand, Infinity Sisal, Jill Tan, Klein Platinum, Mystical Flax, Unique Ecru
The front runner for me in this grouping is Egyptian. Not only does it have variation in color, but it also tests at 100,000 double rubs.
Pottery Barn has a Washed Grainsack fabric that I like, but after doing some research on fabric durability, I am afraid it will pill over time due to its loose weave and fabric combination. In addition, although their other linen fabrics are beautiful, they're not very practical for a family sectional.
Another option I'm considering is having a sectional sofa made by a local upholsterer, Whittaker Designs. This will allow me to source from hundreds of fabrics and a variety of styles to get exactly what we want.
What do you think? Is there a particular sectional style you prefer or a fabric you are drawn to? Have you found a sectional that is super comfy or a linen-look fabric that stands the test of time? I'd love to have your feedback!
Enjoy your day!