Family-friendly Upholstery Fabrics for a Sectional Sofa
As soon as we were able to clean and organize everything in the basement after our renovation, I turned my focus to a few other projects around the house. Do you ever get tired of working on one area of your home for so long that you're happy to put it on the back burner for a while and tackle something else?
That's not to say we haven't enjoyed spending time down there. In fact, our basement family room is used on a daily basis. We're thoroughly appreciating the flexibility it has given us while entertaining, as well as being the perfect solution when I simply don't want to watch one more football game! Thankfully, I can retreat to our upstairs family room instead.
Now that I've had some time to look at the basement with fresh eyes, I'm ready to push forward and make the final decisions for furniture and window treatments. You may remember a post I wrote way back about some of the sectional sofas we were considering. Well, I discovered a few downsides to some of the fabrics we were looking at, such as not being able to spot-clean or their tendency to pill rather quickly. I had to go back to the drawing board and find a balance between design and function.
Sectional Sofa Style Options
At the moment, we have it narrowed down to two sectional styles. One has a roll arm (by Stylus) and another has a square profile by Whittaker Designs. The roll arm is definitely the most comfortable choice, but the square is a nice clean-lined look.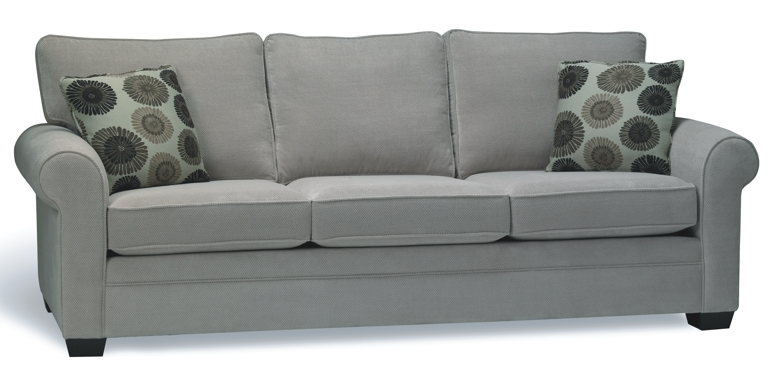 Durable Upholstery Fabrics for Sectional Sofa
The final decision will come down to the fabric. After putting a few of my own fabric samples through a test (like literally dumping coffee on them and also rubbing a section quite a bit), I discovered a few important things to look for when choosing upholstery fabrics. Some samples really shrunk after I spot-cleaned the coffee, so be sure you're careful when selecting fabrics for family rooms where spills tend to occur. (For some reason my husband can't keep coffee in his cup!) Other fabrics started to pill rather quickly.
For family-friendly sofa fabrics, I would stay away from a high cotton or linen composition (and sometimes viscose), as well as a loose weave. Polyesters are easier to care for, but check the double-rub count to ensure it's durable (I would suggest something with a minimum 30,000 double rubs and up.) A natural and manmade combo often has a nice feel.
One option we're looking at is a multi-toned grey fabric that reminds me of a wool or flannel blanket from a distance. It should be able to withstand teenage boys, but still feels soft to the touch. This is our possible fabric selection if we order the Stylus roll arm sectional.
If we select the square arm sectional made by Whittaker Designs, the fabric options are widespread. Below are a few I brought home to check out in the room. I always suggest doing this because lighting plays a big role in how the color reads.
All of these looked grey in the showroom (except the small sample). However, in our basement, some looked a bit purple or taupe. Always test fabrics in your room before placing an order.
I'm leaning towards the first three fabrics on the left hand side. These tones seem to work best with our carpet, as well as the grey cabinets and countertop in our snack bar area. I'm on the fence about grey vs. natural (a deeper beige to be safe).
I'm giving myself a deadline to make a decision by the weekend and to order it next week. It would be so nice to have it by now, but it's something we waited on to ensure it could fit down the wrap-around staircase and also to get a sense of how the space felt and functioned. Plans on paper don't always transfer perfectly to a space and good quality sectionals are also a bit of an investment.
Are you drawn to one upholstery fabric over the other? What style would you choose for a kick-back, watch-a-movie or Sunday-night-football type of sofa?
Update: See which family-friendly sectional we selected!
See you tomorrow,