Tex Mex Loaded Baked Potatoes with Turkey and Lentils
These Tex Mex loaded baked potatoes with turkey and lentils are protein-packed and flavourful. Add your own toppings for a healthy and fun dinner everyone will love!
This post is sponsored by Canadian Turkey and Lentils.org. As always, the recipe, photos and words are my own. I only partner with brands and products I personally use.
Can you believe we're nearing the end of September already? It seems like we were just getting ready for back-to-school, I blinked, and now it's pretty much full-fledged fall!
I'm okay with it, though. We had an extremely hot and dry summer with smoky air from nearby forest fires. The cooler temperatures and clearer skies are definitely a welcomed change!
It means I can turn our oven back on, too, and make wholesome and hearty home-cooked meals. You know the ones where you can dig your fork in and really go for it?
Tex Mex Loaded Baked Potatoes
Of course, I'm talking about healthy comfort food that's still easy to prepare like these Tex Mex Loaded Baked Potatoes topped with all kinds of goodness- lean ground turkey, whole green lentils, aged cheddar cheese and more yummy foods. They're budget-friendly, too. We all know how costly school and activity fees are this time of year, right?
Did you know turkey and lentils are packed full of lean protein and fibre, not to mention vitamins and minerals that will power up the whole family and get them ready for busy, activity-filled days? Seems like a perfect combination.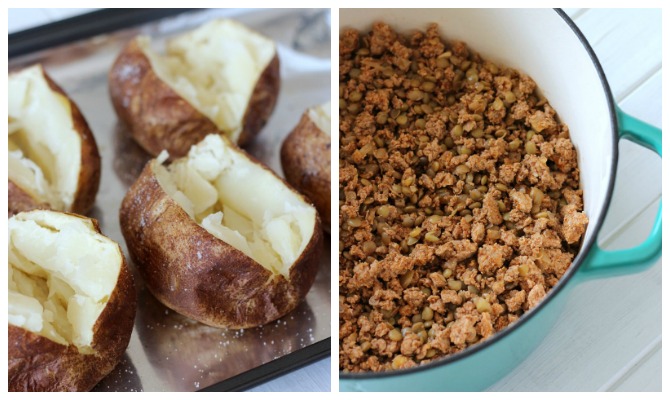 Choose Your Baked Potato Toppings
With this recipe, you don't have to worry about picky eaters or dietary restrictions either. Everyone can handpick their own toppings once you have the ground turkey and lentil base. I've offered several tasty suggestions in the recipe, such as:
cheddar cheese
tomatoes
cilantro
green onions
jalapeños
guacamole
sour cream
More loaded potato options are bell peppers and corn.
Add anything your family enjoys to the list. It's a good way to amp up their veggie intake as well. Make it fun and serve it buffet style.
Meal Prep for Busy Days
Time crunched? Bake the potatoes and cook the turkey and lentil mixture ahead of time (perhaps over the weekend) and store in the fridge for a day or two. For a weeknight meal, prepare the fresh toppings while you're reheating the rest. That's dinner on the table in less than 20 minutes!
The cooked turkey and lentils freeze well too. This recipe makes more than you'll likely need for one family meal, so transfer the leftover turkey-lentil mixture to an airtight container or bag and pop it into the deep freeze. When you're ready to eat it again, simply thaw and use to make quesadillas, tacos, soup or any other meal that needs a nutritional punch. A great way to save money on groceries!
More Healthy Recipes
5 Back-to-School Meal Planning Tips
Stock Up Keep a selection of your favourite turkey cuts in the fridge or freezer so they're ready to grab when you need them. Lentils are an inexpensive pantry staple that keep in a dark, dry, cool place for up to a year. Remember, canned lentils are a quick and easy alternative, although dry lentils are ready in about 20 minutes (no pre-soaking required).
Get Fresh Cook meals from scratch so you control the ingredients. Takeout and store-bought dinners are often higher in sodium and full of preservatives. Cooking at home also helps save you money and teaches kids good habits.
Batch It Whenever possible, double the recipe or set aside an afternoon to cook a large batch of meals to freeze or portion into containers to use during the workweek. Having nutrient-rich dinners on hand will more likely help you stick to your healthy eating goals, especially on those time-crunched days.
Energize Protein and fibre are essential when it comes to building and maintaining muscle, as well as helping you feel fuller for longer. Choose recipes with a combination of turkey and lentils to power up your plate.
Extend Leftovers are your friend when it comes to packing healthy school lunches. Pair sliced turkey with a delicious lentil salad or heat up turkey and lentil chili or pasta and send in a thermos for those chilly fall days. Find recipe ideas at Canadian Turkey and Lentils.org.
Ready to give these ground turkey baked potatoes a try? We ate them for dinner on Sunday with plenty left over for weekday lunches. Satisfying and delicious!
Tex Mex Loaded Baked Potatoes with Turkey and Lentils
These baked potatoes loaded with ground turkey, lentils and your favourite tex mex toppings are protein-packed and delicious!
Ingredients
Baked Potatoes
6

medium-sized baker's potatoes

I used russet

1

tablespoon

olive oil

¼

teaspoon

sea salt
Lentils
¾

cup

whole green lentils

water
Turkey
1

tablespoon

olive oil

2

pounds

ground turkey

extra lean

¾

cup

yellow onion

finely chopped

1

clove

garlic

minced

¾

teaspoon

sea salt

2

teaspoons

chili powder

1

teaspoon

cumin

2

teaspoons

smoked paprika

½

teaspoon

dried oregano

½

teaspoon

ground coriander seeds

¼

teaspoon

crushed chili flakes

(optional- add more for spicy)
Toppings
sharp cheddar cheese

grated

green onions

chopped

jalapeños

seeded and chopped

cherry or grape tomatoes

halved

cilantro

roughly chopped

guacamole

sour cream
Instructions
For the Potatoes
Heat oven to 400°F. Wash potatoes thoroughly and pat dry. Use a fork to poke 8 to 10 deep holes around each potato so moisture can escape during cooking.

Lightly coat each potato with olive oil and lightly sprinkle with salt. Place potatoes directly on a foil-lined baking sheet.

Bake 50-60 minutes (turn once) or until skin feels crisp but soft inside when pierced with a knife.
For the Lentils
While the potatoes are cooking, rinse lentils under cold water, drain and place in a medium-sized pot. Cover with about 2 inches of water.

Bring to a boil, cover, reduce heat and simmer until tender, about 20 minutes.

Drain and set aside until turkey is cooked.
For the Turkey
Meanwhile, add olive oil to large frying pan or dutch oven over medium heat. Stir in onions and cook for 2 minutes.

Add ground turkey, stirring and breaking up into small pieces with the back of a spoon. Cook for 3 minutes, then add garlic, salt and spices (chili powder, cumin, paprika, oregano, coriander and chili flakes).

Stir occasionally and continue to cook until turkey is no longer pink and liquid has reduced (thermometer should read at least 165º F). Turn off heat.

Add cooked lentils and combine well.
To Assemble
Slice the top of each potato and squeeze the ends so they open up.

Spoon the hot turkey and lentil mixture inside.

Add your favourite toppings.
Notes
Adjust seasoning depending on the toppings you choose. I went easy on the salt since I planned on adding cheese.
This recipe makes more turkey-lentil mixture than needed for 6 potatoes unless you want to pile it high. Store leftover portion in an airtight container for up to 3 days or pop into the freezer. Makes a good addition to soups, pasta, quesadillas and more.
Half a potato will be enough to feed younger kids and full-sized are a generous serving.
Want more delicious recipes and ideas like these sent directly to your inbox? Be sure to SUBSCRIBE.
Have a delicious day!