We're Building a House! Plans for Our Exterior
Follow along as we share our new home building journey. Today I'm kicking things off with our exterior plans, including colour selections and finishes, plus a few more design details.
Hello friends! Yes, you read that right. We're building a new house! It still feels a bit surreal to say it even though we've been going through the process for almost a year. If you follow along on Instagram, then you may have caught little snippets here and there. I have so much to share, and today I'm starting with the plans for our exterior.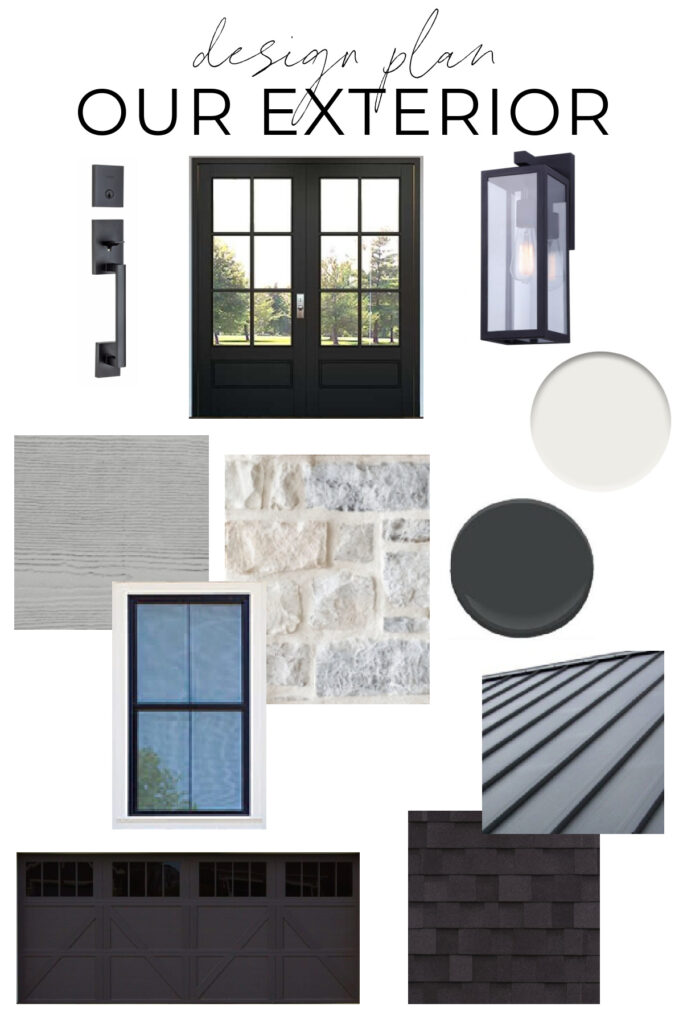 Some links used in this post are affiliates. Please refer to my disclosure policy for more information.
Exterior Finishes
Without waiting any longer, let's jump right to the colours and materials we selected for our exterior (as shown above):
San Clemente Exterior Handleset – This black front door hardware in a matte finish and square profile is both sleek and classic. We may add an electronic lock down the road, so opted for this split style handle and lock.
VistaGrande Double Doors – We went back and forth on installing double doors or a single door with sidelights at our front entrance. Ultimately, it came down to both function and price. I love the idea of swinging both doors open to move large objects in and out, plus the overall look is a little more stream-limed once the trim is added. The finish is fir fiberglass, giving the wood-look we're after, while standing up to our harsh climate. They'll be finished in a deep brown-black gel stain called Spanish Oak.
Black Modern Exterior Sconces – We plan on installing these square sconces on either side of two large windows at the front or our house. Price wise, they're quite reasonable. To make them a little more unique, we're pairing them with clear LED vintage edison bulbs.
James Hardie Siding– Selecting the main body colour of our house was the most difficult decision by far! Because of architectural controls in our neighbourhood, the options were limited. After looking at samples of light grey stock colours, Pearl Gray and Light Mist, we saw undertones we weren't sold on. Therefore, we knew we had to upgrade to the Dream Collection. I narrowed it down to four colours, and ultimately settled on Slate Pebble. We're planning a mix of lap siding, plus board and batten for interest.
Grand Banks Limestone – The base of our home, plus back deck retaining wall will be clad in limestone. I love the chiseled look that will add both texture and character to our exterior. We plan on using an over-grout technique in a light colour.
Pure White Trim – The engineered trim around the windows, plus some of the trim boards will be painted in Sherwin Williams Pure White (SW 7005). I tested several colours, including my go-to White Dove, but Pure White seemed to have the right amount freshness without looking too stark or bright on a sunny day.
Iron Ore Board and Batten – We have a garage section that bumps out, as well as another section at the back that will be clad in James Hardie Board and Batten. Both of these areas will be painted in Sherwin Williams Iron Ore (SW 7069) for a bit of variation.
Black Windows – To contrast the light siding, we opted for black exterior windows with white interiors. We went with simple grills to add a bit more interest without looking too busy.
Charleston Steel Garage Doors – Due to supply issues, our garage door selections were limited. Ours won't have glass, but the upside down "V" accent should add just enough detail without being too busy. There's a single garage door, plus double where the section bumps out, making it a 3-car garage in total. They'll both be painted in Sherwin Williams Iron Ore.
Black Metal Roofing Accents – The bottom sections of our roof over the garage and front of our house will have black metal roofing.
Dual Black Architectural Shingles – The majority of our roof will be covered in dark shingles that are a mixture of deep charcoal and black.
We're also adding a white louver detail at the top of two front gables.
Exterior Design Inspiration
Shortly after we started planning our new home's exterior finishes, I came across a few houses by M House Development that represented the look and feel we're after: modern farmhouse style paired with timeless architectural details.
I love the interesting mix of materials that come together in each of these homes to a create a classic, yet edgy look.
Gorgeous, right? It's easy to tell that every last exterior detail was carefully thought out.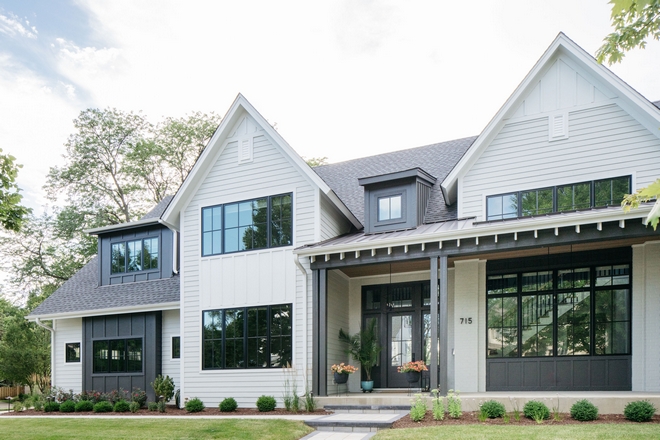 Although the exterior selections process was a bit daunting in the beginning, it all started coming together once we had our inspiration. The next step was breaking down the overall design into parts.
Takeaways From These Homes:
Light grey siding combined with deep charcoal sections
Black windows with grills
White trim and accents
Dark shingles with metal roofing accents
Combination of black and white soffit, fascia and downspouts
Front door(s) with glass panel(s)
Deep charcoal garage doors
As you can see, these homes greatly influenced our exterior colour selections and finishes. Of course, we added our own style preferences to create a look of our own (such as the over-grouted limestone). If you're planning on building a new home too, or you're thinking about changing your existing home's exterior, I highly suggest going through the same steps.
Like these home exteriors too? Be sure to check out more gorgeous inspiration from M House Development on Instagram. They're definitely one of my favourites to follow for interior design too!
More Exterior Details
The house type we're building is a bungalow with walkout basement and side-entry garage. It has two covered decks, including one off our dining room and another off the games room downstairs.
What I'm probably excited about most is our large lot that backs onto the woods. If you've been reading for a while, then you know how much I've been craving more privacy and space for activities, hanging out and gardening. Can you relate? Finding it was our biggest obstacle to building. Every time we check on progress at our new home, I feel at peace when I look out the sliding doors and windows. Ahhhh… (Check out my IG story highlights under "New Build" for a look at our view.)
Want to see more of our home building journey? Whether you're building or renovating a home of your own, my hope is that sharing our process will help in some way. Be sure to follow along on Instagram for behind-the-scenes updates and reveals. Also, join my email list so you don't miss a thing.
Want more home improvement projects like these sent directly to your inbox? Be sure to SUBSCRIBE.
Thanks for stopping by!