French Farmhouse Style Tablescape for Fall
Looking for fall decorating ideas? I'm sharing new fall kitchen decor, plus tips for setting a French farmhouse style table. Take a peek inside some of my favourite Canadian bloggers' homes decorated for the fall season.
Hello, and welcome to Day 3 of the Canadian Bloggers' Fall Home Tour. Once again, I must thank Christina and Shannon for being our gracious hostesses, as well as 21 other blogger friends who have been very busy adding touches of fall decor to their spaces to welcome this beautiful season.
Before we begin, may I suggest grabbing a hot cup of coffee or tea. Maybe a pumpkin spice latte? If you're like me, you'll want to settle in and soak up every last drop of these lovely autumn decor ideas. Links to each fall home tour are located at the bottom of the post, so be sure to check them out as they unfold all week long.
French Farmhouse Style Kitchen Decor
For those of you who are new here, let me start by saying we do not live in the country. Our home is smack dab in the middle of suburbia, in fact. But growing up on a farm has left me with a deep sense of nostalgia when it comes to rural living. So much so, that we've begun looking…
Until we find that place, our current home is where I have fun playing around with different styles. Take this french farmhouse inspired tablescape, for instance.
Some links used in this post are affiliates. Please refer to my disclosure policy for more information.
When we renovated our kitchen and dining area a couple years ago, I kept it simple for that reason. White cabinets, subway tile backsplash, marble quartz countertops and wide plank white oak floors were the classic finishes I selected to easily change up decorating styles from season to season. If I wanted to…
Last fall, I mixed vintage decor with some new pieces to create an eclectic fall table setting. This time, I envisioned Sunday brunch in the beautiful fields of Provence. A girl can dream, right?
Of course, I always like to use what I have on hand and only picked up a few new decor pieces like the embossed salad plates, french linen napkins and glass candle holders. They're staples that can be used down the road too.
As soon as I saw those plates, I knew they'd work perfectly with our whitewashed reclaimed wood table. A bit of added texture without screaming, "Look at me!"
Falling for Flowers
It's amazing how simply adding fresh seasonal flowers and produce drastically changes the look of a space. Fall started out a bit dreary here, so naturally, I gravitated to these bright and cheery sunflowers.
They're a total mood booster, aren't they?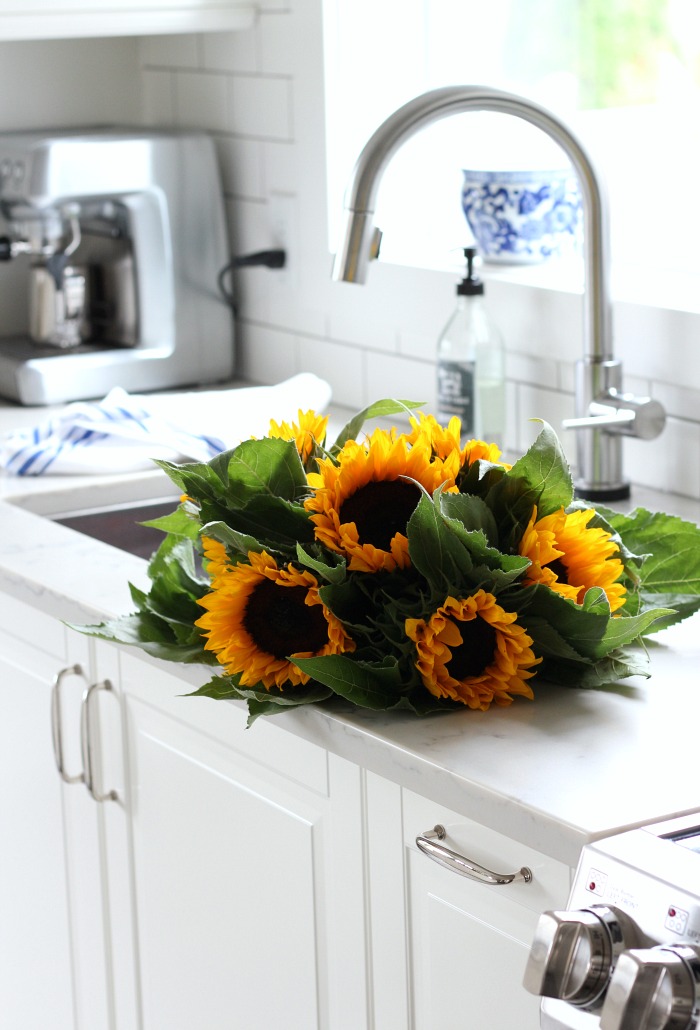 Most times, that's where my use of seasonal colour comes in. I'm basically back to a blank canvas of neutral layers and textures once they're taken away.
Of course, I couldn't resist adding a bit of a boho touch with this fabulous macrame pillow. I already warned my family there'd be no pillow fights with that one. Have you tried any DIY macrame projects of your own? I think you'll spot at least one or two as you go through the entire tour.
Setting the Mood With Lighting
Glass and metallics are another way to add interest to a fall table setting, especially when it comes to candlelight. I tend to use candles any time of day. Right now, they remind me of a gorgeous autumn sunset. It doesn't get much better than that, right?
And, in the evening, our beaded chandelier gives off an amazing glow. It makes the shorter days better. Know what I mean?
I suggest using a dimmer switch on your dining room fixture to control the intensity of the light.
Kitchen Display Cabinet
I was happy to finally be able to unpack the rest of our dishes we had stored in the basement from the renovation. Only two years later (ha), but it took a while to find the perfect display cabinet for this tiny corner in our dining area.
I think it added just the right amount of colour to our dining room.
The satin brass and glass lamp was a recent find too. It provides the additional light we need this time of year and speaks to the vintage-style sconce that's above our kitchen window. It's the subtle details that tie a space together.
I set this table with Thanksgiving brunch in mind. It's less than a few weeks away for us Canadians. Although we'll be heading to the farm to meet up with our families, we may host a Friendsgiving celebration this year. Fall is my favourite time to entertain, and I've put together many fall tablescapes I'd love for you to check out.
Care for a pumpkin spice scone? They're delicious with a bit of homemade blackberry jam on top. Yum! Or, maybe you'd prefer a pumpkin spice cupcake instead?
Fall Kitchen Decor
On that note, let's head to the kitchen. I didn't switch things up too much in there except for adding some new plants and a bit of rearranging.
We were at a vintage market over the weekend and I spotted these kale roses. Aren't they fun? The succulents were on our front porch all summer long, so they'll live on our kitchen island over fall and winter.
They tend to do well with all of the natural sunlight we have coming in through the big windows at the back of our house.
As always, I included some thrift shop finds, like the silver tray, chinoiserie cup and saucer, as well as the natural woven basket. Shopping secondhand will save you big without compromising style.
Have I mentioned how much I LOVE having a bright and cheery kitchen? It was even overcast the day I took these photos.
With all of the gorgeous fall produce available right now, I find myself wanting to cook more meals from scratch. Over the weekend, I made red kale chips for the first time. They were delicious!
This week, I have stuffed squash and roasted cauliflower mac & cheese on the menu. Good 'ol comfort food with a healthy twist. It's another part of fall I enjoy so much.
Fall Kitchen Decor Sources
DINING: Farmhouse Table | Linen Chairs- Restoration Hardware | Beaded Chandelier | Blue-grey Cabinet | Lamp, Wood Serving Board, Glass Candle Holders, Blue Patterned Bowls- HomeSense | White Embossed Salad Plates | Galvanized Chargers- Pier1 | Bee Glasses | Large Cloche, Marble Dish- Chapters Indigo | Linen Napkins- local shop | Galvanized Tray- Michaels | Table Runner- Thrift Shop | Macrame Pillow | White Bar Cart
KITCHEN: Full List of Finishes | Faucet | Stools- Restoration Hardware | White Coffee Pot | Marble & Wood Serving Board, Marble Salt Holder, Light Blue Bowls- Chapters Indigo | Espresso Machine | Wood Serving Board, White Vase, Tea Towels- HomeSense | White Flower Pot- IKEA | Silver Tray, Chinoiserie Dishes, Basket- Thrift Shop
Be sure to pin these fall kitchen decor ideas for later!
Canadian Bloggers' Home Tour: Fall Edition
Now that you've taken a little tour of our kitchen and dining area, it's time to send you along to see what my Canadian blogger friends have been doing to get their spaces ready for fall. While you're there, say HELLO. I hope you'll be back soon to check out more projects I'm working on!
Want more home decorating ideas like these sent directly to your inbox? Be sure to SUBSCRIBE.
Happy Fall!