Decorating with Thrift Store Finds – Shopping & Styling Tips
Want to learn how to decorate with thrift store finds? I'm sharing my best shopping tips for scoring the good stuff, plus home styling tips.
Something that comes up over and over again is decorating with thrift store finds. If you've been reading for quite some time, you likely know that every room in our home has at least one piece of decor or furniture that's been thrifted. It's become part of my decorating style.
My love of the hunt started as a young girl. Having a pretty bedroom was important, so I'd hit up garage sales looking for anything that could be painted, such as old frames, as well as other unique decor. When I left home for college, my first apartment was mostly decorated and furnished using pieces that were made over in one way or another. It's an approach that has stayed with me to this day.
Decorating with Thrift Store Finds
Every week or so, I pop into a thrift store. I have a few items I'm always on the lookout for, such as milk glass and blue and white porcelain. Because my collections have grown, I'm more selective about what comes home with me. Believe me, it's hard sometimes!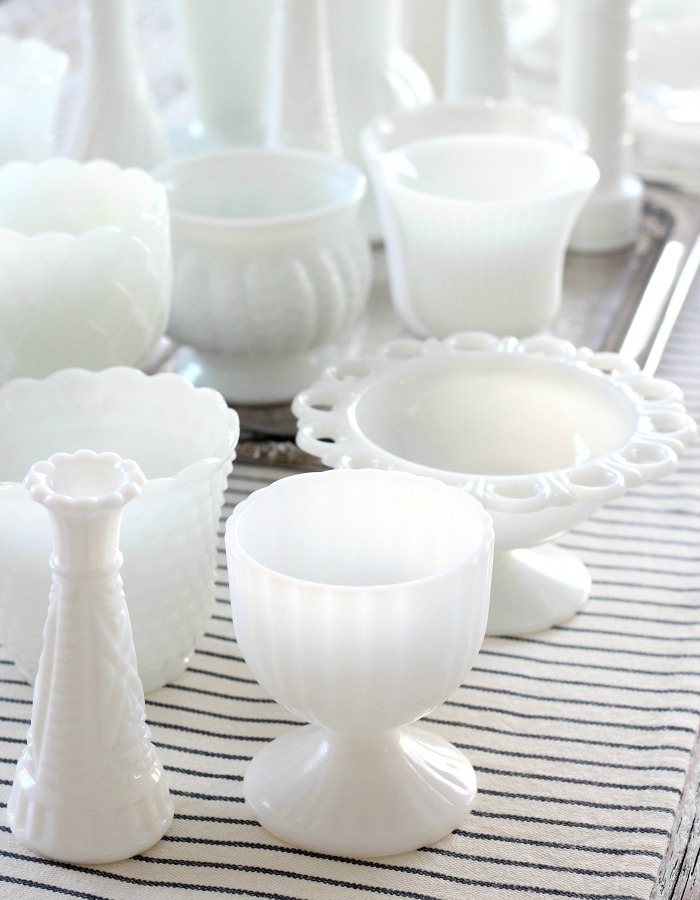 If you're new to thrifting or haven't had the best experience in the past, there are a few guidelines I follow to keep me on track. And, because you likely can't come along with me, I'll try my best to share how I score the good stuff time and time again!
Thrift Store Shopping Tips
Have a List
As mentioned, I always shop with a list of what I'm looking for on a regular basis. I adopted this guideline after cleaning out our basement storage room and discovering too many "to do" projects and decor items. Thrifting is about saving money, and my old approach ended up being counterproductive. Now I only pick up items that I have a definite plan for (within a few months).
Think about collections you have started (or want to collect), areas in your home that could use a little character, or upcoming parties you may need decor and supplies for. For my GALentine's Day tea party, I used vases, trays and glasses from the thrift shop to create a pretty look for less.
Can it be Cleaned?
Although I like to keep an open mind when it comes to shopping at thrift stores, I only consider items that can be thoroughly cleaned. Everything I buy goes through a thorough inspection, and is put through the dishwasher (or hand-washed), washer and dryer, or vacuumed and wiped. I definitely don't want critters or mildew and the like!
I'm a little more delicate when it comes to vintage items where the patina adds character.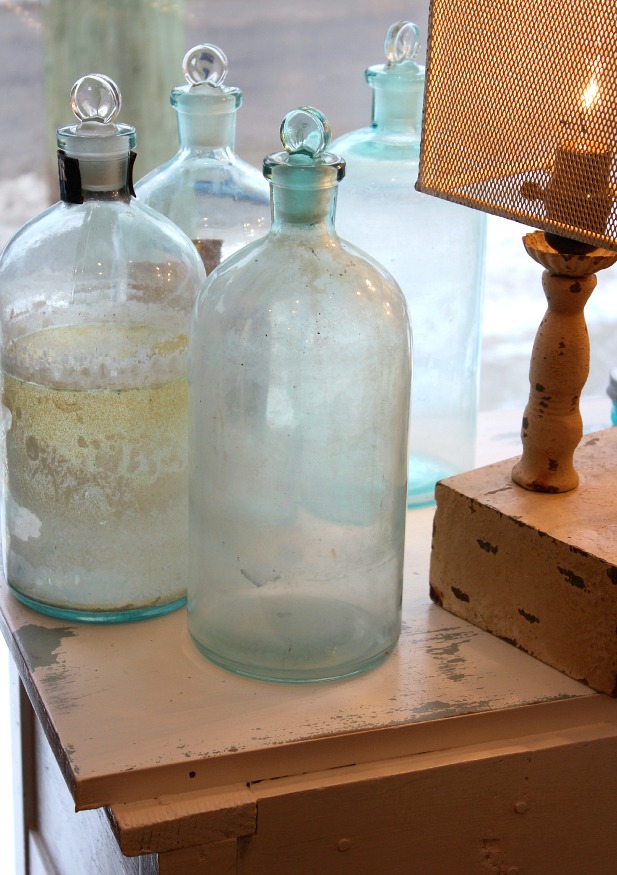 Can it be Made Over?
In many cases, all that thrift store furniture needs is a coat of paint or a simple reupholstery job to make it look fantastic. When I first brought this ottoman home, my family thought I was crazy since it was in such poor condition. After recovering it with Belgian linen fabric, it's now a lovely (and functional) addition to our living room.
Another fun projects was transforming an IKEA baby changing table into a bar cart for outdoor entertaining.
Can it be Repurposed?
Similar to above, think about how items could be used in a different way than intended. Last spring, I picked up this basket at a local thrift shop, spray painted it black with outdoor paint and used it on our covered front porch as a planter. Super easy!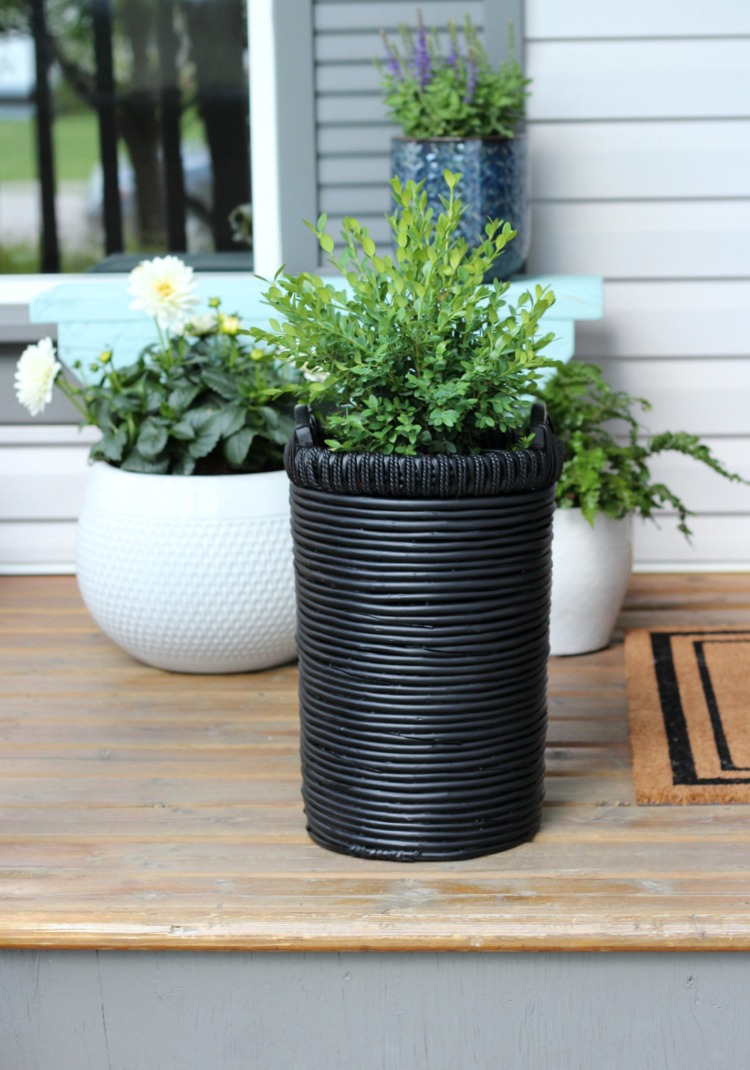 I also found these vintage shutters and used them to make a coat rack for our small entryway.
Is it a Good Deal?
Now that I've been thrift shopping for years, I have a pretty good sense of price. However, searching online for similar items on sites like Etsy and Ebay definitely helps. Look for markings or labels to help identify an item. I've seen IKEA items marked up higher than they sell for at the store. Are you a savvy shopper?
In addition, always check for chips, cracks, fading or scratches, which tend to devalue items (with the exception of some vintage).
One of my best thrift store finds was this vintage gripstand bowl in mint condition for only a few dollars. Of course, I feel all Downton Abbey when I use it ;)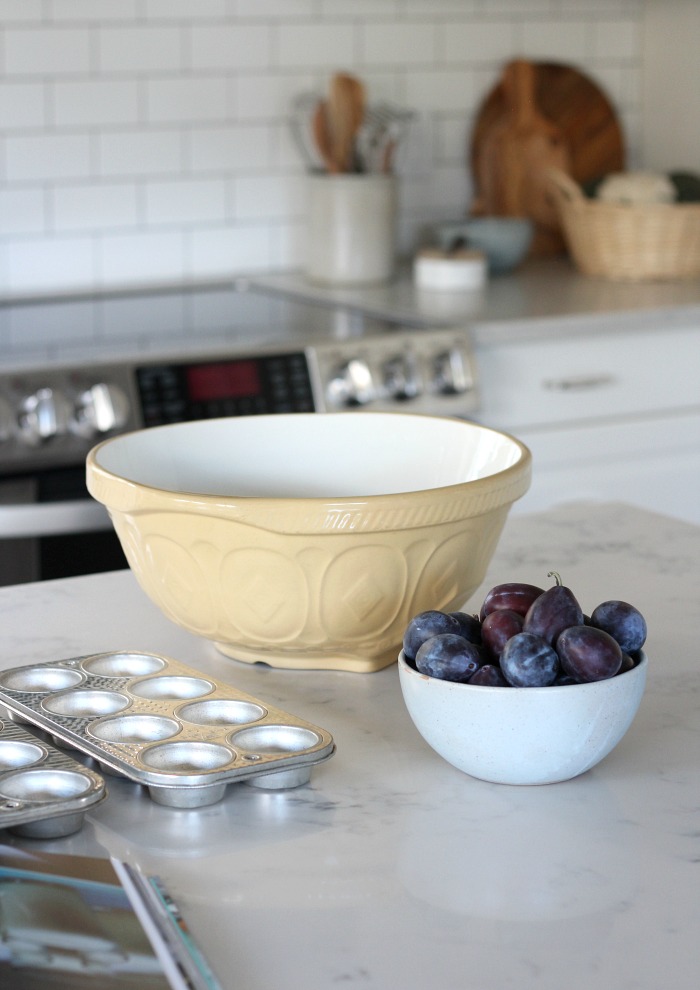 Put it in Your Cart
Even if you're on the fence about an item, add it to your cart anyway. I can't stress the importance of this! Countless times I have gone back to look at an item for a second time and it's gone. You can always put it back on the shelf after you've had some time to think about it. Also, keep an eye on your cart!
Use Thrift Store Discounts
Yes, some thrift stores have coupons and special shopping days. For instance, when I donate items to Value Village I receive a 20% off coupon for any purchases up to $100. Be sure to watch for signs or get on an email list for updates.
Shop Regularly
You likely won't walk away with much on your first visit. Most times, I only find a few pieces to take home. Be patient and it will eventually pay off!
Why Decorate with Thrift Store Finds?
Secondhand shopping is good for the environment.
It's hard to find better prices for furniture and decor.
Many items are classic in design and style.
Adds character, style and a curated/eclectic look to a room (aka thrift store style). Perfect if you like Boho style too!
A good way to try out trendy colours and styles without a big commitment.
Many thrift stores support charities.
How do I Decorate Using Thrifted Items?
When it comes to decorating our home with thrift store decor, I like to strike a balance between old and new.
Grouping collections or similar items together in odd numbers works well.
For instance, I combined milk glass and blue and white pieces to decorate our table for spring. Notice the different heights and textures too. The never-been-used table runner was also found at the thrift store. Don't you just love a good score?!
When I'm looking at changing up decor seasonally, I hit up my favourite thrift shops first. It's one of the best ways to get a new look for less.
Last fall, I found these pretty mugs that were the inspiration for my entire table setting. In addition, I picked up a wooden box that I made over to look like concrete then filled it with mini pumpkins.
Of course, decorating with thrift store finds means your space will never look cookie cutter. Remember to take risks!
Some of the Best Items to Look for at Thrift Stores
Picture frames and art
Mirrors
Pitchers, vases, glass bottles and jars
Vintage suitcases and first-edition books
Baskets and trays
Silver trays and serving pieces
Dishes, etc. (Ironstone, enamelware, crocks, milk glass, jadeite, pyrex)
Table linens
Dressers, end tables, coffee tables
Of course, there are many more great finds to add to this thrifting list. What do you like to search for? Had any luck lately?
Be sure to pin these thrift store shopping and styling tips for later!
More Thrift Store Decorating Ideas
Want more home decorating ideas like these sent directly to your inbox? Be sure to SUBSCRIBE.
Happy thrifting!