Joyful Spring Decor in Our Kitchen
Ready to add fresh and lively spring decor to your home? See how I decorated our kitchen and dining room using milk glass, tulips and more.
Happy spring! It's that joyful time of year again when I'm switching our home decor from one season to another. To tell you the truth, I started adding little touches of spring decor quite some time ago after growing so very tired of winter. It's been a long one, hasn't it? Thankfully, the inside of our home says differently.
Today you're in for a real treat. You not only get to see our kitchen decorated for spring, but I'm also part of the Canadian Bloggers' Home Tour. That means being able to peek inside so many beautiful homes decorated for spring. If you're looking for new ways to freshen up your home, you're definitely in the right place. Links to each one are located at the bottom of this post, so please take a look as they unfold all week long.
Decorating Our Kitchen for Spring
Getting our kitchen ready for spring was relatively easy and budget-friendly. Recently, I cleaned and organized the whole space, so that made it feel freshened up already. Aside from the fresh cut flowers I bought at the grocery store and some buy-one-get-one faux greenery, all of the decor I used came from my own collection.
Every week or so, I stop by my favourite thrift shops and usually find a piece or two worth purchasing. It's taken a while, but I have a large selection of milk glass I've picked up for next to nothing, and my blue and white pieces are growing too. That's how I was able to put together this spring kitchen table centerpiece.
Curious to know where we found our furniture or decor? You can find links for most items in these photos at the bottom of the post.
I'm a big believer in using what you already have to give your home a new look. Consider moving decor and furniture pieces around, and always check your cupboards and storage areas before you purchase anything new. I'm often surprised by the items I've tucked away, like the blue and white pillow cover you may recognize from our cottage style front porch.
Some links used in this post are affiliates. Please refer to my disclosure policy for more information.
Late last fall, I purchased a new area rug for our living room that's predominantly blue and, more recently, hung some new artwork above the sofa. Adding small touches of the same shade to our dining area creates flow from one space to the other. Often I like to repeat similar colours in small doses from room to room.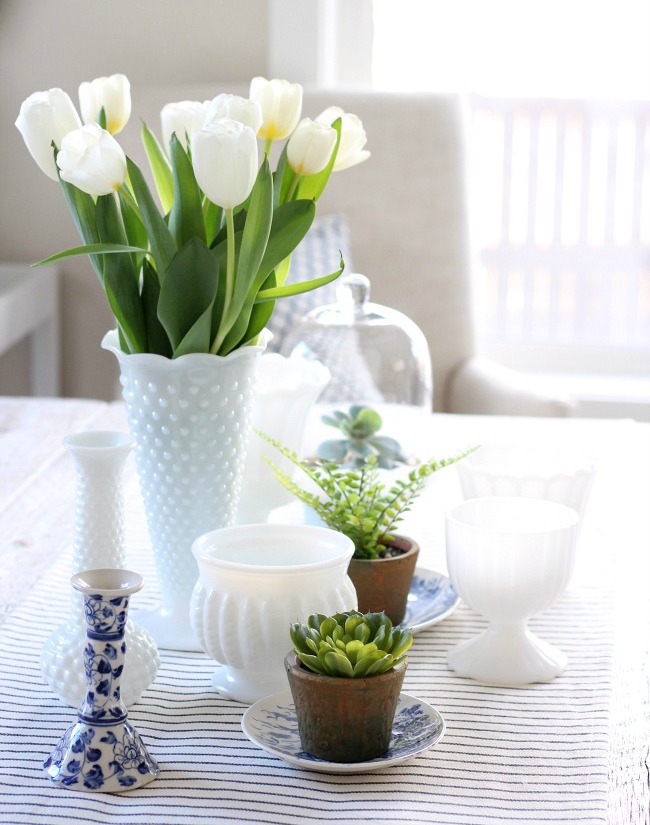 I moved the boxwood wreath I previously had hanging in our kitchen window to the back corner above the bar cart. Spring is the perfect time to add some greenery indoors, whether it's real or faux. Usually I only go for live plants and flowers, but these ones are surprisingly convincing.
I put together a succulent cloche terrarium using one of the plants from last spring that I managed to keep alive all winter. Yay me! Succulents don't like too much moisture, so I water it sparingly.
There are so many creative ways to use plant pots especially this time of year.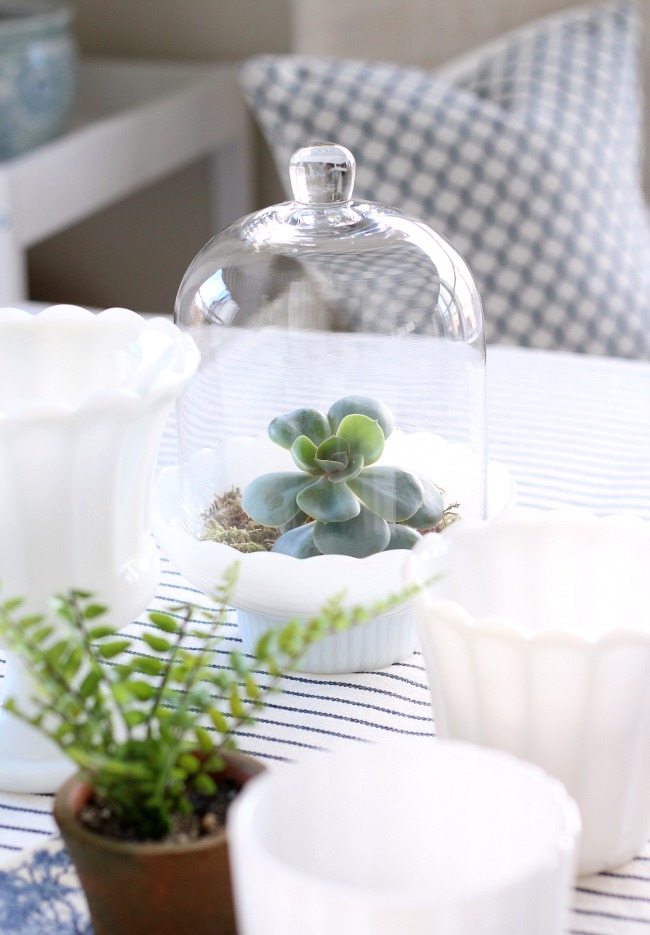 I love how it reminds me of gardening, and what's to hopefully come very soon. Spring is my favourite time of year to get outdoors and play around in the dirt. It truly feeds my soul!
Do you feel the same way? Birds chirping, leaves emerging from buds, bulbs beginning to bloom, a fresh scent in the air… It's a wonderful energy that makes me feel as though anything is possible.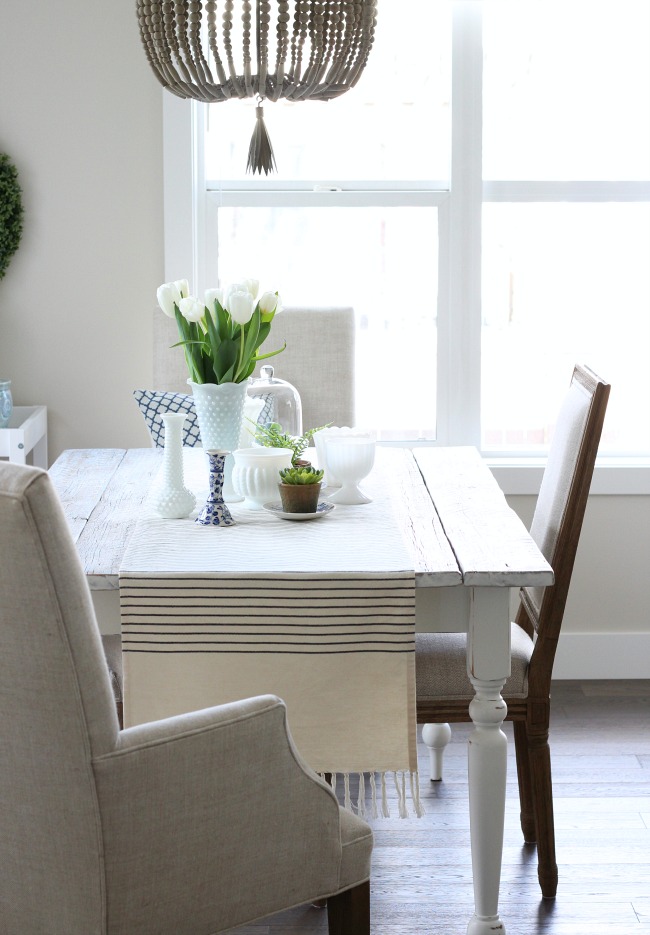 Spring Baking
Spring is the time of year when I find myself wanting to soak up the sun that fills our kitchen. Over the weekend, I baked wholesome gluten-free blueberry oat muffins and made freshly squeezed lemonade.
My husband was away for the weekend and, as soon as he got home, wondered what I had made after seeing this picture on Instagram. We were both lucky enough to grow up with moms who were constantly whipping up something in the kitchen. I tend to go in spurts. Good thing they love me for other reasons ;)
The changing of seasons means fresh produce will be arriving soon. I love growing my own herbs and veggies, and can't wait for the outdoor Farmer's Market to start. I find it inspires me to try new recipes.
These scalloped muffin cups I picked up at the dollar store motivated me to bake something too. Aren't they adorable?
Do you like baking? I used to bake cookies or muffins every week to pack in school lunches, but it's just the two of us now until our son arrives home for his break from business school. I'm looking forward to seeing his smile each and every day.
This year, I've been focusing on healthier recipes that satisfy our sweeter side. For me, it's all about balance when it comes to indulging. These chocolate oat bars are one of our favourites.
If I'm lucky enough, I'll get to enjoy one of these blueberry muffins on our front porch with my afternoon coffee. Today, the sun is shining and the weather forecast is looking good. Is spring here to stay?
I'm hoping so, as I have the Outdoor Extravaganza to get ready for. Will you be joining us in May?
Spring Kitchen Sources
DINING AREA: Whitewashed Table | Chairs- Restoration Hardware | Beaded Chandelier | White Bar Cart | Milk Glass, Blue & White China/Pottery, Table Runner- Thrift Shop | Faux Greenery, Moss Balls- Michaels | Glass Cloche, Boxwood Wreath- HomeSense
KITCHEN: Cabinets, Glass Canisters- Ikea | Countertop- TCE Stone | Faucet | Nickel Pulls, Light Fixtures, Stools- Restoration Hardware | Patterned Rug | Marble & Wood Serving Board, Salt Canister- Indigo | Tea Towel, Dotted Bowl, Wood Serving Board- HomeSense | Espresso Machine | Cake Stand | White Coffee Carafe
You can also check out my Shop Our Home page for more sources.
Want more home decorating ideas like these sent directly to your inbox? Be sure to SUBSCRIBE.
More Spring Decorating Ideas
Now that you've taken a peek inside our kitchen, it's time to send you along to see how some of my blogger friends have welcomed spring into their homes.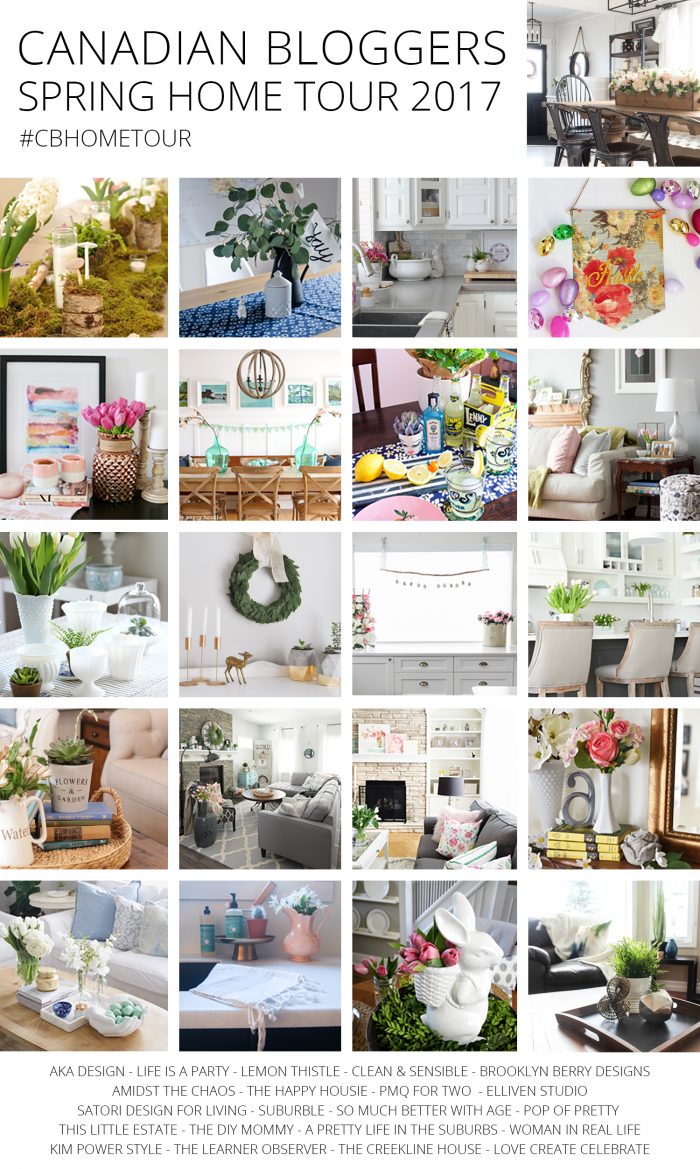 A big thanks to Shannon from AKA Design and Christina from The DIY Mommy for organizing this lovely spring decor tour!
Sending you sunshine,