Spring Front Porch: Adding Cottage Charm
Decorated your front porch for spring yet? See how I added a bit of rustic cottage charm using vintage finds along with some new decor pieces to welcome the new season!
Until last week, I wasn't sure if I was ever going to pull out my flip flops again. Winter had been hanging on ever so tightly, and the opportunity to do any outdoor spring decorating hadn't presented itself. By this time last year, we had our patio furniture out of storage and I had picked up quite a few plants from our local garden centres. To say we're a bit behind this year is an understatement!
Fortunately, on Thursday, I was able to put together our spring front porch.
Thank you to Balsam Hill for collaborating on today's spring front porch post in the spirit of Mother's Day. As always, opinions are 100% my own. This post contains affiliate links.
Spring Front Porch Decor
To kick off this front porch refresh, I gave everything a good spring cleaning. It's crazy how dirty everything gets over the winter, isn't it?
Two summers ago, while visiting my parents at their farm, my mom and I discovered this rustic bench in an old shed. I knew with some TLC it would be the perfect piece to add some colour and character to our neutral front porch. I love decor items with a bit of history, and the fact that this piece came from my childhood farm is an added bonus. Thanks mom!
I wanted to build on the decorating scheme I put together last May and, about a month ago, began curating a collection of decor items (old and new) to create a charming cottage vibe. When Balsam Hill offered one of their gorgeous wreaths along with some cash to purchase a few spring decor items on Etsy, the entire look started coming together.
Left to Right: Boxwood Wreath | French Wine Crate | Blue & White Tile Pillow | Vintage Maple Sap Bucket | Yellow Chevron Pillow
Although our house is fairly new, I always like adding a touch of vintage or salvage to every space. It's an appreciation for items with a bit of history that I share with my mom. Growing up, I remember her taking forgotten pieces from her childhood farm, such as an old milk can or antique stove, and giving them new life.
I wanted to find a couple of items to repurpose as planters, and this wine crate and metal bucket really spoke to me. I paired them with the grey and white planters I used last year.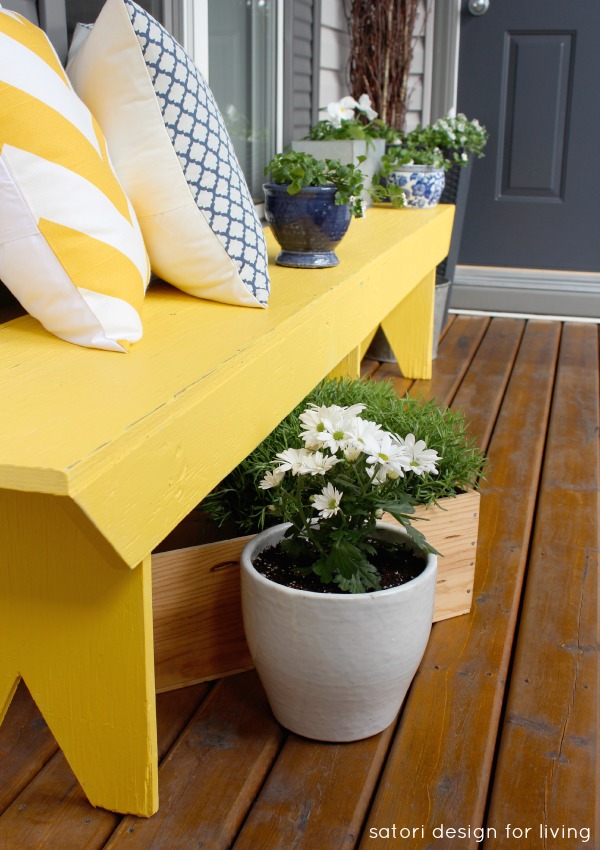 Growing up in the country meant nature was a big part of our lives. I always looked forward to spring when I could help my mom plant the garden and watch it unfold over the summer. I also helped both of my grandmothers with their gardens, and to this day peonies are my favourite flower for the nostalgia they evoke. Nothing beats a big vase of these fragrant flowers on the kitchen table!
Similar to last year, I decided to go with simple green and white plants. Because it's early in the season, I chose hardy pansies (isn't that an oxymoron!), rosemary, alyssum, bacopa and chrysanthemums. I plan on covering them or bringing them in at night until the weather is more stable just to be safe. We're still getting a bit of frost.
Once the garden centres get more stock, I'm hoping to find a white hydrangea plant to put in the maple bucket. If not, I like the way it looks empty too.
For a bit more colour and charm, I picked up another tin planter and two blue pots. I found the blue and white chinoiserie one at a thrift shop for only $2! Remember, decorating doesn't have to be expensive. I often shop secondhand for home decor.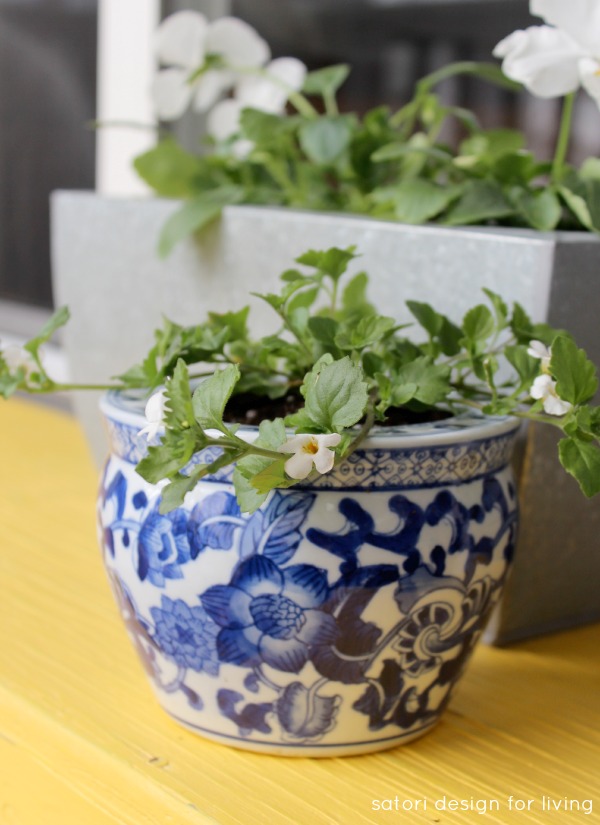 To soften the bench, I added two colourful pillows. Our house faces south, and this is my favourite spot to enjoy a glass of iced tea and get a bit of sun in the afternoon throughout the summer. Unlike my mom, I don't have a gorgeous sunroom. This is the next best thing!
To freshen up the front door, I hung the square boxwood wreath I got from Balsam Hill. I like that it looks like cut boxwood, but will stand up to the heat of summer and the clanging and banging of the door being opened and closed so many times a day.
Being a mom means selecting family-friendly, yet stylish decor. I'm thinking about adding some ribbon to dress it up a bit, but it is a great stand-alone piece.
If you're looking to add a bit of cottage charm to your own front porch, follow these steps:
Start with a foundational furniture piece with bit of character.
Select decor items (old and new) with some colour and varying texture.
Think about how you can repurpose a vintage or salvage piece.
Add a touch of nature (live and/or faux).
Here's what I started with…
And now, our spring front porch with a bit of rustic cottage charm…
Are you drawn to blue and yellow porch decor too?
Unfortunately, it started snowing again on Friday, so I had to put most of it back inside. I guess for now I'll have to enjoy the photos (sigh…).
To see more ideas like this, visit the Gardening & Outdoor Project Gallery.
Spring Decorating Giveaway
(now closed)
To celebrate Mother's Day, Balsam Hill wants to help you create a warm and welcoming space for spring. One winner will receive a Boxwood Wreath and a $100 Etsy Gift Card to use towards purchasing home decor items.
You can read more about how my mom and grandmothers influenced my design aesthetic, as well as what it means to be a mom on the Balsam Hill Blog.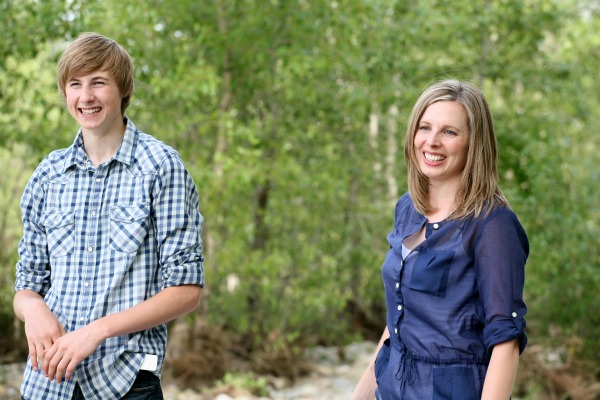 Enjoy your day!