Cold Tolerant Annuals for Early Spring Planting
Ready to do some early spring gardening? This list of cold tolerant annuals will add some life to your outdoor space after a long winter!
This has been a challenging spring for gardening to say the least. Will the snow ever stop?
Usually by this time, my Lily of the Valley is peeking out of the ground. It is the flower for May, after all. Not this year. Notta. It's not even brave enough to come out yet!
When I was decorating our front porch last week, I knew the chances for more cold weather were pretty good. What plants could I put in my containers that wouldn't be too wimpy?
It didn't take long to realize there are quite a few cold tolerant annuals available at the garden centres right now. Although I was going for a white flower theme like last season, there are many options out there for adding colour too.
Cold Tolerant Annuals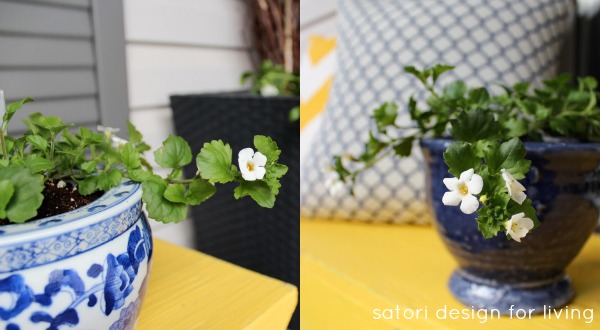 Bacopa
Bacopa is an annual I've never planted before. I adore their tiny white blooms with yellow centers, and apparently they're fairly low maintenance in the growing season. Bacopa can tolerate cool weather, but not a hard frost like some other annuals. Cover or take inside if it looks like it's going to freeze.
Pansies
Don't let the name Pansy fool you. These plants are hardy and can even tolerate light frost. Look for them in colours, too, such as purple, yellow, blue, orange and more.
Alyssum
Alyssum plants do well in the cool weather and will bloom throughout most of the growing season. Most varieties are like pansies and can tolerate some frost, making them good contenders right through to late fall.
Rosemary
The herb rosemary is an annual in our area (zone 3b), but will sometimes keep in our garage over the winter, acting more like a perennial. Rosemary is a very frost-resistent and low-maintenance plant that's great for adding flavour to dishes all summer long!
Chrysanthemums
Chrysanthemums are favourites due to their tolerance in a range of weather. In the spring, I usually select white or yellow mums so they don't fade throughout the summer like the darker blooms do.
What are some of your favourite annuals to plant in early spring? Have you lost any plants this year to frost?
P.S. Have you checked out my Spring Front Porch yet? If not, head over there now!
Also, don't forget the Outdoor Extravaganza starts next week. Can't wait to see your Plants & Flowers projects!
More Spring Gardening Ideas
One other thing before you head off… If you're looking for more useful and pretty ideas in your life, make sure you're on the email list! You can subscribe here.
Happy planting!