Flea Market Basket Planter – Front Porch Decor
Like outdoor wicker planters? See how easy it was to transform a flea market find into a basket planter for our front porch. Plus, get inspired by more outdoor paint and build-it projects.
I can't believe it's the final week of the Outdoor Extravaganza already! Have you been following along? Be sure to check out my DIY succulent centerpiece and ice cream float bar to get caught up on anything you've missed in this fun series.
This time, we're sharing our outdoor PAINT & BUILD-IT projects…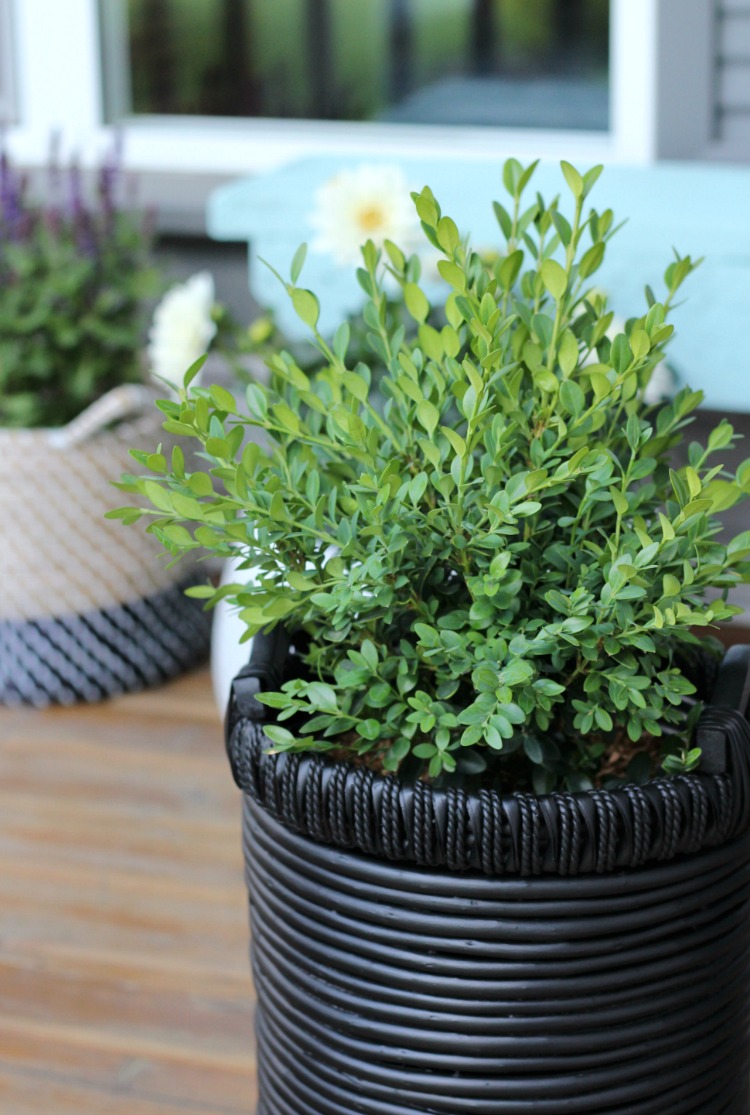 The original plan for today was to reveal our totally freshened up front porch. However, a late start to spring, plus the air being filled with tree fuzz and petals at the moment meant we had to hold off on staining for now. It's simply too much work to have it ruined.
Our chokecherry tree is one of the culprits. So beautiful in May, but when the wind picks up, those blooms cover EVERYTHING!
Some links used in this post are affiliates. Please refer to my disclosure policy for more information.
Front Porch Potted Plants
In the meantime, I decided to go ahead with some potted plants and new outdoor decor for our front porch. I was getting antsy.
Our door is situated at the side, which makes decorating the space a little challenging. A tall planter works best, but it can't be too wide or it blocks the doorway.
While shopping at a local flea market last weekend, I spotted this tall wicker basket and was pretty sure it would work as a planter. The colour was a little too orange for my liking, but a little spray paint fixed the problem in a hurry.
Flea Market Basket Planter DIY
Spray painting a wicker basket is easy. Just make sure it's clean before you start. I vacuumed mine and wiped it down with a lint-free cloth.
Next, I applied two light coats of semi-flat black spray paint outside. It's best to do it when there's little to no breeze. I placed an old sheet under the basket since there's always over-spray.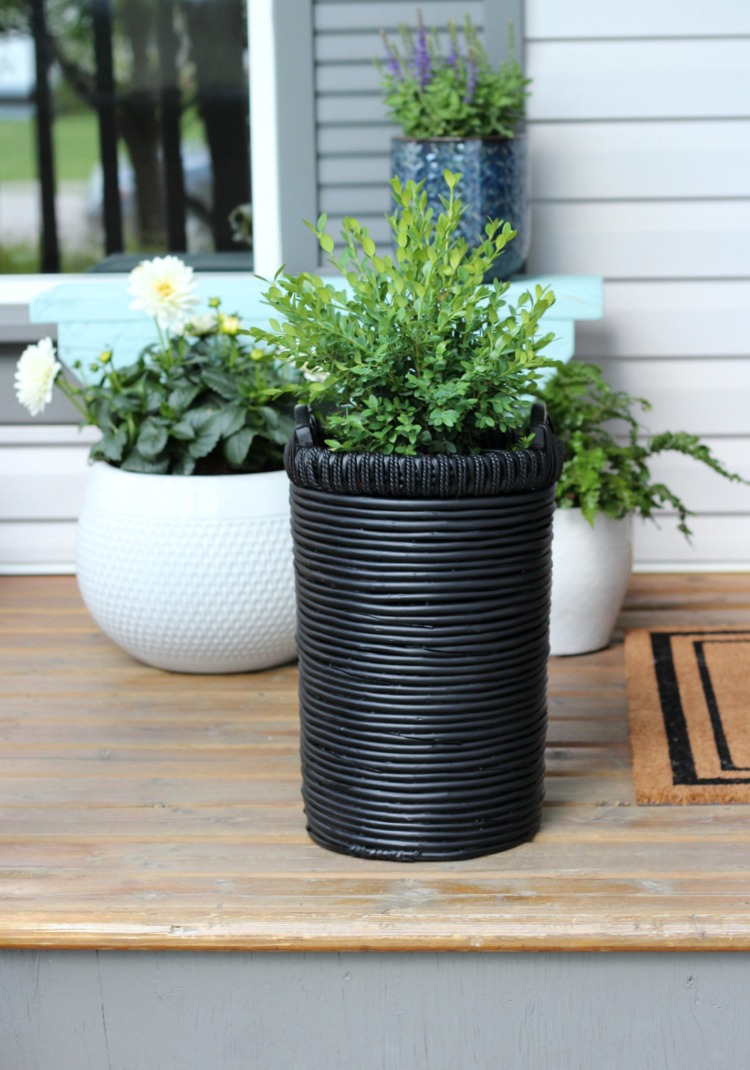 You're probably wondering if you can use any basket as a planter? Our front porch is covered, so the basket will see very little rain, if any. I suggest keeping wicker as dry as possible even if it's coated in outdoor paint. It's best to remove the plant for watering. As an option, you can also find all-weather basket planters for versatility.
Boxwood Planter
Speaking of the plant, I wanted something that's hardy and low-maintenance since it's right by the door where there's tons of traffic. Boxwood will last right up until fall (or longer). I also like the punch of green it brings to that corner. A little trimming and light watering is all that is needed throughout summer. Another option is using faux boxwood.
I kept the boxwood in its original pot, so I didn't need to line the basket with plastic. I tipped another pot upside down and placed it inside as filler for the bottom. A tall plastic pot would work well too. I'm going to keep my eyes open for one of those as lining the wicker is best.
Other Front Porch Pots and Plants
Certain parts of our front porch see a lot of sun, so I chose "full sun" plants, including dahlia and salvia. Pretty flowers, right?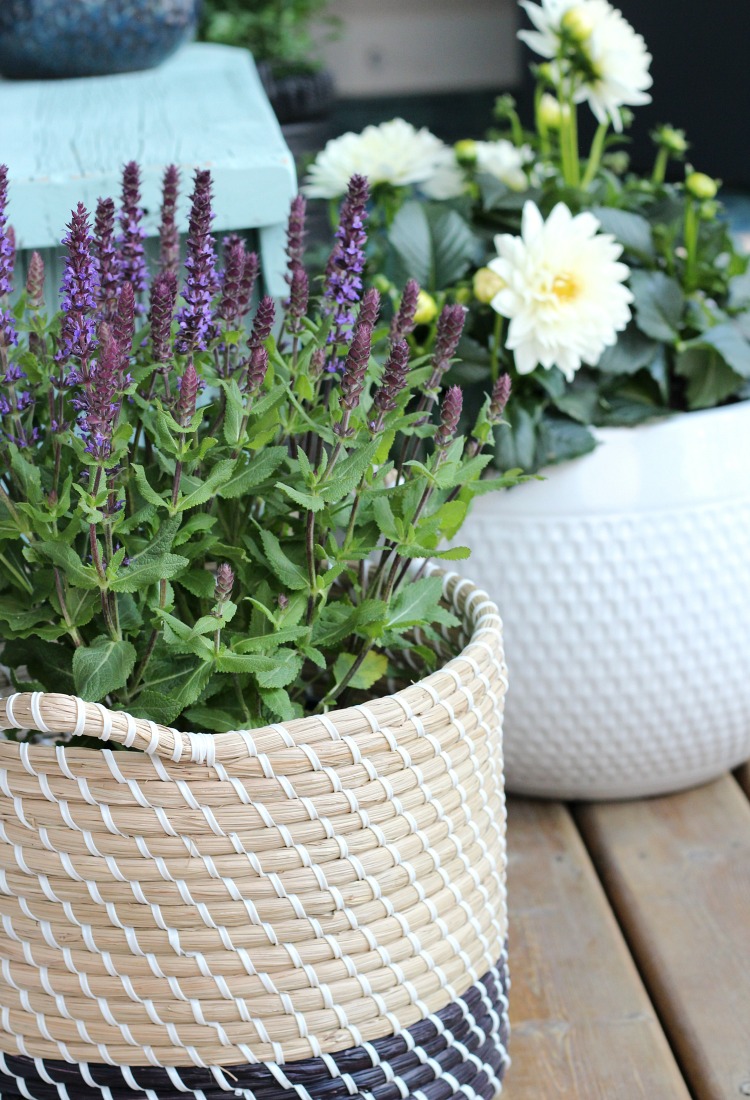 I picked up the woven basket and white pots at HomeSense last spring. I like how they add a hit of freshness to the porch. The black also ties in well with the basket planter and outdoor mat.
Eventually, I'll move the fern to the shaded side since it can't handle much sun.
Like that blue textured plant pot? It was a HomeSense find, too. I confess, I'm a regular ;)
The aqua distressed bench was part of last year's Outdoor Extravaganza. I'm currently painting the larger bench (that was yellow before) a similar pale blue-green colour and will switch them out once it's done. (Kind of sad to see the yellow go, but it was time for a change.)
Once the conditions are better outside, we'll be prepping the front porch wood and staining it the same colours as before. Look for those updates later this summer (subscribe to get post updates so you don't miss a thing.)
Be sure to pin this garden planter basket for later!
More Outdoor Paint & Build-it Projects
You're going to love these creative outdoor ideas from this year's participants. Be sure to stop by and say HELLO!

I hope we've inspired you over the past few weeks to tackle your own outdoor space! Be sure to check out even more front porch planter ideas.
Have a great day,