DIY Succulent Centerpiece – Add Rustic Charm to an Outdoor Table
Create a succulent centerpiece with these step-by-step instructions. Add rustic charm to any outdoor party or wedding, plus get other creative ideas for decorating your outdoor space with plants and flowers.
The Outdoor Extravaganza is finally here! I started this series 6 years ago as motivation to get our yard summer-ready. Now, I look forward to it each and every May.
I've invited many bloggers to join me over the years. We've tackled all kinds of fun and creative outdoor projects. Catch up on some of my favourites here, as well as posts from Outdoor Extravaganza 2017.
This time around it's a much bigger group participating, which means even more outdoor projects! Over the next few weeks, we'll be sharing ideas for Plants & Flowers, Outdoor Decorating & Entertaining, as well as Paint & Build-it projects. I'm certain you'll be inspired.

To kick things off, we're sharing our PLANTS & FLOWERS projects…
Did spring come late for you too? Quite a few of our perennials are only starting to emerge. It's kind of pathetic, actually. By this time most years, I have nearly all of my flowers picked out and at least a few planters filled. But, after making my rounds, I noticed many garden shops in our area are just starting to put product out. So, I'll be tackling that project next week when the plant selection is better.
Instead, for today, I decided to share a succulent centerpiece (or planter) you can make to decorate your outdoor table. I know, another succulent project, surprise, surprise… When will I stop?
Succulent Centerpiece Table Decor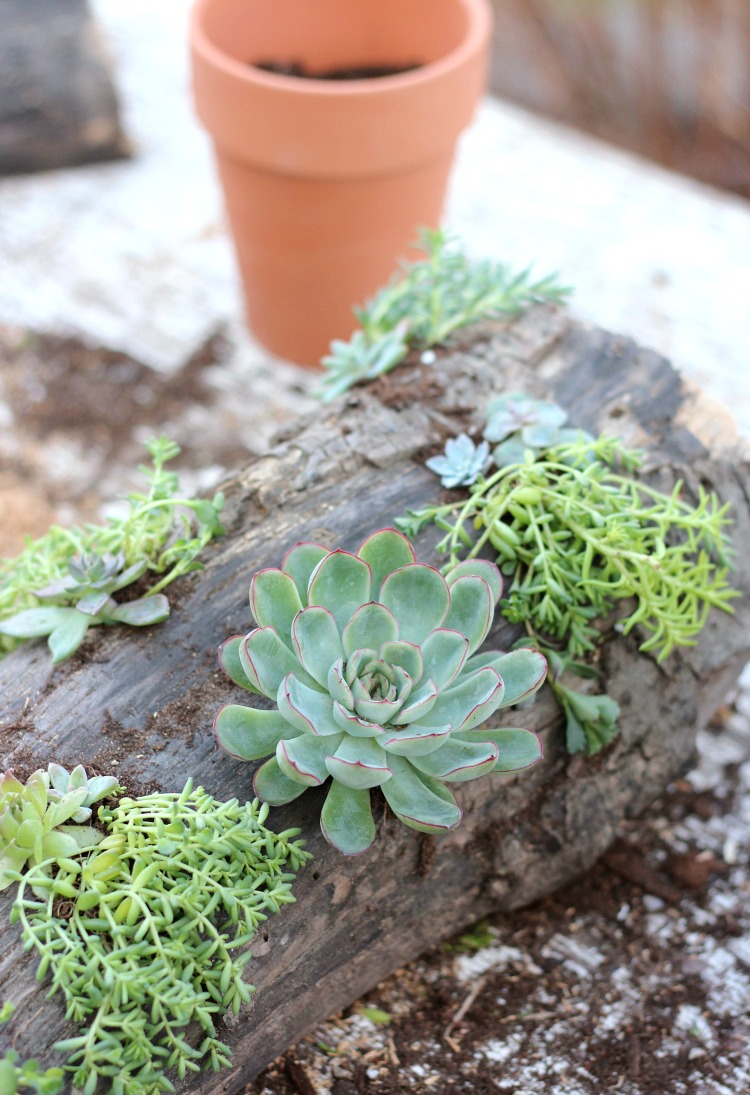 You can blame Pinterest for this one. I spotted something similar last year, but never got around to making it. These garden themed centerpieces seem to draw me in.
Over the weekend, we were on a nature walk (boy, the weather was nice), and I spotted just the right log. It inspired me to finally make my own version of a succulent centerpiece.
I love the combination of weathered wood along with various plants in shades of blue and green, as well as purple. Some of the succulents are from last year's garden and a few are new. I like those projects that end up costing very little.
Succulents require minimal water, making them a good plant for this type of application. If you're putting together your own log and succulent centerpieces for an outdoor party or wedding, they can made ahead of time. Plus, you won't have to worry about them wilting or drying out on a hot, sunny day.
How to Make a Log and Succulent Centerpiece
Centerpiece Supplies
Log (weathered or rustic with flat-ish bottom)
Succulents (a variety in different sizes, including sedum or trailing)
Moss
Succulent or Cactus Potting Soil
Chalk
Safety Glasses
Power Drill with 1″ and 1¼" Spade Bits (or others- adjust sizes according to plant diameter)
Old Small Paint Brush (optional)
Spray Bottle with Water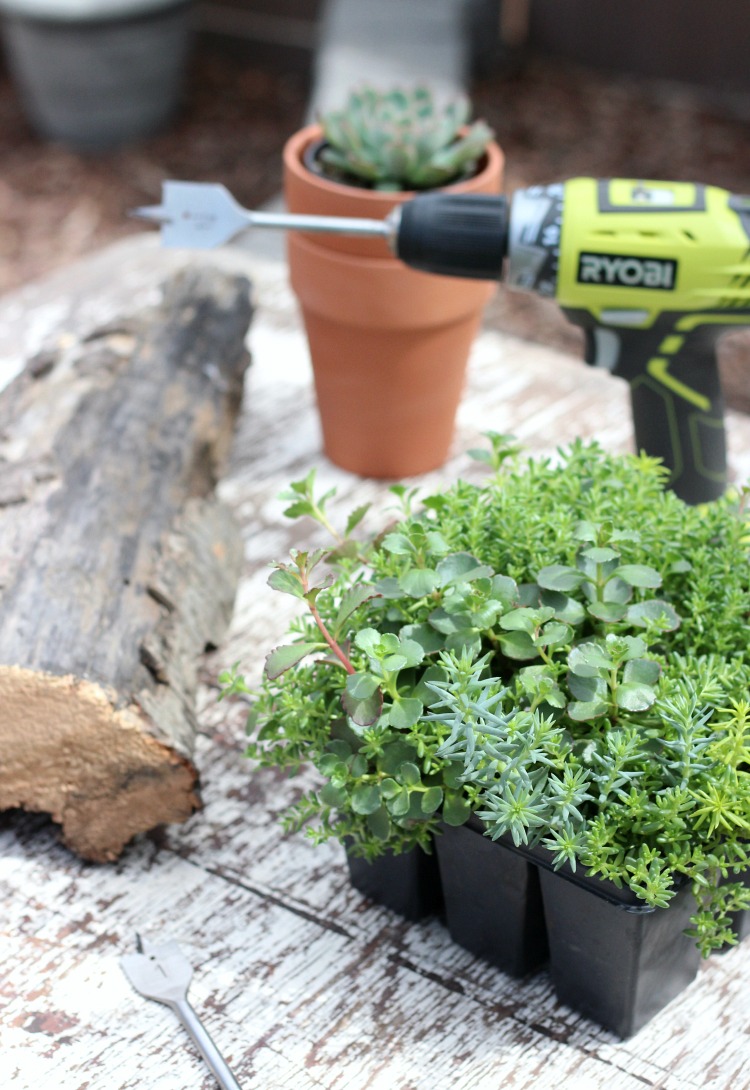 Succulent Centerpiece Instructions
Begin by marking out in chalk where you want to drill your holes in the log. Let your plants be the guide.
How close can you plant succulents? Give them at least ½" of space between.
I allowed a little more room for the succulents to grow over the summer, but you may want them closer together if your centerpiece is for an upcoming party or wedding and want your centerpiece to look full.
Using the drill with spade bit attached (wearing safety glasses, of course), drill holes about 1½" deep. (You don't have to worry about drainage holes since you'll be watering them sparsely.)
Once finished, tip log over to remove debris and fill each hole with a bit of moss, followed by a little well-draining soil.
Remove succulents from containers and gently brush away some of the soil from the roots. You may need to break roots off, too, until you're left with a small amount that can be placed into the hole.
Top the roots with some extra soil if necessary being careful not to bury the plants. Gently press in place.
For mine, I mixed smaller succulents with trailing ones in most of the holes. I only used one prominent plant. Grouping in 3's works well. Play around with an arrangement you're happy with. It's easy to move them around until you get just the right look.
Brush away the excess soil (an old paint brush works well). Use the spray bottle to gently water the soil and mist the plants.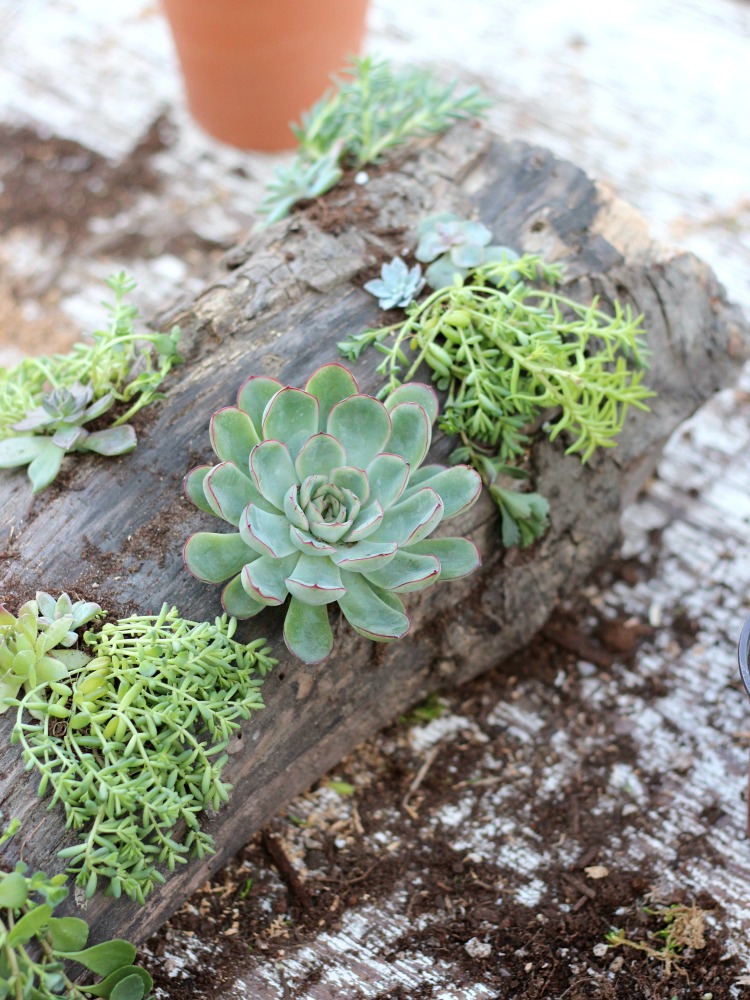 How do I care for it?
Place your succulent table centerpiece outdoors in a bright location away from extreme elements. Do not place in an area that gets intense sun or your plants will burn.
Some of the tender plants may require a week or so to adjust. Keep lightly misting, and they'll bounce back. I encourage you to read these succulent care tips too.
Note: Do not bring these succulent centerpieces for tables inside unless the logs have been treated for insects. You don't want any pesky surprises!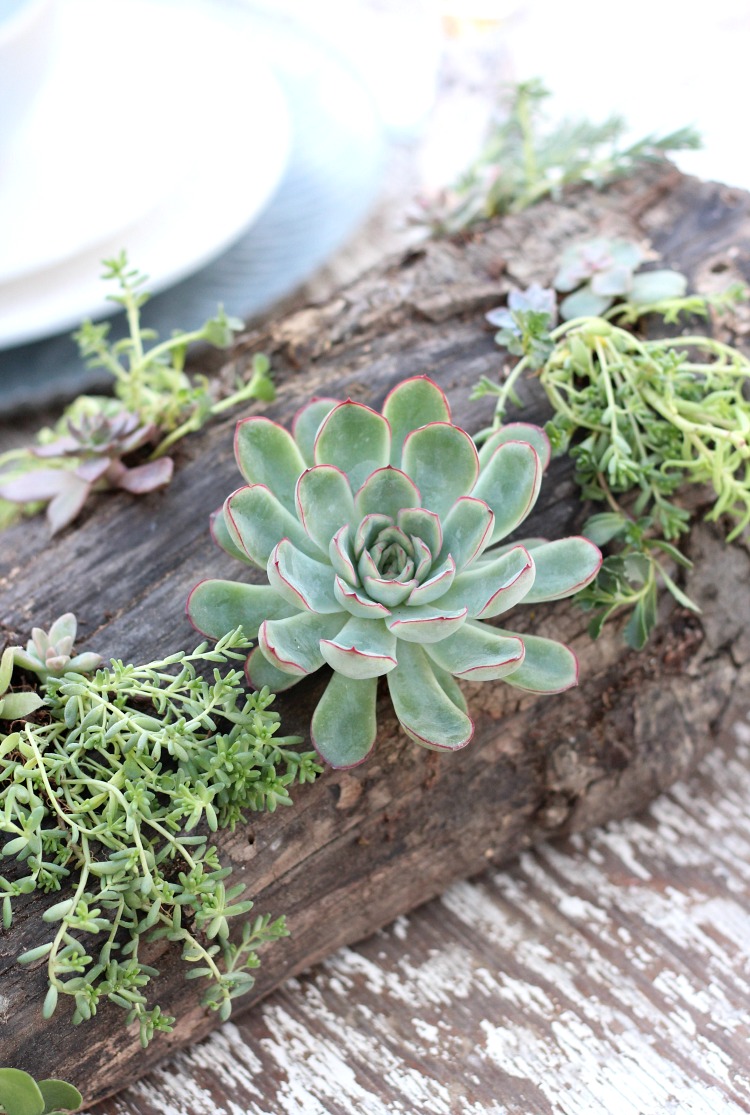 For another project idea using logs, check out my country garden party table centerpieces. I also love this succulent wreath by Today's Creative Life. Lovely ideas for small backyard weddings or gatherings!
You can also see this project featured in 30 Best Small Backyard Wedding Ideas on The Pioneer Woman.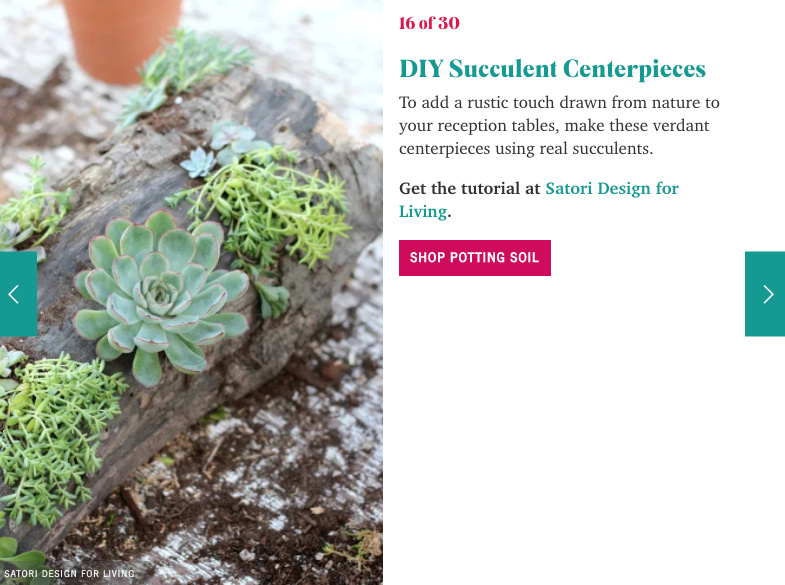 Be sure to pin this succulent table centerpiece for later!
More Plants & Flowers projects
My blogging friends are also sharing their own outdoor gardening ideas. Be sure to stop by and say "Hello"!
Satori Design for Living | On Sutton Place | City Farmhouse | Maison de Pax
Come back next Thursday, May 17th to see our Outdoor Decorating & Entertaining projects.
If you don't want to miss any part of this outdoor series, I encourage you to subscribe to get post updates.
Finally, sending out my best wishes for a lovely Mother's Day. I'd love for you to stop by my afternoon tea and help yourself to a treat ;)
xo,