Caring for Outdoor Succulents
Want to know how to care for succulents outdoors? I'm sharing some tips for keeping these beautiful plants healthy and vibrant-looking all season long!
While I was at a local garden centre back in May, I was drawn to the section of tiny succulent plants and couldn't leave without picking up a bunch. At first I shoved all nine in a wooden crate for my outdoor brunch tablescape, but it didn't take long for the plants to outgrow their temporary living quarters. Eventually, I was able to find the perfect pot to transfer them into, and I'm happy to report they're thriving in their new home located on our front porch.
I find succulents to be one of the easiest plants to grow indoors, but there are a few tips I've learned along the way to ensure they stay happy and healthy outside as well. I'm definitely no expert when it comes to succulents (or any plant for that matter), but so far I must be doing something right since these cutie-patootie plants are alive and well.
How to Take Care of Succulents Outdoors
Succulents don't require a lot of water
I find it's best to keep these plants out of the rain if possible so the amount of water they receive every week is controlled. The most common problem with succulents is rot.
How often should you water succulents? Depending on the outdoor temperature, I give mine a good watering once a week throughout the summer allowing the soil to dry out in between. As fall approaches, I plan on extending the amount of time in between.
Succulents don't like their roots sitting in water for long periods of time
A good succulent potting soil with vermiculite allows for adequate drainage, as does rocks or pebbles at the bottom of a pot.
If you plan on planting succulents in a bed instead of a container, mix a good amount of sand in the soil for proper drainage. As well, ensure the soil slopes away from the plant, as you don't want it sitting in a hole.
Keep succulents out of direct intense sunlight
Succulents require a lot of light, but extreme sun may burn the leaves turning them brown or spotted. A perfect spot outdoors is an area that receives a good amount of sunlight (6-8 hours) and bit of shade during the intense heat of a summer day.
A sign that your plants aren't getting enough sunlight is if they start to stretch out with a lot of space between their leaves.
Have any other tips for caring for outdoor succulents? What has worked well or not so well? I'd love to know.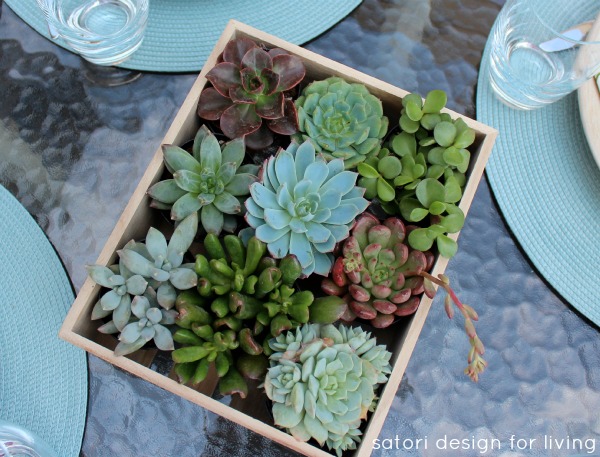 Pin these succulent care tips for later!
More Succulent Ideas
Learn how to create these cute mini succulent pots, plus get more potting tips!
Add some life to your table with potted succulents. I brought these plants inside for the winter months.
And, finally, learn how to make a log and succulent centerpiece for your outdoor table in this tutorial!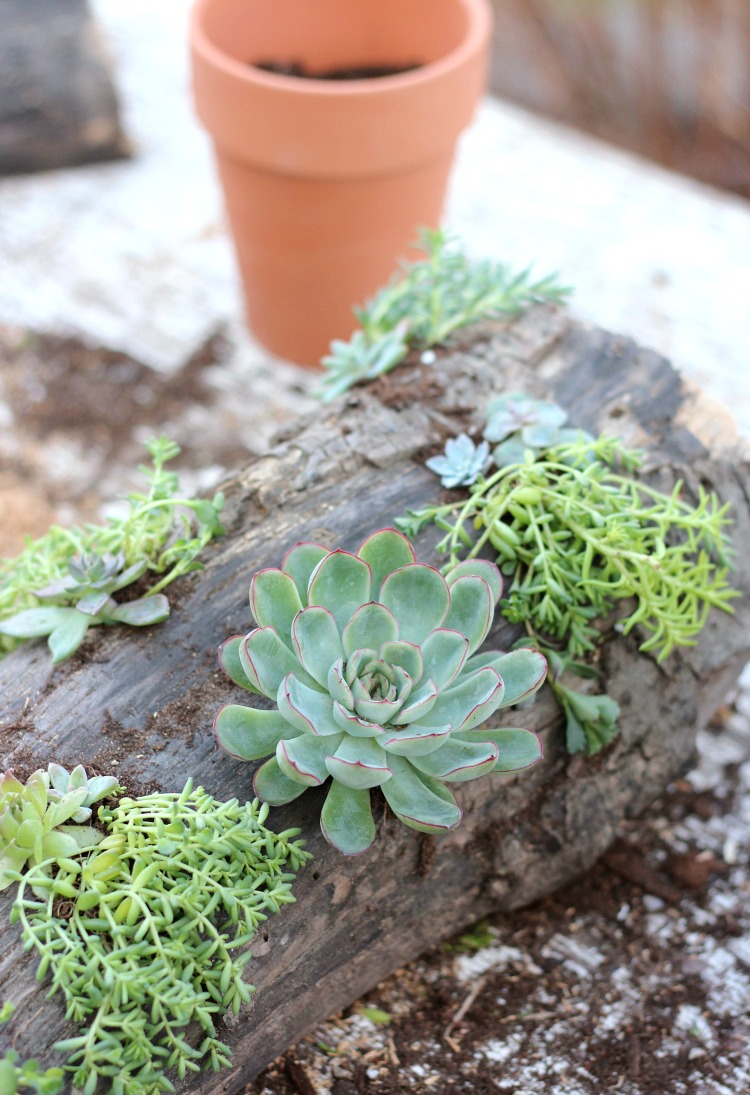 xo,