Outdoor Brunch Tablescape
Enjoy outdoor entertaining as much as I do? Use my simple ideas and tips to create an outdoor brunch tablescape of your own.
With the warmer weather finally upon us, we're finding ourselves dining outside as much as possible. The fresh air and warm sun are at the top of my favourites list for sure.
When we added the cedar partition to our deck a few years ago, it gave us the privacy we were seeking, and it created the perfect outdoor dining space. Normally we invite friends over for dinner, but this summer I'd like to mix it up a bit and decided to create my go-to outdoor brunch tablescape. Planning ahead means we're ready to go at a moment's notice.
Outdoor Brunch Tablescape Ideas
The jumping off point for my decorating scheme was these yellow, teal, and green tea towels I found at Target's opening in Calgary. I love the graphic pattern, and thought they'd be a nice alternative to typical napkins.
I've always been drawn to the combination of yellow and grey, and when I spotted these yellow trellis outdoor pillows, I knew they would bring a touch of vibrancy and life to the space. I liked how they complement the teal Ikat outdoor pillows I also picked up on my Target shopping trip.
For the centerpiece, I found a variety of succulents at a local garden shop and placed them in a pine crate I already had on hand. Lately I'm obsessed with these tiny plants!
Aren't they adorable?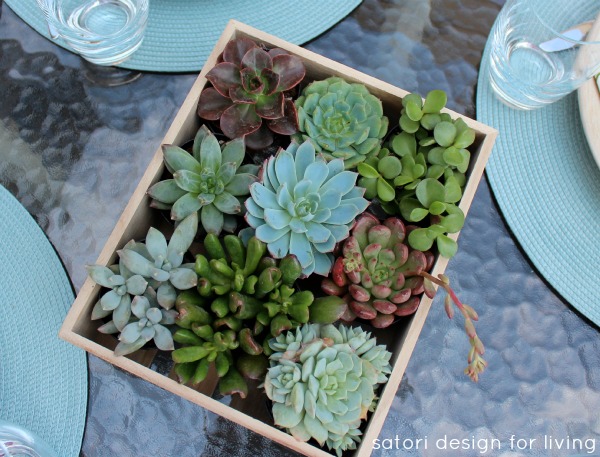 Surrounding the table, I planted hostas and white begonias in yellow glazed planters I purchased a few years ago. This year I wanted to keep my pots simple since the outdoor decor pieces are quite bright. These types of plants also like a fair bit of shade, and our deck provides relief from the sun.
For brunch there needs to be food, of course. I love this little glass cloche I picked up for covering anything you want to keep the bugs and dust off.
For water, I used this glass jug I found at my neighbour's garage sale for $5. Great find!
Everything else we already had on hand. It just goes to show that adding a few inexpensive pieces can really freshen up a space.
This brunch tablescape has a similar feel to last year's outdoor dining space, but this one seems more inviting with the additional layers.
Do you dine outside as much as possible when the weather turns warm? What are your favourite elements to add to an outdoor brunch tablescape?
More Outdoor Table Decorating Ideas
Want more home decorating ideas like these sent directly to your inbox? Be sure to SUBSCRIBE.
Enjoy the sun!