Weekend Outdoor Decorating Plans
Planning any outdoor decorating projects this weekend?
Happy Friday! We're kicking off a long weekend here, so I'm really looking forward to catching up on some yard work if the weather cooperates. Maybe I'll also find some time to recharge after a busy couple of weeks. What about you?
It's been raining on and off for the last 2 days, making our grass and trees really green up! Our spring was late arriving, but it looks as though it was worth the wait. I was worried about my perennials by the front porch surviving the winter, but I'm happy to report all is good!
The ornamental grasses and atomic lilac are supposed to get at least a few feet high, filling the front porch area in and softening the hard edges a bit. Now I just need to finish up the decorative details I didn't get to last year before the cold weather hit.
Perhaps a chair or bench, and definitely a rug and some potted plants. That's on the top of my to-do list for this weekend.
A big thanks to all of you who joined our Plants & Flowers link party as part of the Outdoor Extravaganza. I'm definitely inspired to plant a raised bed garden next year! There's still time to share a project of your own. Did you see my strawberry pot used as an herb garden? Such an easy project!
I love this kitchen garden that combines both form and function spotted on Crocus. Hopefully someday I'll have the room to create something similar. Don't you adore that terracotta rhubarb forcer?!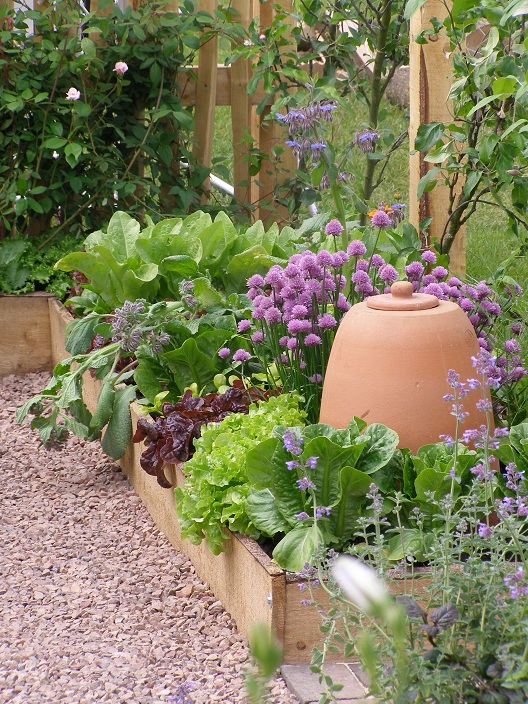 Kitchen Garden in Raised Bed via Crocus
The Outdoor Decorating portion of the series is on Wednesday, so get busy sprucing up your front porch, deck, backyard or any outdoor space this weekend! I'll be thinking of you. I'd love for you to share what you're up to in the comments!
See you soon,