Strawberry Pot Herb Garden
Plant a strawberry pot herb garden in a few simple steps. A space saving way to grow flavourful herbs to use in summer fresh dishes all season long!
Every spring, I like to plant a variety herbs. Nothing beats fresh basil in a salad or rosemary infused chicken, right? Last year, I created a kitchen container potager in a burlap planter, which ended up yielding a good amount of produce. However, with all of the heavy rain we had, moss started to grow on the outside of the burlap container making it look pretty shabby by the end of the season.
This time, I decided to create a strawberry pot herb garden, which ended up taking less space per plant than a regular planter. My hope is that it will look better over time as well.
If you're tight on space in your yard or balcony, a strawberry pot is the perfect solution. Once they're filled in, they look great too!
Strawberry Pot Herb Garden How-to
Supplies
Large strawberry pot with numerous pockets and drainage hole
Herbs (as many varieties as pockets in strawberry pot, plus 2 or 3 more for planting in the top)
Gravel or small rocks (to cover drainage hole, plus more for watering channel)
Good quality potting soil (I used organic)
Cardboard roll (from paper towel or wrapping paper)
Water
What Herbs Grow Well in a Strawberry Pot?
There are many options to choose from, such as:
chives
basil
marjoram
oregano
parsley
rosemary
sage
thyme
lemon balm and more!
Note: Be sure to resist mint or other herbs that are too vigorous.
How to Plant Herbs in a Strawberry Pot
To begin, place a small layer of rocks at the bottom of the strawberry pot to cover the drainage hole.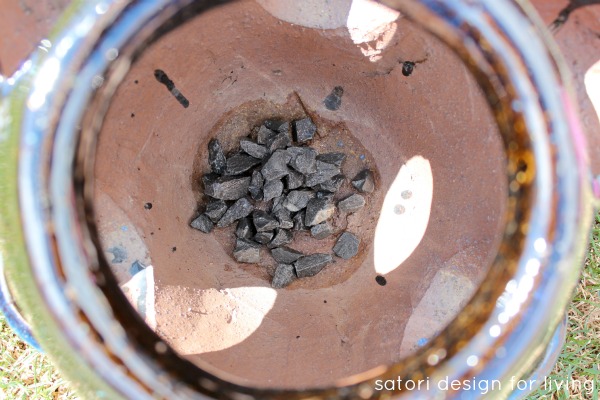 Next, add a base layer of potting soil (about 2″ deep). Start feeding one of the herb plants (trailing plants are good to start with) through a bottom pocket from the inside of the pot to the outside, being careful not to damage the foliage.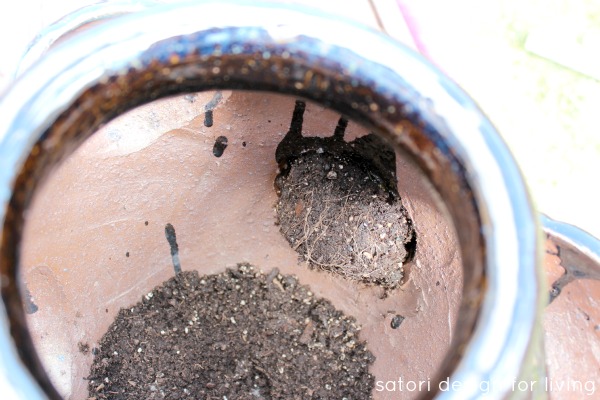 Continue planting until all the bottom pockets are filled, following with the top ones (which a good for taller plants). Repeat the same process of carefully feeding the plants from the inside of the pot to the outside.
If any herb plants are root bound, carefully pull some dirt away and loosen the roots before placing in the pot.
Next, create a watering channel. Start by placing the cardboard tube in the center of the strawberry pot, pushing down into the base layer of soil. It should be about 1-2″ from the top.
Fill the tube with rocks to the top. Begin adding potting soil around the tube, packing lightly around the plants as you move upward.
Finish by planting herbs in the top of the pot between the watering channel and the edge of the strawberry pot. It's important not to crowd the plants so they have room to grow (I only planted two basil plants as they will fill in over time).
Add more potting soil to fill in any gaps.
Finally, give everything a light watering, both on the top of the pot (pouring slowly into the watering channel) and into each pocket. This gets water right to all of the roots rather than just the foliage.
The cardboard tube will fall apart in no time, leaving just the rocks down the center.
Caring for Your Strawberry Pot Herb Garden
Herbs like it best in a sunny spot and prefer to be moist, but never soggy. Water your pot often if it has west or south exposure.
To use for cooking, simply cut or pinch off what's needed. Most plants will re-grow throughout the summer. Keep them trimmed often for best results.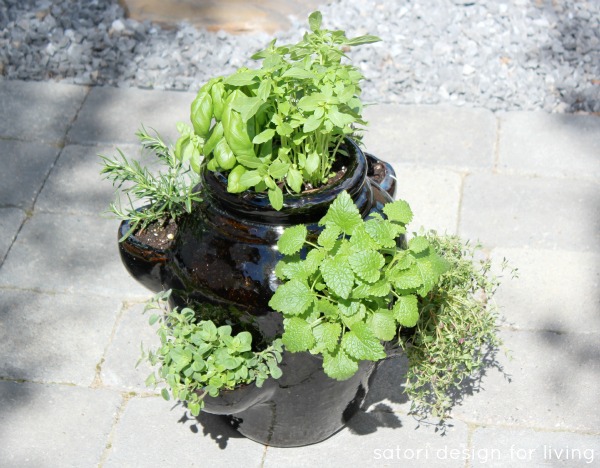 Be sure to pin these Strawberry Pot Herb Garden instructions for later!
As well, check out these other ideas for creating a container herb garden by some of my fellow bloggers.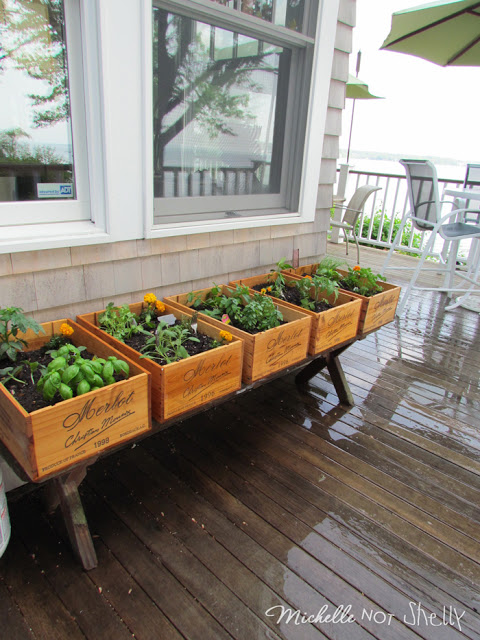 Looking for More Strawberry Pot Ideas?
Consider planting succulents in your strawberry pot, as they do very well and look great throughout summer.
You can also plant a strawberry pot with flowers. Select types that stay fairly small and don't require too much moisture.
Ways to Use Herbs
Here's a delicious herb-infused grilled chicken recipe you should try this summer. Once you start cooking with your home-grown herbs you'll want to do it every year!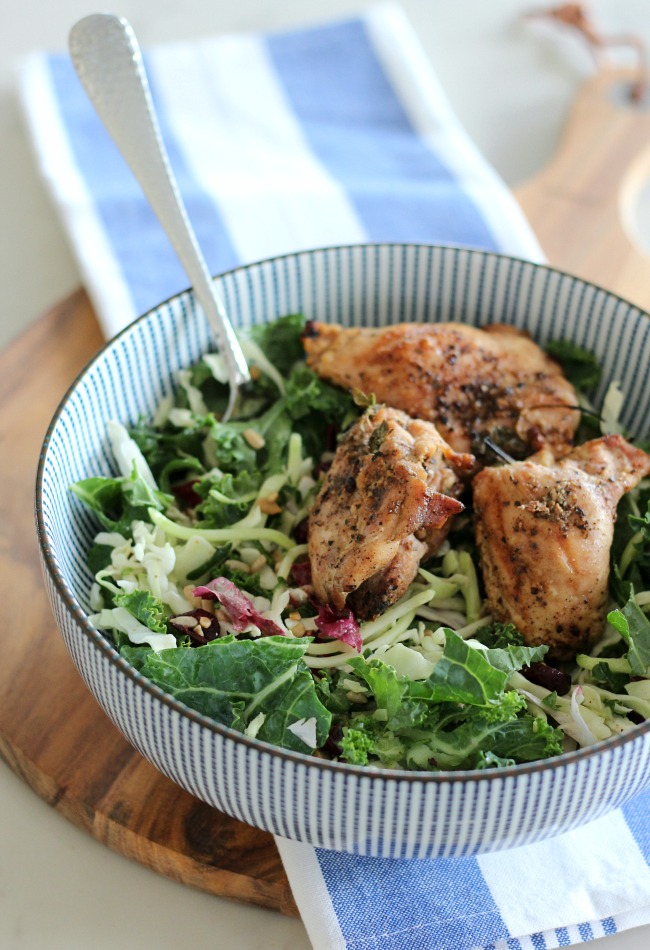 Finally, here's a collection of summer drinks using fresh herbs. Such an easy way to add flavour without extra calories!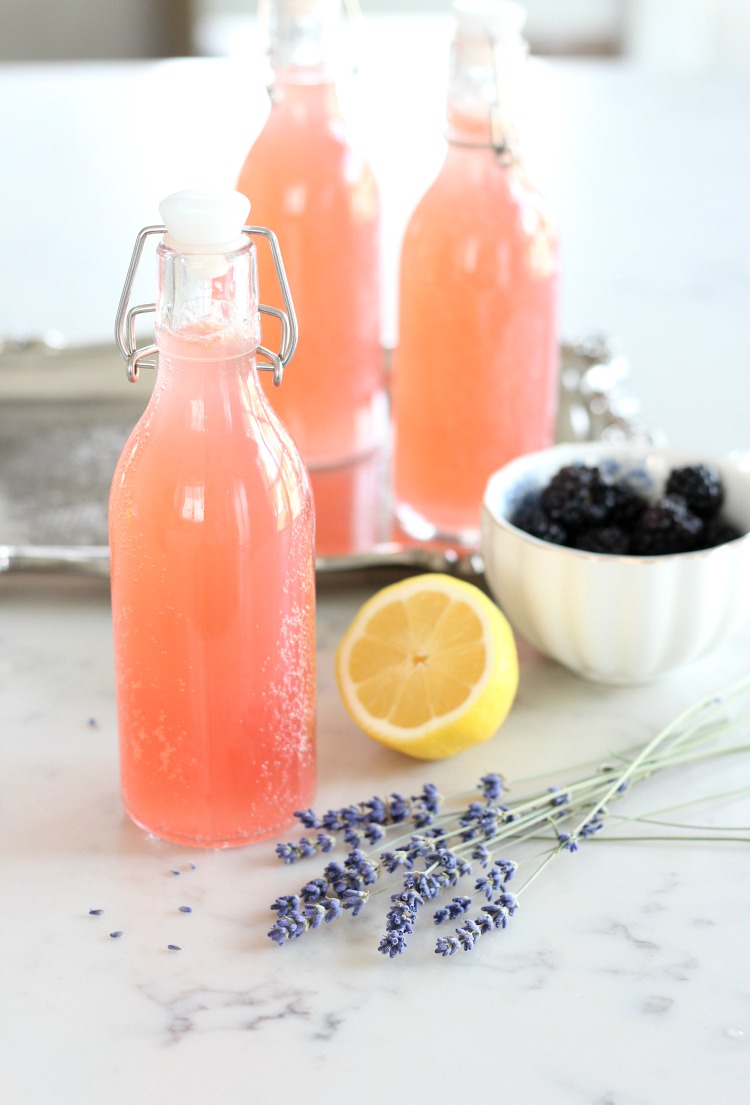 One other thing before you head off… If you're looking for more useful and pretty ideas in your life, make sure you're on the email list! You can subscribe here.
Enjoy you day!