Kitchen Container Potager
Learn how to create your own kitchen container potager. Grow your own vegetables and herbs to cook with all summer long!
I was hit with the gardening bug at a very young age. Growing up in the country, we planted a huge garden every year and eating fresh vegetables and freezing or canning the remainder was the norm. When my husband and I bought our first house, we were fortunate to have a large back yard with a good-sized garden. There was something therapeutic about tending it, watching it evolve and creating meals based on what was ready to eat.
Fast forward to our current home and our back yard is quite small and sloped, making it difficult to grow much more than a few trees, shrubs and some perennials. Since we moved here 8 years ago, most of my vegetable gardening has been limited. I've grown the occasional tomato plant, as well as a few herbs, but most of our produce comes from the grocery store or the occasional farmer's market.
This year, I decided to try something a little different and create a kitchen garden, or potager as referred to in France.
So, what is a potager? Kitchen potagers typically feature patterned beds where herbs, edible flowers and fruits co-exist with carefully selected vegetables to produce fresh food and flowers to the kitchen table throughout the growing season. Given the limited space I'm faced with, I thought I'd create a mini form of this garden in containers.
When planning a potager container garden, colour, flavour, fragrance and aesthetics are all important factors. To get it right, I decided to make a list of herbs I like to cook with, the high-yielding vegetable and fruit plants requiring a small amount of space, and some good companion flowers. I found most of these at a few local garden centers.
How to Plant a Kitchen Container Garden
For containers, I decided to use burlap garden bags that I reinforced with pieces of wood at the top. Then, I filled them with a mix of potting soil and organic compost.
In one container, I planted a patio tomato with a few varieties of lettuce. I placed an obelisk over the tomato plant for support.
In another bag, I planted a cherry tomato, chives, oregano, savoury and thyme.
Finally, I gave everything a good watering. It's grow time!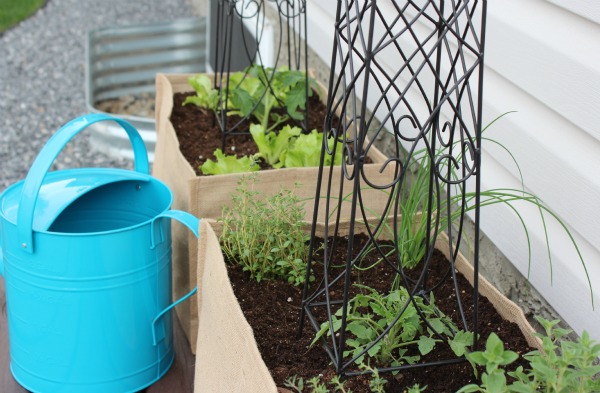 I have one more burlap garden bag that I'm going to use for basil, peppers, cilantro, rosemary and a few marigolds to keep the pests away (if only that worked for my dog!). That will be one of today's projects if the weather allows.
Don't forget about Part Two of the Outdoor Extravaganza next week over at Amanda's where we're sharing our outdoor decorating tips. Update: See my outdoor brunch table setting!
Be sure to pin this easy gardening project for later!
More Container Garden Ideas
xo,