Brass Kitchen Sconce & Open Shelving
Looking for a brass kitchen sconce? I've rounded up some of my favourite save and splurge options, including the light fixture we selected to hang above our new kitchen shelves.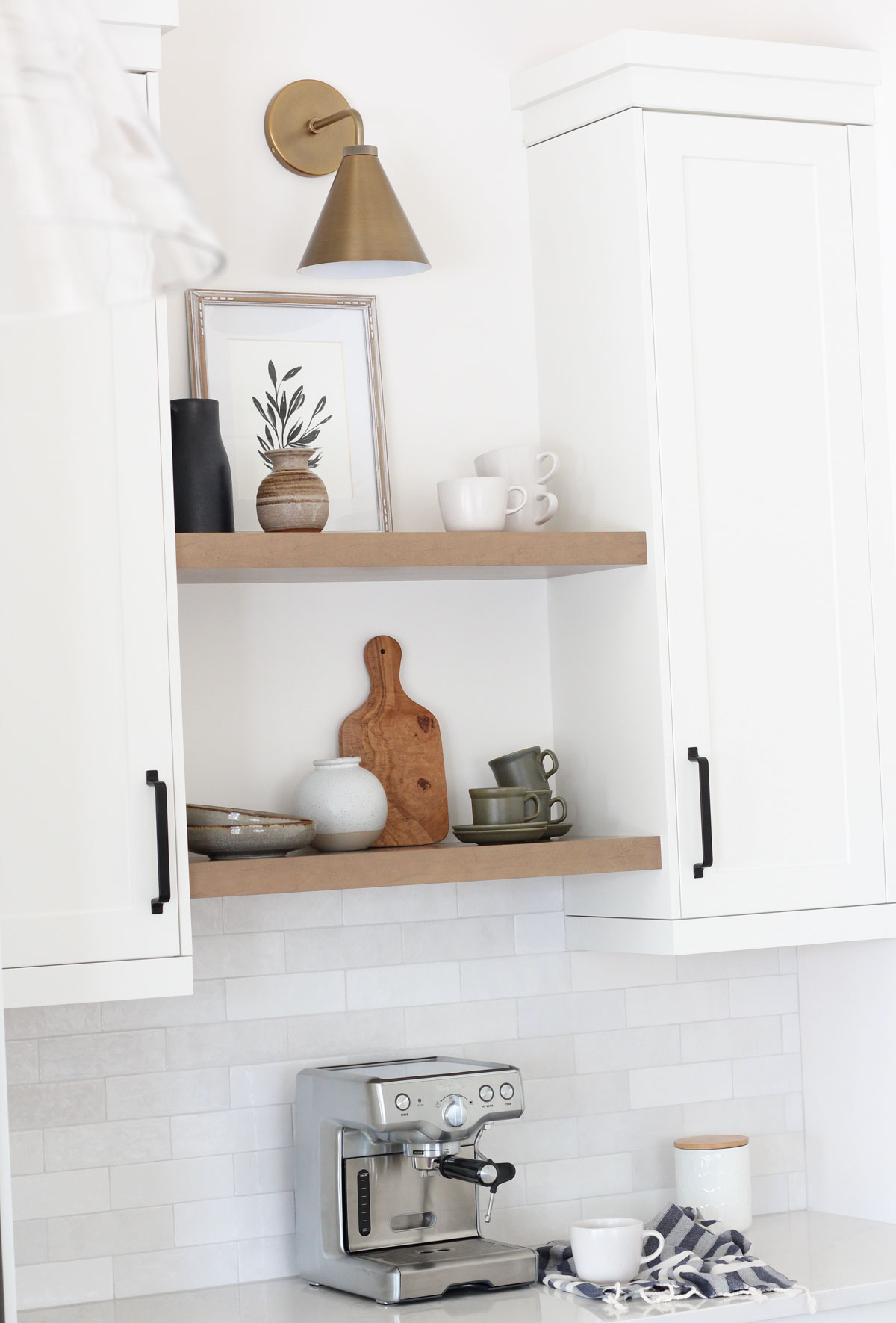 Hello friends! I'm finally sharing some of the details of our new kitchen. Ready to see the brass sconce we chose to hang above the open shelving?
When I did a breakdown of the finishes we selected for our white and wood kitchen a while ago, I had a general idea of the look I wanted for the sconce. It took quite a bit of digging, but I'm happy to report that our fixture is installed, and I couldn't be happier!
Floating Wood Shelves
A lot of planning went into our new kitchen design. We wanted it to feel classically traditional with a few modern touches thrown in to keep it looking fresh.
I believe one of the best ways to update the look of a kitchen is by mixing what's used on the upper wall sections. Using different materials, as well as varying heights, not only gives visual interest, but also keeps it from looking too heavy.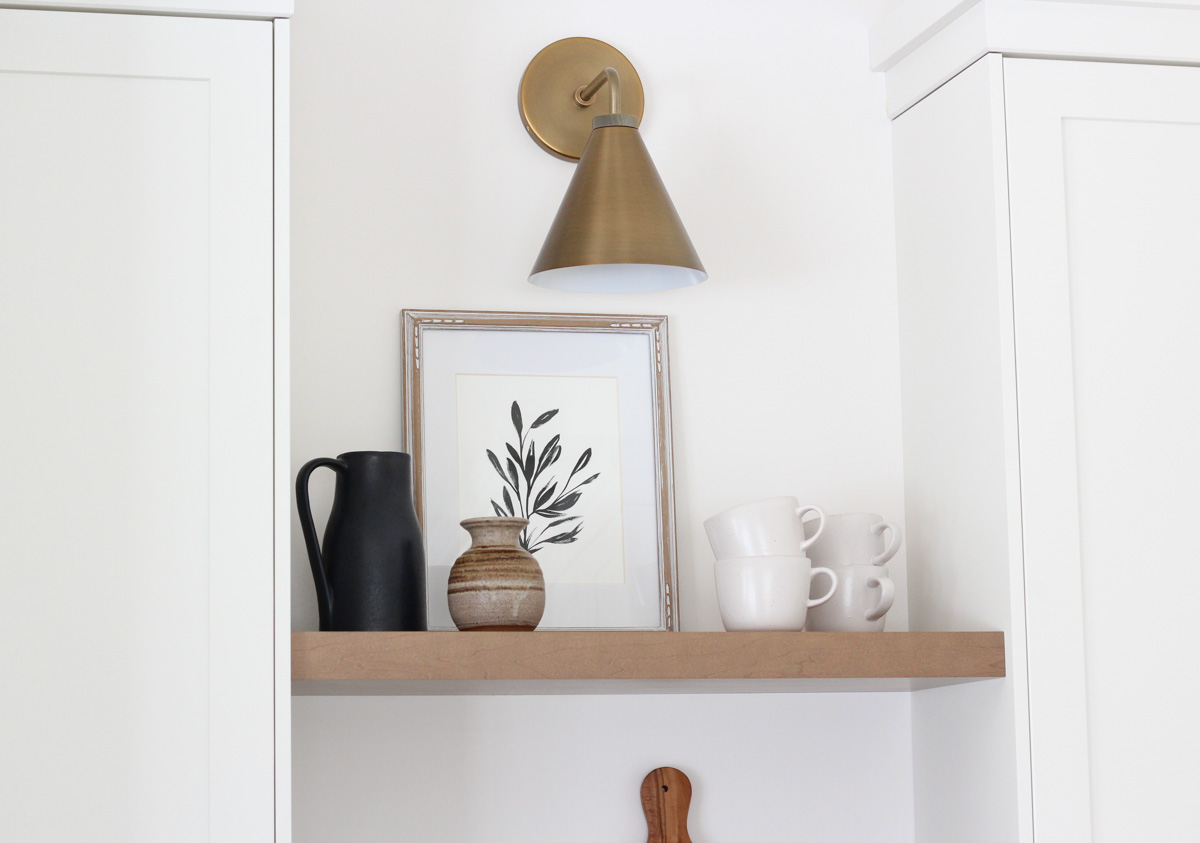 With that in mind, we opted to install floating wood shelves between white cabinets on one side of our kitchen.
I love that I have a dedicated space to display art, dishes and decor in our kitchen that can be switched up seasonally. As well, the textures and wood tones warm up the space and tie in nicely with our hardwood floors.
I'm still playing around with the decor and feel like it needs a bit more texture. In a new home, it takes a while to get it just right. We're using it as a coffee bar, so mugs seemed like a good start. I love these green ones I picked up at the thrift shop!
Some links used in this post are affiliates. Please refer to my disclosure policy for more information.
Sconce Placement
Because we planned the placement of the shelves before our kitchen was constructed, we were able to add the electrical rough-in accordingly. I like how there's a bit of variation between the height of the cabinet moulding and top of the sconce. It also helps to "fill in" a bit of the dead space above the shelves.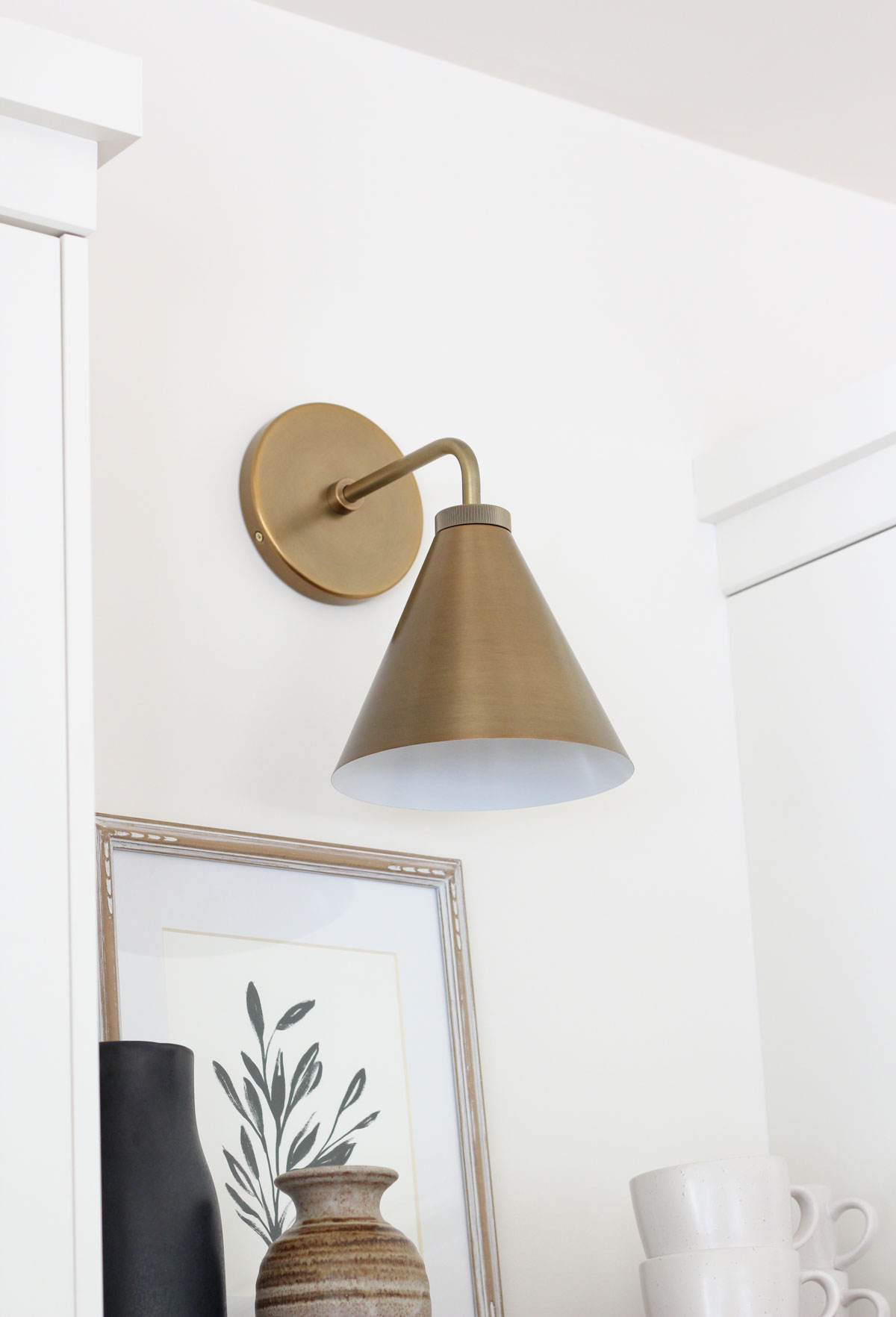 To keep it balanced, we kept the spacing between the bottom shelves, as well as the bottom of the sconce and top shelf the same (about 16 inches). With 10 foot ceilings in our kitchen, this measurement seemed to work best.
Wall Colour: Benjamin Moore Simply White // Brass Sconce // Espresso Machine // Canister (similar) // Mug (similar) // Artwork
Where Else to Hang Sconces in the Kitchen
In our last kitchen, we hung a sconce above the kitchen sink window. We appreciated the extra task lighting it provided at night, plus the visual appeal it created during the day.
Another option is hanging sconces in multiples, or on either side of the window.
Have an open space beside your upper cabinets? Did you forgo uppers? It's a great space to install a sconce in your kitchen.
Installation Tip: If mounting a sconce in your kitchen is an afterthought, you can use wireless wall sconces instead. Another option is retrofitting your fixture with battery-operated puck lights with remote.
What to Keep in Mind When Shopping for Kitchen Sconces
How much light do you require? We have ample lighting in our new kitchen (pot lights, pendants and under-cabinet), so the sconce we selected didn't need to throw a lot of light. With a solid tapered shade, the lighting is directed mostly on the top shelf, creating ambient lighting. Choose a sconce with a clear or milk glass shade if you require task lighting. You may also want to consider an adjustable arm to direct the light. It's important to keep in mind the placement of your sconce and what may affect its output.
What's the best size? Getting the scale of your sconce right depends on the size of your kitchen and where you're hanging it. Do you have low ceilings or vaulted? Is the opening where you're placing the fixture small or large? Always leave a bit of breathing space on all sides of the fixture. Above our shelves, the largest part of the sconce takes up about a third of the opening with plenty of room above and below.
What do your other kitchen light fixtures look like? Over our island, we have brass and glass pendants. The sconce we selected is a similar tapered shape and finish without being too matchy-matchy. Another common thread is their updated traditional, or transitional, style to go along with the modern farmhouse style we have throughout our home. If your kitchen is open to other rooms, the styles and finishes should work together.
Finish Tip: Brass finishes can vary widely, so pay particular attention if they're different brands. The finish may be called satin, aged, tumbled, burnished, vintage or something else. You can mix and match from different manufacturers, as long as they have a similar undertone. In our home, they're more yellow than pink.
What colour are your walls, cabinets, hardware, etc.? In our kitchen, the walls and perimeter cabinets are white. Selecting a brass sconce provides contrast and warmth. We also considered matte black, which is the same as our cabinet hardware. However, we already have a black chandelier over our dining table. Think about whether you want the fixture to blend in or stand out. Is there an element you want to repeat in your kitchen to tie things together?
How much do you want to spend? Generally speaking, sconces are more affordable than many light fixtures. When it comes to brass, better quality usually means a more authentic look. Cheaper fixtures are often orange in undertone, or simply spray-painted gold. If you're hanging your sconce low or in a bright space, it's more important for the quality to be right. If you're going to see the underside, make sure it is finished nicely.
Looking for a New Brass Wall Sconce?
I've rounded up some of my favourite single brass sconces in various styles, sizes and price points. Wall sconces are such a great way to add style and function to your kitchen, hallway, powder room, laundry room, and more spaces in your home.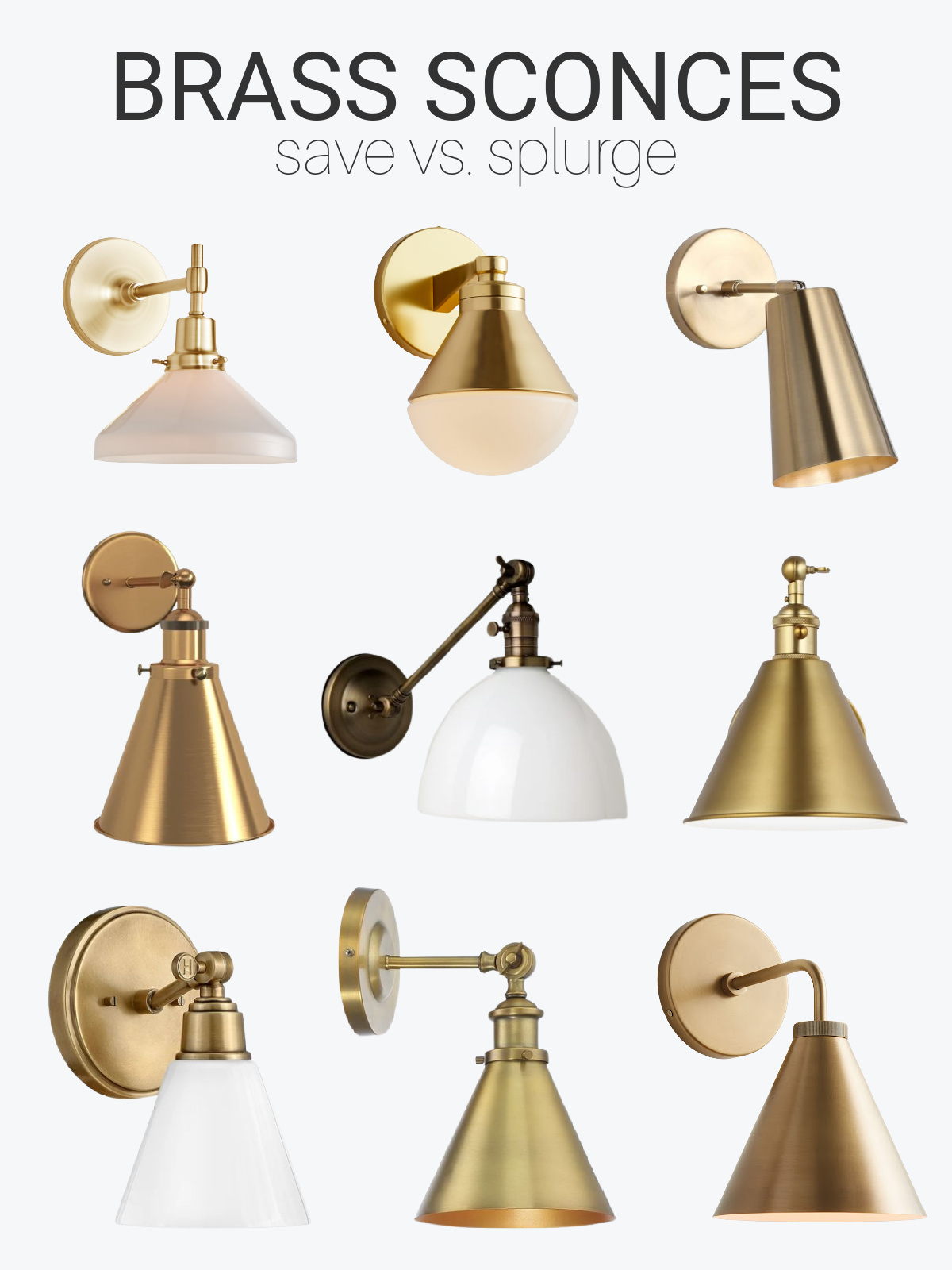 Brass Kitchen Sconce Sources
Have a favourite brass kitchen sconce in the bunch? Where would you opt to hang it?
Want more home improvement projects like these sent directly to your inbox? Be sure to SUBSCRIBE.
Enjoy your day!