Classic White and Wood Kitchen Finishes (New Build)
Ready to see the classic white and wood kitchen finishes we selected for our new home? From cabinets to countertops, backsplash tile, hardware and more, I'm sharing the details.
As we begin to settle into our new home, I'm finally getting around to sharing some of our design plans and finishes. It has definitely been a long and difficult journey. Building is not for the faint of heart right now, but we're almost done. Phew!
Because our new kitchen has been the most asked about space (other than our exterior), I'm starting with a breakdown of selections for our cabinets, countertops, light fixtures, backsplash tile and more. Let's dive right in!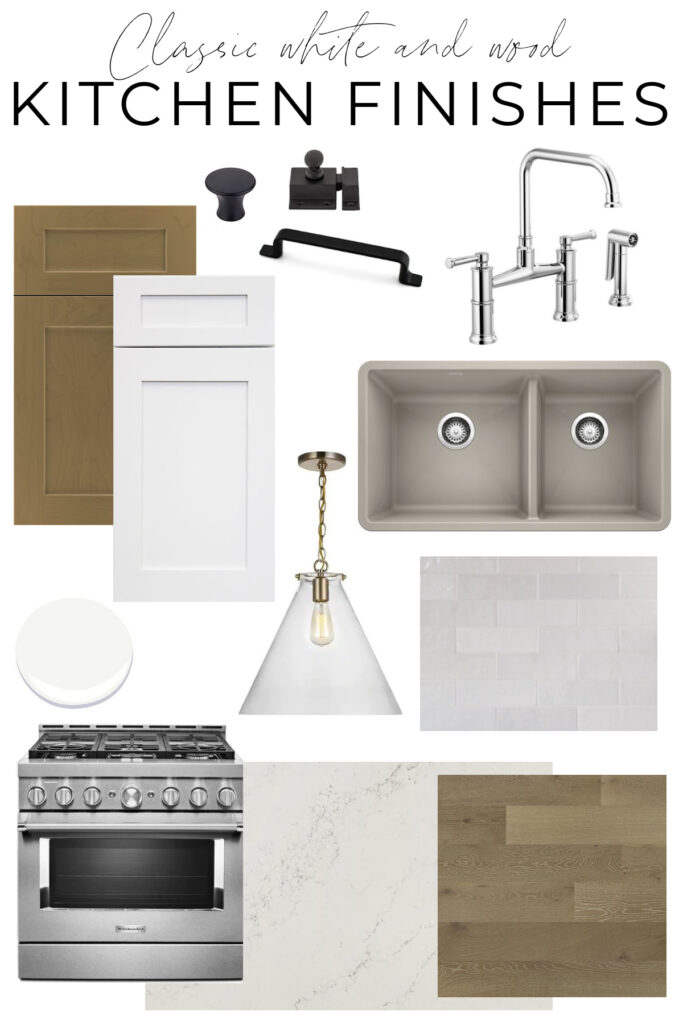 Some links used in this post are affiliates. Please refer to my disclosure policy for more information.
White and Wood Kitchen Finishes
White Shaker Cabinets and Drawers by Kitchen Craft – Because I love light and airy kitchens, I selected white (Alabaster) for both top and bottom cabinets around the perimeter in a simple style called "Gentry". Our new kitchen is located in the middle of our main floor with no direct windows. Although it's fairly bright with natural light flooding in from our entryway, dining room and great room, white cabinets ensure it will never feel dark.
Wood Kitchen Island by Kitchen Craft – In our previous kitchen, we had a white island that tended to show spills, splatters and marks. The corners around the bottom were a bit delicate too. This time around, I knew I wanted something that was a little more forgiving, so opted for wood in a medium stain called "Frappe". I also like how wood cabinets bring a bit of warmth to an otherwise white kitchen. We added wood floating shelves too.
Black Drawer and Cabinet Pulls – For the majority of cabinets and drawers, I went with sleek black modern pulls in two sizes. I like the simple profile and curved edges of "Henlow" that soften the harder lines of the cabinets. They also feel comfortable for everyday use.
Black Cabinet Latch – On one side of our kitchen, we installed a glass tower cabinet to display dishes and decor. To make it look more like a built-in hutch, I chose a classic cabinet latch. This style is a bit more involved to open and close, which makes it a good fit for occasional cabinets.
Black Cabinet Knob – To switch things up, I selected a simple knob called "Mercer" for the doors above the tall glass cabinet. A bit of variance in hardware is always a little more interesting.
Artesso Bridge Faucet – I've been obsessed with bridge faucets most of my life, so was excited to finally have one in our new kitchen. I like how this Brizo faucet has a separate side sprayer since our last one had a tendency to get caught between two modes. I love the vintage style with transitional lines.
Blanco Silgranit Sink – After living with a stainless steel sink in our last kitchen, I knew I wanted something that didn't scratch or show water spots as much. This granite composite sink in "Concrete Grey" is supposed to be a lower maintenance option. I also like the split configuration with larger bowl on the left for washing bigger dishes.
Benjamin Moore Simply White Walls and Trim – Although I loved BM White Dove in our last home, this one called for a slightly lighter white to work with our cabinets (and other selections). I tested several whites from Benjamin Moore, including Chantilly Lace and Oxford White. I also considered Sherwin Williams Pure White and Snowbound. However, Simply White seemed to be the best all-around white with a bit of warmth, yet brightness.
Kate Pendants – For light fixtures over our island, I didn't want anything too heavy looking, so opted for two glass cylinder pendants in a satin brass finish. We have brass elements throughout our home, plus brass hardware in our butler's pantry, so it only made sense to add a touch to our kitchen. The large cylinder shape is a good scale without obstructing our view.
Artisan White Backsplash – This glazed ceramic tile in varying colours (white, grey and sand) does a good job of tying all of our kitchen finishes together. I love the long rectangular shape and irregularity, which gives it a handmade look. The glossy finish adds a bit of lightness and sparkle to our kitchen too. We paired it with Frost grout.
KitchenAid Commercial Style Range – This dual fuel range with 6 burners was the biggest splurge for our kitchen. The vaulted ceilings, plus scale of our cabinets, called for a large range. I also spend a lot of time cooking and baking, so will definitely put it to good use!
Montauk Quartz Countertops – I've had my eye on these gorgeous Hanson countertops with subtle marble pattern in white, grey and sand for quite some time. They pair beautifully with our glazed backsplash tiles and bring every element of our kitchen together.
White Oak Hardwood Floors – We were very happy with our white oak floors in our last kitchen, so went in a similar direction this time around. These planks are a little wider at 7.5″ and finished in a lighter stain. I love the knots and variations in colour that tie together many elements throughout our home. They also seem very forgiving.
What Influenced Our Kitchen Selections
Wondering how we settled on certain kitchen finishes? Throughout the planning and selections process of our build, I continually reminded myself to stay away from anything too trendy. At times it was difficult, but sticking to classic finishes (with a slightly new take on some) has worked well in the past. Most of these were chosen over a year ago, and I'm quite certain I would select them once again.
Although I loved our classic white kitchen in our previous home and wanted a similar look and feel, I found it necessary to make a few adjustments for day to day practicality and simplicity (as mentioned earlier). It was important to have a kitchen that stands the test of time. I'm crossing my fingers we got it mostly right.
Another big factor influencing our decisions was overall budget. When building a new home, it's easy for costs to get out of hand. It was a constant act of give and take. I feel that we were able to achieve a pretty good balance between the two. Thankfully, we were able to take advantage of sales or price matching.
Finally, the builder we worked with only does semi-custom, not fully custom homes. Working with their partners and suppliers meant some items were out of reach. As well, supply chain issues continued to be a problem. Sometimes it was necessary to go to a second option in order to keep the process moving along.
More Kitchen Details
I look forward to sharing photos and more details of our white and wood kitchen (including butler's pantry). As of right now, we're still waiting on a final coat of paint on the walls, plus sconce over our floating wood shelves (see update here). I'm also looking for a new rug and counter stools. We'll get there eventually!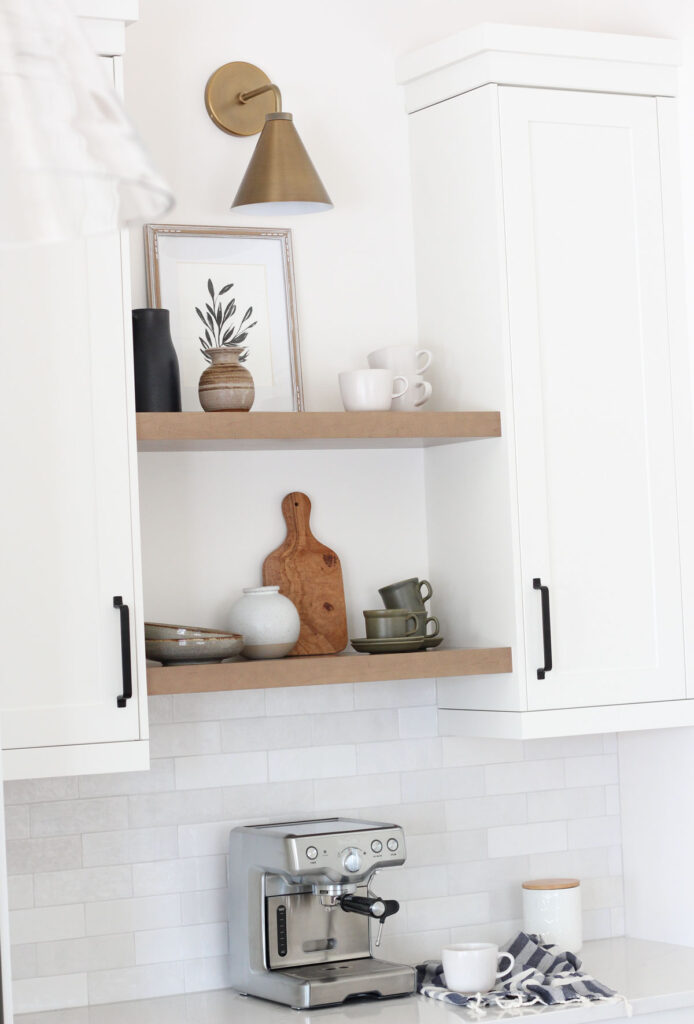 If you want to see more, be sure to follow along on Instagram. Look under "New Build" in my story highlights. It's where I share little snippets and progress updates first, especially new kitchen decor.
Be sure to pin this white kitchen with wood island for later.
Building a new home too? Let me know if you have any questions about our process, specific selections or what we've learned so far. I'd love to make it an easier process for you.
Want more home improvement projects like these sent directly to your inbox? Be sure to SUBSCRIBE.
Enjoy your day!