Container Herb Garden Ideas
Want to create a container herb garden this spring? Here are some inspiring ideas for planting basil, rosemary, thyme and more!
With warmer weather finally arriving, I've shifted my attention to outdoor decorating and gardening as much as I can. Over the weekend, we were able to rake the front lawn and clean up the perennials in the front flower bed. Thankfully, my son is home from his first year of college and was a big help. I remember when he used to get out his little plastic gardening set as a toddler and get down to business (I think making more of mess than anything!). Time flies, and now he's the one trimming the high tree branches because he towers over both of us!
Unfortunately, there's still a bit of snow in the back yard, so that will have to wait. I'm crossing my fingers it melts soon because we're hosting an outdoor get-together at the beginning of May- yikes! It appears as though some critters made a bit of a mess of the grass, so that will require some patching. Have you ever had this problem?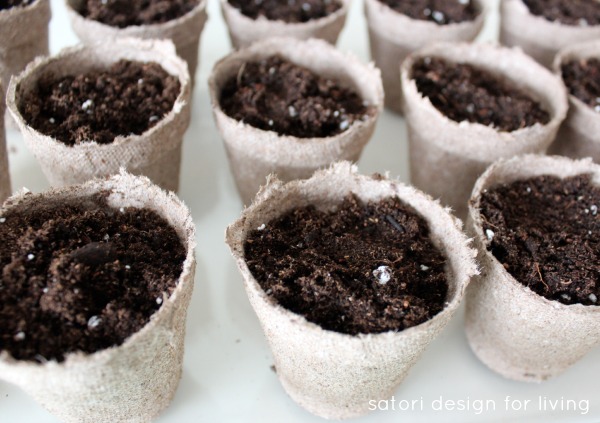 A month or so ago, I started some indoor seedlings with pretty good success. Most of them are herbs. Lately, I've been looking for some container gardening ideas for when they're ready to be planted outside.
Two seasons ago, I planted my herbs in burlap containers. The herbs turned out great, but the very wet season caused moss to grow on the outside of the containers making them look not so great later in the season. To solve this problem, I suggest keeping them in an area where moisture can be controlled, such as a covered porch (with lots of sun).
Last year, I planted a strawberry pot herb garden. This worked well all season long for trailing or fuller herb plants like thyme, oregano and lemon balm. Woodier upright herbs like rosemary and lavender didn't seem to fill out as well. This year I plan on being selective with the herbs I plant in my strawberry pot.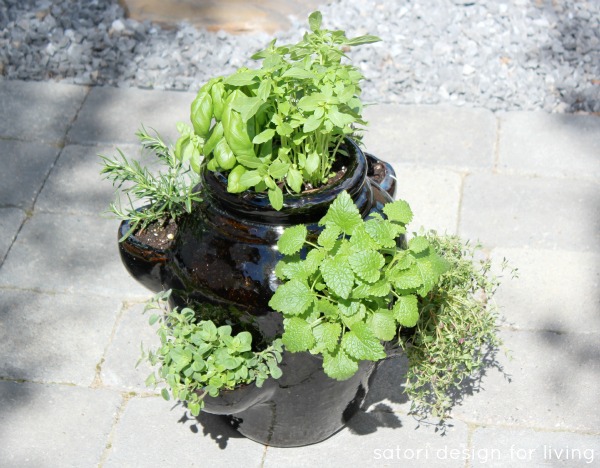 Container Herb Garden Ideas
An option, I may try this spring is a vertical pallet herb garden similar to this one made by Roeshel of DIY Showoff. I love how this one takes up very little space with so many plants. My only concern is finding a pallet that isn't treated with toxic chemicals that could potentially leech into the soil.
I've also considered growing my herbs in a collection of vintage metal buckets. This would allow me to adjust the amount of water and type of soil for each herb plant. To me this look is very French- ooh la la!
Or, if I can't rummage up enough vintage pots, I may have to age some terracotta pots. I adore this garden bench filled with potted herbs by The Inspired Room!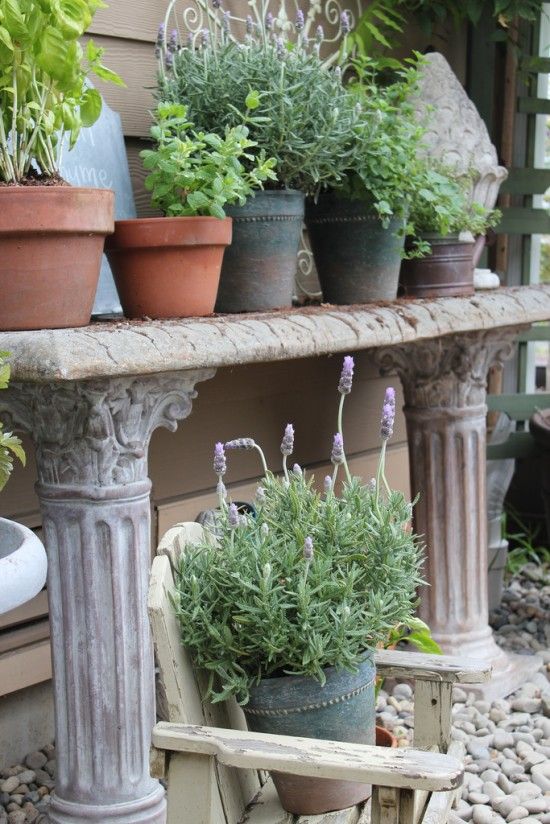 The last consideration is a wine crate herb garden like this one from Miss Stitch a Wish. Last week I ordered a French wine crate on Etsy to give this a try and, if it works out, I'm going to hunt for more.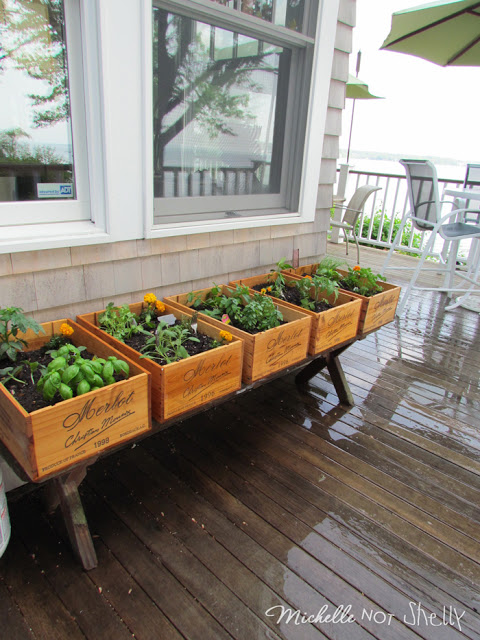 Have you created a container herb garden yet? What have you found that is functional and still looks great?
Check out more gardening ideas, including my vintage tool box planters in the Outdoor Project Gallery.
And this Weathered Bench Container Garden I created using a salvaged piece from my parents' farm. It would be perfect filled with herbs!
Do you prefer growing your herbs in a garden, or do you love these herb garden container ideas? Plan on giving any a try?
Thanks for stopping by!