DIY Roman Shade Using Spoonflower Fabric
This DIY roman shade was totally doable using a sew plus no-sew technique. Follow these step-by-step detailed instructions for budget-wise and professional looking results!
When we first moved into our current house more than 10 years ago, I had lofty ambitions to create custom window treatments for every room. I managed to sew drapery for our living room, kitchen, and dining room, and even sewed a roman shade for our bathroom. Then, the busyness of life got in the way and those plans came to a halt.
For years, I've wanted a patterned roman shade in my office, but paying the hefty price for a custom one was something I wasn't willing to do. They tend to cost a small fortune.
Last week, I finally tackled this long-awaited DIY Roman Shade project, and I'm thrilled with the results!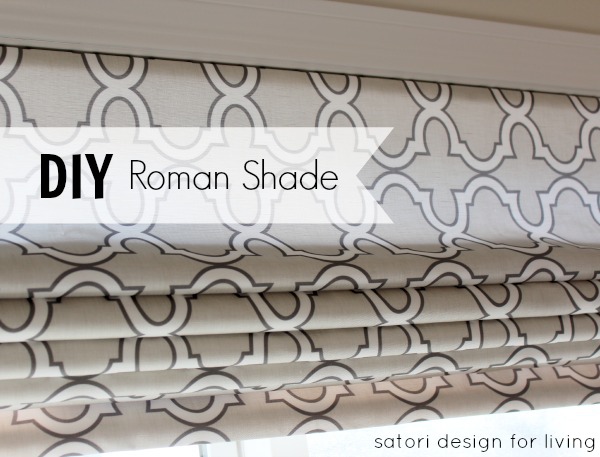 To backtrack a bit, I came up with the idea a while ago to start a new series where a small group of bloggers would be given the same medium to work with. It would then be up to each of them to decide what they wanted to create or decorate using it. The premise was:
"What can you do with…?"
To kick this series off, I asked Jamie, Jennifer, and Beckie to show what they could do with 2 YARDS OF FABRIC. (You'll get a sneak peek of their beautiful projects in a bit.)
Some links used in this post are affiliates. Please refer to my disclosure policy for more information.
I was thrilled when Spoonflower agreed to jump on board for the first round of this series. Each of us were able to select 2 yards of linen-cotton canvas from their amazing selection of prints. After spending way too much time on Spoonflower's site (it's so easy to get lost in all the goodness!), I settled on a modern trellis fabric called Claudette. When it arrived, I was very impressed with the quality.
DIY Roman Shade
Creating your own custom roman shade isn't difficult, just time consuming. If you're going to attempt it for the first time, I suggest starting with a solid color or small pattern for your fabric. Using a large-scale print like I did requires very precise measuring to get everything lined up just right. Also, if your window isn't completely square, it's better to forgo a large print.
The technique I use is a combination of "sew and no-sew" to give you professional results without all of the hassle. The deconstructed mini blind technique I've seen is great for blackout fabrics, but I'm not a fan of seeing the horizontal slats when the blind is down. The method I'm sharing today is perfect for semi-transparent fabrics when you want a bit of the light to shine through. You will only be able to see the tape slightly where the string runs through. So much better!
Supplies
Note- these will make sense as you read through the instructions, so I suggest reading through to the end.
Fabric (width of your window plus 5/8″ seam allowance on either side) x (length of your window plus extra 5″ for hem, seam allowance and top)
Lining (same measurements as above- type will depend on transparency you want)
Thread (to match your main fabric)
Roman blind loop tape (sheer with nylon or plastic loops) (approximately length of window x width for every 15″ interval or so)
Nylon string/cord (same as roman tape yardage x 2.5)
1″ Eye Hooks (screw in metal type)
Board (I used primed pine- about 2 ½" deep x ¾" high x width of window)
Corner Braces- 2 (around 2 ½")
Iron-on hem tape (width of window)
Dowel (just under width of window)
Cord/String cleat (around 3″)
Screws to attach the board, corner braces and cleat
Tools
Scissors
Straight pins
Iron and ironing board
Sewing machine
Chalk or fabric pen
Measuring tape
Ruler
Large square
Hand-sewing needle
Tacks
Staple gun
Lighter
Screw driver
Drill (optional)
How to Make a Roman Shade
1. Carefully measure your window and mark the cutting lines on your fabric (adding the allowances shown in the supplies list) using a square and chalk pen.
2. Pin right sides together (leaving an opening where the top of the blind will be to turn right sides out after stitching) and stitch all around using a 5/8″ seam allowance.
3. Trim the lining portion of the seam allowance down a bit all around the perimeter, as well as both fabrics at the corner.
4. Turn right sides out and press all edges, turning the top edges (where you haven't sewn yet) under. Pin in place.
5. Stitch along the top edge of the fabric near the edge to close up the hole. Give it all a good pressing once again.
6. Turn the bottom edge up 3″ to create the hem. Press in place and pin.
7. Lay the entire piece on a flat surface with the lining side facing up. Measure 4″ up from the bottom and that's where the bottom loop of your roman tape should start. Pin just in from the outside edge and work your way up until the top loop ends about 7″ from the top of the fabric.
8. Repeat on the other edge, using a square to make sure everything is even. Pin tape to the middle portion of the fabric at even intervals (no more than 15″ apart) using the same method. After it's all pinned on, double check measurements to ensure it's as accurate as possible (this will determine how straight your roman shade will be when you raise and lower it).
Use fabric glue to secure the roman tape to the lining. Leave the pins in place to make sure the tape doesn't shift. Let dry overnight.
9. To keep everything secure, hand stitch at each loop (catching the liner and outside fabric) only going around a couple of times and knotting on the lining side.
10. Lay the board on its side all along the top of the fabric (lining side). Measure from the top of the board (where it touches the fabric) down to the bottom of the hem. This should equal the height of your window. Wrap the top of the fabric up and tack in place (this is a dry fitting to make sure the whole thing is square and the proper size before permanently stapling in place).
Now, have someone hold the blind up in the window (board at the top) and check for approximate fit. If everything looks good (square and even), staple the fabric in place at the top and remove the tacks.
11. Lay face down and line a ruler up with the roman tape and measure ¾" up onto the board and mark. Screw a metal hook into the wood and repeat for every line of roman loop tape.
12. Feed the string (cord) through, starting with the metal hook on the left side, working your way through the rest of the board hooks and then down through the roman tape loops until you reach the final loop on the bottom right hand side. Knot in place and melt the end with a lighter. Cut the long end of the string at the point where the string meets the bottom hem on the left side. Repeat until you've gone through each row of roman tape.
Roman Shade Installation Instructions
13. Mount the board to your window frame (lining it up with the outside edge) using the corner braces and screws. You may want to mark and pre-drill your holes to prevent cracking. (Note: Your top screws only need to go into the board and your side screws will go into the window casing to hold in place.
14. Check to see if the bottom hem edge is lined up square to the bottom of the window. Adjust as necessary. (Note: I allow mine to hang overnight before I do the final hem to allow it to settle in properly). Use the iron-on hem tape to secure the hem in place leaving room for the dowel to slip through. (Note: I do this by having someone hold the ironing board under the hem while I press it in place for higher windows). Let cool and feed dowel through.
15. Mount cord cleat inside the window casing on the same side where the string hangs down (usually right hand side). (I usually mount mine near the center of the casing about ¾ of the way down from the top of the window.)
16. With slack taken out of each string, grab the lengths in a bunch and begin to pull down. Folds will begin to appear (you may need to train them to start with). Wrap the cord around the cleat to hold in place.
**Note: A word of caution when it comes to small children and pets: The cords used to lift and lower this DIY roman shade can be a safety hazard. Only install in rooms where this isn't a concern. Be sure to check your local safety standards first.
Finally, you're done your fabric roman shade. Phew!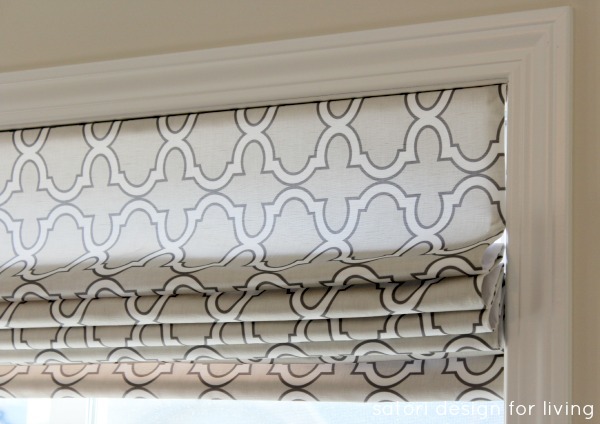 I love the bit of texture the linen fabric has along with the pattern. It's the window treatment I've always wanted for my office window for much less than a custom roman blind!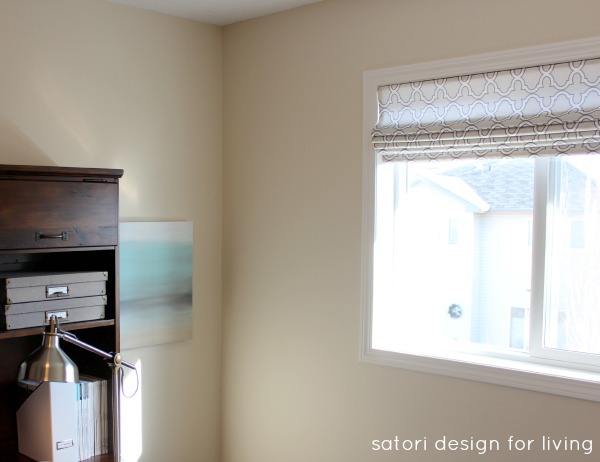 Although the fabric roman shade is totally operable, I also installed a roller blind behind. It's a quick and easy way to block out the heat in the summer and provide total blackout when my office is used as a guest room. The best part is, you can't even tell it's there.
Do you like patterned roman shades too?
More Ideas Using 2 Yards of Fabric or Less
Ready to check out all of the other gorgeous projects using Spoonflower fabric?
Envelope Pillow Cover by Jamie at So Much Better With Age
Nook Makeover with DIY Pillows by Jennifer of City Farmhouse
Fabric Covered Lampshade by Beckie of Infarrantly Creative
DIY Roman Shade by Shauna of Satori Design for Living
*A big thank you to Spoonflower for supplying the fabric for all of our projects! Luckily, I still have enough fabric left over to make a pillow- yay!
Did you know Spoonflower also makes wallpaper? Check out my powder room wallpaper project!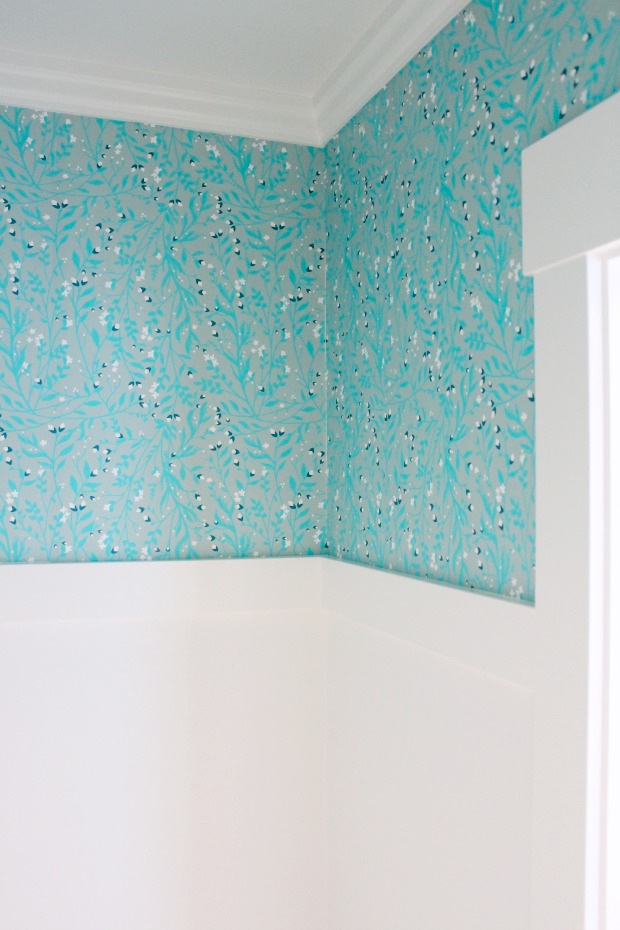 Want more home decorating ideas like these sent directly to your inbox? Be sure to SUBSCRIBE.
Enjoy your day!