It's the final week of the One Room Challenge. Come check out my office makeover!
The One Room Challenge may be over, but I'll still be carrying on with my office makeover. When I joined this series on October 2, I set out to cure my case of 'Decoritus Interruptus' and I'm happy to report that I'm on the road to recovery! Each week I've made progress in one way or another, and thanks to the brains behind this series (aka Linda of Calling it Home), I'm that much closer to putting a check mark beside "organize and decorate my office."
On week one of the challenge, I started out with an office that lacked personality and definitely needed some attention in the organizing department. Because most of my time and attention is usually spent on client projects, I didn't have time to transform the space from head to toe, but I'm thrilled with how everything is looking in a short period of time. Let's take a look, shall we?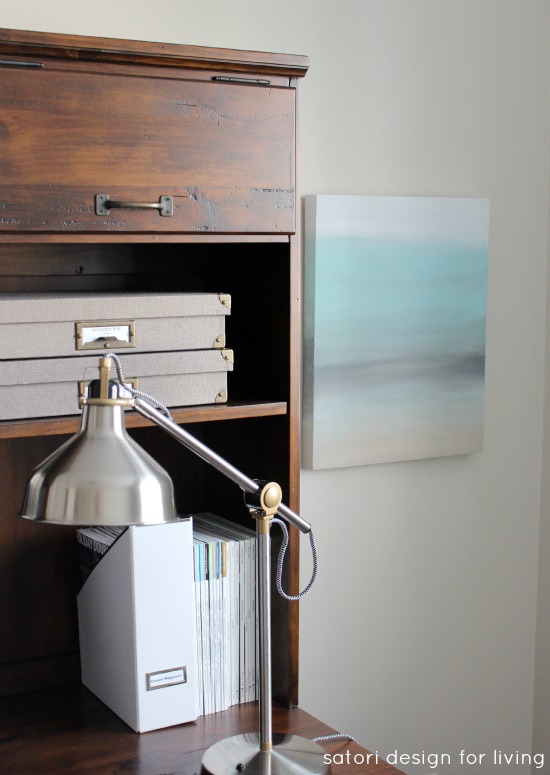 Last week I started an art project using an old canvas I found kicking around in our storage room. It now hangs on the wall beside my desk, and I love the subtle color it brings to the space. My husband titled it "Foggy Lake" and, although it may not be a true work of art, I'm happy with how it turned out considering the little time (and basically no money) I spent on it.
Art Canvas Makeover
If you have some leftover paint and an old canvas, I encourage you to try this project. Be sure to prime over what's there first to make sure you get good coverage.
I started with a natural linen paint color at the bottom of the canvas and worked my way up with a light blue-green, dark grey, light turquoise, and finally, white. To blend the colors, I simply dipped my brush in water, patted it on a paper towel and worked them together moving the paint brush back and forth (slightly overlapping).
It's really hard to mess it up, but make sure you don't overwork the colors (you don't want them to look muddy). If you do, just go back with more paint.
After it dried a bit, I went back and touched up a few areas with a watered-down brush and a bit more paint.
Office Lighting
Unfortunately, I'm not able to show you the new crystal chandelier I selected for my office since it hasn't arrived yet.
I also still want to add a roman blind to the window (see that update here), a storage cabinet on the wall opposite my desk, and a few more art pieces to the space. Eventually we'll be replacing the flooring and trim work, but that's part of a project involving the whole second floor, and I'm not ready to open that can of worms just yet!
Office Makeover Project Recap
BEFORE
AFTER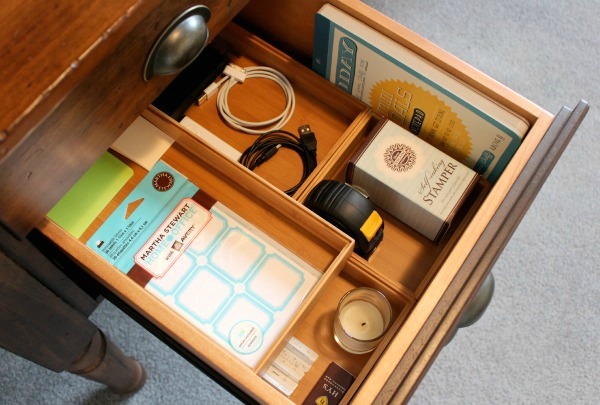 See this drawer organizing project HERE.
BEFORE
AFTER
See this office update HERE.
BEFORE
AFTER
See this pinboard project HERE.
BEFORE
AFTER
See this organized office closet HERE.
I'd say overall the One Room Challenge was a success. I would definitely participate again!
Make sure you check out the other One Room Challenge reveals, and look for more of my office updates in the coming weeks. Thanks for following along. I've enjoyed all the new visitors and reading the lovely comments!
xo,