We're loving the gorgeous and fresh turquoise floral wallpaper we installed in our powder room from Spoonflower. Get inspired by this wallpaper project and more!
Welcome back to the final instalment of this year's One Item Project Challenge. In case you missed it last week, some of my blogger friends and I each created something with fabric, and the week before that was twigs.
This time, the item we all had to create something with was wallpaper.
I received wallpaper from Spoonflower to facilitate this post. As always, opinions are 100% my own. Some links are affiliates. Please refer to my disclosure page for more information.
Our Boring Powder Room
A few weeks ago, I decided I couldn't stand looking at our bland and boring powder room any longer. So, I pulled out a big putty knife and started scraping the popcorn ceiling. It meant I was committed to the process and there was no turning back. Yikes!
The thing is, I've been looking at powder room pictures and products for the past few years. Over time, I've developed a vision for the space, but making it a reality would require getting my hands dirty, working later in the day, spending money, and overcoming obstacles. It would also probably test my marriage like most renovation projects do!
Did I really want to go down this road before Christmas?
Starting any renovation is kind of like ripping off a bandaid. You know it's the right thing to do, but there's always that feeling of hesitation.
And for good reason. Like finding out the powder room walls really aren't very square and that the basic mirror you couldn't wait to take down is glued on with enough construction adhesive for 10 mirrors. And, wait, there's a bow in the wall from where they patched over the plumbing for the sink? Oh goodie!
With all that being said, getting started on any makeover is way better than living with an ugly room. Take our basement, for instance, that went from being a dungeon-like place where stuff seemed to multiply to now being our family room that we use and enjoy so much!
So, what kind of progress have we made since scraping that popcorn ceiling? I think we're doing pretty good given our busy schedules…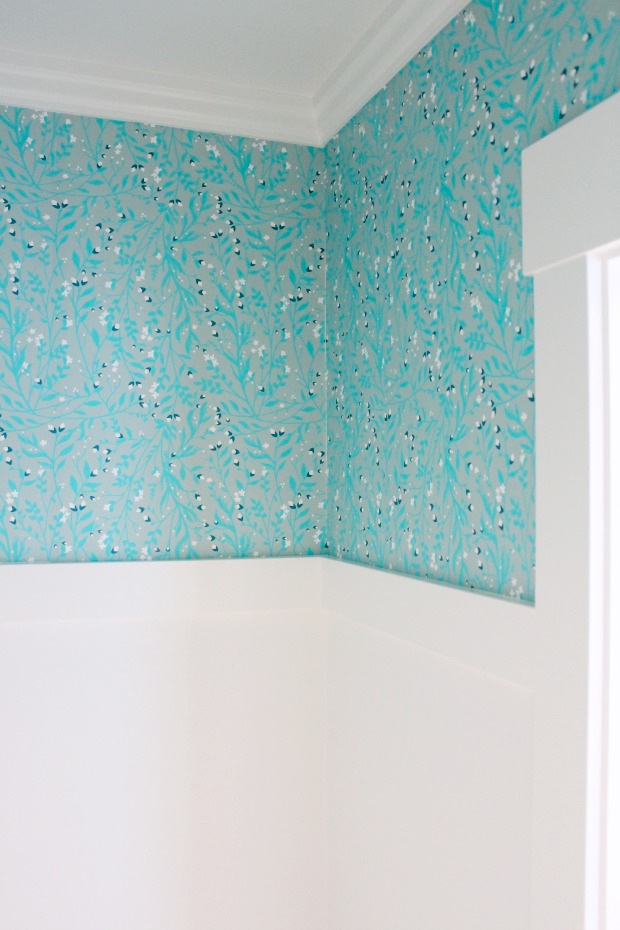 Hello powder room wallpaper! Before I share the details of that, let's back up a bit.
Prepping the Walls for Wallpaper
In order to contain the wallpaper in our powder room, we had to install crown moulding and a border all around two feet below. We also had to rip out the old door trim and install a chunkier style. It seemed easy enough, but we ran into problems after realizing the room wasn't square. That's when I decided we wouldn't install paneling below like I originally planned.
Thankfully, there's caulking and spackling that work wonders for filling in gaps!
Then, there's filling all the holes, priming and painting. Not so difficult, but time consuming to get a smooth finish. In case you're wondering, I used White Dove (OC-17) in semi-gloss for the trim and eggshell for the ceiling and walls below. It reads a bit pink on the screen, but it's an off-white with a bit of a warm undertone. (It's so difficult to capture good photos in a room without natural light!)
Okay, ready for wallpaper…
Selecting Our Powder Room Wallpaper
The wallpaper for our challenge was graciously supplied by Spoonflower. I worked with this company before when I made the roman shade for my office. After having such a great experience with the company and loving the quality of their fabric, I definitely wanted to give their wallpaper a try.
Spoonflower has so many patterns to choose from. You can even design your own. Thankfully, they have a favourites feature where you can compare your selections side-by-side. It was a big decision!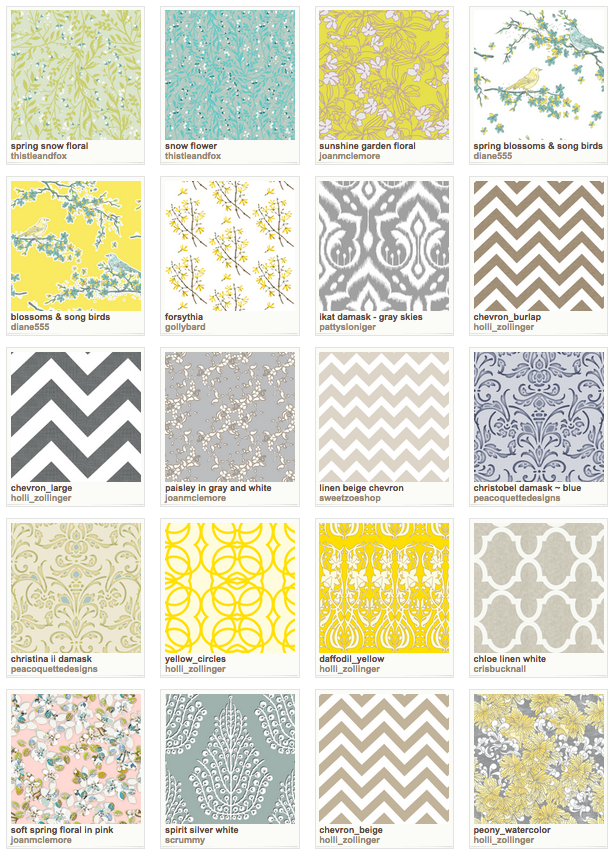 After working on a few wallpaper projects in the past, I remembered that larger-scaled patterns were more difficult to match up if walls were out even a bit. That eliminated quite a few of my options since I wouldn't have my mother-in-law's help this time. It needed to be fool-proof.
Normally, I'd stick with a neutral, but bolder powder rooms always catch my attention. It's also a space that gets almost no natural light, so I wanted to brighten it.
As you can see, I finally decided on Snow Flower, a design by Thistle and Fox. It's a modern floral pattern that happens to be in some of my favourite colours. My husband liked it too, which was a bonus!
To point me in the right direction, Spoonflower sent along a handy prepasted wallpaper installation guide. It outlines the basics.
If your walls aren't perfectly square, I have a few more suggestions. Let's just say it took some patience and determination to wallpaper this tiny space.
How to Install Wallpaper from Spoonflower
Wallpaper Tools
To hang the wallpaper, I used quite a few tools I already had on hand:
level
metal yard stick
measuring tape
utility knife (Olfa)
cutting mat
scissors
pencil
sponge
vinyl smoother
large plastic container
rags
Wallpaper Hanging Tips
Start in the most noticeable corner of the room.
Mark a plumb line and check regularly as you go along. I had to cheat one piece of wallpaper because a corner was off. Making small adjustments in less noticeable parts of the room keeps everything else in line and matched up.
Measure each piece on the wall as you go. It makes sense to cut the wallpaper into 2 foot lengths if that's what you're installing around the room. DO NOT! I needed to cheat the paper up and down a bit to make sure the pattern matched and it stayed straight.
Go back and forth between a sponge and vinyl smoother to get the air bubbles out. Use the smoother to create a sharper edge in the corners and where it butts up to the crown moulding and trim.
Allow the excess wallpaper above and below your trim to dry for a while before you trim it with a straight edge and sharp knife. I found 2 hours was the ideal amount of time to allow it to come off easily without the paper tearing as I cut it.
Use scissors to work around tricky areas like trim and light fixture openings.
Without any windows, it's tricky to take photos of our powder room.
A little patterned wallpaper went a long way to make it brighter, inviting and pretty!
Powder Room Makeover List
Scrape popcorn ceiling
Remove mirror, towel bar and toilet paper holder
Remove current baseboard and door trim
Install crown moulding
Install paneling (nixed)
Install tile floor
Install baseboards
Fill, prime and paint woodwork, walls and ceiling
Replace light fixture- See the double sconce we chose
Replace mirror
Replace towel bar and toilet paper holder
Add decorative details (including a secret project): that was the wallpaper!
We're getting there! I'm on the hunt for tile, a light fixture and a mirror. The towel bar, toilet paper holder and some of the decorative details are sitting in my office for now. Can't wait to share the towels I found at Anthropologie that work perfectly with the wallpaper.
Be sure to check out more of our powder room makeover projects.
Now for the fun part of the One Item Project Challenge…
Spoonflower Wallpaper Projects
Wallpaper Canvas Art by So Much Better With Age
Powder Room Wallpaper by Satori Design for Living
Wallpaper Backed Bookcase by The Happy Housie
Bathroom Makeover with Wallpaper by Craftberry Bush
Faux Birchbark Centerpiece by Fynes Designs
Did you check out each idea using wallpaper? A talented bunch, right?
DIY Series Recap
That's it for the One Item Project Challenge. Can't wait to do it all again next November. I'm looking forward to a bit of rest now!
Week One- Twigs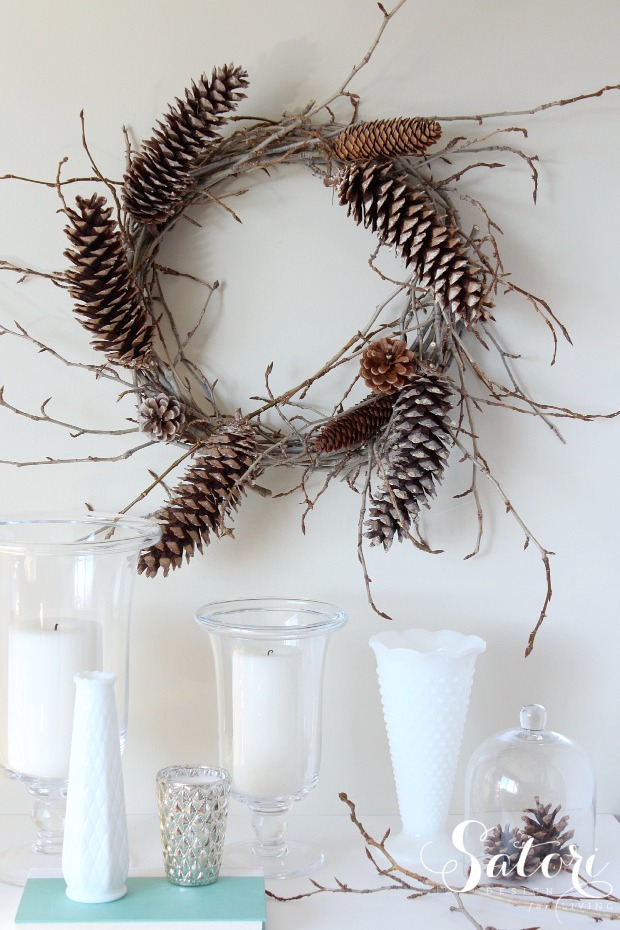 Week Two- Fabric
Final Week- Wallpaper
Have a favourite project in the bunch? Thanks for following along!
Want more home decorating ideas like these sent directly to your inbox? Be sure to SUBSCRIBE.
Have a lovely day,