Recovered Ottoman with Linen – Thrift Store Fix Up
Ready to see my newly recovered ottoman from the thrift shop? Upholstering it in linen fabric turned out to be an easier DIY project than I first thought!
Did you enjoy the DIY twig projects from week one of the One Item Project Challenge? So much fun! For this week, I chose fabric as the medium we all had to work with.
Thank you to Online Fabric Store for supplying materials for this sewing project. Some links are affiliates. Please refer to my disclosure page for more information.
My Fabric Selections
When Online Fabric Store got wind of what we were up to for this series, they definitely wanted to be part of it. The tricky part for me was deciding which fabrics to order. It took everything in me not to fall down a rabbit hole looking at all of the beautiful options!
Oh, how I love fabric. The colours, the textures, the limitless options…
When I started our living room makeover back in September, the vision was to lighten and brighten the space, while maintaining some warmth to get us through the winter months. Already having a taupe sofa and chair upholstered in a chunky chenille fabric (that we plan on keeping for a few more years), meant there were some limitations as to what would work in the room for pillows, drapery and an ottoman.
Of course, layering other neutrals in the space would work, but I was craving some colour too. A safe bet for me is anything in the blue-green family. I've loved those colours for as long as I can remember. So, a cup of coffee (or two) later, I was finally able to settle on these gorgeous fabrics…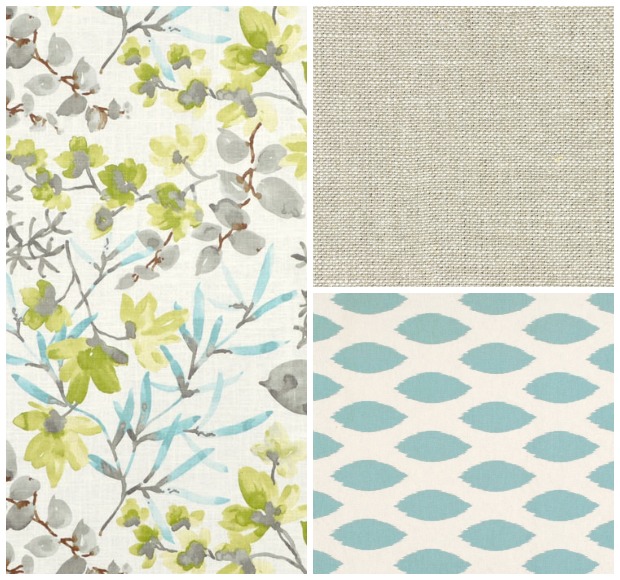 Gazebo Cloud | Oatmeal Belgian Linen | Chipper Village in Blue
Thrift Store Ottoman
I decided to kick off this living room fabric challenge by recovering a square ottoman I picked up at a thrift shop for $3 in the summer. When I brought it home, my husband and son thought I'd fallen off my rocker, but I could see beyond the faded/stained plaid fabric and missing buttons. All it needed was some TLC. (And, yes, that's still the sub floor! Hardwood is coming.)
How to Reupholster a Square Ottoman
Dismantling the ottoman took a little longer than I thought. I removed the legs- easy. I removed the bottom cover- not so bad. Then, I proceeded to remove the staples that secured the plaid fabric to the box- challenging!
Two "You've Gotta Eat Here" TV episodes later, and I finally had the staples out and was able to pull off the cover. Ouch!
Using a stitch ripper, I took the plaid cover apart to use as a pattern for the new fabric. I used the belgian linen fabric since it was a good weight for upholstery (just need to keep my coffee-spilling husband away from it!).
After laying the plaid pattern over the linen fabric, I cut it out. Next, I carefully pinned right sides together around the bends.
After stitching, I gave all of the seams a good pressing.
Although the guts of the ottoman were in pretty good shape, I decided to add one more layer of batting across the top.
Starting with the cover inside out, I matched up each corner and started pulling it down working my way around. I found it best to go slow and keep adjusting to make sure everything was straight and tight.
Then, I simply stapled it at the bottom starting in each center and working out and, finally, re-attached the legs.
For now, I decided not to do the button tufting because I like the way the newly recovered ottoman looks without. However, I did leave the bottom open just in case I change my mind.
Envelope Pillow Covers
With the other fabrics, I sewed envelope pillow covers that I'll share more about in an upcoming living room post.
So far, I'm enjoying the subtle injection of colour and added texture to the space.
I'm not sure which pillow I like better on this chair. Chipper Village (above) or Gazebo Cloud (below). Any thoughts?
Notice my book page wreath I made last year? It's still one of my favourites. Be sure to check out more living room ideas.
Now, let's move on to the best part of the One Item Project Challenge where we get to see what the other participants created with fabric!
DIY Fabric Projects
Recovered Thrift Shop Ottoman by Satori Design for Living
Fabric Covered Cork Board by The Happy Housie
Bedroom X-Leg Bench by Craftberry Bush
Pink Ticking Curtains by So Much Better With Age
Christmas Stockings by Fynes Designs
Be sure to stop by each blog and say hello. (We appreciate shares on social too!)
Wondering what the last craft item will be for the One Item Project Challenge? Check back next Wednesday to get the scoop. Can't wait!
DIY Series Recap
Week One (Nov. 5)- Twigs
Week Two (Today)- Fabric (you're here)
Week Three (Nov. 19)- ? (update: see my wallpaper project)
Be sure to SUBSCRIBE if you don't want to miss a thing. I also share behind-the-scenes updates on Instagram.
xo,