My Version of the Book Page Wreath
Learn how to make your own beautiful book page wreath with step-by-step instructions. Plus, get the details for even more DIY Christmas wreaths. Time to get crafty!
If you're on Pinterest, a book page wreath isn't anything new to you. I've been wanting to make one of these after admiring them for more than two years. When I was invited to participate in a Canadian wreath blog hop (we'll get to that), I knew it was the perfect opportunity to finally cross it off my Pinterest "Must Make" list. I'm ecstatic with how it turned out, and I'm so glad another year didn't pass by!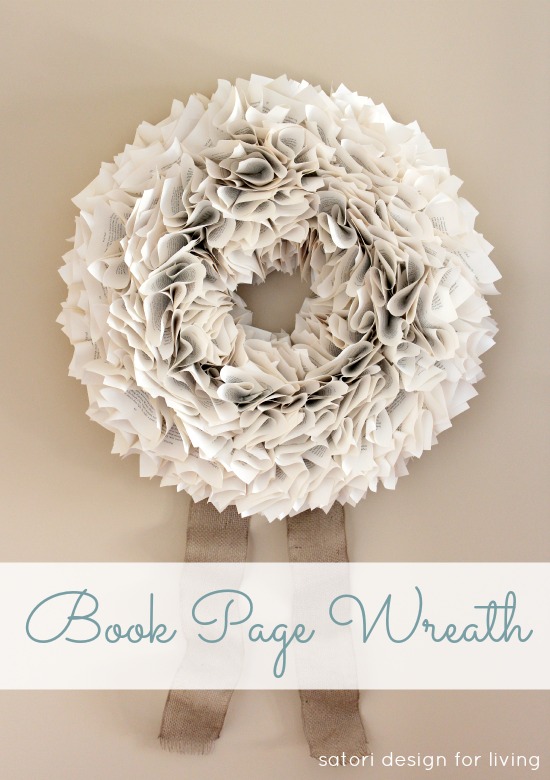 Before you can make this wreath, you have to be okay with tearing apart a book. I found mine at the thrift shop for $1, so it didn't bother me at all. I love repurposing old items into something new, especially when the end product turns out better than expected.
DIY Book Page Wreath
To make your own book page wreath, you will need:
18″ styrofoam wreath
Book (mine was 6×9 inches and around 200 pages)
Pins (I used gold stick pins I had on hand, but any push pin would work- preferably a neutral colour)
4″ Burlap wired ribbon (about 4 feet)
Glue gun (optional)
A big thank you to May Arts for supplying the ribbon for our Canadian Wreath Hop!
Note: make sure your book isn't too old and fragile or it will tear too easily. Mine was fairly new, but looked antique along the outside edge.
Wreath

Tutorial

Begin by carefully tearing pages out of your book until you have a generous stack.
Fold a page slightly in half lengthwise and then crosswise, pinching in the center and bringing it together at the top.
Note: Each one you make will be slightly different, but that's what will give the wreath dimension. Intentionally make some smaller and some bigger with varying folds.
Place a pin through the bottom, making sure you catch all the layers. Note: your fingers may get sore after a while. I used a rubber jar opener to put between my thumb and pin top on the tough ones.
Push the pin into the styrofoam wreath, starting in the inside and working your way around.
Add another layer working around the entire circumference. Repeat until you've filled the entire wreath.
For an 18″ styrofoam wreath, you will need about six or seven layers. Look for any sparse spots and fill in with folded book pages as needed.
Note: if any pins are popping out, use a dab of hot glue to hold them in.
For the burlap ribbon at the bottom of the wreath, I created a fringe by removing a few crosswise yarns. This step is optional.
To fasten it to the wreath, I found the center and pinned it to the underside letting the ends hang down. Next, I used the wire on the sides of the ribbon to create some dimension.
In my opinion, the photos don't do a good job of capturing the texture, colour and undulations of this book page wreath. I love how it looks hanging alongside our fireplace (gas, of course).
Book Page Wreath Decorating Ideas
I love how this paper wreath brings a bit of texture to any space. In our dining room, it works with a variety of Christmas table settings, including this one that I shared in my White Christmas Home Tour.
Book page wreaths are also very versatile and can be used year-round, not just during the Holiday Season. It looks so pretty paired with natural winter decor in our living room.
Where would you hang a book page wreath in your home?
Visit the Christmas Project Gallery for even more seasonal decorating ideas, including how to make this Twig and Pine Cone Wreath.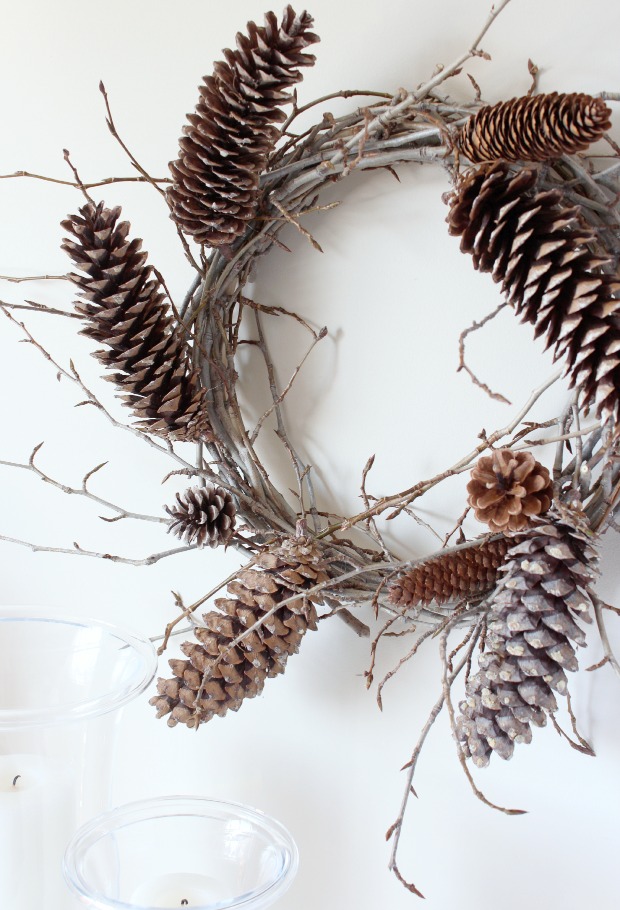 More DIY Christmas Wreaths
To get even more Holiday wreath inspiration, take a look at these incredible wreaths created by my fellow Canadian bloggers. You're bound to be inspired!
Fresh Evergreen Wreath by A Pretty Life In The Suburbs
Ribbon Flower Wreath by Echoes of Laughter
JOY Outdoor Wreath Sign by Fynes Designs
Rustic Cedar Wreath by Tara from Suburble
Book Page Wreath by Satori Design for Living
Holiday Feather Wreath by A Swell Place to Dwell
Wooden Spool Christmas Wreath by The DIY Dreamer
Clothespin Wreath by The Sweetest Digs
Spill the beans… What Christmas projects have you had on your "Must Make" list year after year? I can't be the only one who procrastinates!
Want more holiday and seasonal ideas like these sent directly to your inbox? Be sure to SUBSCRIBE.
xo,