Jingle Bell Ornaments – Mini Christmas Wreath Decorations
Make these jingle bell ornaments as tree decorations, gift toppers or home decor. Hang anywhere you want to add sparkle this Christmas. An easy holiday DIY project!
As I was going through my Christmas storage totes last week to see what I had for wrapping supplies, I came across a package of tiny silver jingle bells I bought at the end of last year's holiday season. To tell you the truth, I didn't know what I was going to do with them back then, but it's hard to pass up on a great deal (especially when it's something so adorable).
Last year, I made simple jingle bell ornaments to dress up some handmade gifts using large, colourful, and sparkly options that seemed to stand alone. However, I knew these smaller ones would require a little more work to create something with impact. Luckily, I had a little motivation from my friend Shannon, who inspired a group of home bloggers to create a Christmas ornament or other holiday decoration to share in an upcoming free ebook. So much fun!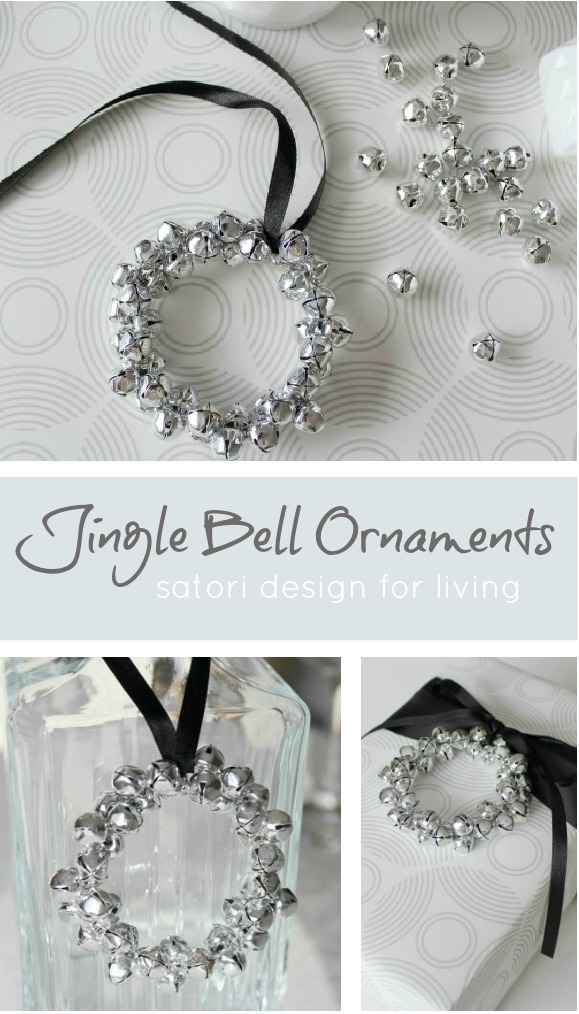 These jingle bell mini wreath decorations are super easy to make, but my-oh-my do they add sparkle to almost anything you want to decorate for the holidays! They're a beautiful handmade gift idea too for teachers, neighbours, grandparents or someone else on your list.
I picked up many of the supplies for this project at Michaels. I've also included affiliate links to similar items and products below.
How to Make Jingle Bell Ornaments
Supplies and Tools
small jingle bells (I used about 50, 10mm size per wreath)
wire (I used 26 gauge craft wire)
ribbon (about 12″ length per wreath)
needle-nose pliers
wire cutters
scissors
Mini Christmas Wreath Instructions
To start, cut a 16″ length of wire and loop back one end about 1″. Using the needle-nose pliers, wrap the end around until you're left with a tiny loop and the end is secure.
Next, feed the bells onto the wire, making sure the first one is tight against the loop and each additional bell is as close as possible.
After you get about a 7″ strand of bells (depending on how large you want your wreath to be), feed the end through the loop you made earlier and secure it by wrapping the wire around the bells a few times. Cut the end off with your wire cutters and reshape the whole thing into a circle.
Tip: When making larger wreaths or using bigger jingle bells, use thicker gauge wire.
Attach a piece of ribbon for hanging. So simple!
How to Use Jingle Bell Wreaths
Aside from the obvious option of hanging these jingle bell ornaments on the Christmas tree, you can also attach them to gifts or use them to embellish everyday decorative accessories in your home during the holiday season.
I love how striking this silver wreath looks paired with black ribbon and graphic wrapping paper.
Adjust the length of the ribbon depending on what you're attaching the wreaths to.
I used this black satin ribbon, but pretty much any style will work. Play around to create different looks.
Hang these mini wreaths anywhere! Or, leave the ribbon off completely and use them as napkin rings for your holiday table. Adjust the size depending on what you need.
Not sure you'll have time to make your own? I found these Christmas wreaths with bells on Etsy. And this rose gold colour would be pretty too!
More Christmas Craft Projects
Be sure to check out the other DIY Christmas projects by visiting each of the participating blogs. I want to extend a big thank you to Shannon for organizing the whole series!
AKA Design- Merry Christmas Garland
House of Hepworth's- Silver Tinsel Ornaments
Things That Are Pretty- Scrabble Ornaments
Thistlewood Farms- Spring Snowflake Ornament
Finding Home- Faux Taxidermy Ornaments
Cozy.Cottage.Cute- Christmas Surprise Bags
Later this month, I'll also have the book available for you to download for free, which will include photos and tutorials of all these fabulous Christmas projects.
Update: Click to get the free Christmas decorating book with all of the tutorials! Then all you have to do is save and/or print.
More Christmas Ornaments and Gift Toppers
Try making these log slice chalkboard ornaments to decorate your tree or embellish gifts.
I also whipped up these wood bead mini wreaths. Not as sparkly, but I think they're pretty darn cute.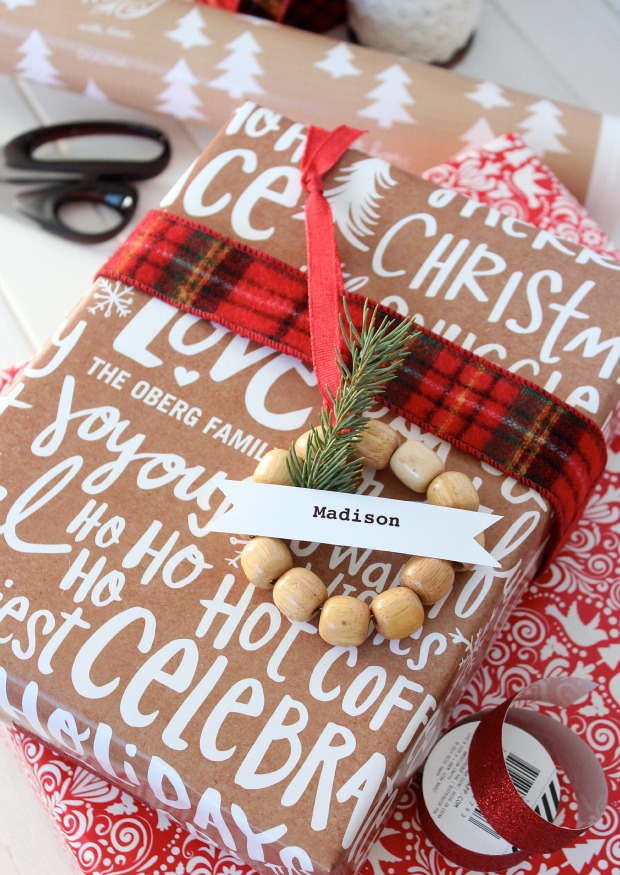 These snowy bottle brush ornaments are beautiful next to the Christmas tree lights.
You can also check out the Christmas Project Gallery for many more craft and decorating ideas!
Want more holiday and seasonal ideas like these sent directly to your inbox? Be sure to SUBSCRIBE.
xo,