Log slice chalkboard ornaments are so versatile and simple to make. Perfect as Christmas tree decorations, gift embellishments, place card holders and more!
I was very impressed with the glass paint projects the gals came up with last week. You? I'm certain this round of the One Item Project Challenge will be no different.
If you missed the introduction to this series and want to be brought up to speed, be sure to check out my snowflake glass canisters where you will also find the links to everyone's projects.
This week I chose branches (twigs, logs or basically any part of the tree) as the item we had to work with. I've always been drawn to natural materials and knew I wanted to add a touch of the outdoors to my holiday decorating scheme this year.
That's when the idea for log slice chalkboard ornaments came in.
Before we get to the tutorial for this project, I must give you a little behind the scenes…
Those of you who have been following my Holiday Countdown know that I suggested gathering outdoor decorating materials several weeks ago before the weather turned miserable. Being a procrastinator at times, I waited until Friday to find the large tree branch I knew I would need for this project. The morning started out as rain and turned to sleet, and the forecast was saying snow for Saturday. I threw on my parka and the first boots I found and trudged down to the river. Unfortunately, I didn't realize the paths were like a skating rink, and I ended up falling really hard on my back and elbows.
Lesson learned- DO NOT wear fashion boots into the woods, practice what I preach about gathering stuff before the weather turns and, lastly, choose less life-threatening DIY projects!
Needless to say, I survived. Despite having a sore back and a bruised ego (forgot to mention there were witnesses to my Home Alone type fall), I did manage (with a lot of help from my husband) to make the log slice chalkboard ornaments I had envisioned. Phew!
Log Slice Chalkboard Ornaments
Some affiliate links are included for items I used for this project, which allows me to make a small commission from your purchase without an extra cost to you. Thanks for supporting this blog!
Ornament Supplies:
Large tree branch or log (about 3-4″ in diameter)
Mitre saw
Drill with small bit
Sand paper (extra fine grit)
Chalkboard paint
Paint brush (small)
Jute string
Scissors
Chalk
Stencils (optional)
Ornament Instructions:
To begin, cut your log into slices (a little less than ½" thick) with a mitre saw. To get a nice clean cut, you may need to place a board under the log (we found doing that kept the bark in tact all around the log, especially on wider logs).
Once you have as many slices as you want, drill small holes in each about ¼" from the top to put the jute string hanger through.
Next, sand each one lightly to remove loose bits. Make sure the surface is fairly smooth and apply two coats of chalkboard paint leaving a small border of wood showing. Let dry and feed the jute string through each hole knotting together at the top.
Be sure to prime each chalkboard by rubbing the surface with a piece of chalk on its side and then wiping with a dry rag. I learned this trick from my friend Heather to prevent the first drawing from being permanently etched on the surface.
Finally, you have a chalkboard surface to write or draw anything on. I freehanded a few designs and used stencils to create others. The sky's the limit!
Other than hanging them on the tree, I think they'd make lovely place card holders too. Am I right?
So tell me, what would you draw on these wood slice ornaments? I like the combination of letters and simple drawings.
Check out the other craft ideas made with branches:
Rustic Stick Trees by Tiffany at Living Savvy
Joy Log Slice String Art by Tara at Suburble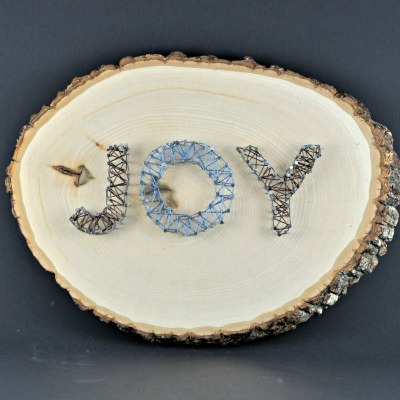 Thankful Branches by Kristin at My Uncommon Slice of Suburbia

Be sure to come back next Wednesday to find out what the final craft supply was on our One Item Project Challenge list and see what we all did with it. So much fun!
Update: See our projects here.
You can find more ideas like this in the Winter & Christmas Project Gallery, including how I used these chalkboard ornaments as gift embellishments!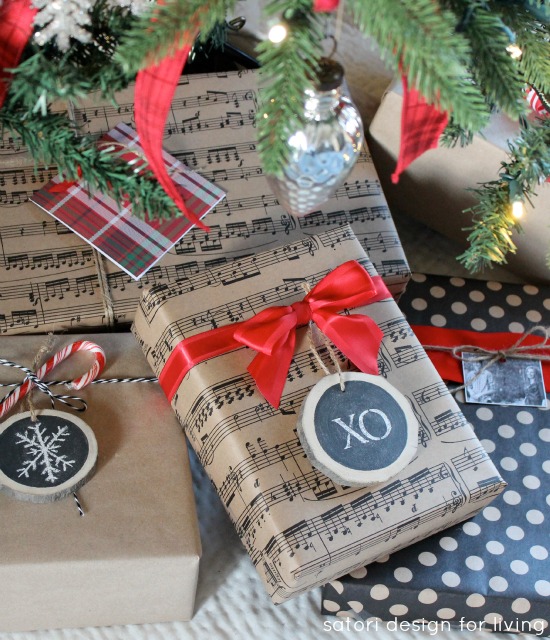 Tell me, do you have any DIY Christmas ornaments of your own planned? I'd love to know what you're up to!
xo,