Check out our red, white and silver Christmas tree decor with coordinating gift wrap.
Wow, Christmas is one week from today. My son returns home from college tomorrow, and I'm thrilled to spend some much-needed quality time as a whole family! As promised, today I'm sharing a look at our decorated Christmas tree and how I wrapped all of the gifts.
Decorating the Christmas Tree
It's definitely a departure from the light, bright and simple Christmas decorating scheme I tend to go with. But, after Pottery Barn sent me a box of mostly red ornaments that I used in this project, I was inspired to change things up a bit.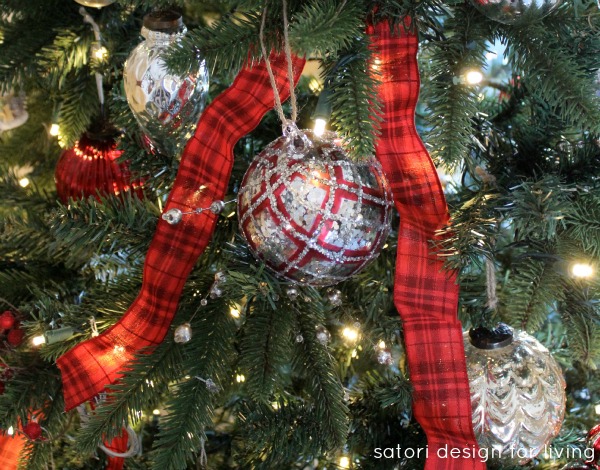 At the end of the past few Christmas seasons (when everything is drastically marked down), I've added to my basic collection of silver, white, and smoky coloured ornaments and filler. These will always be my foundational pieces for decorating the Christmas tree. Now it's easy and inexpensive to add other colours from year to year with a few simple ornaments and/or ribbon.
Last year, I added two boxes of glass turquoise ornaments for less than $10 and the tree looked so different.
This time I decided to add the red ornaments, some red plaid ribbon (70% off at Michaels) and some repurposed berries I had stashed away from years ago. Decorating the Christmas tree this season was just over $3 in extra materials. I'd say not too shabby!
For the red berries, I simply cut a string of garland into lengths using wire snips.
I placed each bunch on branches around the tree and draped wired plaid ribbon over top with the ends hanging down on either side. I like how it filled in the bare spots and added another dimension.
So what about the gift wrap? As you can see, I carried on with the red theme and added touches of black to ground everything. The log slice chalkboard ornaments I made back in November worked perfectly for gift tags. I love the look of the stencilled chalk letters! (I attached adhesive tags to the back so there are no mix ups on Christmas day!)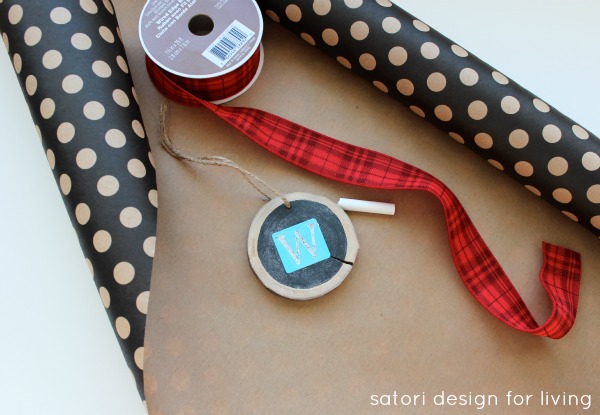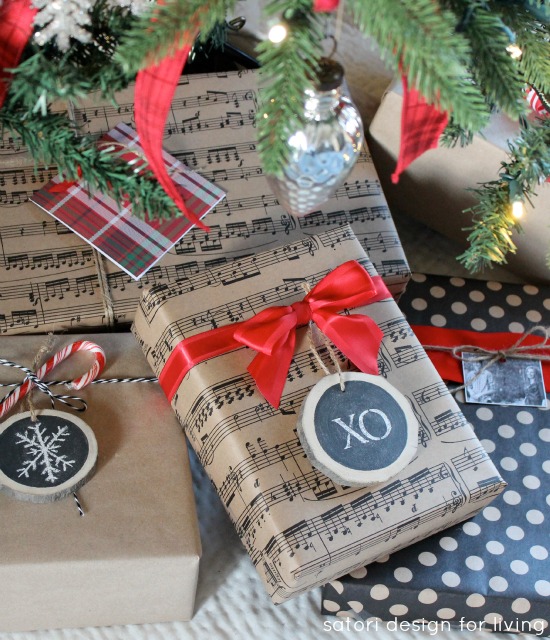 Simple brown craft paper and recycled printed papers fro Winners were easy to wrap with and so fun to embellish with ribbon, candy canes, photos, baker's twine and jute.
I printed some adorable Christmas gift tags to finish off the rest of the gifts . If you're looking for some freebies, check out my Printables board on Pinterest!
Do you change your Christmas tree decorating and gift wrapping scheme up every year or keep it the same? I'd love to know what colours you used this season!
Also, don't forget to come back tomorrow and share any of your Christmas posts at the Holiday Countdown link party I'm co-hosting with Aimee of It's Overflowing!
Can't wait to see what you've been up to!
xo,