Sharing the entire source list and DIY project details from our holiday hot chocolate bar. Find out how to create your own!
Last week I shared the hot cocoa station (aka hot chocolate bar) I put together for the holiday season. As promised, I'm sharing the details of that project with you today. Before you read on, be sure to grab a cup of deliciousness for yourself!
Before I get to the DIY details and source list, here are a few more photos to refresh your memory…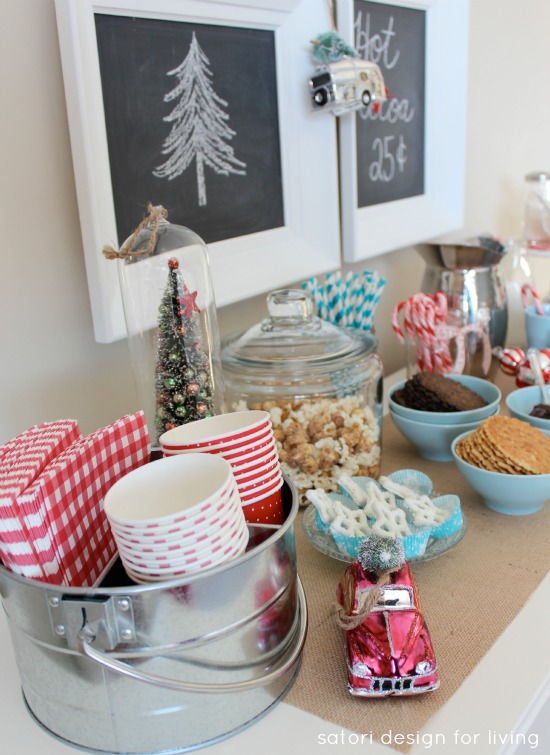 Some links used in this post are affiliates. Please refer to my disclosure policy for more information.
Hot Chocolate Bar Projects and Source List
New Items
Ornaments- Pottery Barn
Paper cups, napkins, mugs, blue bowls, glass sugar dishes, milk bottles- Ikea
Ribbon and burlap runner- Michaels
Hot chocolate- Godiva
Items I Already Had
Straws- Partystock
Glass candle pedestal- Restoration Hardware
Apothecary jar, metal caddy and cake plate- Winners
Hammered metal jug- Hudson's Bay
Antique spoons and small pedestal plate were wedding gifts
Snowflake glass canisters- DIY project
Frames for chalkboard and sprinkles shaker- Thrift Shop
DIY Framed Chalkboards
To make the chalkboards, I painted the wooden picture frames I found in our storage room white. Next, I cut a piece of thin wood to fit each opening, then painted them out in chalkboard paint.
Before you use your newly created chalkboard, prime the surface by rubbing with a piece of chalk on its side and then wiping with a dry rag. It prevents the first drawing from being permanently etched on the surface.
Hot Chocolate Party Favour
For the to-go pouches, I simply filled a cellophane bag with hot chocolate mix, white and dark chocolate chips and a large marshmallow. Then I tied it up with ribbon.
Next, I glued ribbon around the cup, leaving enough room to stick the straw through.
To see more photos, check out the original post: Nostalgic Hot Cocoa Station
Have any other questions about my hot chocolate bar? Post them in the comments section below and I'll be happy to get back to you!
Want more holiday and seasonal ideas like these sent directly to your inbox? Be sure to SUBSCRIBE.
xo,