This decadent hot cocoa station is the perfect addition to your holiday party. Decorated in a nostalgic vibe, it's sure to warm the hearts (and hands) of your guests!
It was around this time last year that I spotted a hot cocoa station on Pinterest and decided I wanted to create one of my own for this holiday season. I began planning the style back in November, and when a "secret box" of ornaments from Pottery Barn showed up at my door, it was the missing piece I needed to tie everything together.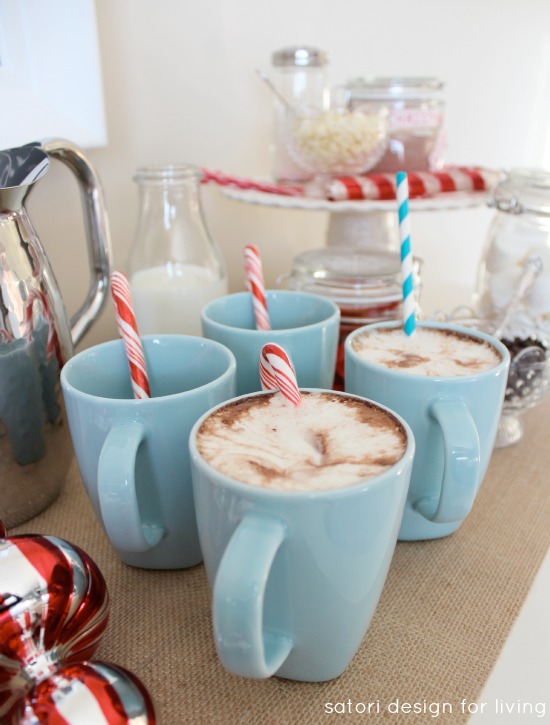 The color of candy cane red combined with robin's egg blue and, of course, a background of white, is a scheme I've always been drawn to. There's something about it that evokes a sense of nostalgia.
After spotting these inexpensive blue mugs and their matching bowls, I had my jumping off point. A little more shopping around, including a few thrift shops, as well as my own cupboards, and I was able to put together the perfect station for warming up after a skating party or day of skiing on New Year's Day.
Of course, what's a hot cocoa station without the cocoa? I splurged on my favorite Godiva hot chocolate mix and transferred it into one of the snowflake glass canisters I made a while back. For the variety of decadent toppings (the best part!), I used glass sugar bowls that have a vintage look and a shaker for some sprinkles.
I used the other two snowflake canisters for marshmallows and caramels (yum…, salted caramel hot chocolate anyone?).
What would you put in your cocoa? White chocolate chips, mini chips or shavings? A candy cane for mint flavor?
Sprinkles? Whipped cream?
So what exactly was in that surprise box from Pottery Barn? The most adorable collection of vintage style ornaments! Can anyone say "kid in a candy store!"
Let's take a closer look, shall we?
Isn't that car so fun? And what makes it even better is the pint sized holiday trailer!
And what about this beautiful Christmas tree cloche ornament? Love, love, love…
Want something sweet to eat too?
Help yourself to some popcorn, a pizzelle or a pretzel or two. Or maybe you can't get enough chocolate?
Can't stay long? Then take your hot chocolate to go!
And please take another with a packet of hot cocoa mix tucked inside for later!
Warm now? Good!
I had so much fun putting this hot cocoa bar together and I know everyone will enjoy using it! If you're wanting to get all of the details (where I got everything and how I put it together) I'll be sharing it in a post very soon.
Update- Click here to get the hot cocoa bar details!
A big thank you to Pottery Barn for sending me a "surprise box" of ten beautiful ornaments.
Happy holidays,