Nostalgic Hot Cocoa Station
This decadent hot cocoa station is the perfect addition to your holiday party. Decorated in a nostalgic vibe, it's sure to warm the hearts (and hands) of your guests!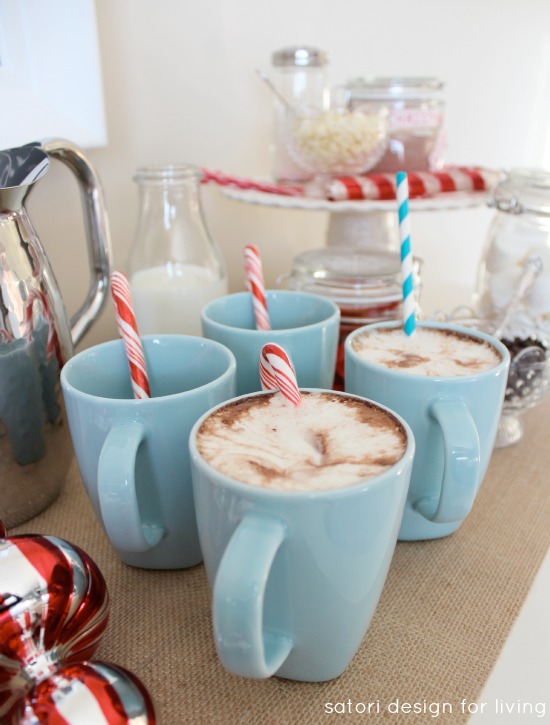 A big thank you to Pottery Barn for sending me a "surprise box" of ten beautiful Christmas ornaments.
It was around this time last year that I spotted a hot cocoa station on Pinterest and decided I wanted to create one of my own for this holiday season. I began planning the style back in November. When a box of Christmas ornaments from Pottery Barn showed up at my door, it was the missing piece I needed to tie everything together.
The colour of candy cane red combined with robin's egg blue and simple white is a scheme I've always been drawn to. There's something about it that evokes a sense of nostalgia.
After spotting these inexpensive blue mugs and their matching bowls, I had my jumping off point. A little more shopping around, including a few thrift shops, as well as my own cupboards, and I was able to put together the perfect station for warming up after a skating party or day of skiing on New Year's Day.
Hot Cocoa with Toppings
Of course, what's a hot cocoa station without the cocoa? I splurged on my favourite Godiva hot chocolate mix and transferred it into one of the snowflake glass canisters I made a while back.
For the variety of decadent toppings (the best part!), I used glass sugar bowls that have a vintage look and a shaker for some sprinkles.
I used the other two snowflake canisters for marshmallows and caramels (yum…, salted caramel hot chocolate anyone?).
What would you put in your cocoa? White chocolate chips, mini chips or shavings? A candy cane for mint flavour?
Sprinkles? Whipped cream?
Vintage Christmas Ornaments
Ready to take a closer look at what was in that surprise box from Pottery Barn?
Opening it, I found the most adorable collection of vintage style Christmas ornaments! Can anyone say "kid in a candy store!"
Isn't that nostalgic car with tree on top so fun? And what makes it even better is the pint-sized holiday trailer!
And what about this beautiful Christmas tree cloche ornament? Love, love, love…
I also received a candy cane ornament, Santa Claus, and several others.
Sweet Treats
Want something sweet to eat too?
Help yourself to some popcorn, a pizzelle or a pretzel or two. Or maybe you can't get enough chocolate?
I found the most adorable white chocolate star pretzels too!
Hot Cocoa Party Favours
Can't stay long? Then take your hot chocolate to go!
And please take another with a packet of hot cocoa mix tucked inside for later!
Warm now? Good!
I had so much fun putting this hot cocoa bar together and I know everyone will enjoy using it! If you're wanting to get all of the details (where I got everything and how I put it together) I'll be sharing it in a post very soon.
Update- Click here to get the hot cocoa bar details, including source list and DIY projects.
Happy Holidays,