Lavender London Fog Latte for Mom
Treat mom to a Lavender London Fog Latte this Mother's Day. A creamy, frothy and sweet tea drink with notes of citrus, bergamot and hint of lavender. Pretty and delicious!
I received products from Breville Canada to facilitate this post and giveaway. As always, the photos and words are my own. I only partner with brands and products I personally use. Some links are affiliates. Refer to my disclosure policy for more information.
Are you a latte drinker? Prefer coffee? Maybe tea? I switch back and forth depending on the time of day, the season and sometimes my mood.
One thing that doesn't change, though, is how particular I am about the taste. For me, lattes have to be done just right.
Lavender London Fog Latte
With Mother's Day around the corner, I thought I'd share a delicious Lavender London Fog Latte I created using my new Milk Cafe from Breville. Don't you just love its sleek design?!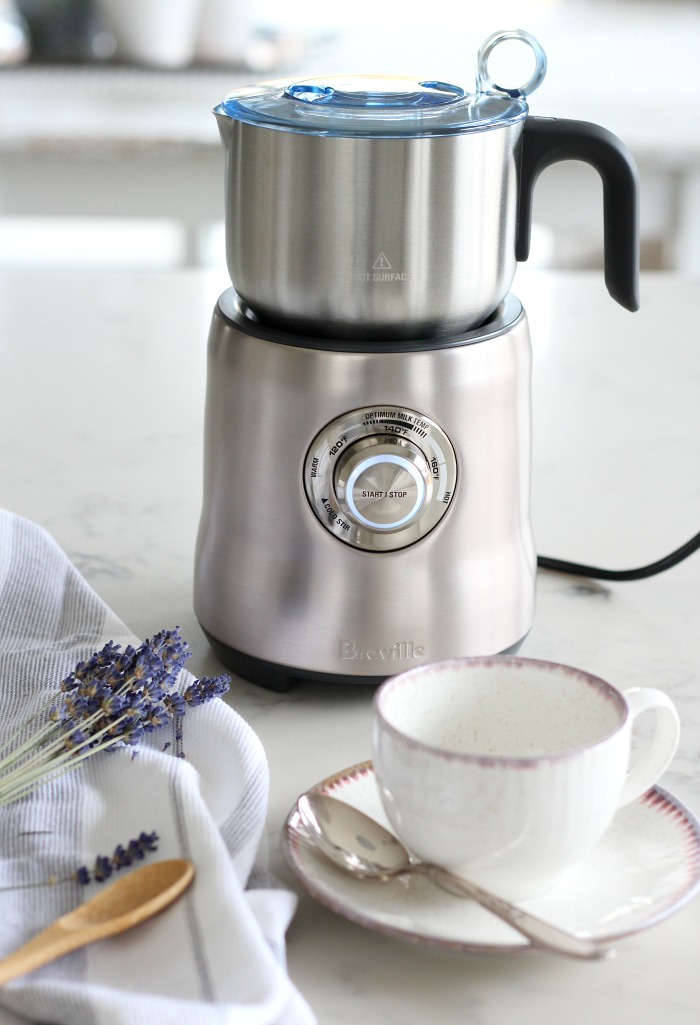 This tea latte may sound fancy, but I promise it's super easy with only 6 ingredients. Ready to make one in 10 minutes or less?
Be sure to read on to find out how to enter for a chance to win your very own Milk Cafe in celebration of Mother's Day!
How would I describe this hot milk drink? Creamy, frothy and sweet, with notes of citrus and bergamot that you would expect in an earl grey tea. The lavender is subtle, not like some lavender drinks that can be overpowering.
I love how pretty it looks too. And calming.
It's one of those simple things that reminds me to slow down and be present. Sip, breathe, sip… Moms need that, right?
That's how I like to start my morning. At times, the afternoon calls for it too.
Breville Milk Cafe Features
Sometimes it's life's little conveniences that do the best job at taking away our stress. I love how easy the Milk Cafe is to operate. Simply add milk, select the temperature, hit start and get ready for beverage perfection. Yes, you can make a great latte at home.
Uncomplicated means I'm more likely to use it. No need to run down to my local coffee shop and spend $5 or more on one single drink. Sometimes I don't have the willpower to turn down those baked goods behind the counter if you know what I mean!
The automatic shutoff puts my mind at ease too. This is where I could digress and tell you about my hard boiled egg incident, but I won't. Let's just say I'm lucky I didn't burn the house down. Gulp!
And cleanup couldn't be easier. Honestly, I was shocked at how quickly it went the first time I used it. Induction heating means there's even heat distribution and no burnt-on milk. I hand wash my jug (nook and cranny-free), but they're dishwasher safe too.
So, if you haven't figured it out by now, the Milk Cafe is approved by this mom. And, if you have a latte lover in your home, it's definitely gift-worthy. Perfect for Mother's Day!
Tell me, what hot drink would you try making first if you had the Milk Cafe? This Lavender London Fog Latte? Hot chocolate? Chai latte? Turmeric milk? So many options!
You may also want to check out my Breville milk frother recipes for strawberry hot chocolate and more. So yummy!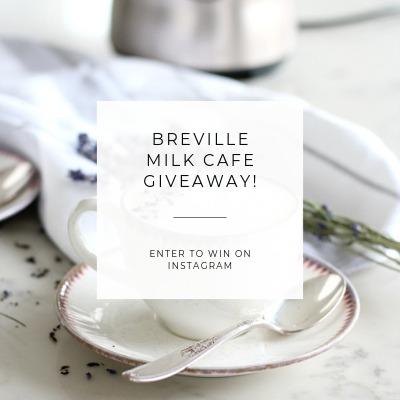 Milk Cafe Giveaway
***Head over to Instagram to enter for your chance to win the Milk Cafe from Breville Canada. Make your own creamy and delicious lattes at home!
Lavender London Fog Latte
A creamy, frothy, sweet and pretty hot milk drink with notes of citrus, bergamot and a hint of lavender.
Ingredients
1

cup

water

1½

tablespoons

loose earl grey tea

½

teaspoon

dried culinary lavender flower buds

more for garnish if desired

¾

teaspoon

honey or sugar

½

teaspoon

pure vanilla extract

1

cup

2% or whole milk
Instructions
Place earl grey tea and lavender flower buds in tea strainer over small glass measuring cup or tea pot.

Bring 1 cup of water just to a boil and pour over strainer. Steep for about 7 minutes. Remove strainer and stir in honey and vanilla. Divide evenly between 2 mugs.

Meanwhile, add milk to the Milk Cafe fitted with latte disk. Set to desired temperature (around 150°F) and press start.

Pour hot and creamy milk over each mug, reserving foam with a spoon until the end. Garnish with lavender flower buds (optional).
Notes
Almond milk can be used in place of milk but will change the flavour profile and consistency slightly.
Adjust honey or sugar to taste. Can be omitted completely.
Milk can be heated and frothed using a handheld version.
Could you use a new kettle? I love my new Smart Kettle Luxe from Breville too!
Shop this Post
Want more delicious recipes and ideas like these sent directly to your inbox? Be sure to SUBSCRIBE.
Have a lovely day!