Celebrate mom with an afternoon tea for Mother's Day. A fun and tasty way to show your love and appreciation!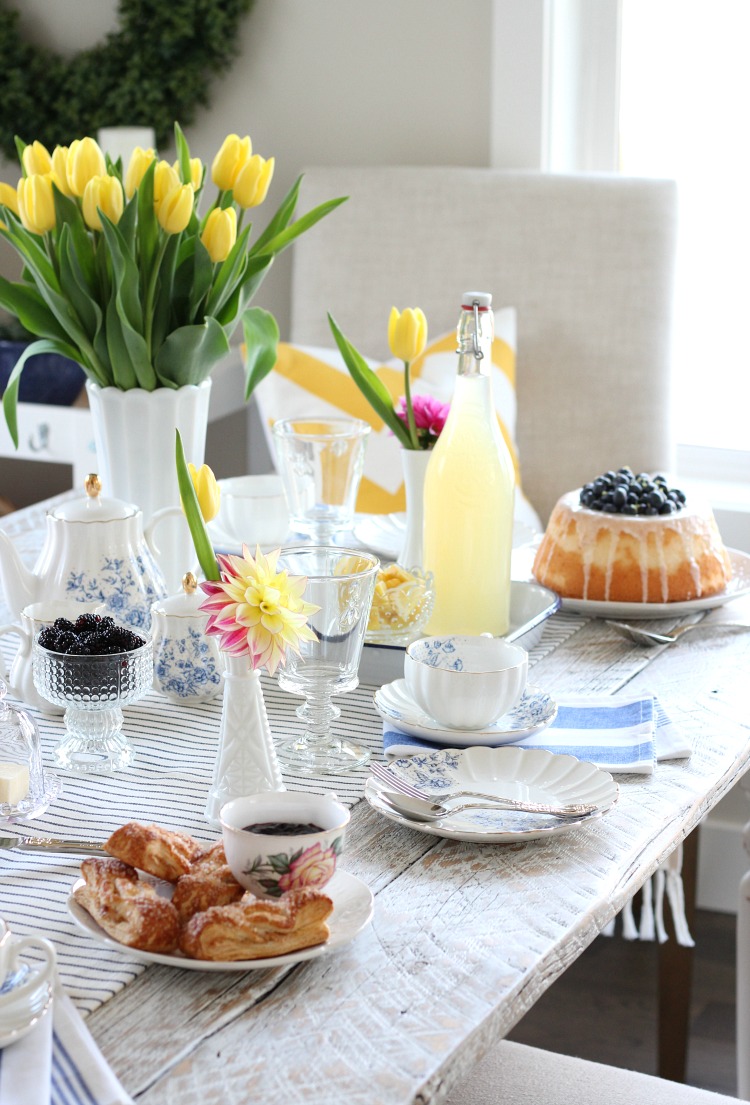 Hello friends. I hope you're enjoying May so far. Spring seems to finally be upon us, and I've been busy working on projects for the upcoming Outdoor Extravaganza. Look for that series to start later this week with some big changes!
With Mother's Day just around the corner, I thought I'd put together some fun and pretty ideas for hosting an afternoon tea. I think you'd be hard pressed to find a mom who couldn't use a little pampering and indulging. Am I right?
Plus, tea parties are quite easy. Being a busy mom, I definitely look for short cuts and uncomplicated, if you know what I mean…
Mother's Day Tea Party Ideas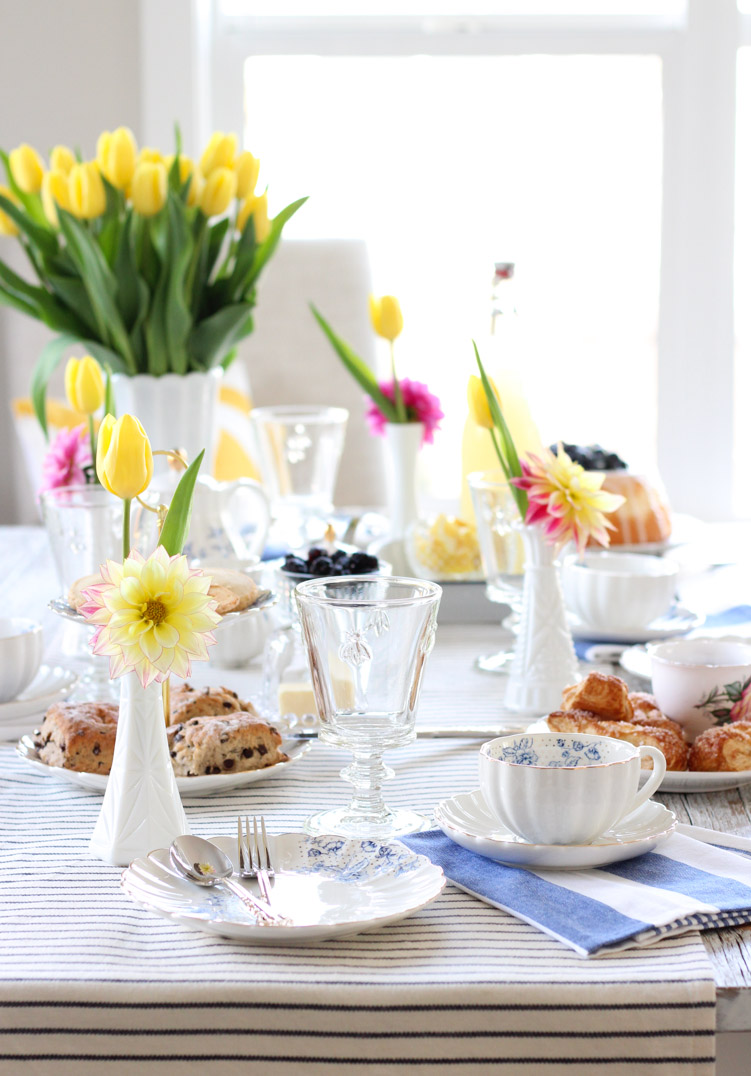 I set this Mother's Day table indoors, but outside would be lovely as well. Here's hoping it's a gorgeous and sunny day. I'm a warm weather kind of gal.
If not, the bright and cheery inspiration I'm sharing with you today will surely brighten your mood. I know, more colour than you're used to seeing from me, but I was craving it after a slow start to spring. What about you?
Some links used in this post are affiliates. Please refer to my disclosure policy for more information.
Tea Party Table Setting Ideas
My jumping off point for the tea party table setting was the blue and white floral tea cup and saucer set. I love its vintage vibe. So pretty and charming, right?!
I love the way it looks against the blue and white striped napkins.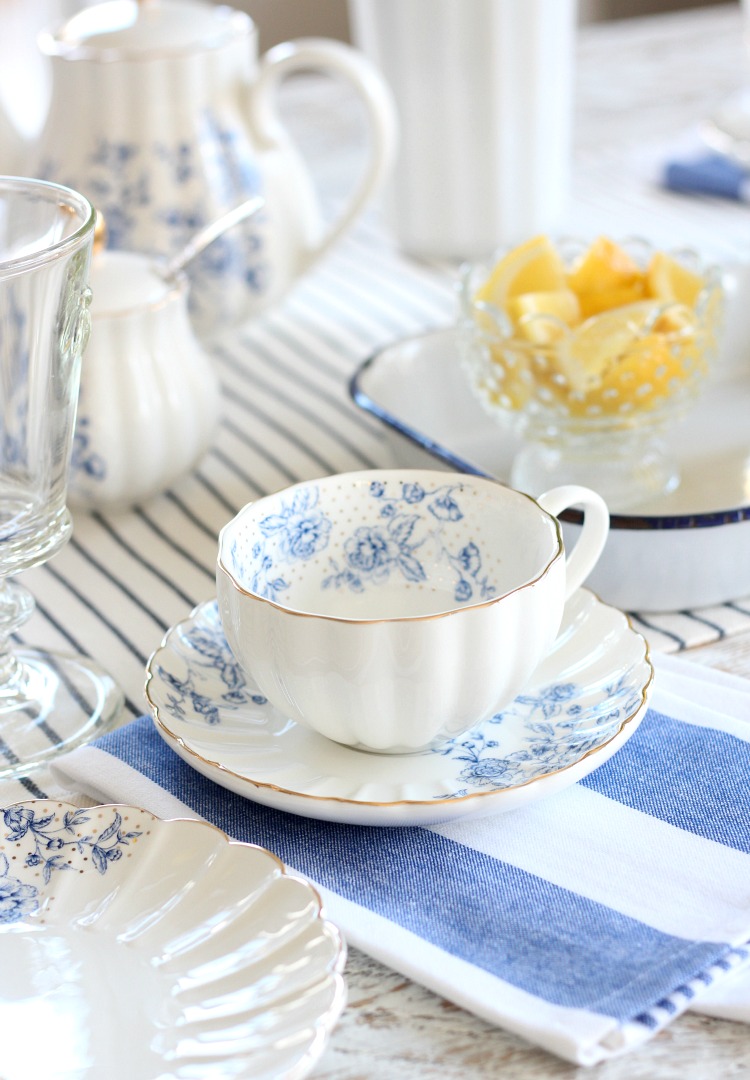 Of course, I couldn't stop there. I had to add the matching set, including the dessert plates, sugar & creamer, tea pot and adorable tiered server.
All of these would make perfect gift ideas for Mother's Day too.
The gold-trimmed flatware was the icing on the cake. Of course, nothing's too fancy-schmancy for afternoon tea.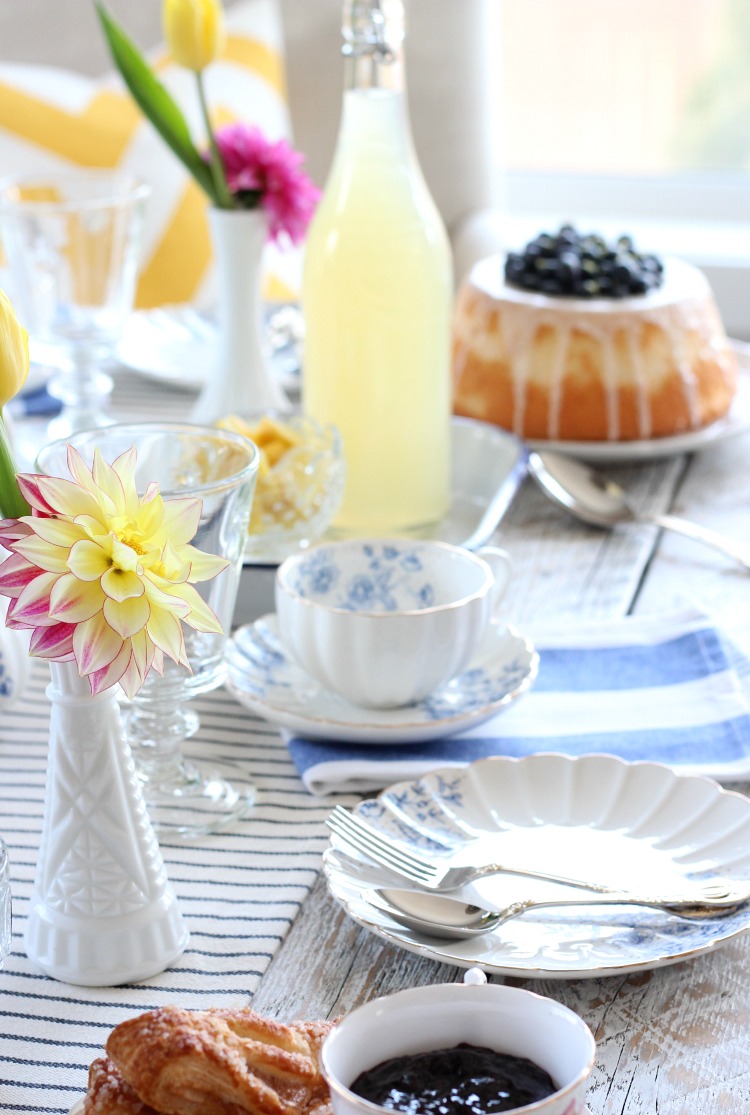 I kept the flowers simple by arranging grocery store tulips along with dahlias I snipped from outside (yay for gardening season!). Both options are a great way to save.
Of course, I jump at any chance I can to pull out my milk glass vases. Use whatever you have on hand, even glasses or jars.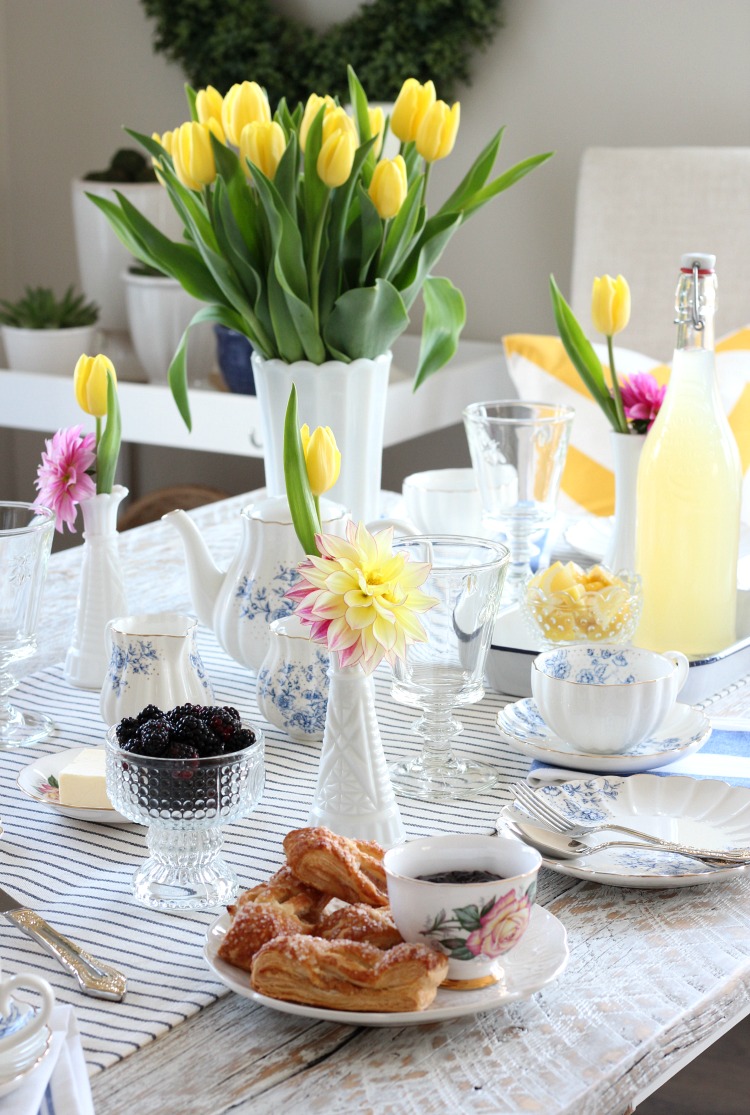 Tea Party Food
My husband and son were eyeing up this blueberry and lemon angel food cake. Do you need to put "Don't Touch!" sticky notes on food sometimes too?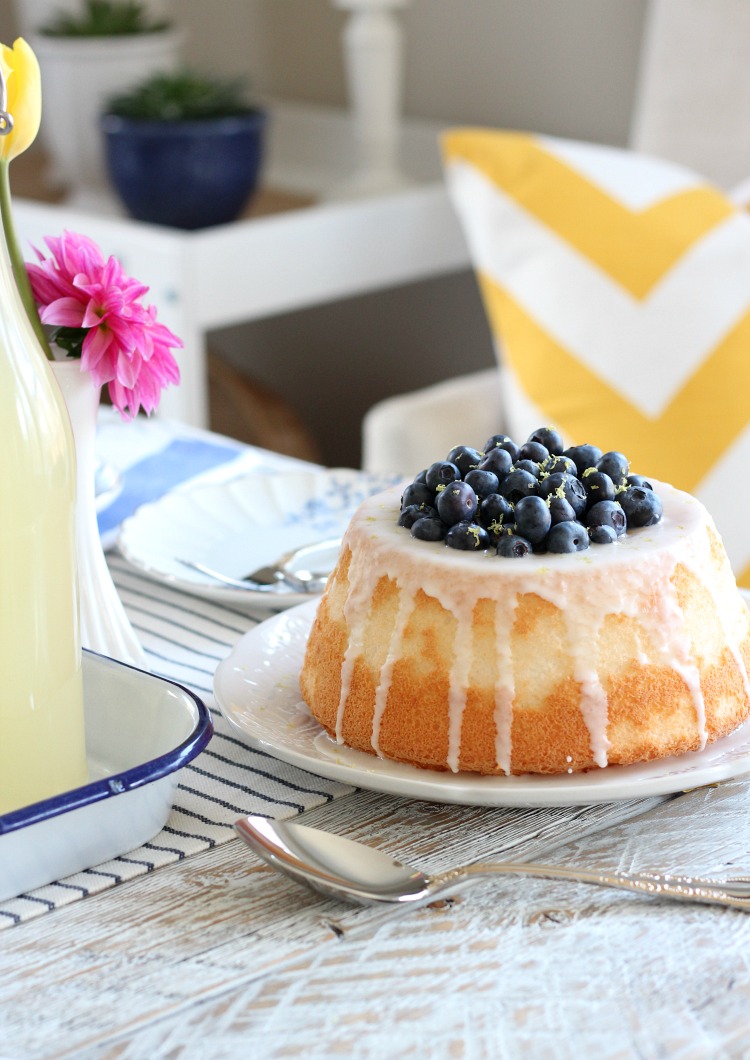 It looks quite impressive, but was super easy to make. I love these half-made-homemade cake recipes that are quick to throw together. Perfect for afternoon tea or Mother's Day dessert. Fresh blueberries on angel food are so delicious!
I also have an easy strawberry angel food cake version you may want to try.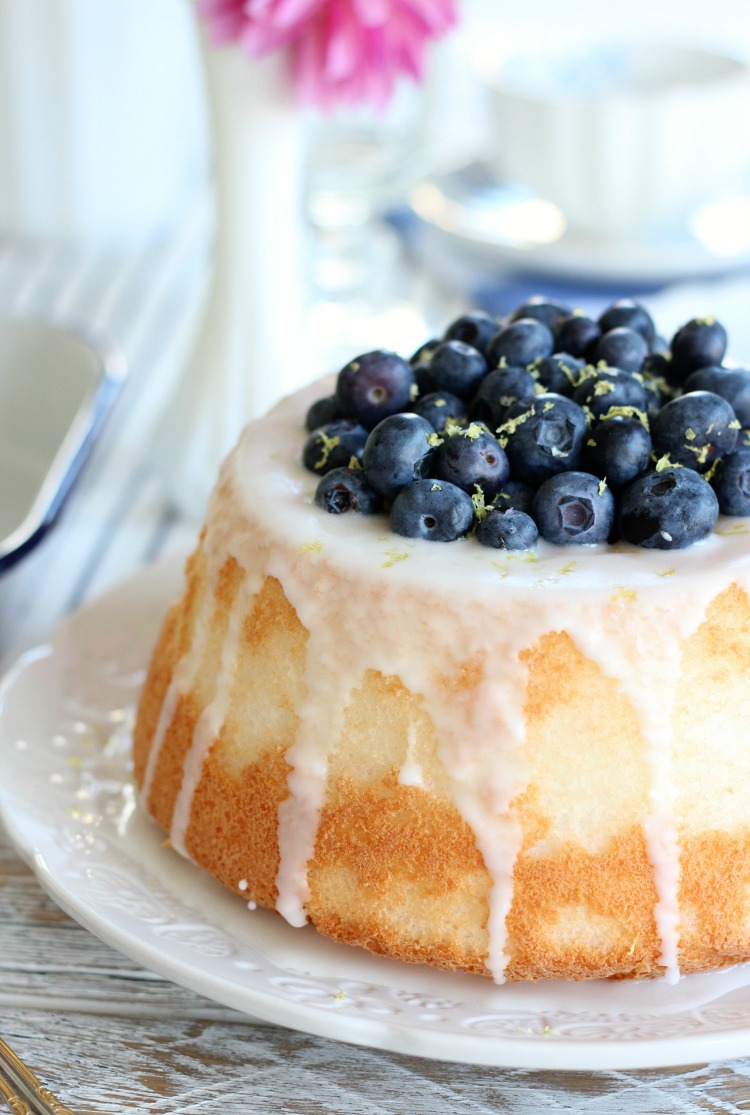 I picked up the scones and pastries at a local bakery. Usually I bake from scratch, but for gatherings I cheat a little sometimes. Mother's Day doesn't need to be complicated.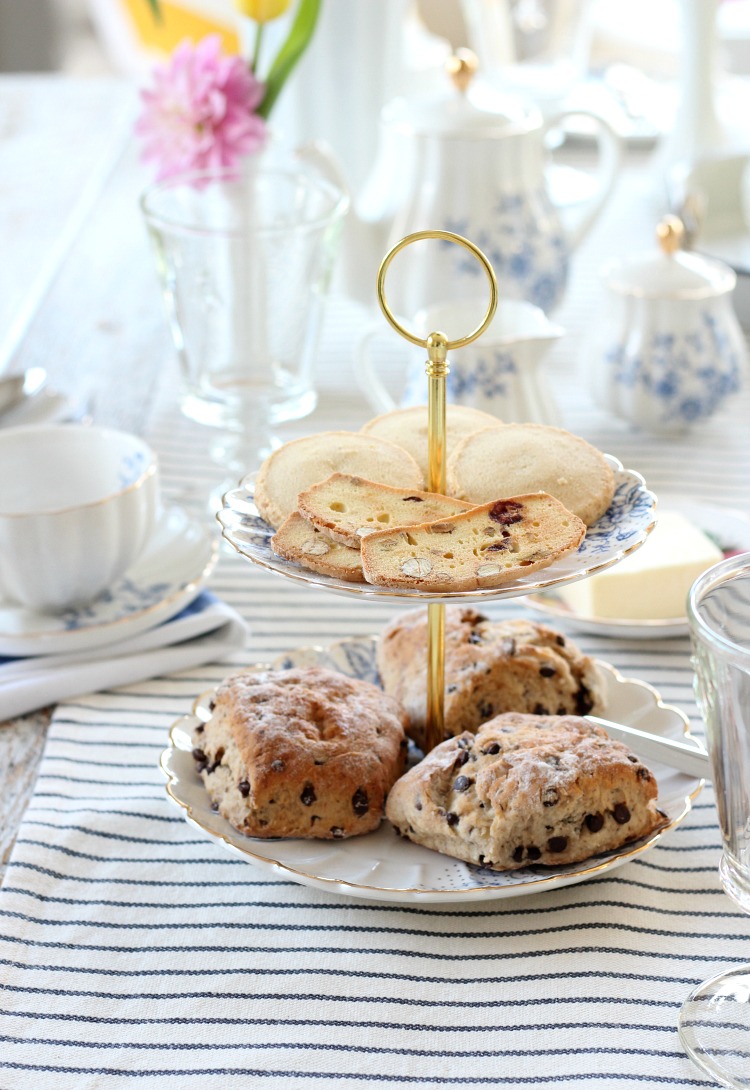 You may want to check out the recipe for my honey and rosemary blackberry jam. I served it in my grandmother's tea cup for a bit of nostalgia.
As you probably know, I enjoy mixing a bit of old and new when creating a tablescape. It always makes it more interesting (and budget-friendly).
Thrift shops are a great source for vintage dishes and other decor.
I also made some refreshing lemonade using sparkling water, freshly squeezed lemon juice and simple syrup. This lavender and blackberry sparkling lemonade is another recipe you may want to try.
Aren't the stemmed glasses with bees adorable?!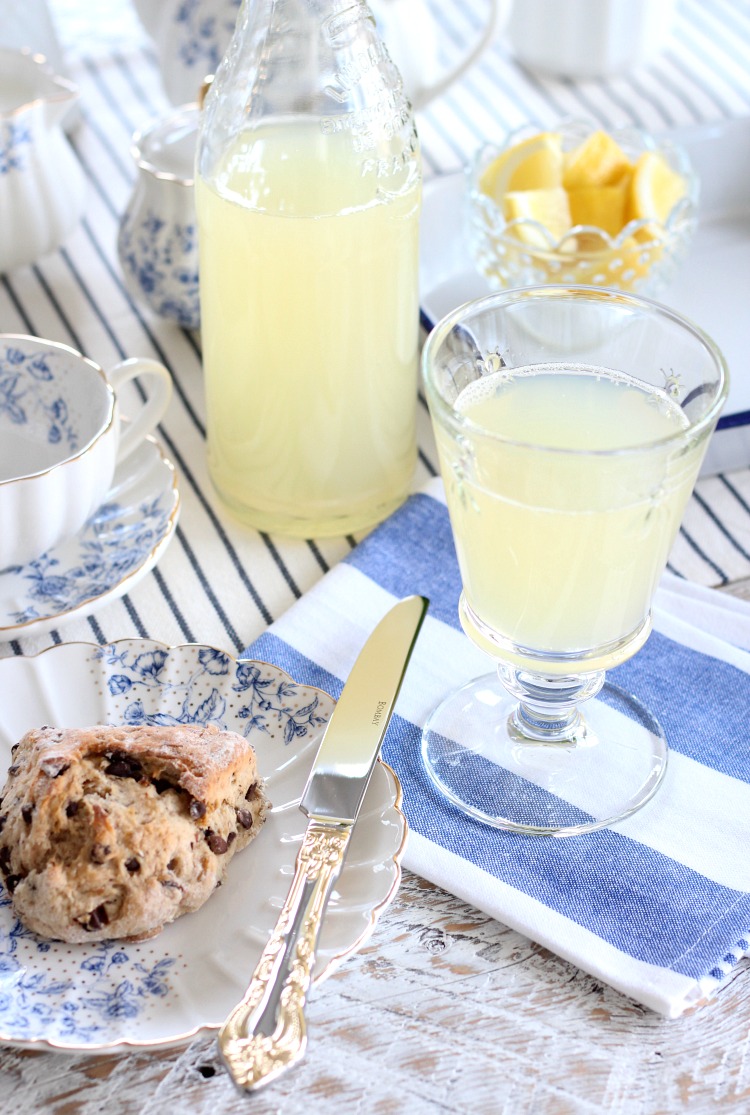 And, of course, afternoon tea calls for delicious tea for mom! Do you prefer green, black, white, something else?
I love that pretty tea pot with delicate blue flowers. Perfect for spring!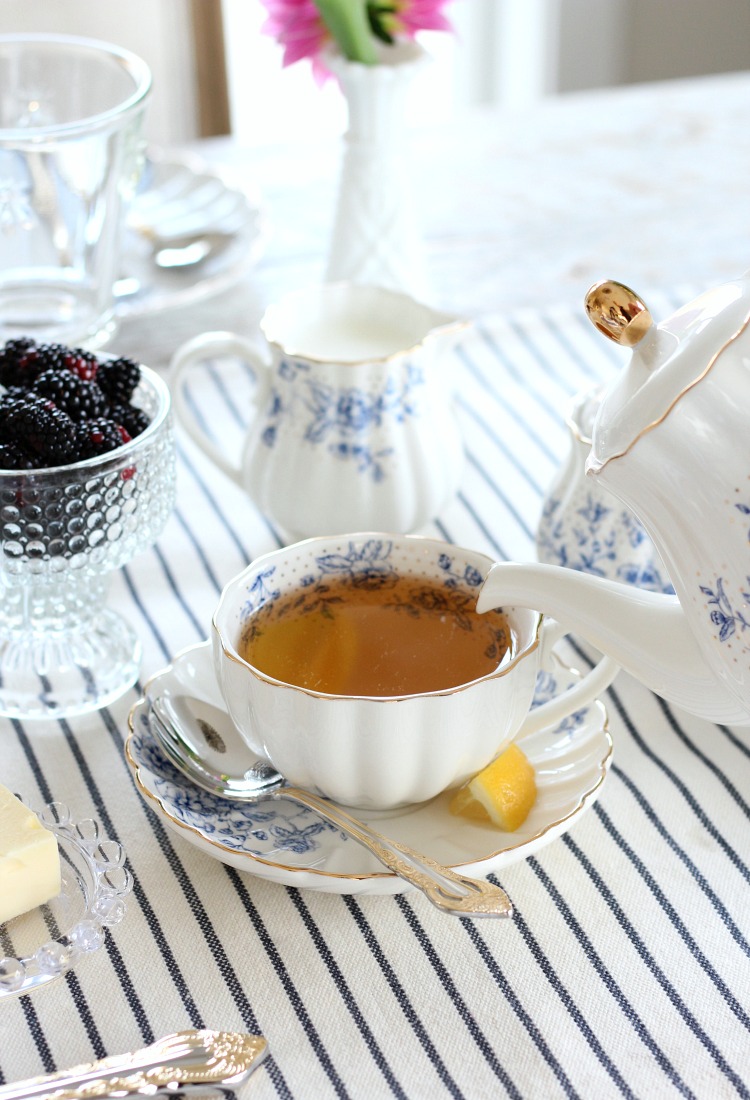 Tea is the perfect complement to any sweet treat.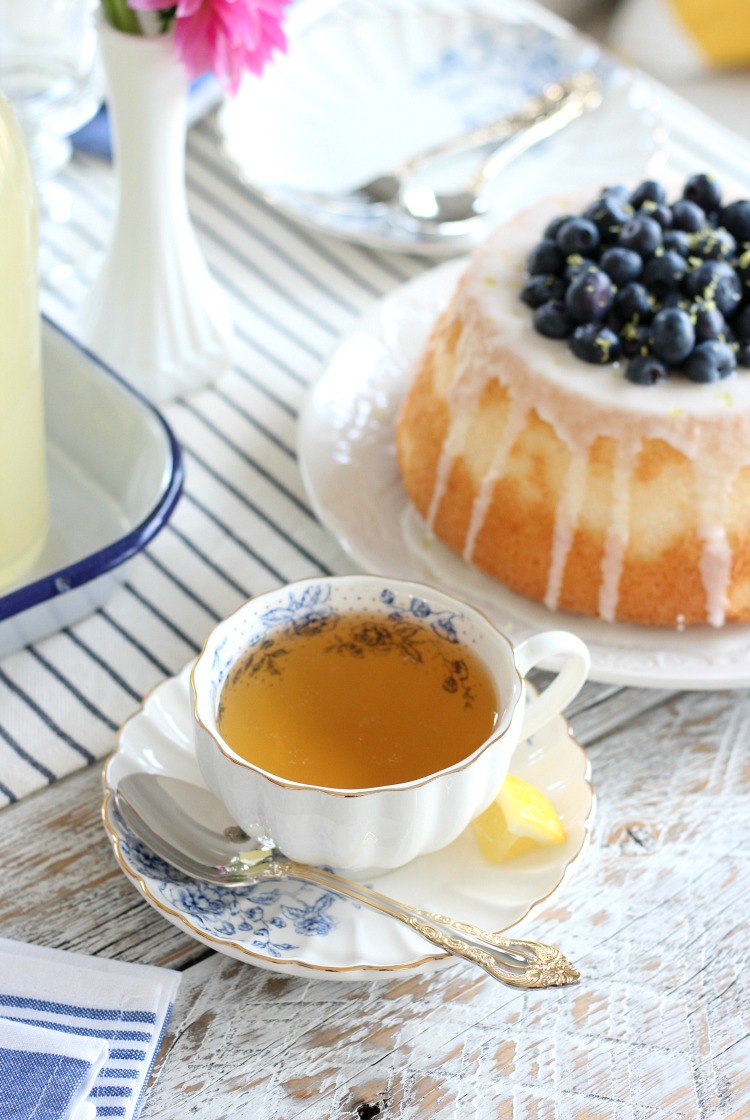 Here's to celebrating Mother's Day with a lovely afternoon tea! I hope you enjoyed my afternoon tea table setting ideas :)
Be sure to pin these Mother's Day afternoon tea ideas for later!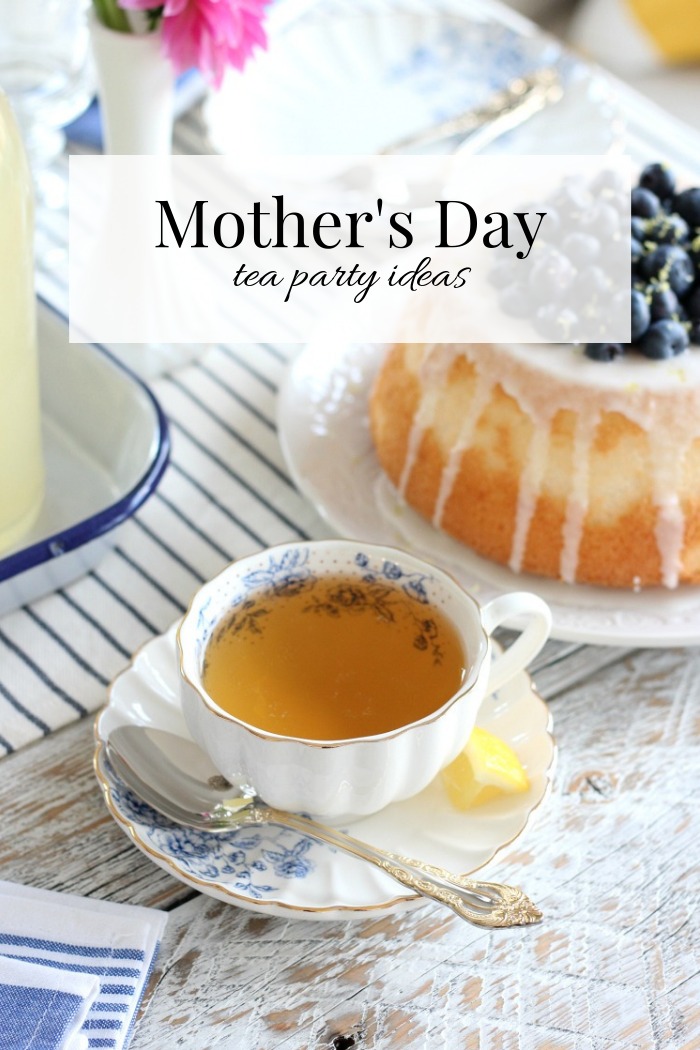 Want more holiday and seasonal ideas like these sent directly to your inbox? Be sure to SUBSCRIBE.
Wishing you a lovely Mother's Day,