Sweet Valentine's Day Table Setting Ideas
Create a Valentine's Day tablescape filled with pretty pink decor and tasty treats. A lovely and fun way to celebrate your sweethearts at home.
Are you looking forward to celebrating Valentine's Day? As with most years, we're avoiding the crowds and have made plans to enjoy a quiet dinner at home as a family. If you're thinking along the same lines and need a little inspiration, I encourage you to try some of my quick and easy ideas for creating a sweet Valentine's Day table setting.
This post is part of a seasonal blog hop hosted by Happy Happy Nester, Modern Glam and My 100 Year Old Home. Be sure to check out the other fantastic ideas from my blogging friends linked at the bottom!
Valentine's Day Table Setting Ideas
Valentine's Day is one of my favourite times to pull out my pretty dishes and decor to put together a lovely table setting. I simply can't resist the opportunity to mix shades of pink and white, along with a little red.
Some links used in this post are affiliates. Please refer to my disclosure policy for more information.
White Table Runner and Napkins
To kick things off, I made a table runner and napkins using a white cotton-linen drapery panel I found buried in a closet. It's a no-sew technique I've used many times to create frayed-edge napkins that are budget-friendly and super easy. Of course, I love repurposing whenever I can.
To dress the napkins up, I tied pink satin ribbon around each one, then tucked in a few flowers. This is where you could also attach place cards for larger groups or little love messages. Adding layers creates more interest, so be creative.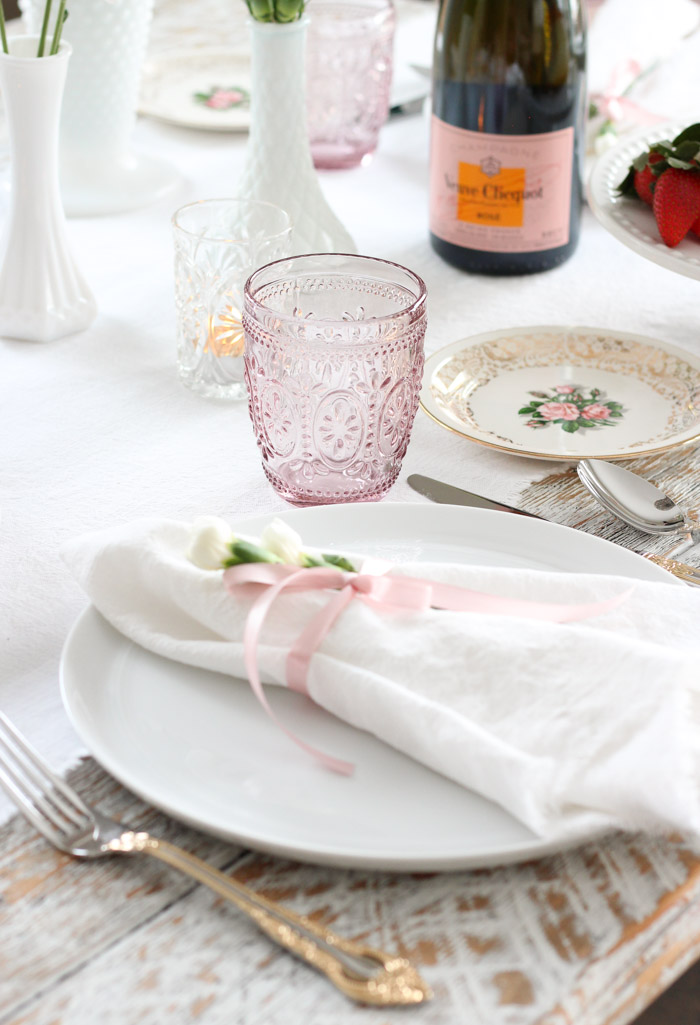 Pink and White Dishes
For the dishes, I used a mix of vintage and new. We were in need of white dinner plates, so I picked up this set on sale at Crate & Barrel. You simply can't go wrong with tableware staples like these. I paired them with vintage pink and gold floral dessert plates I found at the thrift store. I think they add a romantic vibe, which is fitting for Valentine's Day.
You may recognize the pink tumblers, gold-trimmed flatware and glass candle votives from other table settings I've put together. I always try to use what I already have on hand in new ways. It's surprising what we have hiding in our cupboards, right?!
Simple Flowers
For the flowers, I picked up inexpensive pink and white bundles from the grocery store and placed them in milk glass vases.
Be sure to use varying heights and textures when grouping vases together as a table centerpiece.
I had a few carnations left over, so I cut the stems down and arranged them in a vintage depression glass creamer. It's an easy way to elevate the look of this inexpensive flower. Use whatever you have on hand as a vase.
As you can see, Valentine's Day table decorations can be a mix of whatever you already have, along with some inexpensive add-ons.
Easy Valentine Desserts
Of course, a Valentine's Day table isn't complete without sweet treats. Ready to indulge a little?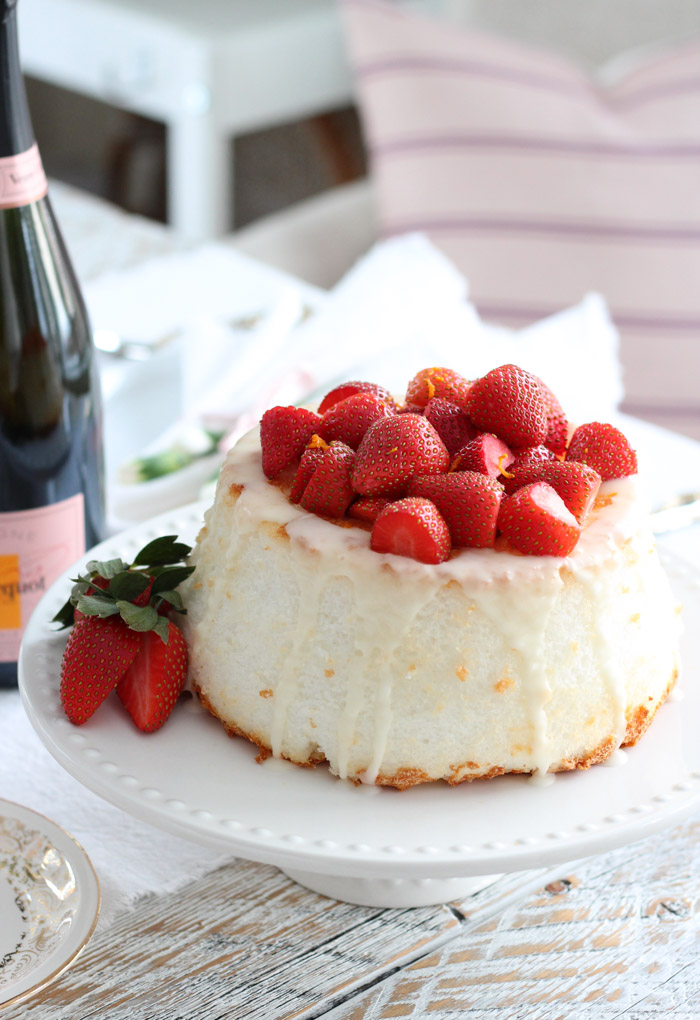 Strawberry Angel Food Cake
As with most table settings I put together, I started with a delicious dessert to place on my white cake stand. This cake is a combination of store-bought angel food, orange glaze, fresh strawberries and orange zest. It's super easy to throw together and totally scrumptious served with a bit of whipped cream.
If you're wanting to make your own, follow the easy steps I used to make this blueberry lemon angel food cake, substituting strawberries and oranges for the blueberries and lemons. It's one of the easiest Valentine's Day desserts you'll ever make!
Heart Cookies
I also baked heart-shaped sugar cookies using a recipe I've been making since I was a girl. I didn't get around to icing them yet, but I still have a little time.
Be sure to check out more Valentine's Day recipes you can make and bake!
Pink Drinks
For drinks, I put together this Valentine's Day punch in a glass beverage dispenser.
To make, simply combine pink grapefruit juice, pink grapefruit soda and sparkling water to your taste, then top with ice and pink navel orange slices. So refreshing! Add a bit of vodka or rum for a spiked version.
Of course, Valentine's Day deserves a special toast. I can't wait to open this rosé champagne I got from my dear friend for my birthday. Spoiled, right?! Don't forget about your gal-pals this Galentine's Day.
I also have a pink hot chocolate recipe with fresh strawberries if you're finding it extra cold on Valentine's Day this year.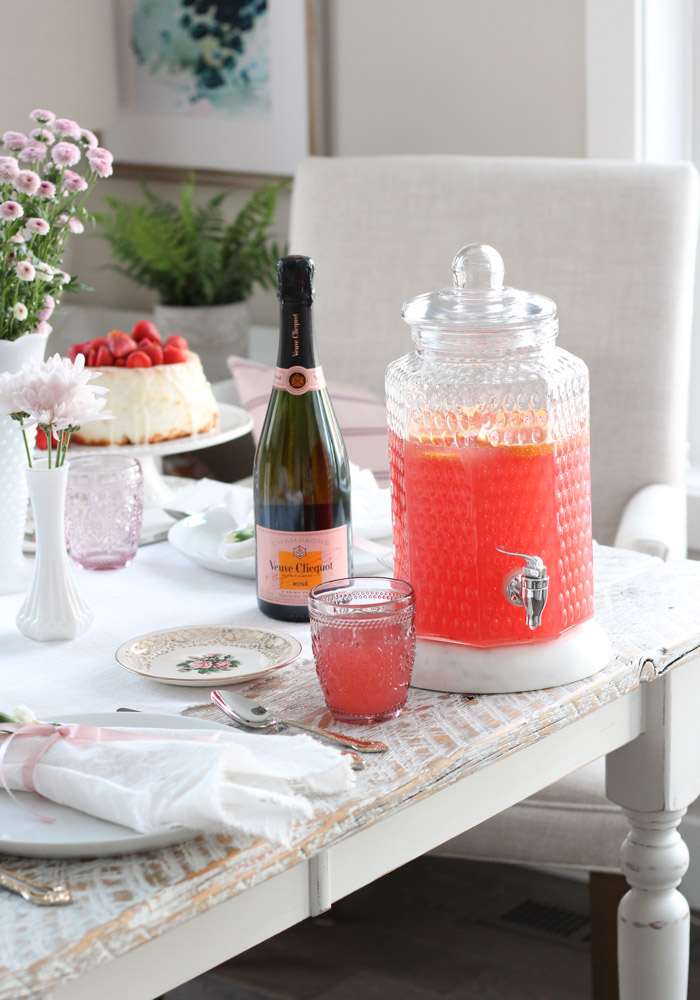 Valentine's Day Table Setting Sources
Looking for an item seen in this post? Check out the links below (for exact and similar). And if you don't see it, be sure to check my Shop My Home page.
Love that abstract art hanging in the background? Get it at Lindsay Letters. And that pink linen pillow is part of my friend Jen's collection at City Farmhouse and Co.
More Stay-At-Home Valentine's Day Ideas
Be sure to check out all of these incredible Valentine's Day table ideas my friends are sharing today. Enjoy!
Valentine's Day Table Decorations // My 100 Year Old Home
10 Minute Valentines Tablescape // Modern Glam
How To Set a Beautiful Valentine's Day Table Setting // My Sweet Savannah
Valentine Table with Envelope Napkins // Tatertots & Jello
Simple Tips for Valentine's Dinner at Home // Lemon Grove Lane
How do you like to celebrate Valentine's Day at home? Snuggle up for a family movie night? Cook a delicious dinner? Something else? I'd love for you to share your ideas in the comments!
Want more holiday and seasonal ideas like these sent directly to your inbox? Be sure to SUBSCRIBE.
Wishing you a fantastic Valentine's Day!