Bench Styling + Pillows from City Farmhouse and Co.
Looking for bench styling ideas? See how I created a welcoming entrance out of an awkward space using a vintage bench and new linen pillows from City Farmhouse and Co.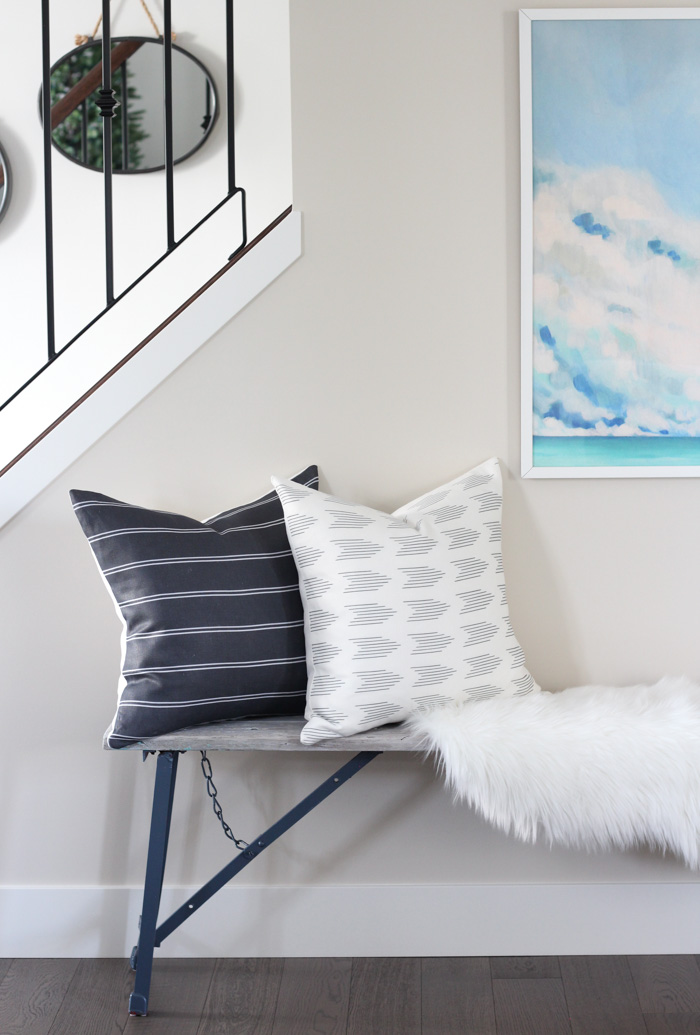 I'm excited to share the little bench makeover I tackled on the weekend, plus how I styled it using beautiful pillows from City Farmhouse and Co. If you follow along on Instagram, you may have caught the sneak peek of this project, as well as a few features of these printed linen covers.
Before I share the details, I first want to introduce you to my friend Jen, the blogger behind City Farmhouse and creator of this gorgeous new line of textiles!
I've been following Jen's journey for several years now. Through the ups and downs, I always find her so inspiring. I believe it's our long list of similarities and her genuine nature that keep me feeling connected to her even though we live so far apart. What I adore most is how she drew strength from a time of sorrow (the loss of her father) to finally realize her longtime dream of creating and launching City Farmhouse and Co.
I'm pretty sure Jen doesn't know this, but she's one of the reasons I keep pushing through my own struggles this year. Not only are her positivity and creativity contagious, her bravery and resiliency are signs of hope. Beyond the clouds, there are always rainbows…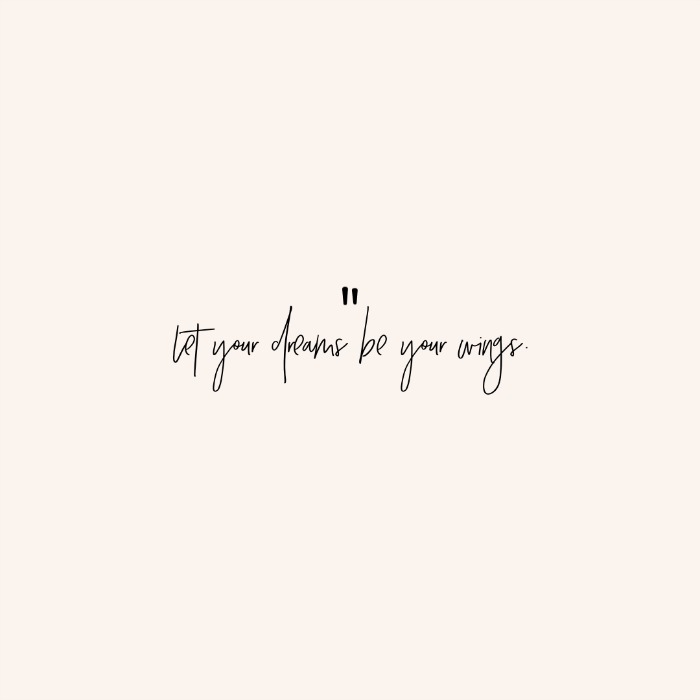 Jen's story reminds me to stay true to myself and follow my dreams despite the obstacles and challenges in front of me. Passion allows something truly amazing to be born. You know, make space for something new to come into your life. Do you still believe or have you gotten lost along the way?
This little video is your nudge…
Printed Linen Pillow Covers
Okay, let's talk about these pillows! Not only is the story behind the creation of the pillow line meaningful, the printing process is eco-friendly too. Rest assured, only one tablespoon of water is used to print each pillow, which is loads less than conventional fabric printing. Plus, the textiles are digitally printed using biodegradable water-based inks in a non-toxic finish. Amazing, right? I LOVE that Jen is also giving 5% of every purchase to Girls Inc.
Jen's Montauk Collection is so beautiful, I had a difficult time narrowing down my selections to only a few…
Pillows were kindly provided for review purposes. As always, opinions in this post are my own. As well, some affiliate links are included for supplies in this post. Check out my blog policies here to find out what that means.
Of course, you can take a look at the full lineup of patterns and colours, as well as more details at City Farmhouse and Co.
Now that you have the backstory, let's get to my bench makeover and how I styled it!
Vintage Bench Makeover Using Paint
If you've been a long-time reader, the rustic bench may look familiar. I salvaged it from my parents' farm years ago and repurposed it to create a container garden. Later, I brought it inside as part of my Christmas decor.
The red painted legs seemed fitting at the time, but I wanted a bit more neutral look for year-round (inside or out). So, I painted them a deep blue-grey colour called Nantucket Grey from DecoArt.
I also sanded and lightly white-washed the top using a mixture of equal parts clear creme wax and matte chalk paint in Everlasting.
How to Decorate a Bench with Pillows
With the oversized artwork already hung, I placed the bench a little off-set to allow space for the pillows on the left. To soften its hard lines, as well as bring in a bit of texture, I added a faux sheepskin to the top.
For the pillows, I selected Surfside Indigo and Finley Night in 20 inch size.
To me, the difference in pattern and scale (stripes and arrows), as well as the contrast in colour to the wall, makes them the perfect choice for this area.
Both pillows also work with the colours and decor we have throughout our main floor, including our living room area rug. The background of the lighter pillow is a beautiful soft white similar to our trim and ceiling colour.
The pillows do a great job of softening the space and making the awkward wall near our entrance (to the right) feel more welcoming. Agree?
To make the pillows look full, I suggest using a good quality down insert that's one size up. I used 22 inch pillow inserts from Pottery Barn that I already had on hand.
They work perfectly whether you're styling a bench, bed, sofa or any area of your home with pillows.
You'll definitely be impressed by the craftsmanship of these pillows I used for my little bench styling project. And, if you're anything like me, you'll feel the heart and soul Jen poured into them ♥.
Looking for More Bench Styling Ideas?
Here's a grouping of pillows Jen put together to style a bench of her own. I love the mix of colours and patterns. I may have to add a few more to my collection!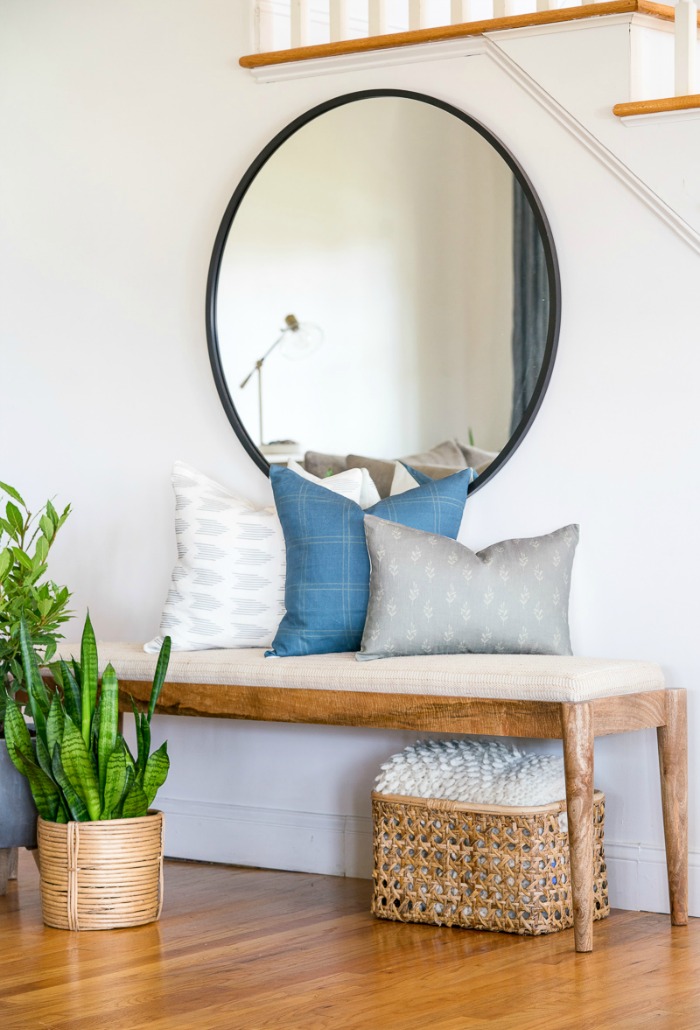 The round mirror she used is very similar to one I hung above our fireplace. These classic decor pieces are very versatile.
Lastly, if you're curious about the pink linen pillow I shared on IG stories, I'm using it in our dining room. I just got started on holiday decorating, but here's a little preview…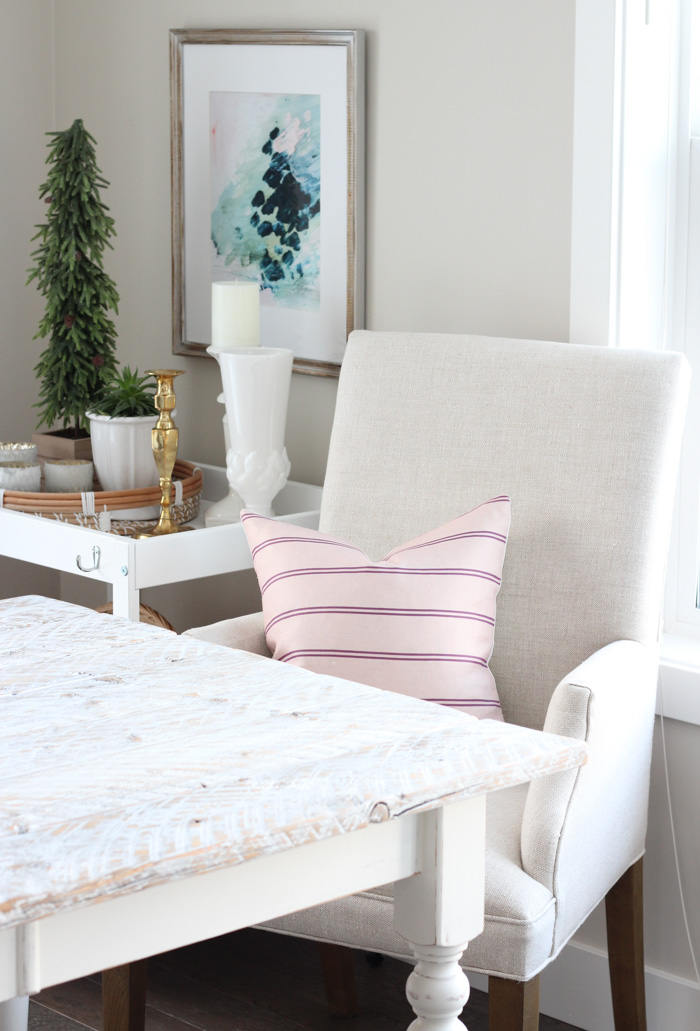 It's called Surfside Berry, and goes perfectly with the Christmas decorations I have planned (which are similar to last year's). Maybe one of Jen's pillows will inspire your holiday decorating scheme? Go take a look!
Want more home decorating ideas like these sent directly to your inbox? Be sure to SUBSCRIBE.
Have an inspired day,