Want the designer look in your bedroom? Marissa Waddell shares some of her key considerations for styling a bed and developing a striking pillow story in the bedroom.
How was your weekend? We were bombarded with rain, so all outside projects were put on hold until it dries up a bit. However, it did allow me to focus on organizing my office for a while and I'm getting close to having it just the way I want it. Those of you who have been asking about my office closet makeover, I promise you will see the after photos soon. Between our basement renovation, the Outdoor Extravaganza and wrapping up client projects before summer holidays, that particular project took a back seat. I'm sure some of you can relate!
A while back, I stumbled upon a clever visual on Pinterest for arranging pillows on a bed. After tracking down the source, I discovered that Marissa from Marissa Waddell Interiors and Roost was the creator and I asked if she would share some tips for styling a bed. Thankfully she agreed, so here goes…
Styling a Bed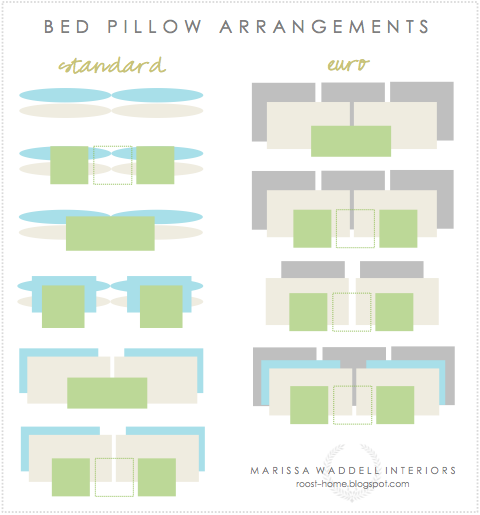 One of my favorite decorating duties is to pick out and arrange pillows. There are literally a million ways to style pillows on a bed! I made this little cheat sheet of my 10 favorite ways… but how do I decide which one to use? That decision process is usually three steps for me:
1. How big is the bed?
King-size beds usually require arrangements with two or three big Euro pillows. Queen-size beds can handle standard or Euro arrangements. Most of these arrangements work for twin-size beds, too– just half the number of pillows (round down for odd numbers).
2. Is there a headboard?
The height and visual weight of the headboard have a big influence on which arrangement is most appropriate. Typically, the bigger the headboard, the bigger the pillow arrangement.
3. Reality check.
As much as someone might love layers upon layers of pillows, it's sort of a waste if they're not going to spend the time to make that kind of bed every morning. For busy people–parents with small children, especially– I usually suggest a simple arrangement with a showstopping print.
It's as simple as that!
Thank you, Marissa! Your cheat sheet for styling a bed is super handy and I love that you consider both form and function in your pillow selection process.
So, do you keep it simple and paired down or do you like a bed full of pillows? I'd love to know.
Enjoy your day!