Tips for Mixing Throw Pillows in the Living Room
Learn this simple formula for mixing throw pillows on your sofa and chairs the stylish way. An easy way to update the look of your living room.
My love of decorating is in full swing as I focus on freshening the look of our home for spring. Like many people, I don't feel like a room in our house is ever completely done (just ask my husband!). My approach is curating a room over time to allow character to develop, resulting in a true representation of our style.
Sometimes that means having sections of bare walls until I find just the right art or shelves that look sparse for a period of time. I'm not a believer in rushing the process, as I don't want our home to look like it came from a page in a catalogue.
One of the quickest and simplest ways I like to add personality to a space is using throw pillows. In our living room, I have down/feather inserts in varying sizes and purchase or sew removable pillow covers to easily change up the look with the seasons. Since some of them are neutral, I usually only end up switching out a couple at a time to freshen up the look. That's when I tend to play around with trends.
Quite often, I'm asked about mixing throw pillows, including the best sizes to use and how to combine patterns effectively. In many cases, it comes down to personal preference, but there are a few basic guidelines I like to follow.
How to Select Throw Pillows
Generally, I like to combine:
1 or 2 large-scaled patterns
2 or 3 small-scaled patterns
1 or 2 neutral patterned or textured fabrics
1 or 2 solid coloured fabrics
Of course this depends on the fabric choice for the upholstered furniture. Assuming it's fairly neutral, this formula tends to work well.
Always consider other decorative items in the space, such as an area rug or artwork. Of course, decorative pillows don't have to match other accessories exactly, but they should relate in some way.
Be sure to consider colours in adjoining rooms too. If green is a dominant colour in your kitchen and can be seen from the living room, you may want to select a green throw pillow (or one that has a touch of green) to create flow from room to room. In our house, blue is a common thread.
Some links used in this post are affiliates. Please refer to my disclosure policy for more information.
Throw Pillow Options for our Living Room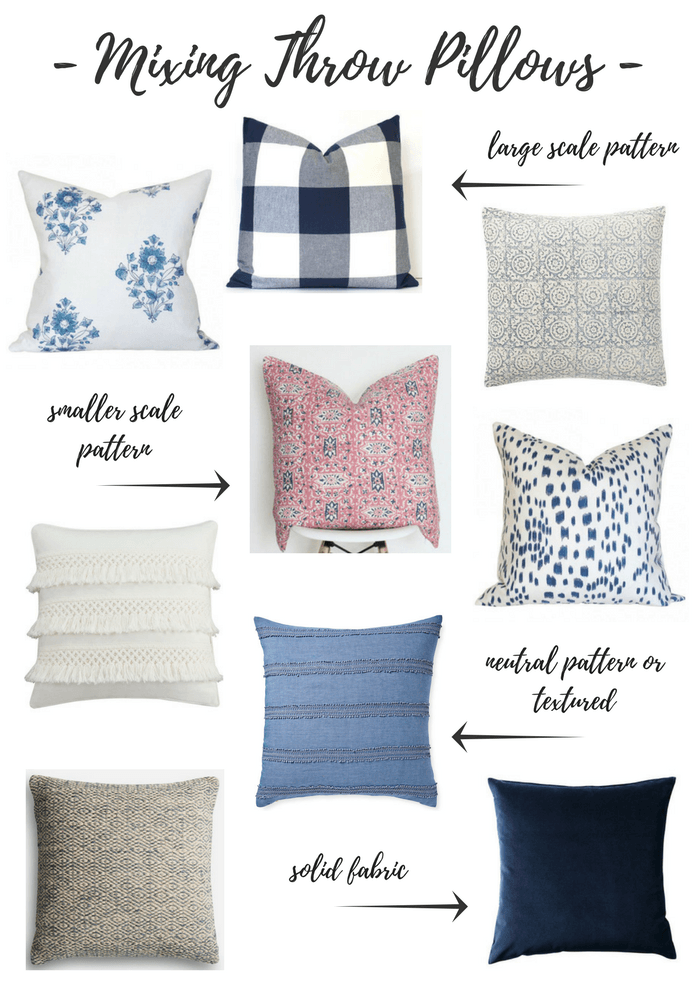 Beatrice Bouquet | Blue Check | Medallion | Cordoba Pink | Les Touches Blue | Fringe Appliqué | Sevilla Cornflower | Sosa Gray | Sanela Velvet
Of course, budget-friendly look-alikes can often be found at HomeSense or HomeGoods. I don't mind splurging a bit on pillows for our living room since it's not a hard-working space, so those pillows tend to last longer. For our family room, where some tend to squish them or spill stuff on them (you know who you are!), I go for cheaper options.
One more thing to consider is the size and placement of throw pillows.
Formula I like to follow for an average sized sofa is:
Place 2 large square pillows on either side of the sofa (about 22")
Place one square (20") pillow on one side and a smaller square (18") pillow on the other
Add a smaller rectangular pillow to the side with the 18″ pillow
Adjust the sizes and quantity up for a sectional and down for an apartment-sized sofa.
So what about chairs? For larger chairs, I often add a square pillow. If they're smaller or very tailored, I usually select a smaller rectangle pillow. Finally, if two chairs are the same, I use identical pillows on both.
If you prefer fewer pillows, that's okay. Sometimes adding a bit of texture is all that is needed when decorating with throw pillows. Don't overthink it! Throw in an oddball pillow if that's your personality or stick with neutrals if that's more your style.
Pillow Groupings on Sofas that Caught my Eye
Blue and White Living Room by Serena & Lily
Living Room by Design Manifest | Photo by Courtney Apple Photography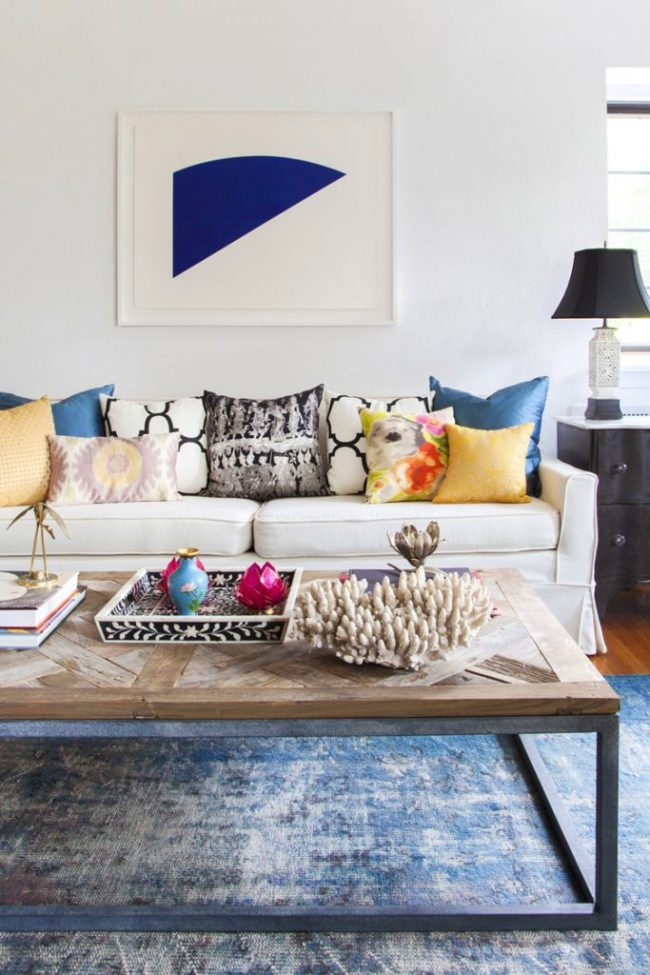 Living Room Makeover by Vintage Revivals
Spring Living Room by Zevy Joy
Living Room by House of Jade Interiors
Shop Throw Pillows

You can also check out the pillows I selected to style a bench near our entryway. Such an easy way to make a space look cozy!
What's your favourite way to freshen up a space for a new season? Do you change out your throw pillows or add other accessories instead? Any tips for mixing throw pillows or do you wing it?
Want more home decorating ideas like these sent directly to your inbox? Be sure to SUBSCRIBE.
Sending you sunny skies!