Our Colourful Christmas Home Tour
Ready to take a peek inside our home decorated for Christmas? See how I used colourful decor to create a pretty and festive look in our kitchen and dining room. Pink, blue, gold and more!
It's beginning to look a lot like Christmas!
Today, I'm excited to be taking part in the annual Canadian Bloggers Christmas Home Tour hosted by my friends Christina and Shannon. You may recall last year's Nature-inspired Christmas Tour and my White Christmas Tour from the previous year. Many of the same bloggers are playing along, as well as some new. Links to each are located at the bottom of this post, so please take a look as they unfold. I'm certain you'll leave with all kinds of holiday decorating ideas and inspiration!
Colourful Christmas Home Tour
Earlier this week, I shared my Christmas Tablescape with pops of pink, blue and gold decor. It's definitely a departure from my usual neutral holiday decorating scheme. For some reason or another, I was craving more colour.
I think it may have to do with the shorter days this time of year and, perhaps, the feelings of needing to let go of perfectionism and too much structure in my life. Sometimes I think the older we get, the more serious we become (and it's all in our minds).
Some links used in this post are affiliates. Please refer to my disclosure policy for more information.
I'm looking forward to taking more chances and allowing my adventurous side to shine through. You know, stop playing it so safe. Maybe this colourful (for me) Christmas decor in our dining room and kitchen is a first look at what's to come in 2019. Not sure…
Pink Rose Centerpiece
Did you notice the bright pink roses I added to the table? While I was out and about earlier this week, they caught the corner of my eye as I was zipping by. I like to think of them as an early Christmas gift to myself ;)
Thankfully I hadn't moved anything around yet, so I was able to take a few more photos.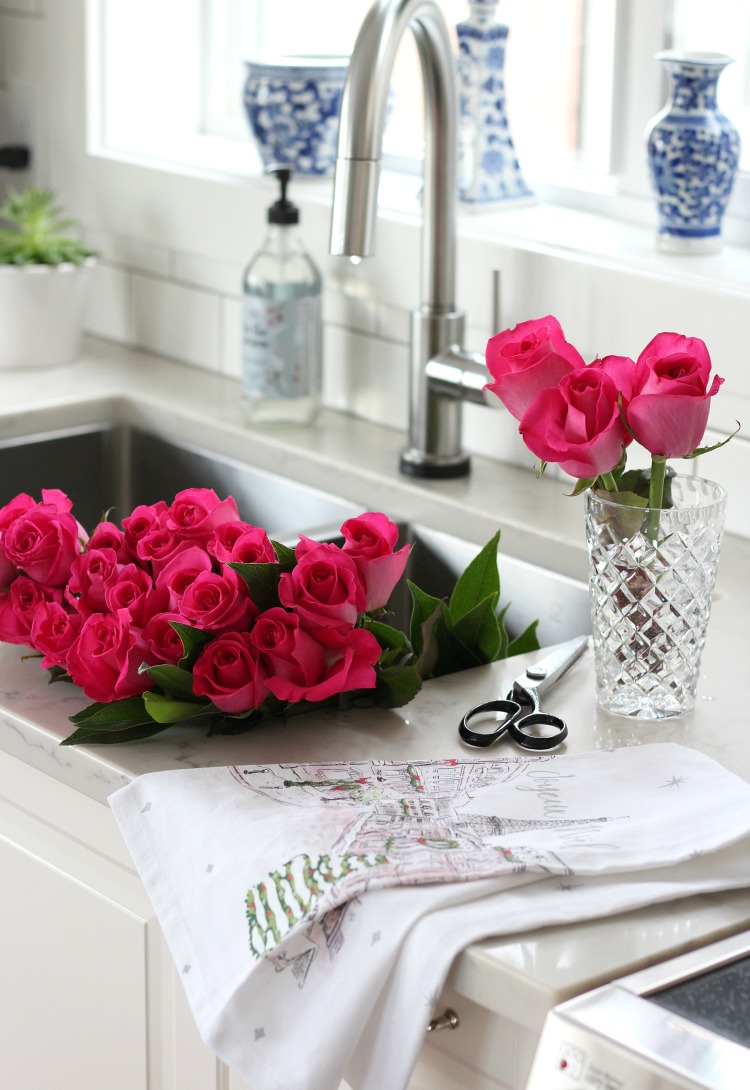 Were they necessary? No. The table setting was just fine without them.
But, I think you'd agree fresh flowers have a way of bringing a room to life. And, boy, do these ones smell amazing!
Colourful Patterned Rug
They just happen to be the same colour as the new patterned rug I recently ordered for our kitchen. HELLO bright pink!
When it arrived, my initial reaction was to send it back. I mean, it's totally different than any rug I've ever had before. Remember, I'm someone who typically goes for neutrals. But, I waited…
I'm sure you've realized by now that it grew on me. In fact, my entire holiday decorating scheme was inspired by it!
When we renovated our kitchen, I selected neutral finishes for that reason. It's so easy to change the colour of our decor from season to season (if I want to). Adding touches of pink here and there was super easy and inexpensive.
Bottle Brush Trees
I still have a thing for bottle brush trees. You too? I'm sure you'll be seeing them again next year!
I was only able to find a few small pink Christmas ornaments, but I think they're pretty against the white backdrop. (Please let me know if you've spotted any in your travels!)
Simple Kitchen Decor
I decorated very minimally in our kitchen. You'll likely recognize the boxwood wreath as it's just so versatile that I move it around from space to space.
Having white cabinets and backsplash means everything pops against them, so I really don't have to add much decor for high impact.
The mercury glass trees and ceramic white houses are new Christmas decorations (not from the thrift shop ha ha). I also added a few fairy lights that I had on hand for some fun. I love how they glow in the evening.
Shop Ceramic Houses

Christmas Cookies
I always like to do a little baking during the holidays. Two of my favourite cookies are chewy ginger and jam thumbprint. Have you made anything yet?
Our son will be home from university soon and will definitely be looking through the freezer! Sometimes, I do leave a few cookies covered with a cloche or pretty glass container on the countertop.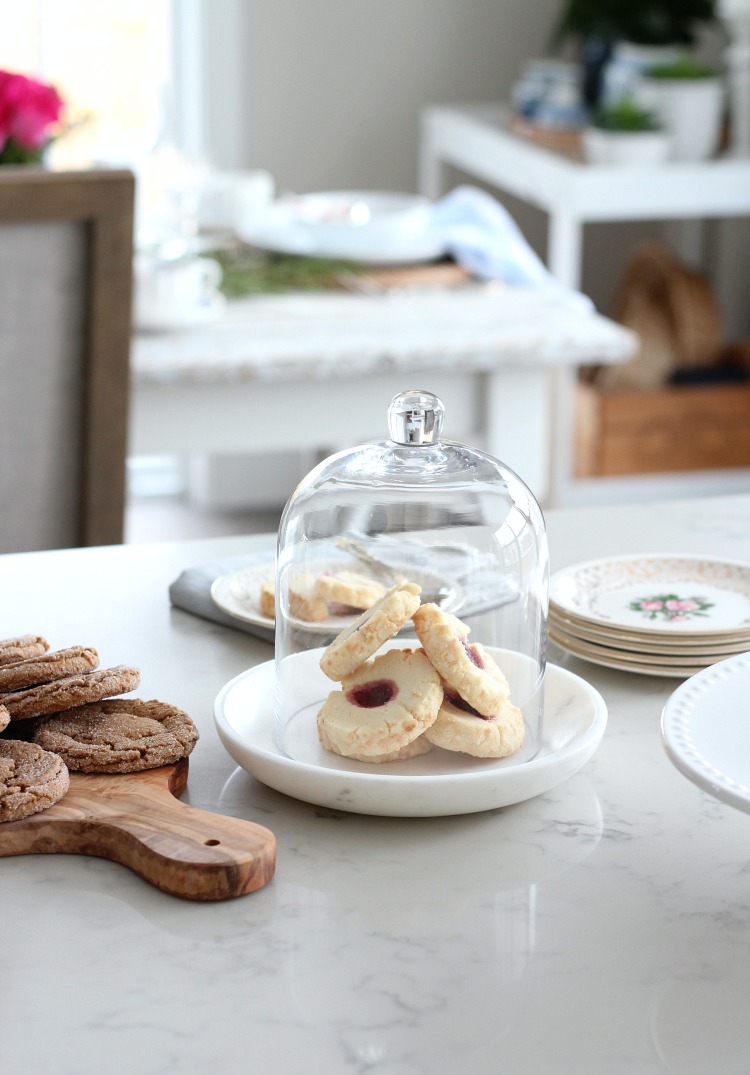 Unfortunately, I find them hard to resist!
Well, that's it for today. I'm hoping to share our Christmas Tree and other parts of our home soon (time permitting). Be sure to follow along on Instagram so you don't miss a thing.
And, finally, here's a sneak peek of our living room with more pink Christmas decor!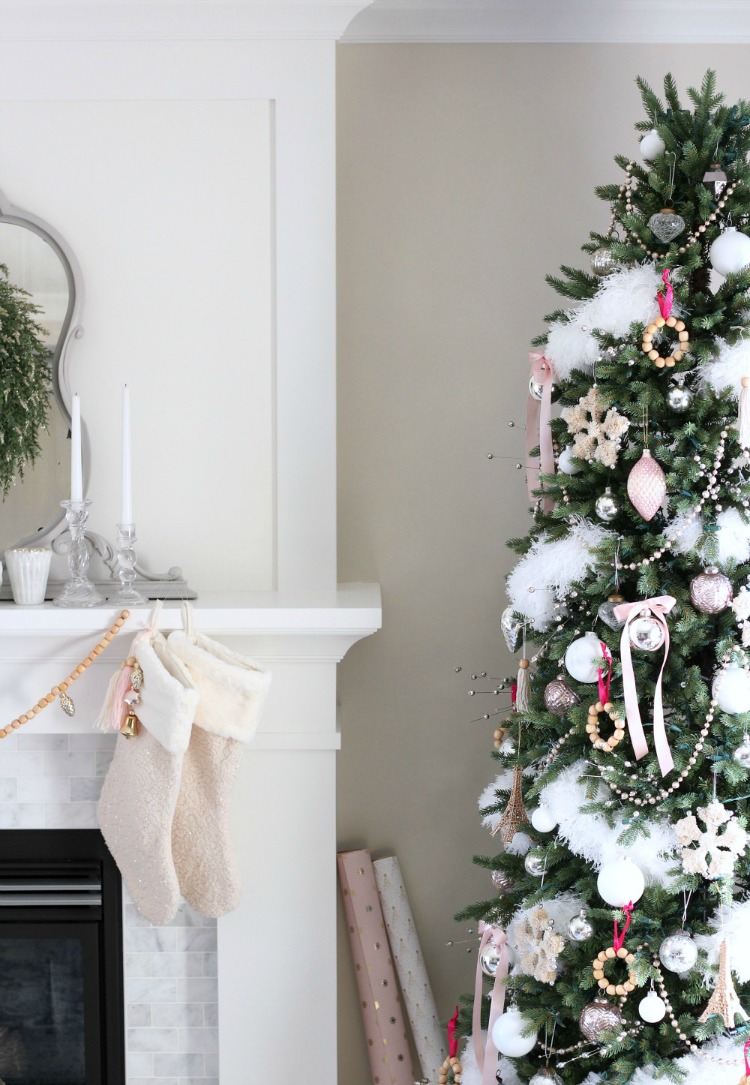 Here are some of the sources for our colourful Christmas home tour if you'd like to recreate a similar look…

More Christmas Decorating Ideas
Now it's time to take a peek inside all of the other beautiful homes in the Canadian Bloggers Christmas Home Tour. Grab a cup of hot cocoa and enjoy!
Wednesday
PMQ for Two | Joy in Our Home | Amidst the Chaos | One House 2 Barns | The Dreamhouse Project
Want more holiday and seasonal ideas like these sent directly to your inbox? Be sure to SUBSCRIBE.
Wishing you a magical season,