Nature Inspired Christmas Home Tour
Get inspired by these beautiful Canadian homes all decked out for the holiday season, including our nature-inspired Christmas decor.
Hello everyone! Can you believe it's December already? Like many of you, I've been very busy decorating our home and getting everything ready for the bustling holiday season. Christmas will be here before we know it, so I'm trying my best to be ahead of the game. I'm really looking forward to spending some much-needed downtime with family and friends. You?
Today I'm excited to be taking part in the Canadian Bloggers Christmas Home Tour hosted by my friends Shannon and Christina. You may recall last year's White Christmas Tour. Many of the same bloggers are graciously opening up their homes for us to take a little peek inside. Links to each are located at the bottom of this post, so please take a look as they unfold over the week. I'm certain you'll leave with all kinds of decorating ideas or simply be inspired to embrace the holiday season.
Ready to get started? Grab your favourite hot drink and get comfy…
Natural Christmas Decorating Ideas
This year, I challenged myself to decorate for Christmas using items I already had on hand. Chalk it up to laziness or being frugal (not quite sure), but I didn't feel it was necessary to change much up. Sometimes, as bloggers, we feel like everything has to look so different from season to season. The truth is, most people simply don't live that way, nor should they feel like they have to. Most of the time, going all out isn't necessary. A few simple changes here and there will make your space look fresh.
Most of my collection is nature-inspired winter decor rather than Christmas per se, so it's easy to add alongside our everyday decor. One thing I've learned over the years is if you go classic, you won't grow tired of it as quickly.
Simple Christmas Table Decor
As you can see, I used a few of the many milk glass vases I've picked up at thrift shops and garage sales over the years. I often use bud vases as candle sticks on a table to add some height, texture and lightness.
Other vintage finds are the pressed glass goblets and silverware. They catch the light beautifully, don't you think? Every table needs a bit of sparkle.
One item I did purchase for the table is the cake stand from HomeSense. When I saw the beaded edge I knew it would work perfectly with my plates and hobnail vase. It'll be perfect for Christmas cookies and other sweet treats. I've only done a little baking so far, but plan on more next week.
For each place setting, I started with a galvanized charger, followed by a frayed edge napkin (I made using fabric from the thrift shop) and a simple white plate. Finally, I topped it off with a handprinted fabric tag and baker's twine tied around the silverware.
I like the simplicity of it all.
Along with our whitewashed reclaimed wood table, the whole thing has a vintage farmhouse vibe, don't you think? Sometimes it lets me forget we're smack dab in the middle of suburbia.
For the table centerpiece, I used a mixture of faux greenery, vintage silver beaded garland (from my grandmother) and some pinecone candles. I love the texture and movement these nature-inspired materials add to our Christmas table.
Do you like the little village I set up using my church cloche and bottle brush trees atop a silver tray? Now that I'm looking at it closely, I should add some faux snow to tie it all together. Decorating for Christmas is definitely an evolution around here.
Is there snow outside where you live? Our ground is bare and I'm finding it hard to get into the Christmas spirit without any. Maybe it's a Canadian thing? Snow and Christmas just go together in my mind.
Getting hungry? Let's head to the kitchen…
Christmas in the Kitchen
Here's some of that baking I was talking about earlier. My husband loves being my official taste tester and, soon, our son will be home from university- yay!
Although I don't do as much as I used to, the holidays are a time when we indulge in sweet treats. This caramel pecan bundt cake is easy to make and tastes delicious!
Of course, it looks so pretty on top of this cakestand that was gifted to me by my sister years ago for my birthday. One can never go wrong with white dishes, right?
I'm always on the lookout for blue and white dishes at thrift shops and garage sales too. My Countryside collection is growing slowly and I should have a full set in about 20 years ha ha!
That's what I love most about having a classic white kitchen. The simplest injection of colour through kitchenware, plants or food brings the space to life. Then, when I'm tired of something, it's easy to change out. I think I may have commitment issues ;)
Looking for a handmade gift idea? This lavender sugar scrub is so easy to whip up. Perfect for neighbours, teachers or holiday hostesses.
Speaking of gifts, let's head on over to our Christmas tree, shall we?
Neutral Christmas Tree and Mantel
With it being so grey outside, it was difficult to take good photos of our tree. Honestly, it looks so much better in person. And with the lights on at night, so, so pretty.
Although it's very similar to last year's tree, I did add a few extra ornaments and changed out the ribbon. I'm working on some new gift wrapping ideas that I'll be sharing with you on Tuesday if all goes as planned.
Did you see the bottle brush tree ornaments I made a couple weeks ago? I think they're quite fun and cute.
I have a thing for snow globes and little trees, so I guess they were meant to be. As you can see, I have them in all kinds of styles and sizes. (The milk glass too.)
Remember the Eiffel Tower snow globe I picked up for our mantel last year? It's one of my favourite Christmas decorations. Maybe I'll spend Christmas in Paris one day. A girl can dream, right?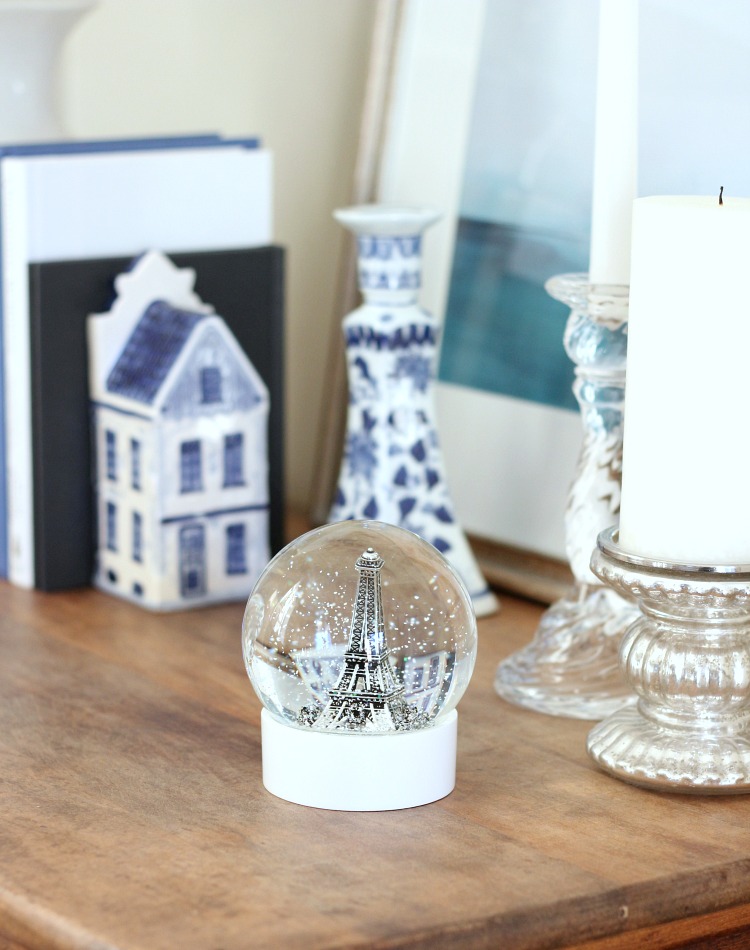 Don't be afraid to move your Christmas decorations around. Quite often, that's all it takes to keep it fun and interesting. Add in some fresh flowers and greenery too.
One other tip I have is to select decor that can be left out well past Christmas, such as velvet pillow covers or mercury glass candle holders. They add sparkle and sheen that are always lovely during the holidays, but also brighten a room on a dreary winter day in January or February.
Thanks for stopping by and checking out our nature-inspired Christmas decor. Come again sometime soon, won't you? Maybe I'll even make more cake!
P.S. If you need extra storage in your entryway, be sure to check out this tutorial for our coat hanger using vintage shutters.
More Christmas Decorating Ideas
Be sure to pin these neutral Christmas decorating ideas for later!
See something in our home that you want to get your hands on? Visit the Shop Our Home page to find out more or leave a comment and I'll get back to you with more details.
Also, be sure to stop by the Christmas Decor Shop to see what's new there too!
More Canadian Christmas Home Tours
Each day, a new group of Canadian home bloggers will be sharing their decorating ideas. Be sure to visit each Christmas home tour by following the links on the days below. Enjoy!
Thursday
VinYet Etc. | A Pretty Life | Home to Heather | So Much Better with Age | This Little Estate
Want more holiday and seasonal ideas like these sent directly to your inbox? Be sure to SUBSCRIBE.